Abstract
Objectives
To determine if recording of suprasternal pressure (SSP) can classify apneas and hypopneas as reliably as respiratory inductance plethysmography (RIP) belts and to compare the two methods to classification with esophageal pressure (Pes), the reference method for assessing respiratory effort.
Methods
In addition to polysomnographic recordings that included Pes, SSP was recorded. Recordings from 32 patients (25 males, mean age 66.7 ± 15.3 years, and mean BMI 30.1 ± 4.5 kg/m2) were used to compare the classification of detected apneas and hypopneas by three methods of respiratory effort evaluation (Pes, RIP belts, and SSP). Signals were analyzed randomly and independently from each other. All recordings were analyzed according to AASM guidelines.
Results
Using Pes as a reference for apnea characterization, the Cohen kappa (κ) was 0.93 for SSP and 0.87 for the RIP. The sensitivity/specificity of SSP was 97.0%/96.9% for obstructive, 93.9%/98.3% for central, and 94.9%/97.9% for mixed apneas. The sensitivity/specificity of the RIP was 97.4%/91.9% for obstructive, 87.5%/97.9% for central, and 85.6%/96.6% for mixed apneas. For hypopnea characterization using the Pes as a reference, κ was 0.92 for SSP and 0.86 for the RIP. The sensitivity/specificity of SSP was 99.7%/97.6% for obstructive and 97.6%/99.7% for central. The sensitivity/specificity of the RIP was 99.8%/81.1% for obstructive and 81.1%/99.8% for central.
Conclusions
These results confirm the excellent agreement in the detection of respiratory effort between SSP, RIP belts, and Pes signals. Thus, we conclude that apnea and hypopnea characterization in adults with SSP is a reliable method.
This is a preview of subscription content, log in to check access.
Access options
Buy single article
Instant access to the full article PDF.
US$ 39.95
Price includes VAT for USA
Subscribe to journal
Immediate online access to all issues from 2019. Subscription will auto renew annually.
US$ 99
This is the net price. Taxes to be calculated in checkout.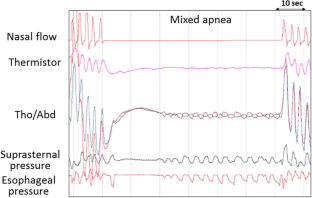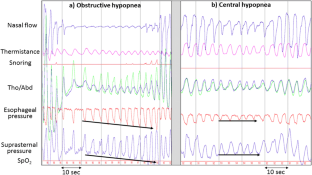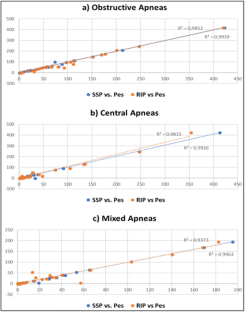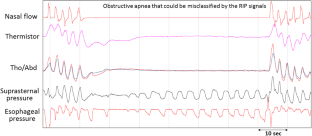 Abbreviations
AASM:

American Academy of Sleep Medicine

AHI:

Apnea Hypopnea Index

AI:

Apnea Index

BMI:

body mass index

EDF:

European Data Format

EMG:

electromyogram

SAS:

sleep apnea syndrome

Pes:

esophageal pressure

NP:

nasal pressure

PSG:

polysomnography

RIP:

respiratory inductance plethysmography

SSP:

suprasternal pressure

TST:

total sleep time
References
1.

Berry RB, Budhiraja R, Gottlieb DJ, Gozal D, Iber C, Kapur VK, Marcus CL, Mehra R, Parthasarathy S, Quan SF, Redline S, Strohl KP, Davidson Ward SL, Tangredi MM, American Academy of Sleep Medicine (2012) Rules for scoring respiratory events in sleep: update of the 2007 AASM Manual for the Scoring of Sleep and Associated Events Deliberations of the Sleep Apnea Definitions Task Force of the American Academy of Sleep Medicine. J Clin Sleep Med 8(5):597–619

2.

Chervin RD, Aldrich MS (1997) Effects of esophageal pressure monitoring on sleep architecture. Am J Respir Crit Care Med 156(3 Pt 1):881–885

3.

Claman DM, Votteri BA (1998) Effects of esophageal pressure monitoring on sleep architecture. Am J Respir Crit Care Med 157(5 Pt 1):1697–1698

4.

Chediak AD, Demirozu MC, Nay KN (1990) Alpha EEG sleep produced by balloon catheterization of the esophagus. Sleep 13(4):369–370

5.

Ayappa I, Norman RG, Rapoport DM (1999) Cardiogenic oscillations on the airflow signal during continuous positive airway pressure as a marker of central apnea. Chest 116(3):660–666

6.

Morrell MJ, Badr MS, Harms CA, Dempsey JA (1995) The assessment of upper airway patency during apnea using cardiogenic oscillations in the airflow signal. Sleep 18(8):651–658

7.

Boudewyns A, Willemen M, Wagemans M, De Cock W, Van de Heyning P, De Backer W (1997) Assessment of respiratory effort by means of strain gauges and esophageal pressure swings: a comparative study. Sleep 20(2):168–170

8.

Luo YM, Tang J, Jolley C, Steier J, Zhong NS, Moxham J, Polkey MI (2009) Distinguishing obstructive from central sleep apnea events: diaphragm electromyogram and esophageal pressure compared. Chest 135(5):1133–1141

9.

Beckerman RC, Wegmann MJ (1985) A comparison of tracheal breath sounds, airflow, and impedance pneumography in the detection of childhood apnea. Sleep 8(4):342–346

10.

Beckerman RC, Wegmann MJ, Waring WW (1982) Tracheal breath sounds for detection of apnea in infants and children. Crit Care Med 10(6):363–366

11.

Cummiskey J, Williams TC, Krumpe PE, Guilleminault C (1982) The detection and quantification of sleep apnea by tracheal sound recordings. Am Rev Respir Dis 126(2):221–224

12.

Nakano H, Hayashi M, Ohshima E, Nishikata N, Shinohara T (2004) Validation of a new system of tracheal sound analysis for the diagnosis of sleep apnea-hypopnea syndrome. Sleep 27(5):951–957

13.

Amaddeo A, Fernandez-Bolanos M, Olmo Arroyo J, Khirani S, Baffet G, Fauroux B (2016) Validation of a suprasternal pressure sensor for sleep apnea classification in children. J Clin Sleep Med 12(12):1641–1647

14.

Glos M, Sabil A, Jelavic KS, Schobel C, Fietze I, Penzel T (2018) Characterization of respiratory events in obstructive sleep apnea using suprasternal pressure monitoring. J Clin Sleep Med 14(3):359–369

15.

Meslier N, Simon I, Kouatchet A, Ouksel H, Person C, Racineux JL (2002) Validation of a suprasternal pressure transducer for apnea classification during sleep. Sleep 25(7):753–757

16.

Kushida CA, Giacomini A, Lee MK, Guilleminault C, Dement WC (2002) Technical protocol for the use of esophageal manometry in the diagnosis of sleep-related breathing disorders. Sleep Med 3(2):163–173

17.

Tobin MJ, Cohn MA, Sackner MA (1983) Breathing abnormalities during sleep. Arch Intern Med 143(6):1221–1228

18.

Staats BA, Bonekat HW, Harris CD, Offord KP (1984) Chest wall motion in sleep apnea. Am Rev Respir Dis 130(1):59–63

19.

Escourrou P, Meslier N, Raffestin B, Clavel R, Gomes J, Hazouard E et al (2010) Which clinical approach and which diagnostic procedures for obstructive sleep apnea syndrome? Rev Mal Respir 3(27 Suppl):S115–S123
Acknowledgements
The authors gratefully acknowledge the help of the sleep technicians at both labs as well as the CIDELEC company for lending their CID-LXe system to record the tracheal sound and the suprasternal pressure.
Financial support
The study was financially supported by an unrestricted grant by CIDELEC, France.
Ethics declarations
The study was approved (DRKS-ID: DRKS00012795) by the local Ethics Committee of the Charité university hospital in Berlin.
Conflict of interest
Thomas Penzel has received research grants from Heinen & Löwenstein, Itamar, Philips/Respironics, Resmed, and Somnodent. He received speaker fees and travel support from Bayer, Itamar, Inspire, Somnodent, UCB, and Weinmann. He is a shareholder of Advanced Sleep Research GmbH, The Siestagroup GmbH, and Somnico GmbH. He was supported by the project no. LQ1605 from the National Program of Sustainability II (MEYS CR) and by the project FNUSA-ICRC no. CZ.1.05/1.1.00/02.0123 (OP VaVpI). Ingo Fietze has received research grants from Actelion, Eisai, Heinen & Löwenstein, Jazz Pharmaceuticals, Philips/Respironics, Resmed, Somnodent, UCB, and Vanda.
At the time the study was performed, AbdelKebir Sabil was fully employed by CIDELEC.
All other authors report no conflicts of interest. The authors alone are responsible for the content and writing of the paper.
Additional information
Publisher's note
Springer Nature remains neutral with regard to jurisdictional claims in published maps and institutional affiliations.
About this article
Cite this article
Sabil, A., Schöbel, C., Glos, M. et al. Apnea and hypopnea characterization using esophageal pressure, respiratory inductance plethysmography, and suprasternal pressure: a comparative study. Sleep Breath 23, 1169–1176 (2019). https://doi.org/10.1007/s11325-019-01793-8
Received:

Revised:

Accepted:

Published:

Issue Date:
Keywords
Respiratory effort

Polysomnography

Sleep apnea characterization

Suprasternal pressure