Abstract
Purpose
Obesity and obstructive sleep apnea (OSA) are frequent comorbid conditions. The impact of OSA on objectively measured physical activity (PA), independent of obesity, is not clear. The purpose of this study is to examine the effect of OSA on PA measured via accelerometer.
Methods
Overweight-to-obese individuals were recruited and screened for the presence of OSA via portable diagnostic device and divided into an OSA (n = 35) and control group (n = 24). Daytime sleepiness was assessed with the Epworth Sleepiness Scale. Body composition was assessed with dual-energy X-ray absorptiometry. Subjects wore an accelerometer (Actigraph GT3X+, Actigraph Corp., Pensacola, FL) for a minimum of 4 and maximum of 7 days, including at least one weekend day.
Results
There were no group differences in body mass index (BMI) or daytime sleepiness. Waist and neck circumference were higher in the OSA group. The OSA group was significantly older than the control group. The OSA group had fewer steps, moderate intensity minutes, moderate-to-vigorous minutes, number of PA bouts per day (≥ moderate intensity PA for ≥ 10 consecutive minutes), and total number of PA bouts. When adjusted for age, the PA bout data was no longer significant.
Conclusion
Individuals screened as likely possessing OSA were less physically active than individuals without OSA when measured through objective means. We found no group differences in daytime sleepiness, BMI, or percent fat, suggesting other mechanisms than obesity and sleepiness for this difference.
Access options
Buy single article
Instant access to the full article PDF.
USD 39.95
Price includes VAT (USA)
Tax calculation will be finalised during checkout.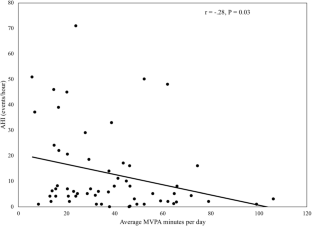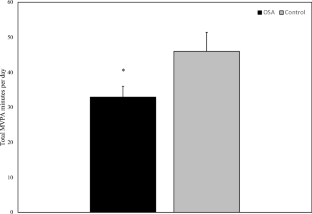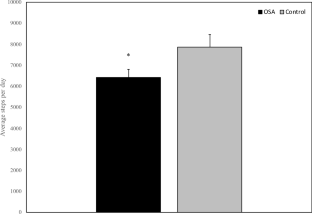 References
1.

Young T, Palta M, Dempsey J, Skatrud J, Weber S, Badr S (1993) The occurrence of sleep-disordered breathing among middle-aged adults. N Engl J Med 328(17):1230–1235

2.

Peppard PE, Young T, Barnet JH, Palta M, Hagen EW, Hla KM (2013) Increased prevalence of sleep-disordered breathing in adults. Am J Epidemiol 177(9):1006–1014

3.

Punjabi NM, Sorkin JD, Katzel LI, Goldberg AP, Schwartz AR, Smith PL (2002) Sleep-disordered breathing and insulin resistance in middle-aged and overweight men. Am J Respir Crit Care Med 165(5):677–682

4.

Malhotra A, White DP (2002) Obstructive sleep apnoea. Lancet 360(9328):237–245

5.

Dobrosielski DA, Papandreou C, Patil SP, Salas-Salvado J (2017) Diet and exercise in the management of obstructive sleep apnoea and cardiovascular disease risk. Eur Respir Rev 26(144):160110

6.

Somers VK, White DP, Amin R, Abraham WT, Costa F, Culebras A, Daniels S, Floras JS, Hunt CE, Olson LJ, Pickering TG, Russell R, Woo M, Young T (2008) Sleep apnea and cardiovascular disease: an American Heart Association/American College of Cardiology Foundation Scientific Statement from the American Heart Association Council for High Blood Pressure Research Professional Education Committee, Council on Clinical Cardiology, Stroke Council, and Council on Cardiovascular Nursing. J Am Coll Cardiol 52(8):686–717

7.

Young T, Peppard PE, Gottlieb DJ (2002) Epidemiology of obstructive sleep apnea: a population health perspective. Am J Respir Crit Care Med 165(9):1217–1239

8.

Budhiraja R, Parthasarathy S, Quan SF (2007) Endothelial dysfunction in obstructive sleep apnea. J Clin Sleep Med 3(4):409–415

9.

Suzuki YJ, Jain V, Park AM, Day RM (2006) Oxidative stress and oxidant signaling in obstructive sleep apnea and associated cardiovascular diseases. Free Radic Biol Med 40(10):1683–1692

10.

Ryan S, Taylor CT, McNicholas WT (2005) Selective activation of inflammatory pathways by intermittent hypoxia in obstructive sleep apnea syndrome. Circulation 112(17):2660–2667

11.

Ohga E, Tomita T, Wada H, Yamamoto H, Nagase T, Ouchi Y (2003) Effects of obstructive sleep apnea on circulating ICAM-1, IL-8, and MCP-1. J Appl Physiol (1985) 94 (1):179–184

12.

Somers VK, Dyken ME, Clary MP, Abboud FM (1995) Sympathetic neural mechanisms in obstructive sleep apnea. J Clin Invest 96(4):1897–1904

13.

Quan SF, O'Connor GT, Quan JS, Redline S, Resnick HE, Shahar E, Siscovick D, Sherrill DL (2007) Association of physical activity with sleep-disordered breathing. Sleep Breath 11(3):149–157

14.

Peppard PE, Young T (2004) Exercise and sleep-disordered breathing: an association independent of body habitus. Sleep 27(3):480–484

15.

Simpson L, McArdle N, Eastwood PR, Ward KL, Cooper MN, Wilson AC, Hillman DR, Palmer LJ, Mukherjee S (2015) Physical inactivity is associated with moderate-severe obstructive sleep apnea. J Clin Sleep Med 11(10):1091–1099

16.

Batool-Anwar S, Goodwin JL, Drescher AA, Baldwin CM, Simon RD, Smith TW, Quan SF (2014) Impact of CPAP on activity patterns and diet in patients with obstructive sleep apnea (OSA). J Clin Sleep Med 10(5):465–472

17.

Suri SV, Batterham AM, Ells L, Danjoux G, Atkinson G (2015) Cross-sectional association between walking pace and sleep-disordered breathing. Int J Sports Med 36(10):843–847. https://doi.org/10.1055/s-0035-1549856

18.

Bamberga M, Rizzi M, Gadaleta F, Grechi A, Baiardini R, Fanfulla F (2015) Relationship between energy expenditure, physical activity and weight loss during CPAP treatment in obese OSA subjects. Respir Med 109(4):540–545

19.

Verwimp J, Ameye L, Bruyneel M (2013) Correlation between sleep parameters, physical activity and quality of life in somnolent moderate to severe obstructive sleep apnea adult patients. Sleep Breath 17(3):1039–1046

20.

Igelstrom H, Emtner M, Lindberg E, Asenlof P (2013) Physical activity and sedentary time in persons with obstructive sleep apnea and overweight enrolled in a randomized controlled trial for enhanced physical activity and healthy eating. Sleep Breath 17(4):1257–1266

21.

Chasens ER, Sereika SM, Houze MP, Strollo PJ (2011) Subjective and objective appraisal of activity in adults with obstructive sleep apnea. J Aging Res 2011:751819

22.

Kline CE, Crowley EP, Ewing GB, Burch JB, Blair SN, Durstine JL, Davis JM, Youngstedt SD (2011) The effect of exercise training on obstructive sleep apnea and sleep quality: a randomized controlled trial. Sleep 34(12):1631–1640

23.

Igelstrom H, Emtner M, Lindberg E, Asenlof P (2013) Level of agreement between methods for measuring moderate to vigorous physical activity and sedentary time in people with obstructive sleep apnea and obesity. Phys Ther 93(1):50–59

24.

Diamanti C, Manali E, Ginieri-Coccossis M, Vougas K, Cholidou K, Markozannes E, Bakakos P, Liappas I, Alchanatis M (2013) Depression, physical activity, energy consumption, and quality of life in OSA patients before and after CPAP treatment. Sleep Breath 17(4):1159–1168

25.

Strath SJ, Kaminsky LA, Ainsworth BE, Ekelund U, Freedson PS, Gary RA, Richardson CR, Smith DT, Swartz AM, American Heart Association Physical Activity Committee of the Council on L, Cardiometabolic H, Cardiovascular ECR, Prevention Committee of the Council on Clinical C, Council (2013) Guide to the assessment of physical activity: clinical and research applications: a scientific statement from the American Heart Association. Circulation 128(20):2259–2279

26.

Erman MK, Stewart D, Einhorn D, Gordon N, Casal E (2007) Validation of the ApneaLink for the screening of sleep apnea: a novel and simple single-channel recording device. J Clin Sleep Med 3(4):387–392

27.

Berry RB, Gamaldo CE, Harding SM, Brooks R, Lloyd RM, Vaughn BV, Marcus CL (2015) AASM scoring manual version 2.2 updates: new chapters for scoring infant sleep staging and home sleep apnea testing. J Clin Sleep Med 11(11):1253–1254

28.

Collop NA, Tracy SL, Kapur V, Mehra R, Kuhlmann D, Fleishman SA, Ojile JM (2011) Obstructive sleep apnea devices for out-of-center (OOC) testing: technology evaluation. J Clin Sleep Med 7(5):531–548

29.

Pescatello LS, American College of Sports Medicine (2014) ACSM's guidelines for exercise testing and prescription, 9th edn. Wolters Kluwer/Lippincott Williams & Wilkins Health, Philadelphia

30.

Evenson KR, Wen F, Metzger JS, Herring AH (2015) Physical activity and sedentary behavior patterns using accelerometry from a national sample of United States adults. Int J Behav Nutr Phys Act 12:20

31.

Freedson PS, Melanson E, Sirard J (1998) Calibration of the computer science and applications, Inc accelerometer. Med Sci Sports Exerc 30(5):777–781

32.

Troiano RP, Berrigan D, Dodd KW, Masse LC, Tilert T, McDowell M (2008) Physical activity in the United States measured by accelerometer. Med Sci Sports Exerc 40(1):181–188

33.

Tudor-Locke C, Craig CL, Thyfault JP, Spence JC (2013) A step-defined sedentary lifestyle index: <5000 steps/day. Appl Physiol Nutr Metab 38(2):100–114

34.

Slater G, Pengo MF, Kosky C, Steier J (2013) Obesity as an independent predictor of subjective excessive daytime sleepiness. Respir Med 107(2):305–309

35.

Pahwa P, Karunanayake CP, Hagel L, Gjevre JA, Rennie D, Lawson J, Dosman JA (2012) Prevalence of high Epworth Sleepiness Scale scores in a rural population. Can Respir J 19(2):e10–e14

36.

Pamidi S, Knutson KL, Ghods F, Mokhlesi B (2011) Depressive symptoms and obesity as predictors of sleepiness and quality of life in patients with REM-related obstructive sleep apnea: cross-sectional analysis of a large clinical population. Sleep Med 12(9):827–831

37.

Healy GN, Wijndaele K, Dunstan DW, Shaw JE, Salmon J, Zimmet PZ, Owen N (2008) Objectively measured sedentary time, physical activity, and metabolic risk: the Australian Diabetes, Obesity and Lifestyle Study (AusDiab). Diabetes Care 31(2):369–371

38.

Bradley TD, Floras JS (2009) Obstructive sleep apnoea and its cardiovascular consequences. Lancet 373(9657):82–93

39.

Coughlin SR, Mawdsley L, Mugarza JA, Calverley PM, Wilding JP (2004) Obstructive sleep apnoea is independently associated with an increased prevalence of metabolic syndrome. Eur Heart J 25(9):735–741

40.

Pellegrinelli V, Rouault C, Rodriguez-Cuenca S, Albert V, Edom-Vovard F, Vidal-Puig A, Clement K, Butler-Browne GS, Lacasa D (2015) Human adipocytes induce inflammation and atrophy in muscle cells during obesity. Diabetes 64(9):3121–3134

41.

Langen RC, Schols AM, Kelders MC, Van Der Velden JL, Wouters EF, Janssen-Heininger YM (2002) Tumor necrosis factor-alpha inhibits myogenesis through redox-dependent and -independent pathways. Am J Phys Cell Phys 283(3):C714–C721

42.

Daulatzai MA (2011) Role of sensory stimulation in amelioration of obstructive sleep apnea. Sleep Disord 2011:596879

43.

Carrera M, Barbe F, Sauleda J, Tomas M, Gomez C, Santos C, Agusti AG (2004) Effects of obesity upon genioglossus structure and function in obstructive sleep apnoea. Eur Respir J 23(3):425–429

44.

Petrof BJ, Hendricks JC, Pack AI (1996) Does upper airway muscle injury trigger a vicious cycle in obstructive sleep apnea? A hypothesis. Sleep 19(6):465–471

45.

Smirne S, Iannaccone S, Ferini-Strambi L, Comola M, Colombo E, Nemni R (1991) Muscle fibre type and habitual snoring. Lancet 337(8741):597–599
Funding
ResMed Foundation, La Jolla, CA provided financial support for this study. The sponsor had no role in the design or conduct of this research.
Ethics declarations
Conflict of interest
The authors declare that they have no conflict of interest.
Ethical approval
All procedures performed in studies involving human participants were in accordance with the ethical standards of the institutional and/or national research committee and with the 1964 Helsinki declaration and its later amendments or comparable ethical standards.
Informed consent
Informed consent was obtained from all individual participants included in the study.
About this article
Cite this article
Hargens, T.A., Martin, R.A., Strosnider, C.L. et al. Obstructive sleep apnea negatively impacts objectively measured physical activity. Sleep Breath 23, 447–454 (2019). https://doi.org/10.1007/s11325-018-1700-0
Received:

Revised:

Accepted:

Published:

Issue Date:
Keywords
OSA

Obesity

Physical activity

Accelerometer

Steps