Abstract
Purpose
To assess the association between obstructive sleep apnea (OSA) and gallstones.
Methods
We identified 3827 patients aged ≥ 20 years with OSA between 2000 and 2010 from the Longitudinal Health Insurance Research Database 2000 (LHID2000) as the study cohort. The beneficiaries without OSA were randomly selected and propensity-matched with the study cohort in a 1:1 ratio according to age; sex; occupation; urbanization; comorbidities of hypothyroidism, hyperlipidemia, diabetes, liver cirrhosis, alcohol-related illness, hypertension, chronic obstructive pulmonary disease (COPD), obesity, inflammatory bowel disease, stroke, coronary artery disease (CAD), hepatitis B virus, and hepatitis C virus; and the index year. All patients were followed until the end of 2011 or withdrawal from the National Health Insurance program to determine the incidence of gallstones.
Results
The prevalence of OSA was higher in men (67.3%) and in patients younger than 49 years (57.0%; mean age 47.8 ± 15.1 years). The cumulative incidence of gallstones was higher in the OSA cohort than in the non-OSA cohort (log-rank test, P < 0.001). Compared with patients without OSA, those with OSA had an increased risk of gallstones (adjusted hazard ratio = 1.53, 95% confidence interval = 1.16–2.03) after adjustment for age, sex, hyperlipidemia, diabetes, hypertension, COPD, stroke, and CAD.
Conclusion
The study shows a strong association between OSA and gallstones. Moreover, our findings suggest the requirement for survey and health education for gallstones in OSA and further studies to verify whether the treatment of OSA can reduce the risk of gallstones.
This is a preview of subscription content, log in to check access.
Access options
Buy single article
Instant access to the full article PDF.
US$ 39.95
Price includes VAT for USA
Subscribe to journal
Immediate online access to all issues from 2019. Subscription will auto renew annually.
US$ 99
This is the net price. Taxes to be calculated in checkout.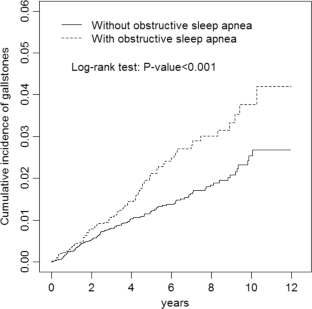 Abbreviations
OSA:

obstructive sleep apnea

LHID2000:

Longitudinal Health Insurance Research Database 2000

COPD:

chronic obstructive pulmonary disease

BMI:

body mass index

IBD:

inflammatory bowel disease

CAD:

coronary artery disease

HBV:

hepatitis B virus

HCV:

hepatitis C virus infection

CI:

confidence interval

aHR:

adjusted hazard ratio

NHI:

National Health Insurance

ICD-9-CM:

International Classification of Diseases, Ninth Edition, Clinical Modification

AHI:

apnea–hypopnea index

NAFLD:

non-alcoholic fatty liver disease
References
1.

Shaffer EA (2006) Gallstone disease: epidemiology of gallbladder stone disease. Best Pract Res Clin Gastroenterol 20:981–996

2.

Chen CY, Lu CL, Huang YS, Tam TN, Chao Y, Chang FY, Lee SD (1998) Age is one of the risk factors in developing gallstone disease in Taiwan. Age Ageing 27:437–441

3.

Chen CH, Huang MH, Yang JC, Nien CK, Etheredge GD, Yang CC, Yeh YH, Wu HS, Der-Aur Chou*, Yueh SK Prevalence and risk factors of gallstone disease in an adult population of Taiwan: an epidemiological survey. J Gastroenterol Hepatol 2006;21:1737–43

4.

Ross M, Brown M, McLaughlin K, Atkinson P, Thompson J, Powelson S, Clark S, Lang E (2011) Emergency physician-performed ultrasound to diagnose cholelithiasis: a systematic review. Acad Emerg Med 18:227–235

5.

Yadav D, Lowenfels AB (2006) Trends in the epidemiology of the first attack of acute pancreatitis: a systematic review. Pancreas 33:323–330

6.

Salek J, Livote E, Sideridis K, Bank S (2009) Analysis of risk factors predictive of early mortality and urgent ERCP in acute cholangitis. J Clin Gastroenterol 43:171–175

7.

Gurusamy KS, Davidson BR (2014) Gallstones. BMJ 348:g2669

8.

Ransohoff DF, Gracie WA, Wolfenson LB, Neuhauser D (1983) Prophylactic cholecystectomy or expectant management for silent gallstones. A decision analysis to assess survival. Ann Intern Med 99:199–204

9.

Punjabi NM (2008) The epidemiology of adult obstructive sleep apnea. Proc Am Thorac Soc 5:136–143

10.

Gozal D, Farre R, Nieto FJ (2016) Obstructive sleep apnea and cancer: epidemiologic links and theoretical biological constructs. Sleep Med Rev 27:43–55

11.

Marshall NS, Wong KKH, Cullen SRJ, Knuiman MW, Grunstein RR (2014) Sleep apnea and 20-year follow-up for all-cause mortality, stroke, and cancer incidence and mortality in the Busselton Health Study Cohort. J Clin Sleep Med 10:355–362

12.

Unnikrishnan D, Jun J, Polotsky V (2015) Inflammation in sleep apnea: an update. Rev Endocr Metab Disord 16:25–34

13.

Database NHIR. Taiwan, http://nhird.nhri.org.tw/en/index.html (cited in 2015)

14.

Chen CH, Lin CL, Kao CH (2016) Gastroesophageal reflux disease with proton pump inhibitor use is associated with an increased risk of osteoporosis: a nationwide population-based analysis. Osteoporos Int 27:2117–2126

15.

Chen CH, Lin CL, Kao CH (2016) Association between gallbladder stone disease and prostate cancer: a nationwide population-based study. Oncotarget 7:64380

16.

Qaseem A, Dallas P, Owens DK, Starkey M, Holty Jon-Erik C, Shekelle P (2014) Diagnosis of obstructive sleep apnea in adults: a clinical practice guideline from the American College of Physicians. Ann Intern Med 161:210–220

17.

O'Connor GT, Lind BK, Lee ET, Nieto FJ, Redline S, Samet JM et al (2003) Predictors of sleep-apnea-disordered breathing with race and ethnicity: the Sleep Heart Health Study. Sleep 26(74):79

18.

Duran J, Esnaola S, Rubio R, Iztueta A (2001) Obstructive sleep apnea-hypopnea and related clinical features in a population-based sample of subjects aged 30 tp 70 yr. Am J Respir Crit Care Med 163:685–689

19.

Launois SH, Pepin JL, Levy P (2007) Sleep apnea in the elderly: a specific entity? Sleep Med Rev 11:87–97

20.

Punjabi NM, Newman AB, Young TB, Resnick HE, Sanders MH (2008) Sleep-disordered breathing and cardiovascular disease: an outcome-based definition of hypopneas. Am J Respir Crit Care Med 177:1150–1155

21.

Somers VK, White DP, Amin R, Abraham WT, Costa F, Culebras A, Daniels S, Floras JS, Hunt CE, Olson LJ, Pickering TG, Russell R, Woo M, Young T, American Heart Association Council for High Blood Pressure Research Professional Education Committee, Council on Clinical Cardiology, American Heart Association Stroke Council, American Heart Association Council on Cardiovascular Nursing, American College of Cardiology Foundation (2008) Sleep apnea and cardiovascular disease. Circulation 118:1080–1111

22.

Punjabi NM, Shahar E, Redline S, Gottlieb DJ, Givelber R, Resnick HE (2004) Sleep-disordered breathing, glucose intolerance, and insulin resistance: the Sleep Heart Health Study. Am J Epidemiol 160:521–530

23.

López-Acevedo MN, Torres-Palacios A, Ocasio-Tascón ME, Campos-Santiago Z, Rodríguez-Cintrón W (2009) Overlap syndrome: an indication for sleep studies? Sleep Breath 13:409–413

24.

Drager LF, Jun J, Polotsky VY (2010) Obstructive sleep apnea and dyslipidemia: implications for atherosclerosis. Curr Opin Endocrinol Diabetes Obes 17:161–165

25.

Smelt AH (2010) Triglycerides and gallstone formation. Clin Chim Acta 411:1625–1631

26.

Liew PL, Wang W, Lee YC, Huang MT, Lin YC, Lee WJ (2007) Gallbladder disease among obese patients in Taiwan. Obes Surg 17:383–390

27.

Somer VK, Dyken ME, Clary MP, Abboud FM (1995) Sympathetic neural mechanisms in obstructive sleep apnea. J Clin Invest 96:1897–1904

28.

Iftikhar IH, Hoyos CM, Phillips CL, Magalang UJ (2015) Meta-analyses of the association of sleep apnea with insulin resistance, and the effects of CPAP on HOMA-IR, adiponectin, and visceral adipose fat. J Clin Sleep Med 11:475–485

29.

Ness GC, Zhao Z, Wiggins L (1994) Insulin and glucagon modulate hepatic 3-hydroxy-3-methylglutaryl-coenzyme A reductase activity by affecting immunoreactive protein levels. J Biol Chem 269:29168–29172

30.

Chait A, Bierman EL, Albers JJ (1979) Low-density lipoprotein receptor activity in cultured human skin fibroblasts: mechanism of insulin-induced stimulation. J Clin Invest 64:1309–1319

31.

Petitti DB, Friedman GD, Klatsky AL (1981) Association of a history of gallbladder disease with a reduced concentration of high-density- lipoprotein cholesterol. N Engl J Med 304:1396–1398

32.

Ko CW, Beresford SAA, Schulte SJ, Lee SP (2008) Insulin resistance and incident gallbladder disease in pregnancy. Clin Gastroenterol Hepatol 6:76–81

33.

Maurer KJ, Carey MC, Fox JG (2009) Roles of infection, inflammation, and the immune system in cholesterol gallstone formation. Gastroenterology 136:425–440

34.

Camilleri M, Malhi H, Acosta A (2017) Gastrointestinal complications of obesity. Gastroenterology 152:1656–1670

35.

Romero-Corral A, Caples SM, Lopez-Jimenez F, Somers VK (2010) Interactions between obesity and obstructive sleep apnea. Chest 137:711–719
Funding
This work was supported by grants from the Ministry of Health and Welfare, Taiwan (MOHW107-TDUB-212-123004), China Medical University Hospital (DMR-107-192), Academia Sinica Stroke Biosignature Project (BM10701010021), MOST Clinical Trial Consortium for Stroke (MOST 106-2321-B-039-005), Tseng-Lien Lin Foundation, Taichung, Taiwan, and Katsuzo and Kiyo Aoshima Memorial Funds, Japan.
Ethics declarations
Conflict of interest
The authors declare that they have no conflict of interest.
Ethical approval
The NHIRD encrypts patient personal information to protect privacy and provides researchers with anonymous identification numbers associated with relevant claim information, including sex, date of birth, medical services received, and prescriptions. Therefore, patient consent is not required to access the NHIRD. This study was approved to fulfill the condition for exemption by the Institutional Review Board (IRB) of China Medical University (CMUH104-REC2-115-CR2). The IRB also specifically waived the consent requirement.
Informed consent
For this type of study, formal consent is not required.
About this article
Cite this article
Chen, C., Lin, C., Hsu, C. et al. Risk of gallstones in patients with obstructive sleep apnea: a nationwide observational cohort study. Sleep Breath 23, 355–362 (2019). https://doi.org/10.1007/s11325-018-1696-5
Received:

Accepted:

Published:

Issue Date:
Keywords
Obstructive sleep apnea

Gallstones

Comorbidities