Abstract
Purpose
Insomnia has become one of the foremost health concerns among workers. Despite a significant number of epidemiological studies have reported on the correlation between insomnia and job stress, comprehensive evidence remains insufficient. Therefore, this research seeks to provide evidence with greater reliability, through summarizing relevant contemporary literature via a meta-analysis.
Methods
Literature from across Europe and Asia that was of both a prospective and cross-sectional design was included, if well-controlled odds ratios were available. The meta-analysis was undertaken in accordance with the guidelines devised by PRISMA, including tests for publication bias and heterogeneity.
Results
High job stress was associated with a greater risk of suffering from insomnia (random OR = 1.73, 95% CI 1.46–2.05), and the correlation between effort-reward imbalance and insomnia was statistically significant (random OR = 2.63, 95% CI 1.22–5.69). Higher demand was correlated to a relatively greater risk of insomnia (random OR = 1.35, 95% CI 1.20–1.51), while the pooled effect of low control was not found to be statistically significant. The summary random odds ratio of heavy workload was 2.76, and a pooled odds ratio of 1.67 (fixed, 95% CI 1.11–2.52) was calculated in low social support. With regard to the overall population, work-family conflict was correlated with insomnia (random OR = 2.32, 95% CI 1.53–3.51). The subgroup analysis provided comparable outcomes, for both males (fixed OR = 1.97, 95% CI 1.50–2.57) and females (random OR = 2.80, 95% CI 1.30–6.05). Egger's regression indicated that publication bias may be apparent in the syntheses of effort-reward imbalance, low social support, and work-family conflict (p < 0.05). Heterogeneity was caused by design, measuring the exposure or outcome, in addition to the region where the research was conducted.
Conclusions
The correlation between insomnia and higher levels of job stress, effort-reward imbalance, high demand, heavy workload, and low social support was determined. Publication bias and heterogeneity were partially observed. Furthermore, future studies with improved methodologies and a focus on mechanisms are anticipated.
Access options
Buy single article
Instant access to the full article PDF.
USD 39.95
Price includes VAT (USA)
Tax calculation will be finalised during checkout.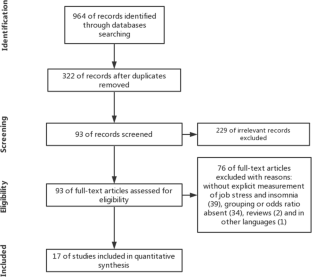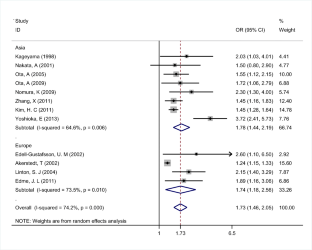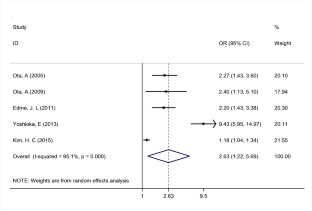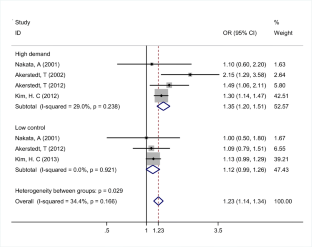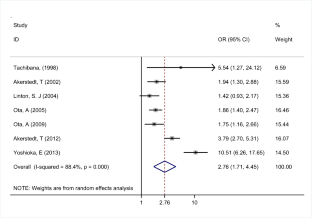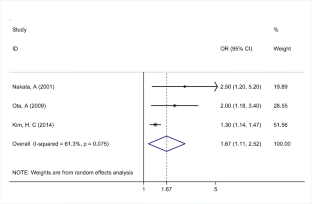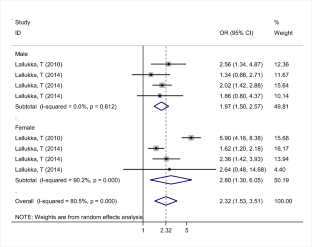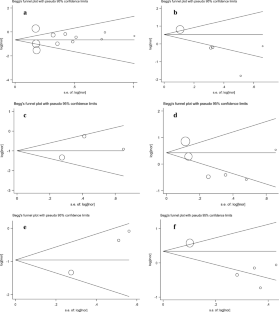 References
1.

Akerstedt T, Fredlund P, Gillberg M, Jansson B (2002) Work load and work hours in relation to disturbed sleep and fatigue in a large representative sample. J Psychosom Res 53(1):585–588

2.

Akerstedt T, Knutsson A, Westerholm P, Theorell T, Alfredsson L, Kecklund G (2002) Sleep disturbances, work stress and work hours: a cross-sectional study. J Psychosom Res 53(3):741–748

3.

Akerstedt T, Nordin M, Alfredsson L, Westerholm P, Kecklund G (2012) Predicting changes in sleep complaints from baseline values and changes in work demands, work control, and work preoccupation—the WOLF-project. Sleep Med 13(1):73–80. https://doi.org/10.1016/j.sleep.2011.04.015

4.

Bai J, Zhong W, Zheng M, Chen F (2007) Meta-analysis in Stata (in Chinese). The Journal of Evidence-based Medicine 7(6):363–368

5.

Cappuccio FP, Cooper D, D'Elia L, Strazzullo P, Miller MA (2011) Sleep duration predicts cardiovascular outcomes: a systematic review and meta-analysis of prospective studies. Eur Heart J 32(12):1484–1492. https://doi.org/10.1093/eurheartj/ehr007

6.

Drake CL, Friedman NP, Wright KJ, Roth T (2011) Sleep reactivity and insomnia: genetic and environmental influences. Sleep 34(9):1179–1188. https://doi.org/10.5665/SLEEP.1234

7.

Drake CL, Pillai V, Roth T (2014) Stress and sleep reactivity: a prospective investigation of the stress-diathesis model of insomnia. Sleep 37(8):1295–1304. https://doi.org/10.5665/sleep.3916

8.

Edell-Gustafsson UM, Kritz EI, Bogren IK (2002) Self-reported sleep quality, strain and health in relation to perceived working conditions in females. Scand J Caring Sci 16(2):179–187

9.

Edme JL, Facq J, Frimat P, Vezina M (2011) Relationship between psychosocial factors at work and incidence of perceived health problems in the GERICOTS cohort. Rev Epidemiol Sante Publique 59(5):295–304. https://doi.org/10.1016/j.respe.2011.05.003

10.

Huang C, Li J, Lu L, Ren X, Li Y, Huang Q, Lan Y, Wang Y (2014) Interaction between serotonin transporter gene-linked polymorphic region (5-HTTLPR) and job-related stress in insomnia: a cross-sectional study in Sichuan, China. Sleep Med 15(10):1269–1275. https://doi.org/10.1016/j.sleep.2014.01.023

11.

Kageyama T, Nishikido N, Kobayashi T, Kurokawa Y, Kaneko T, Kabuto M (1998) Self-reported sleep quality, job stress, and daytime autonomic activities assessed in terms of short-term heart rate variability among male white-collar workers. Ind Health 36(3):263–272

12.

Kang D, Hong Q, Liu G, Wang J (2003) Investigating and dealing with publication bias in meta-analysis (in Chinese). The Journal of Evidence-based Medicine 3(1):45–49

13.

Karasek R, Baker D, Marxer F, Ahlbom A, Theorell T (1981) Job decision latitude, job demands, and cardiovascular disease: a prospective study of Swedish men. Am J Public Health 71(7):694–705

14.

Kim G, Min B, Jung J, Paek D, Cho SI (2016) The association of relational and organizational job stress factors with sleep disorder: analysis of the 3rd Korean working conditions survey (2011). Ann Occup Environ Med 28(1):46. https://doi.org/10.1186/s40557-016-0131-2

15.

Kim HC, Kim BK, Min KB, Min JY, Hwang SH, Park SG (2011) Association between job stress and insomnia in Korean workers. J Occup Health 53(3):164–174

16.

Knudsen HK, Ducharme LJ, Roman PM (2007) Job stress and poor sleep quality: data from an American sample of full-time workers. Soc Sci Med 64(10):1997–2007. https://doi.org/10.1016/j.socscimed.2007.02.020

17.

Lallukka T, Ferrie JE, Kivimaki M, Shipley MJ, Sekine M, Tatsuse T, Pietilainen O, Rahkonen O, Marmot MG, Lahelma E (2014) Conflicts between work and family life and subsequent sleep problems among employees from Finland, Britain, and Japan. Int J Behav Med 21(2):310–318. https://doi.org/10.1007/s12529-013-9301-6

18.

Lallukka T, Rahkonen O, Lahelma E, Arber S (2010) Sleep complaints in middle-aged women and men: the contribution of working conditions and work-family conflicts. J Sleep Res 19(3):466–477. https://doi.org/10.1111/j.1365-2869.2010.00821.x

19.

Linton SJ (2004) Does work stress predict insomnia? A prospective study. Br J Health Psychol 9(Pt 2):127–136. https://doi.org/10.1348/135910704773891005

20.

Linton SJ, Kecklund G, Franklin KA, Leissner LC, Sivertsen B, Lindberg E, Svensson AC, Hansson SO, Sundin O, Hetta J, Bjorkelund C, Hall C (2015) The effect of the work environment on future sleep disturbances: a systematic review. Sleep Med Rev 23:10–19. https://doi.org/10.1016/j.smrv.2014.10.010

21.

Moher D, Liberati A, Tetzlaff J, Altman DG (2010) Preferred reporting items for systematic reviews and meta-analyses: the PRISMA statement. Int J Surg 8(5):336–341. https://doi.org/10.1016/j.ijsu.2010.02.007

22.

Nakata A, Haratani T, Takahashi M, Kawakami N, Arito H, Fujioka Y, Shimizu H, Kobayashi F, Araki S (2001) Job stress, social support at work, and insomnia in Japanese shift workers. J Hum Ergol (Tokyo) 30(1–2):203–209

23.

Nomura K, Nakao M, Takeuchi T, Yano E (2009) Associations of insomnia with job strain, control, and support among male Japanese workers. Sleep Med 10(6):626–629. https://doi.org/10.1016/j.sleep.2008.06.010

24.

Ota A, Masue T, Yasuda N, Tsutsumi A, Mino Y, Ohara H (2005) Association between psychosocial job characteristics and insomnia: an investigation using two relevant job stress models—the demand-control-support (DCS) model and the effort-reward imbalance (ERI) model. Sleep Med 6(4):353–358. https://doi.org/10.1016/j.sleep.2004.12.008

25.

Ota A, Masue T, Yasuda N, Tsutsumi A, Mino Y, Ohara H, Ono Y (2009) Psychosocial job characteristics and insomnia: a prospective cohort study using the Demand-Control-Support (DCS) and Effort-Reward Imbalance (ERI) job stress models. Sleep Med 10(10):1112–1117. https://doi.org/10.1016/j.sleep.2009.03.005

26.

Pelfrene E, Vlerick P, Kittel F, Mak RP, Kornitzer M, Backer GD (2002) Psychosocial work environment and psychological well-being: assessment of the buffering effects in the job demand–control (–support) model in BELSTRESS. Stress Health 18(1):43–56

27.

Peters JL, Sutton AJ, Jones DR, Abrams KR, Rushton L (2006) Comparison of two methods to detect publication bias in meta-analysis. JAMA 295(6):676–680. https://doi.org/10.1001/jama.295.6.676

28.

Peters JL, Sutton AJ, Jones DR, Abrams KR, Rushton L (2007) Performance of the trim and fill method in the presence of publication bias and between-study heterogeneity. Stat Med 26(25):4544–4562. https://doi.org/10.1002/sim.2889

29.

Tachibana H, Izumi T, Honda S, Takemoto TI (1998) The prevalence and pattern of insomnia in Japanese industrial workers: relationship between psychosocial stress and type of insomnia. Psychiatry Clin Neurosci 52(4):397–402. https://doi.org/10.1046/j.1440-1819.1998.00407.x

30.

Urponen H, Vuori I, Hasan J, Partinen M (1988) Self-evaluations of factors promoting and disturbing sleep: an epidemiological survey in Finland. Soc Sci Med 26(4):443–450

31.

Utsugi M, Saijo Y, Yoshioka E, Horikawa N, Sato T, Gong Y, Kishi R (2005) Relationships of occupational stress to insomnia and short sleep in Japanese workers. SLEEP 28(6):728–735

32.

Wang D, Mou Z, Zhai J, Zong H, Zhao X (2008) Study on Stata software in investigating publication bias in meta-analysis (in Chinese). Modern Preventive Medicine 35(15):2819–2822

33.

Wang J, Mo C, Chen Q, Xu Z, Chai H, Ma J (2008) Application of meta-analysis in Stata on medical researches quantitative assessment. Chin Arch Tradit Chin Med 26(5):947–949

34.

Wolfgang V (2007) Publication bias in meta-analysis: prevention, assessment and adjustments. Psychometrika 72(2):269

35.

Yoshioka E, Saijo Y, Kita T, Satoh H, Kawaharada M, Kishi R (2013) Effect of the interaction between employment level and psychosocial work environment on insomnia in male Japanese public service workers. Int J Behav Med 20(3):355–364. https://doi.org/10.1007/s12529-012-9230-9

36.

Zhang T, Zhong W, Zhang S, Li X (2008) Stata in assessing heterogeneity in meta-analysis (in Chinese). The Journal of Evidence-based Medicine 8(4):231–234

37.

Zhang X, Smith DR, Zheng Y, Wang RS (2011) Occupational stress and psychosomatic complaints among health professionals in Beijing, China. Work 40(2):239–245. https://doi.org/10.3233/WOR-2011-1224
Acknowledgements
We would like to thank No.4 West China Teaching Hospital Sichuan University for supporting this research.
About this article
Cite this article
Yang, B., Wang, Y., Cui, F. et al. Association between insomnia and job stress: a meta-analysis. Sleep Breath 22, 1221–1231 (2018). https://doi.org/10.1007/s11325-018-1682-y
Received:

Revised:

Accepted:

Published:

Issue Date:
Keywords
Insomnia

Job stress

Meta-analysis