Abstract
Purpose
Obesity, obstructive sleep apnea (OSA), and type 2 diabetes mellitus (T2DM) are associated with chronic low-grade inflammation and oxidative stress. In adults, increased lipid peroxidation, a marker of oxidative stress, was found in both metabolic syndrome and OSA. Studies on oxidative stress in children with T2DM and OSA are scarce.
Methods
Plasma oxidized low-density lipoprotein (Ox-LDL) levels were evaluated in obese children and adolescents with/without T2DM, and the contribution of OSA to oxidative stress was investigated.
Results
Ten patients with T2DM, 8 with impaired glucose tolerance (IGT), and 20 body mass index-standard deviation score (BMI-SDS)-matched non-diabetic children (controls) were studied. They all underwent overnight polysomnography. Fasting plasma concentrations of Ox-LDL were measured and compared to the glycemic status and to the presence of OSA. Fourteen patients (36%) were diagnosed with OSA and 21 (55%) with hypertension. There were no significant group differences in plasma Ox-LDL levels or between patients with/without OSA. Plasma Ox-LDL levels were significantly higher among patients with hypertension compared to controls (P = 0.01), while they correlated with homeostasis model assessment (P = 0.02), BMI-SDS (P = 0.049), and systolic blood pressure (P = 0.002).
Conclusions
The findings of this pilot study suggest that increased lipid peroxidation is associated with insulin resistance and hypertension in obese children and adolescents, while OSA has most likely minor influence.
This is a preview of subscription content, log in to check access.
Access options
Buy single article
Instant access to the full article PDF.
US$ 39.95
Price includes VAT for USA
Subscribe to journal
Immediate online access to all issues from 2019. Subscription will auto renew annually.
US$ 99
This is the net price. Taxes to be calculated in checkout.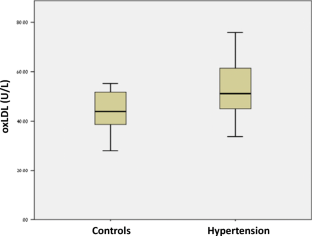 References
1.

Deckelbaum RJ, Williams CL (2001) Childhood obesity: the health issue. Obesity Research 9(suppl 4):239S–243S

2.

Vivian EM (2006) Type 2 diabetes in children and adolescents-the next epidemic? Curr Med Res Opin 22:297–306

3.

Redline S, Tishler PV, Schluchter M, Aylor J, Clark K, Graham G (1999) Risk factors for sleep-disordered breathing in children. Associations with obesity, race, and respiratory problems. Am J Respir Crit Care Med 159:1527–1532

4.

Singer K, Eng DS, Lumeng CN, Gebremariam A, M Lee J (2014) The relationship between body fat mass percentiles and inflammation in children. Obesity 22(5):1332–1336

5.

Gozal D (2009) Sleep, sleep disorders and inflammation in children. Sleep Med Suppl 1:S12–S16

6.

Valle M, Martos R, Gascón F, Cañete R, Zafra MA, Morales R (2005) Low-grade systemic inflammation, hypoadiponectinemia and a high concentration of leptin are present in very young obese children, and correlate with metabolic syndrome. Diabetes Metab 31(1):55–62

7.

Tan HL, Gozal D, Kheirandish-Gozal L (2013) Obstructive sleep apnea in children: a critical update. Nat Sci Sleep 25(5):109–123

8.

Lavie L (2009) Oxidative stress—a unifying paradigm in obstructive sleep apnea and comorbidities. Prog Cardiovasc Dis 51(4):303–312

9.

Sedeek MH, Llinas MT, Drummond H, Fortepiani L, Abram SR, Alexander BT, Reckelhoff JF, Granger JP (2003) Role of reactive oxygen species in endothelin-induced hypertension. Hypertension 42:806–810

10.

Lavie L, Lavie P (2009) Molecular mechanisms of cardiovascular disease in ISAHS: the oxidative stress link. Eur Respir J 33(6):1467–1484

11.

Lavie L, Vishnevsky A, Lavie P (2004) Evidence for lipid peroxidation in obstructive sleep apnea. Sleep 27(1):123–128

12.

Barcelo A, Miralles C, Barbe F, Vila M, Pons S, Agusti AG (2000) Abnormal lipid peroxidation in patients with sleep apnoea. Eur Respir J 16:644–647

13.

Barcelo A, Barbé F, de la Peña M, Vila M, Pérez G, Piérola J, Durán J, Agustí AG (2006) Antioxidant status in patients with sleep apnea and impact of continuous positive airway pressure treatment. Eur Respir J 27:756–760

14.

Vatansever E, Surmen-Gur E, Ursavas A, Karadag M (2011) Obstructive sleep apnea causes oxidative damage to plasma lipids and proteins and decreases adiponectin levels. Sleep Breath 15:275–282

15.

Dyugovskaya L, Lavie P, Lavie L (2002) Increased adhesion molecules expression and production of reactive oxygen species in leukocytes of sleep apnea patients. Am J Respir Crit Care Med 165:934–939

16.

Evans JL, Goldfine ID, Maddux BA, Grodsky GM (2003) Are oxidative stress-activated signaling pathways mediators of insulin resistance and beta-cell dysfunction? Diabetes 52:1–8

17.

Ceriello A, Motz E (2004) Is oxidative stress the pathogenic mechanism underlying insulin resistance, diabetes and cardiovascular disease? The common soil hypothesis revisited. Artherioscler Thromb Vasc Biol 24:816–823

18.

Weinbrenner T, Schroder H, Escurriol V, Fito M, Elosua R, Vila J et al (2006) Circulating oxidized LDL is associated with increased waist circumference independent of body mass index in men and women. Am J Clin Nutr 83(1):30–35

19.

Holvoet P, Lee DH, Steffes M, Gross M, Jacobs DR Jr. (2008) Association between circulating oxidized low-density lipoprotein and incidence of the metabolic syndrome. JAMA 299(19):2287–2293

20.

Holvoet P, Jenny NS, Schreiner PJ, Tracy RP, Jacobs DR (2007) The relationship between oxidized LDL and other cardiovascular risk factors and subclinical CVD in different ethnic groups: the Multi-Ethnic Study of Atherosclerosis (MESA). Atherosclerosis 194(1):245–252

21.

Norris AL1, Steinberger J, Steffen LM, Metzig AM, Schwarzenberg SJ, Kelly AS (2011). Circulating oxidized LDL and inflammation in extreme pediatric obesity. Obesity 19(7):1415–1419

22.

Kelly AS, Jacobs DR, Jr, Sinaiko AR, Moran A, Steffen LM, Steinberger J (2010) Relation of circulating oxidized LDL to obesity and insulin resistance in children. Pediatr Diabetes11(8):552–555

23.

Tauman R, Lavie L, Greenfeld M, Sivan Y (2014) Oxidative stress in children with obstructive sleep apnea syndrome. J Clin Sleep Med 10(6):677–681

24.

Shalitin S, Tauman R, Meyerovitch J, Sivan Y (2014) Are frequency and severity of sleep-disordered breathing in obese children and youth with and without type 2 diabetes mellitus different? Acta Diabetol 51(5):757–764

25.

Shalitin S, Deutsch V, Tauman R (2018) Hepcidine, soluble transferrin receptor and IL-6 levels in obese children and adolescents with and without type 2 diabetes mellitus/impaired glucose tolerance and their association with obstructive sleep apnea. J Endocrinol Invest (pubmed ahead of print)

26.

Quon MJ (2001) Limitations of the fasting glucose to insulin ratio as an index of insulin sensitivity. J Clin Endocrinol Metab 86:4615–4617

27.

Lee JM, Okumura MJ, Davis MM, Herman WH, Gurney JG (2006) Prevalence and determinants of insulin resistance among U.S. adolescents: a population- based study. Diabetes Care 29(11):2427–2432

28.

Iber C, Ancoli-Israel S, Chesson A, Quan SF (2007) For the American Academy of sleep medicine rules, terminology and technical specifications, 1st edn. American Academy of Sleep Medicine. The AASM Manual for the Scoring of Sleep and Associated Events, Westchester IL

29.

National High Blood Pressure Education Program Working Group on High Blood Pressure in Children and Adolescents (2004) The fourth report on the diagnosis, evaluation, and treatment of high blood pressure in children and adolescents. Pediatrics 114:555–576

30.

James PA, Oparil S, Carter BL, Cushman WC, Dennison-Himmelfarb C, Handler J, Lackland DT, LeFevre ML, MacKenzie TD, Ogedegbe O, Smith SC Jr, Svetkey LP, Taler SJ, Townsend RR, Wright JT Jr, Narva AS, Ortiz E (2014) Evidence-based guideline for the management of high blood pressure in adults: report from the panel members appointed to the Eighth Joint National Committee (JNC 8). JAMA 311:507–520

31.

Manna P, Jain SK (2015) Obesity, oxidative stress, adipose tissue dysfunction, and the associated health risks: causes and therapeutic strategies. Metab Syndr Relat Disord 13(10):423–444

32.

Wirix AJ, Kaspers PJ, Nauta J, Chinapaw MJ, Kist-van Holthe JE (2015) Pathophysiology of hypertension in obese children: a systemic review. Obes Rev 16(10):831–842

33.

Reddy KJ, Singh M, Bangit JR, Batsell RR (2010) The role of insulin resistance in the pathogenesis of atherosclerotic cardiovascular disease: an updated review. J Cardiovasc Med 11(9):633–647

34.

Ostrow V, Wu S, Aguilar A, Bonner R Jr, Suarez E, De Luca F (2011) Association between oxidative stress and masked hypertension in a multi-ethnic population of obese children and adolescents. J Pediatr 158(4):628–633

35.

Drozdz D, Kwinta P, Sztefko K et al (2016) Oxidative stress biomarkers and left ventricular hypertrophy in children with chronic kidney disease. Oxidative Med Cell Longev 2016:7520231

36.

Sinaiko AR, Steinberger J, Moran A, Prineas RJ, Vessby B, Basu S, Tracy R, Jacobs DR Jr (2005) Relation of body mass index and insulin resistance to cardiovascular risk factors, inflammatory factors, and oxidative stress during adolescence. Circulation 111:1985–1991
Ethics declarations
Conflict of interest
The authors declare that they have no conflict of interest.
Ethical approval
All procedures performed were in accordance with the ethical standards of the institutional research committee (Schneider Children's Medical Center of Israel and the Tel Aviv Souraski Medical Center) and with the 1964 Helsinki declaration and its later amendments or comparable ethical standards.
Informed consent
Informed consent was obtained from all individual participants included in the study.
About this article
Cite this article
Tauman, R., Shalitin, S. & Lavie, L. Oxidative stress in obese children and adolescents with and without type 2 diabetes mellitus is not associated with obstructive sleep apnea. Sleep Breath 23, 117–123 (2019). https://doi.org/10.1007/s11325-018-1670-2
Received:

Revised:

Accepted:

Published:

Issue Date:
Keywords
Insulin resistance

Type 2 diabetes mellitus

Obesity

Obstructive sleep apnea

Ox-LDL