Abstract
Purpose
It was shown in a previous cohort study that men with internal carotid artery (ICA) plaque, defined as focal wall thickness of ≥ 1.5 mm, had a threefold higher risk of stroke than those without plaque. We examined the relationship between arousal indices and sleep stages in patients with obstructive sleep apnea syndrome (OSAS) and carotid atherosclerosis.
Methods
Carotid atherosclerosis severity was evaluated using the maximal carotid wall intima-media thickness of the ICA (ICA-maxIMT) and plaque in 83 patients with OSAS.
Results
The ICA-maxIMT values were positively correlated with the apnea hypopnea index (AHI) (ρ = 0.294, P = 0.007), arousal index (ρ = 0.289, P = 0.008), oxygen desaturation index (ρ = 0.298, P = 0.006), percentage of visually scored total sleep time spent in nocturnal oxygen saturation < 90% (SpO2 < 90%) (ρ = 0.246, P = 0.025), and the percentage of visually scored total sleep time spent in non-REM sleep stage 1 (ρ = 0.326, P = 0.003) and were negatively correlated with the percentage of visually scored total sleep time spent in non-REM sleep stages 2 and 3. Arousal index, diabetes mellitus, and age were found to be independent predictors of ICA plaque presence (OR 1.052, P = 0.003; OR 8.705, P = 0.026; OR 1.064, P = 0.023, respectively).
Conclusions
Several PSG variables that are indicative of sleep fragmentation, sleep disordered breathing, and poor sleep quality correlated with the occurrence of atherosclerosis, but total arousal index was the only independent predictive factor.
This is a preview of subscription content, log in to check access.
Access options
Buy single article
Instant access to the full article PDF.
US$ 39.95
Price includes VAT for USA
Subscribe to journal
Immediate online access to all issues from 2019. Subscription will auto renew annually.
US$ 99
This is the net price. Taxes to be calculated in checkout.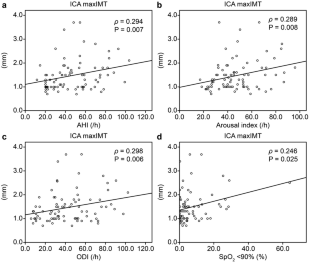 References
1.

Polak JF, Pencina M, Pencina K, O'Donnell C, Wolf P, D'Agostino R (2011) Carotid-wall intima-media thickness and cardiovascular events. N Engl J Med 365:213–221. https://doi.org/10.1056/nejmoa1012592

2.

Kitamura A, Iso H, Imano H, Ohira T, Okada T (2004) Carotid intima-media thickness and plaque characteristics as a risk factor for stroke in Japanese elderly men. Stroke 35:2788–2794. https://doi.org/10.1161/01.str.0000147723.52033.9e

3.

Minoguchi K, Yokoe T, Tazaki T, Minoguchi H, Tanaka A, Oda N, Okada S, Ohta S, Naito H, Adachi M (2005) Increased carotid intima-media thickness and serum inflammatory markers in obstructive sleep apnea. Am J Respir Crit Care Med 172:625–630. https://doi.org/10.1164/rccm.200412-1652oc

4.

Suzuki T, Nakano H, Maekawa J, Okamoto Y, Ohnishi Y, Yamauchi M, Kimura H (2004) Obstructive sleep apnea and carotid-artery intima-media thickness. Sleep 27:129–133. https://doi.org/10.1093/sleep/27.1.129

5.

Kaynak D, Göksan B, Kaynak H, Degirmenci N, Daglioglu S (2003) Is there a link between the severity of sleep-disordered breathing and atherosclerotic disease of the carotid arteries? Eur J Neurol 10:487–493. https://doi.org/10.1046/j.1468-1331.2003.00658.x

6.

Baguet JP, Hammer L, Lévy P, Pierre H, Launois S, Mallion JM et al (2005) The severity of oxygen desaturation is predictive of carotid wall thickening and plaque occurrence. Chest 128:3407–3412. https://doi.org/10.1378/chest.128.5.3407

7.

Szabóová E, Tomori Z, Donič V, Petrovičová J, Szabó P (2007) Sleep apnoea inducing hypoxemia is associated with early signs of carotid atherosclerosis in males. Respir Physiol Neurobiol 155:121–127. https://doi.org/10.1016/j.resp.2006.05.004

8.

Tan TY, Liou CW, Friedman M, Lin HC, Chang HW, Lin MC (2012) Factors associated with increased carotid intima-media thickness in obstructive sleep apnea/hypopnea syndrome. Neurologist 18:277–281. https://doi.org/10.1097/nrl.0b013e3182675344

9.

Özdemir C, Conkbayır I, Kuru A, Fırat H, Sökücü SN, Dalar L et al (2013) Correlation between the intima-media thickness and Framingham risk score in patients with sleep apnea syndrome. J Thorac Dis 5:751–757. https://doi.org/10.4070/kcj.2007.37.9.425

10.

Saletu M, Sauter C, Lalouschek W, Saletu B, Kapfhammer G, Benesch T (2008) Is excessive daytime sleepiness a predictor of carotid atherosclerosis in sleep apnea? Atherosclerosis 196:810–816. https://doi.org/10.1016/j.atherosclerosis.2007.01.016

11.

Shimamoto K, Ando K, Fujita T, Hasebe N, Higaki J, Horiuchi M, Imai Y, Imaizumi T, Ishimitsu T, Ito M, Ito S, Itoh H, Iwao H, Kai H, Kario K, Kashihara N, Kawano Y, Kim-Mitsuyama S, Kimura G, Kohara K, Komuro I, Kumagai H, Matsuura H, Miura K, Morishita R, Naruse M, Node K, Ohya Y, Rakugi H, Saito I, Saitoh S, Shimada K, Shimosawa T, Suzuki H, Tamura K, Tanahashi N, Tsuchihashi T, Uchiyama M, Ueda S, Umemura S, Japanese Society of Hypertension Committee for Guidelines for the Management of Hypertension (2014) The Japanese Society of Hypertension Guidelines for the Management of Hypertension (JSH 2014). Hypertens Res 37:253–390. https://doi.org/10.1038/hr.2014.20

12.

Berry RB, Brooks R, Gamaldo CE, Harding SM, Marcus CL, Vaughn BV, American Academy of Sleep Medicine (2012) The AASM manual for the scoring of sleep and associated events: rules, terminology and technical specifications, 2nd edn. American Academy of Sleep Medicine, Darien

13.

Carreras A, Zhang SX, Peris E, Qiao Z, Gileles-Hillel A, Li RC, Wang Y, Gozal D (2014) Chronic sleep fragmentation induces endothelial dysfunction and structural vascular changes in mice. Sleep 37:1817–1824. https://doi.org/10.5665/sleep.4178

14.

Covassin N, Calvin AD, Adachi T, Macedo PG, Albuquerque FN, Bukartyk J et al (2013) Moderate sleep deprivation leads to impairment in endothelial function independent of weight gain. Circulation 128:A12965

15.

Pugh K, Taheri S, Balanos G (2013) The effect of sleep restriction on the respiratory and vascular control. FASEB J 27:930–925

16.

J Dettoni JL, Consolim-Colombo FM, Drager LF, Rubira MC, Cavasin de Souza SB, Irigoyen MC et al (2012) Cardiovascular effects of partial sleep deprivation in healthy volunteers. J Appl Physiol 113:232–236. https://doi.org/10.1152/japplphysiol.01604.2011

17.

Shamsuzzaman AS, Gersh BJ, Somers VK (2003) Obstructive sleep apnea: implication for cardiac and vascular disease. JAMA 290:1906–1914. https://doi.org/10.1001/jama.290.14.1906

18.

Arnardottir ES, Mackiewicz M, Gislason T, Teff KL, Pack AI (2009) Molecular signatures of obstructive sleep apnea in adults: a review and perspective. Sleep 32:447–470. https://doi.org/10.1093/sleep/32.4.447

19.

Lanfranco F, Motta G, Minetto MA, Ghigo E, Maccario M (2010) Growth hormone/insulin-like growth factor-I axis in obstructive sleep apnea syndrome: an update. J Endocrinol Investig 33:192–196. https://doi.org/10.1007/bf03346580

20.

Saini J, Krieger J, Brandenberger G, Wittersheim G, Simon C, Follenius M (1993) Continuous positive airway pressure treatment. Effects on growth hormone, insulin and glucose profiles in obstructive sleep apnea patients. Horm Metab Res 25:375–381. https://doi.org/10.1055/s-2007-1002123

21.

Colao A, Marzullo P, Di Somma C, Lombardi G (2001) Growth hormone and the heart. Clin Endocrinol 54:137–154. https://doi.org/10.1046/j.1365-2265.2001.01218.x

22.

Pfeifer M, Verhovec R, Zizek B, Prezelj J, Poredos P, Clayton RN (1999) Growth hormone (GH) treatment reverses early atherosclerotic changes in GH-deficient adults. J Clin Endocrinol Metab 84:453–457. https://doi.org/10.1097/00019616-199905000-00019

23.

Palomaki H (1991) Snoring and the risk of ischemic brain infarction. Stroke 22:1021–1025. https://doi.org/10.1161/01.str.22.8.1021

24.

Spriggs DA, French JM, Murdy JM, Curless RH, Bates D, James OF (1992) Snoring increases the risk of stroke and adversely affects prognosis. QJM 83:555–562. https://doi.org/10.1093/oxfordjournals.qjmed.a068693

25.

Hu FB, Willett WC, Manson JE, Colditz GA, Rimm EB, Speizer FE et al (2000) Snoring and risk of cardiovascular disease in women. J Am Coll Cardiol 35:308–313. https://doi.org/10.1016/s0735-1097(99)00540-9

26.

Janszky I, Ljung R, Rohani M, Hallqvist J (2008) Heavy snoring is a risk factor for case fatality and poor short-term prognosis after a first acute myocardial infarction. Sleep 31:801–817. https://doi.org/10.1093/sleep/31.6.801

27.

Lee S, Amis T, Byth K, Larcos G, Kairaitis K, Robinson T et al (2008) Heavy snoring as a cause of carotid artery atherosclerosis. Sleep 31:1207–1213. https://doi.org/10.5665/sleep/31.9.1207

28.

Salepci B, Fidan A, Ketenci SC, Parmaksiz ET, Comert SS, Kiral N, Akturk UA, Caglayan B, Salepci E (2015) The effect of obstructive sleep apnea syndrome and snoring severity to intima-media thickening of carotid artery. Sleep Breath 19:239–246. https://doi.org/10.1007/s11325-014-1002-0

29.

Amatoury J, Howitt L, Wheatley J, Avolio A, Amis T (2006) Snoring-related energy transmission to the carotid artery in rabbits. J Appl Physiol 100:1547–1553. https://doi.org/10.1152/japplphysiol.01439.2005

30.

Puig F, Rico F, Almendros I, Montserrat JM, Navajas D, Farre R (2005) Vibration enhances interleukin-8 release in a cell model of snoring-induced airway inflammation. Sleep 28:1312–1316. https://doi.org/10.1093/sleep/28.10.1312

31.

Gates GJ, Mateika SE, Basner RC, Mateika JH (2005) Baroreflex sensitivity in nonapneic snorers and control subjects before and after nasal continuous positive airway pressure. Chest 126:801–807. https://doi.org/10.1378/chest.126.3.801
Acknowledgements
We would like to thank Ms. Akiko Sato, the polysomnographer, for recording and analyzing the PSG data.
Ethics declarations
Ethical approval
The study was approved by the ethical committee of Tokyo Women's Medical University, and written informed consent was obtained from all participants. All procedures performed in studies involving human participants were in accordance with the ethical standards of the institutional and/or national research committee and with the 1964 Helsinki declaration and its later amendments or comparable ethical standards.
Informed consent
Informed consent was obtained from all individual participants included in the study.
Conflict of interest
The authors declare that they have no conflict of interest.
About this article
Cite this article
Suzuki, M., Shimamoto, K., Sekiguchi, H. et al. Arousal index as a marker of carotid artery atherosclerosis in patients with obstructive sleep apnea syndrome. Sleep Breath 23, 87–94 (2019). https://doi.org/10.1007/s11325-018-1664-0
Received:

Revised:

Accepted:

Published:

Issue Date:
Keywords
Arousal index

Sleep stage

IMT

Carotid atherosclerosis

Obstructive sleep apnea syndrome