Abstract
Purpose
Until now, there is no clear consensus on optimal care for mild sleep-related breathing disorders (SRBD) in general or for positional obstructive sleep apnea (POSA) in particular. Most proposed treatment options are either invasive and/or expensive. Positional therapy (PT) may therefore present as a valuable first-line intervention in POSA.
Methods
Twenty-eight patients presenting with POSA were enrolled in a prospective cohort study. The protocol consisted of three nights of polysomnography (PSG) in an academic sleep lab. Inclusion was based on the first PSG. During a consecutive PSG, PT was provided by means of a sleep-positioning pillow (Posiform®). The third PSG was performed after 1 month of PT. Sleepiness, fatigue, and sleep quality were assessed with the Epworth Sleepiness Scale (ESS), the fatigue severity scale (FSS), the Pittsburgh Sleep Quality Index (PSQI), and the Function Outcomes of Sleep Questionnaire (FOSQ) at baseline, and after 1 and at 6 months of PT alongside satisfaction and compliance ratings.
Results
Significant immediate treatment effects after one night and sustained after 1 month were observed by significant reductions of sleep in supine position (p < .001), sleep fragmentation (p < .05), apnea-hypopnea (p < .001), respiratory disturbance (p < .001), and oxygen desaturation (p < .001) indices. PSQI (p < .001), ESS (p < .005), and FOSQ (p < .001) also showed significant and persistent improvements.
Conclusions
Combined effects on sleep-related respiration and clinical symptoms were observed after PT initiation as well as after 1 month using the sleep-positioning pillow. Furthermore, reported compliance and overall satisfaction appeared to be highly concordant both at 1 month and 6 months follow-up.
Access options
Buy single article
Instant access to the full article PDF.
USD 39.95
Price excludes VAT (USA)
Tax calculation will be finalised during checkout.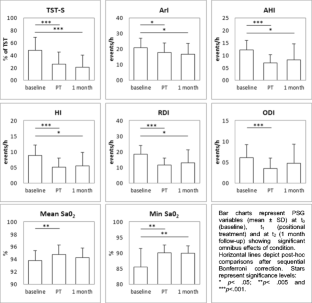 References
Anstead N, Phillips B (1999) The spectrum of sleep-disordered breathing. Resp Care Clin N Am 5:363–377

De Godoy LB et al (2015) Treatment of upper airway resistance syndrome in adults: where do we stand? Sleep Sci 8:42–48

Kendzerska T, Mollayeva T, Gershon AS, Leung RS, Hawker G, Tomlinson G (2014) Untreated obstructive sleep apnea and the risk for serious long-term adverse outcomes: a systematic review. Sleep Med Rev 18:49–59

Conwell WD, Tsai SC (2016) Managing comorbid illness in obstructive sleep apnea: what can we learn from other diseases? Sleep Med Clin 11:313–321

Weaver TE et al (2014) Innovative treatments for adults with obstructive sleep apnea. Nat Sci Sleep 18:137–147

McNicholas WT, Bonsignore MR, Lévy P, Ryan S (2016) Mild obstructive sleep apnoea: clinical relevance and approaches to management. Lancet Resp Med 4:826–834

Catwright RD (1984) Effect of sleep position on sleep apnea severity. Sleep 7:110–114

Ravesloot MJ et al (2016) Positional OSA part 2: retrospective cohort analysis with a new classification system (APOC). Sleep Breath 20:881–888

Ravesloot MJ, van Maanen JP, Dun L, de Vries N (2013) The undervalued potential of positional therapy in position-dependent snoring and obstructive sleep apnea-a review of the literature. Sleep Breath 17:39–49

Oksenberg A, Gadoth N (2014) Are we missing a simple treatment for most adult sleep apnea patients? The avoidance of the supine sleep position. J Sleep Res 23:204–210

Joosten SA, O'Driscoll DM, Berger PJ, Hamilton GS (2014) Supine position related obstructive sleep apnea in adults: pathogenesis and treatment. Sleep Med Rev 18:7–17

Spicuzza L, Caruso D, Di Maria G (2015) Obstructive sleep apnoea syndrome and its management. Ther Adv Chronic Dis 6:273–285

Barnes H, Edwards B, Joosten S, Naughton M, Hamilton G, Dabscheck E (2016) Positional modification techniques for supine obstructive sleep apnea: a systematic review and meta-analysis. Sleep Med Rev 36:107–115. https://doi.org/10.1016/j.smrv.2016.11.004

Skinner MA, Kingshott RN, Filsell S, Taylor DR (2008) Efficacy of the 'tennis ball technique' versus nCPAP in the management of position-dependent obstructive sleep apnoea syndrome. Respirology 13:708–713

Bignold JJ, Deans-Costi G, Goldsworthy MR, Robertson CA, McEvoy D, Catcheside PG, Mercer JD (2009) Poor long-term patient compliance with the tennis ball technique for treating positional obstructive sleep apnea. J Clin Sleep Med 5:428–430

Jackson M, Collins A, Berlowitz D, Howard M, O'Donoghue F, Barnes M (2015) Efficacy of sleep position modification to treat positional obstructive sleep apnea. Sleep Med 16:545–552

Bignold JJ, Mercer JD, Antic NA, McEvoy RD, Catcheside PG (2011) Accurate position monitoring and improved supine-dependent obstructive sleep apnea with a new position recording and supine avoidance device. J Clin Sleep Med 7:376–383

van Maanen JP et al (2012) Evaluation of a new simple treatment for positional sleep apnea patients. J Sleep Res 21:322–329

Levendowski DJ, Seagraves S, Popovic D, Westbrook PR (2014) Assessment of a neck-based treatment and monitoring device for positional obstructive sleep apnea. J Clin Sleep Med 10:863–871

Scarlata S, Rossi Bartoli I, Santangelo S, Giannunzio G, Pedone C, Antonelli Incalzi R (2016) Short-term effects of a vibrotactile neck-based treatment device for positional obstructive sleep apnea: preliminary data on tolerability and efficacy. J Thorac Dis 8:1820–1824

Ravesloot MJ, White D, Heinzer R, Oksenberg A, Pépin JL (2017) Efficacy of the new generation of devices for positional therapy for patients with positional obstructive sleep apnea: a systematic review of the literature and meta-analysis. J Clin Sleep Med 13:813–824

van Maanen JP, de Vries N (2014) Long-term effectiveness and compliance of positional therapy with the sleep position trainer in the treatment of positional obstructive sleep apnea syndrome. Sleep 37:1209–1215

Eijsvogel MM, Ubbink R, Dekker J, Oppersma E, de Jongh FH, van der Palen J, Brusse-Keizer MG (2015) Sleep position trainer versus tennis ball technique in positional obstructive sleep apnea syndrome. J Clin Sleep Med 11:139–147

Zuberi NA, Rekab K, Nguyen HV (2004) Sleep apnea avoidance pillow effects on obstructive sleep apnea syndrome and snoring. Sleep Breath 8:201–207

Svatikova A, Chervin RD, Wing JJ, Sanchez BN, Migda EM, Brown DL (2011) Positional therapy in ischemic stroke patients with obstructive sleep apnea. Sleep Med 12:262–266

Chen WC et al (2015) Treatment of snoring with positional therapy in patients with positional obstructive sleep apnea syndrome. Sci Rep 11:181–188

Berry RB, and the American Academy of Sleep Medicine et al (2012) Rules for scoring respiratory events in sleep: update of the 2007 AASM Manual for the Scoring of Sleep and Associated Events. Deliberations of the Sleep Apnea Definitions Task Force of the American Academy of Sleep Medicine. J Clin Sleep Med 8:597–619

American Psychiatric Association (APA) (2013) Diagnostic and statistical manual of mental disorders, 5th edn. American Psychiatric Publishing, Arlington

Faul F, Erdfelder E, Lang AG, Buchner A (2007) G*power 3: a flexible statistical power analysis program for the social, behavioral, and biomedical sciences. Behav Res Methods 39:175–191

Heinzer RC, Pellaton C, Rey V, Rossetti AO, Lecciso G, Haba-Rubio J, Tafti M, Lavigne G (2012) Positional therapy for obstructive sleep apnea: an objective measurement of patients' usage and efficacy at home. Sleep Med 13:425–428
Acknowledgements
The authors would like to thank our psychologist, Ms. Monique Kentos, for her participation in subject recruitment, our assistant Ms. Margaux Crick for accepting to be our "subject in situ," and our nursing and technical staff for their commitment.
Funding
Oscimed S.A. (Inc.)™ solely provided financial support in the form of the studied sleep positioning pillows. The sponsor had no role in the design or conduct of this research.
Ethics declarations
Conflict of interest
All authors certify that they have no affiliations with or involvement in any organization or entity with any financial interest (such as honoraria; educational grants; participation in speakers' bureaus; membership, employment, consultancies, stock ownership, or other equity interest; and expert testimony or patent-licensing arrangements), or non-financial interest (such as personal or professional relationships, affiliations, knowledge, or beliefs) in the subject matter or materials discussed in this manuscript.
Ethical approval
All procedures performed in studies involving human participants were in accordance with the ethical standards of the institutional and/or national research committee and with the 1964 Helsinki declaration and its later amendments or comparable ethical standards.
Informed consent
Informed consent was obtained from all individual participants included in the study.
About this article
Cite this article
Newell, J., Mairesse, O. & Neu, D. Can positional therapy be simple, effective and well tolerated all together? A prospective study on treatment response and compliance in positional sleep apnea with a positioning pillow. Sleep Breath 22, 1143–1151 (2018). https://doi.org/10.1007/s11325-018-1650-6
Received:

Revised:

Accepted:

Published:

Issue Date:

DOI: https://doi.org/10.1007/s11325-018-1650-6
Keywords
Positional therapy

Sleep-related breathing disorders

Sleep positioning pillow

Positional obstructive sleep apnea