Abstract
Purpose
Evidence for the management of CPAP-treated obstructive sleep apnea suggests that oronasal masks reduce mouth leaks at the expense of higher pressures and poorer adherence. Some authors have proposed the use of mandibular advancement devices in combination with nasal masks to address this. The aim of this study was to assess adherence to CPAP after 1 month's use of a nasal mask with a mandibular advancement device and to compare adherence with an oronasal mask.
Methods
A randomized crossover trial design to assess whether a mandibular advancement device combined with a nasal mask would improve CPAP adherence compared to an oronasal mask.
Results
There was no improvement in CPAP adherence and self-reported interface-related pain was significantly higher with the combined treatment.
Conclusions
Although the combined treatment reduced pressures, likely by improving upper airway patency, it may only be appropriate for a small number of patients due to associated discomfort.
Trial registration
NCT01889472
This is a preview of subscription content, log in to check access.
Access options
Buy single article
Instant access to the full article PDF.
US$ 39.95
Price includes VAT for USA
Subscribe to journal
Immediate online access to all issues from 2019. Subscription will auto renew annually.
US$ 99
This is the net price. Taxes to be calculated in checkout.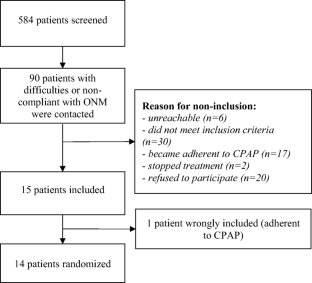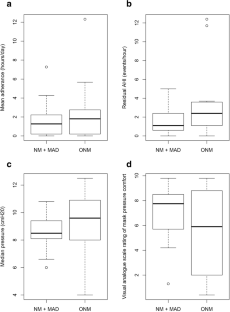 References
1.

Andrade RGS, Viana FM, Nascimento JA et al (2017) Nasal vs oronasal CPAP for OSA treatment: a meta-analysis. Chest 153:665–674

2.

Chai CL, Pathinathan A, Smith B (2006) Continuous positive airway pressure delivery interfaces for obstructive sleep apnoea. Cochrane Database Syst Rev (4):CD005308. https://doi.org/10.1002/14651858.CD005308.pub2

3.

Borel JC, Tamisier R, Dias-Domingos S, Sapene M, Martin F, Stach B, Grillet Y, Muir JF, Levy P, Series F, Pepin JL, on behalf of the Scientific Council of The Sleep Registry of the French Federation of Pneumology (OSFP) (2013) Type of mask may impact on continuous positive airway pressure adherence in apneic patients. PLoS One 8:e64382. https://doi.org/10.1371/journal.pone.0064382

4.

Schellhas V, Glatz C, Beecken I, Okegwo A, Heidbreder A, Young P, Boentert M (2018) Upper airway obstruction induced by non-invasive ventilation using an oronasal interface. Sleep Breath Published Online First 22:781–788

5.

Borel J-C, Gakwaya S, Masse J-F, Melo-Silva CA, Sériès F (2012) Impact of CPAP interface and mandibular advancement device on upper airway mechanical properties assessed with phrenic nerve stimulation in sleep apnea patients. Respir Physiol Neurobiol 183:170–176

6.

Liu H-W, Chen Y-J, Lai Y-C, Huang CY, Huang YL, Lin MT, Han SY, Chen CL, Yu CJ, Lee PL (2017) Combining MAD and CPAP as an effective strategy for treating patients with severe sleep apnea intolerant to high-pressure PAP and unresponsive to MAD. PLoS One 12:e0187032

7.

El-Solh AA, Moitheennazima B, Akinnusi ME et al (2011) Combined oral appliance and positive airway pressure therapy for obstructive sleep apnea: a pilot study. Sleep Breath 15:203–208

8.

Jacobsen AR, Eriksen F, Hansen RW, Erlandsen M, Thorup L, Damgård MB, Kirkegaard MG, Hansen KW (2017) Determinants for adherence to continuous positive airway pressure therapy in obstructive sleep apnea. PLoS One 12:e0189614
Acknowledgments
We would like to acknowledged Johanna Robertson (PT, PhD) for language editing.
Ethics declarations
Conflict of interest
The authors M Lebret, M Lesgoirres, N Daabek, and J-C Borel are employees of AGIR à dom., a non-profit homecare provider. J-C Borel has received grants, personal fees, and non-financial support from Philips Healthcare and ResMed unrelated to the submitted work. M Lebret has received personal fees and non-financial support from Air liquid Medical System and Sefam unrelated to the submitted work. A Léotard, S Bailly, A Verain, F Series, and J-L Pépin declared that they have no conflict of interest.
Ethical approval
All procedures performed in studies involving human participants were in accordance with the ethical standards of the institutional and/or national research committee and with the 1964 Helsinki Declaration and its later amendments or comparable ethical standards.
Informed consent
Informed consent was obtained from all individual participants included in the study.
Additional information
Publisher's note
Springer Nature remains neutral with regard to jurisdictional claims in published maps and institutional affiliations.
Electronic supplementary material
Glossary
AHI

apnea–hypopnea index

BMI

body mass index

CPAP

continuous positive airway pressure

EDS

excessive daytime sleepiness

MAD

mandibular advancement device

NM

nasal mask

NM + MAD

nasal mask with associated mandibular advancement device

ONM

oronasal mask

OSAS

obstructive sleep apnea syndrome

QOL

quality of life
About this article
Cite this article
Léotard, A., Lesgoirres, M., Daabek, N. et al. Adherence to CPAP with a nasal mask combined with mandibular advancement device versus an oronasal mask: a randomized crossover trial. Sleep Breath 23, 885–888 (2019). https://doi.org/10.1007/s11325-018-01772-5
Received:

Revised:

Accepted:

Published:

Issue Date:
Keywords
Continuous positive airway pressure

Nasal mask

Mandibular advancement device

Treatment adherence and compliance

Obstructive sleep apnea