Abstract
Background
Obstructive sleep apnea syndrome (OSAS) is related to arterial hypertension. In the present study, we test the hypothesis that patients with severe OSAS have excessive apnea induced blood pressure (BP).
Methods
We investigated 97 patients with an apnea/hypopnea index (AHI) greater than 30. Systolic BP (SBP) was continuously determined by using the pulse transit time (PTT). Apnea/hypopnea induced nocturnal BP fluctuations (NBPFs) were detected and showed phenomena of continuous increases of the SBP baseline. Such periods of SBP baseline elevations ≥ 10 mmHg were called superposition. Respiratory and cardiac parameters were obtained from the polysomnographic investigation.
Results
Eighty-four periods of superposition were detected in 48 patients. They occurred mainly during REM sleep (76%). Apnea duration was increased and the time in respiration was reduced in periods of superposition compared to non-superposition periods. In superposition periods mean oxygen saturation (SpO2) and the minimal SpO2 were lower, desaturations were more pronounced, and the mean heart rate (HR) was increased. The maximum SBP during superposition was significantly increased (204 ± 32 vs.171 ± 28 mmHg). The clinic BP was higher in patients with superposition (SBP 149.2 ± 17.5 vs. 140 ± 19.1, DBP 91.5 ± 11.5 vs. 86.3 ± 11.8).
Conclusions
The study reveals that patients with severe OSAS can have periods of BP superposition during night with extremely high SBP and very low oxygen saturation, which may add to a high risk for cardiovascular events during the night.
This is a preview of subscription content, log in to check access.
Access options
Buy single article
Instant access to the full article PDF.
US$ 39.95
Price includes VAT for USA
Subscribe to journal
Immediate online access to all issues from 2019. Subscription will auto renew annually.
US$ 99
This is the net price. Taxes to be calculated in checkout.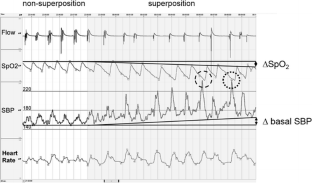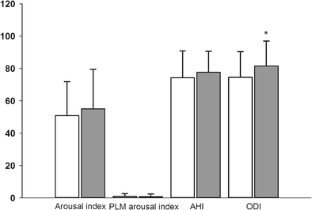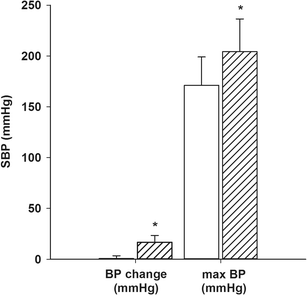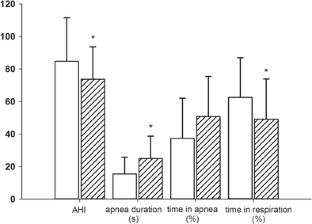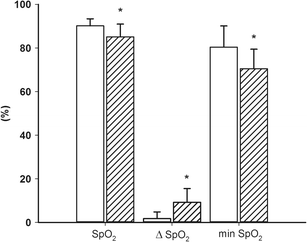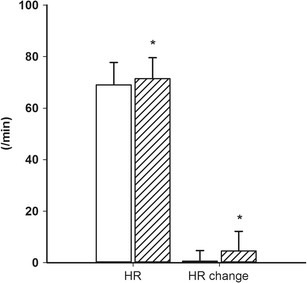 References
1.

Somers VK, White DP, Amin R, Abraham WT, Costa F, Culebras A et al (2008) Sleep apnea and cardiovascular disease: an American Heart Association/american College Of Cardiology Foundation Scientific Statement from the American Heart Association Council for High Blood Pressure Research Professional Education Committee, Council on Clinical Cardiology, Stroke Council, and Council On Cardiovascular Nursing. In collaboration with the National Heart, Lung, and Blood Institute National Center on Sleep Disorders Research (National Institutes of Health). Circulation 118(10):1080–1111

2.

Jenner R, Fatureto-Borges F, Costa-Hong V, Lopes HF, Teixeira SH, Marum E, et al. (2017) Association of obstructive sleep apnea with arterial stiffness and nondipping blood pressure in patients with hypertension. J Clin Hypertens (Greenwich). https://doi.org/10.1111/jch.13008

3.

Crinion SJ, Ryan S, McNicholas WT (2017) Obstructive sleep apnoea as a cause of nocturnal nondipping blood pressure: recent evidence regarding clinical importance and underlying mechanisms. Eur Respir J:49(1). https://doi.org/10.1183/13993003.01818-2016

4.

Parati G, Lombardi C, Hedner J, Bonsignore MR, Grote L, Tkacova R et al (2012) Position paper on the management of patients with obstructive sleep apnea and hypertension: joint recommendations by the European Society of Hypertension, by the European Respiratory Society and by the members of European COST (COoperation in Scientific and Technological research) ACTION B26 on obstructive sleep apnea. J Hypertens 30(4):633–646

5.

Peppard PE, Young T, Palta M, Skatrud J (2000) Prospective study of the association between sleep-disordered breathing and hypertension. N Engl J Med 342(19):1378–1384

6.

Logan AG, Perlikowski SM, Mente A, Tisler A, Tkacova R, Niroumand M et al (2001) High prevalence of unrecognized sleep apnoea in drug-resistant hypertension. J Hypertens 19(12):2271–2277

7.

Tilkian AG, Guilleminault C, Schroeder JS, Lehrman KL, Simmons FB, Dement WC (1977) Sleep-induced apnea syndrome. Prevalence of cardiac arrhythmias and their reversal after tracheostomy. Am J Med 63(3):348–358

8.

Somers VK, Dyken ME, Clary MP, Abboud FM (1995) Sympathetic neural mechanisms in obstructive sleep apnea. J Clin Invest 96(4):1897–1904

9.

Loffredo L, Zicari AM, Occasi F, Perri L, Carnevale R, Angelico F et al (2015) Endothelial dysfunction and oxidative stress in children with sleep disordered breathing: role of NADPH oxidase. Atherosclerosis 240(1):222–227

10.

Carpagnano GE, Kharitonov SA, Resta O, Foschino-Barbaro MP, Gramiccioni E, Barnes PJ (2003) 8-Isoprostane, a marker of oxidative stress, is increased in exhaled breath condensate of patients with obstructive sleep apnea after night and is reduced by continuous positive airway pressure therapy. Chest 124(4):1386–1392

11.

Sanchez-de-la-Torre M, Campos-Rodriguez F, Barbe F (2013) Obstructive sleep apnoea and cardiovascular disease. Lancet Respir Med 1(1):61–72

12.

Jelic S, Lederer DJ, Adams T, Padeletti M, Colombo PC, Factor PH et al (2010) Vascular inflammation in obesity and sleep apnea. Circulation 121(8):1014–1021

13.

Gesche H, Grosskurth D, Kuchler G, Patzak A (2012) Continuous blood pressure measurement by using the pulse transit time: comparison to a cuff-based method. Eur J Appl Physiol 112(1):309–315

14.

Patzak A, Mendoza Y, Gesche H, Konermann M (2015) Continuous blood pressure measurement using the pulse transit time: comparison to intra-arterial measurement. Blood Press 24(4):217–221

15.

Bartsch S, Ostojic D, Schmalgemeier H, Bitter T, Westerheide N, Eckert S et al (2010) Validation of continuous blood pressure measurements by pulse transit time: a comparison with invasive measurements in a cardiac intensive care unit. Dtsch Med Wochenschr 135(48):2406–2412

16.

Hennig A, Gesche H, Fietze I, Penzel T, Glos M, Patzak A (2012) Measurement of sleep apnoea-related changes in blood pressure using the pulse transit time and the Penaz principle. Article in German. Atemwegs- und Lungenkrankheiten 38:1–8

17.

The AASM manual for the scoring of sleep and associated events: rules, terminology, and technical specification. 1st ed. ed. Westchester, IL: American Academy of Sleep Medicine; 2007

18.

Nygaard HA (2008) Measuring body mass index (BMI) in nursing home residents: the usefulness of measurement of arm span. Scand J Prim Health Care 26(1):46–49

19.

Fagard RH, Van Den Broeke C, De CP (2005) Prognostic significance of blood pressure measured in the office, at home and during ambulatory monitoring in older patients in general practice. J Hum Hypertens 19(10):801–807

20.

Sega R, Facchetti R, Bombelli M, Cesana G, Corrao G, Grassi G et al (2005) Prognostic value of ambulatory and home blood pressures compared with office blood pressure in the general population: follow-up results from the Pressioni Arteriose Monitorate e Loro Associazioni (PAMELA) study. Circulation 111(14):1777–1783

21.

Roush GC, Fagard RH, Salles GF, Pierdomenico SD, Reboldi G, Verdecchia P et al (2014) Prognostic impact from clinic, daytime, and night-time systolic blood pressure in nine cohorts of 13,844 patients with hypertension. J Hypertens 32(12):2332–2340

22.

Fagard RH, Thijs L, Staessen JA, Clement DL, De Buyzere ML, De Bacquer DA (2009) Night-day blood pressure ratio and dipping pattern as predictors of death and cardiovascular events in hypertension. J Hum Hypertens 23(10):645–653

23.

Hla KM, Young T, Finn L, Peppard PE, Szklo-Coxe M, Stubbs M (2008) Longitudinal association of sleep-disordered breathing and nondipping of nocturnal blood pressure in the Wisconsin Sleep Cohort Study. Sleep 31(6):795–800

24.

Linz D, Mahfoud F, Linz B, Hohl M, Schirmer SH, Wirth KJ et al (2014) Effect of obstructive respiratory events on blood pressure and renal perfusion in a pig model for sleep apnea. Am J Hypertens 27(10):1293–1300

25.

Ryan S, Taylor CT, McNicholas WT (2005) Selective activation of inflammatory pathways by intermittent hypoxia in obstructive sleep apnea syndrome. Circulation 112(17):2660–2667

26.

Troncoso Brindeiro CM, da Silva AQ, Allahdadi KJ, Youngblood V, Kanagy NL (2007) Reactive oxygen species contribute to sleep apnea-induced hypertension in rats. Am J Physiol Heart Circ Physiol 293(5):H2971–H2976

27.

Bilo G, Zorzi C, Ochoa Munera JE, Torlasco C, Giuli V, Parati G (2015) Validation of the Somnotouch-NIBP noninvasive continuous blood pressure monitor according to the European Society of Hypertension International Protocol revision 2010. Blood Press Monit 20(5):291–294

28.

Neutel JM, Smith DH (1997) The circadian pattern of blood pressure: cardiovascular risk and therapeutic opportunities. Curr Opin Nephrol Hypertens 6(3):250–256

29.

Giles T (2005) Relevance of blood pressure variation in the circadian onset of cardiovascular events. J Hypertens Suppl 23(1):S35–S39

30.

Aboyans V, Cassat C, Lacroix P, Tapie P, Tabaraud F, Pesteil F et al (2000) Is the morning peak of acute myocardial infarction's onset due to sleep-related breathing disorders? A prospective study. Cardiology 94(3):188–192
Acknowledgements
The authors thank Dr. A. Göhler and Mrs. Rebecca Müller for their help in preparing the manuscript.
Funding
No funding was received for this research.
Ethics declarations
Conflict of interest
J.G. is an employee and G.K. is the CEO of SOMNOmedics GmbH. A.P. advices SOMNOmedics in methods of BP measurement and received travel support. The authors certify that they have no other affiliations with or involvement in any organization or entity with any financial interest (such as honoraria; educational grants; participation in speakers' bureaus; membership, employment, consultancies, stock ownership, nor other equity interest; and expert testimony or patent-licensing arrangements) or no non-financial interest (such as personal or professional relationships, affiliations, knowledge or beliefs) in the subject matter or materials discussed in this manuscript.
About this article
Cite this article
Gehring, J., Gesche, H., Drewniok, G. et al. Nocturnal blood pressure fluctuations measured by using pulse transit time in patients with severe obstructive sleep apnea syndrome. Sleep Breath 22, 337–343 (2018). https://doi.org/10.1007/s11325-017-1555-9
Received:

Revised:

Accepted:

Published:

Issue Date:
Keywords
Obstructive sleep apnea

Blood pressure

Nocturnal blood pressure fluctuations

Pulse transit time

Hypertension