Abstract
Objective
Supine body orientation plays an important role in precipitating upper airway collapse in a significant proportion of obstructive sleep apnea (OSA) patients known to have supine-predominant OSA (OSAsup). Traditionally, trunk position is used to assess OSAsup, but the role of the head position has not been established. We hypothesized that head position influences OSA independently of trunk position.
Methods
Head and trunk positions were determined from subjects undergoing overnight polysomnography. The apnea-hypopnea index (AHI), rapid eye movement (REM), and non-REM sleep time of all trunk and head positions (lateral and supine) were calculated and compared against the complete supine position, i.e., head and trunk supine.
Results
In 26 subjects, lateral rotation of the head to the right or left with the trunk supine resulted in a significant reduction in AHI from 36.0 ± 22.5 to 25.8 ± 16.6 (p = 0.008), and an AHI drop <10 in 27% of patients. The "trunk lateral–head lateral" position resulted in a more dramatic reduction in AHI from 31.6 ± 20.2 to 4.1 ± 4.1 (p < 0.0001). The distributions of REM and non-REM sleep were not different among positions. In the subgroup with a body mass index (BMI) <32 kg/m2 (15 subjects), the AHI reduction with lateral head rotation was significant (p = 0.005) but not in remaining 11 obese patient with a BMI ≥32 kg/m2 (p = 0.24).
Conclusion
OSA severity with the trunk in the supine position decreased significantly when the head rotated from supine to lateral, particularly in non-obese patients. These results demonstrate an important influence of head position on the AHI, independently of trunk position and sleep stage, in patients with OSA.
This is a preview of subscription content, log in to check access.
Access options
Buy single article
Instant access to the full article PDF.
US$ 39.95
Price includes VAT for USA
Subscribe to journal
Immediate online access to all issues from 2019. Subscription will auto renew annually.
US$ 99
This is the net price. Taxes to be calculated in checkout.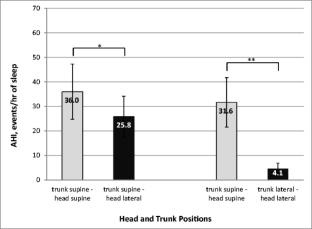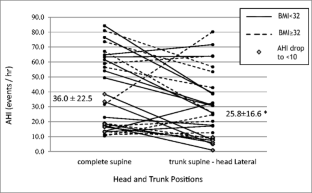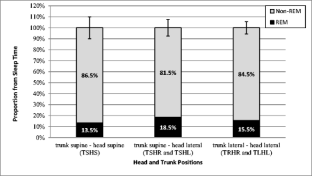 Abbreviations
AHI:

Apnea-hypopnea index

CPAP:

Continuous positive airway pressure

OSA:

Obstructive sleep apnea

OSAsup:

Supine-predominant obstructive sleep apnea

PSG:

Polysomnography

RIP:

Respiratory impedance plethysmography

REM:

Rapid eye movement

SaO2 :

Arterial oxyhemoglobin saturation

TSHS:

Trunk supine–head supine

TSHL:

Trunk supine–head left

TSHR:

Trunk supine–head right

TLHL:

Trunk left–head left

TRHR:

Trunk right–head right

TLHS:

Trunk left–head supine

TRHS:

Trunk right–head supine
References
1.

Kimoff RJ, Cheong TH, Olha AE, Charbonneau M, Levy RD, Cosio MG, Gottfried SB (1994) Mechanisms of apnea termination in obstructive sleep apnea. Role of chemoreceptor and mechanoreceptor stimuli. Am J Respir Crit Care Med 149(3 Pt 1):707–714. doi:10.1164/ajrccm.149.3.8118640

2.

Young T, Palta M, Dempsey J, Skatrud J, Weber S, Badr S (1993) The occurrence of sleep-disordered breathing among middle-aged adults. N Engl J Med 328(17):1230–1235. doi:10.1056/nejm199304293281704

3.

Young T, Peppard PE, Gottlieb DJ (2002) Epidemiology of obstructive sleep apnea: a population health perspective. Am J Respir Crit Care Med 165(9):1217–1239

4.

Young T, Blustein J, Finn L, Palta M (1997) Sleep-disordered breathing and motor vehicle accidents in a population-based sample of employed adults. Sleep 20(8):608–613

5.

Kohli P, Balachandran JS, Malhotra A (2011) Obstructive sleep apnea and the risk for cardiovascular disease. Current atherosclerosis reports 13(2):138–146. doi:10.1007/s11883-011-0161-8

6.

Kim HC, Young T, Matthews CG, Weber SM, Woodward AR, Palta M (1997) Sleep-disordered breathing and neuropsychological deficits. A population-based study. Am J Respir Crit Care Med 156(6):1813–1819. doi:10.1164/ajrccm.156.6.9610026

7.

Cartwright RD (1984) Effect of sleep position on sleep apnea severity. Sleep 7(2):110–114

8.

Ravesloot MJ, van Maanen JP, Dun L, de Vries N (2013) The undervalued potential of positional therapy in position-dependent snoring and obstructive sleep apnea—a review of the literature. Sleep & breathing = Schlaf & Atmung 17(1):39–49. doi:10.1007/s11325-012-0683-5

9.

Oksenberg A, Silverberg DS, Arons E, Radwan H (1997) Positional vs nonpositional obstructive sleep apnea patients: anthropomorphic, nocturnal polysomnographic, and multiple sleep latency test data. Chest 112(3):629–639

10.

Richard W, Kox D, den Herder C, Laman M, van Tinteren H, de Vries N (2006) The role of sleep position in obstructive sleep apnea syndrome. Eur Arch Otorhinolaryngol 263(10):946–950. doi:10.1007/s00405-006-0090-2

11.

Oksenberg A, Khamaysi I, Silverberg DS, Tarasiuk A (2000) Association of body position with severity of apneic events in patients with severe nonpositional obstructive sleep apnea. Chest 118(4):1018–1024

12.

Shetty M, Mador MJ (2015) Prevalence of Positional Obstructive Sleep Apnea in Patients Undergoing Polysomnography and the Effect of Sleep Stage. In: de Vries N, Ravesloot M, van Maanen JP (eds) Positional Therapy in Obstructive Sleep Apnea. Springer International Publishing, pp 53–64. doi:10.1007/978-3-319-09626-1_4

13.

EEG arousals: scoring rules and examples: a preliminary report from the Sleep Disorders Atlas Task Force of the American Sleep Disorders Association (1992). Sleep 15 (2):173–184

14.

Rechtschaffen A, Kales A (1968) A manual of standardized terminology, techniques and scoring system for sleep stages of human subjects. UCLA Brain Information Service/Brain Research Institute, Los Angeles

15.

Alshaer H, Fernie GR, Tseng WH, Bradley TD (2016) Comparison of in-laboratory and home diagnosis of sleep apnea using a cordless portable acoustic device. Sleep Med 22:91–96. doi:10.1016/j.sleep.2015.11.003

16.

Safiruddin F, Koutsourelakis I, de Vries N (2014) Analysis of the influence of head rotation during drug-induced sleep endoscopy in obstructive sleep apnea. Laryngoscope 124(9):2195–2199. doi:10.1002/lary.24598

17.

van Kesteren ER, van Maanen JP, Hilgevoord AA, Laman DM, de Vries N (2011) Quantitative effects of trunk and head position on the apnea hypopnea index in obstructive sleep apnea. Sleep 34(8):1075–1081. doi:10.5665/SLEEP.1164

18.

Cartwright RD, Diaz F, Lloyd S (1991) The effects of sleep posture and sleep stage on apnea frequency. Sleep 14(4):351–353

19.

Findley LJ, Wilhoit SC, Suratt PM (1985) Apnea duration and hypoxemia during REM sleep in patients with obstructive sleep apnea. Chest 87(4):432–436

20.

Peregrim I, Gresova S, Pallayova M, Fulton BL, Stimmelova J, Bacova I, Mikulakova A, Tomori Z, Donic V (2013) Does obstructive sleep apnea worsen during REM sleep? Physiol Res 62(5):569–575

21.

Patil SP, Schneider H, Schwartz AR, Smith PL (2007) Adult obstructive sleep apnea: pathophysiology and diagnosis. Chest 132(1):325–337. doi:10.1378/chest.07-0040

22.

Fleetham JA (1992) Upper airway imaging in relation to obstructive sleep apnea. Clin Chest Med 13(3):399–416

23.

Isono S, Tanaka A, Nishino T (2002) Lateral position decreases collapsibility of the passive pharynx in patients with obstructive sleep apnea. Anesthesiology 97(4):780–785

24.

Walsh JH, Leigh MS, Paduch A, Maddison KJ, Armstrong JJ, Sampson DD, Hillman DR, Eastwood PR (2008) Effect of body posture on pharyngeal shape and size in adults with and without obstructive sleep apnea. Sleep 31(11):1543–1549

25.

Brijbassi M, Kasai T, Montemurro LT, Bradley TD (2014) Effect of an Anti-Supine Shirt for Treatment of Supine-related Obstructive Sleep Apnea. Journal of Sleep Disorders & Therapy 2014

26.

Ono T, Otsuka R, Kuroda T, Honda E, Sasaki T (2000) Effects of head and body position on two- and three-dimensional configurations of the upper airway. J Dent Res 79(11):1879–1884

27.

Ishizaka S, Moromugi S, Kobayashi M, Kajihara H, Koga K, Sugahara H, Ishimatsu T, Kurata S, Kirkness JP, Oi K (2014) A remote-controlled airbag device can improve upper airway collapsibility by producing head elevation with jaw closure in normal subjects under Propofol anesthesia. IEEE journal of translational engineering in health and medicine 2:1–9
Acknowledgements
We would like to thank the technicians at the Toronto Rehab sleep laboratory for their support during data collection period; in particular, Fiona Rankin for her help in the interpretation of polysomnography data, and Wen-Hou Tseng for his aid in recruiting subjects for the study.
Ethics declarations
Funding
This project has been supported partially by these grants: MaRS Innovation has provided financial support, Ontario Centre of Excellence has provided financial support, Johnson and Johnson Inc. has provided financial support, and Ontario Brain Institute via FedDev has provided financial support. Dr. Alshaer received the NSERC PhD scholarship. Dr. Bradley is supported by the Clifford Nordal Chair in Sleep Apnea and Rehabilitation Research. Maryam Patel received the Youth Employment Grant from the NRC (National Research Council of Canada) Industrial Research Assistance program.
Conflicts of interest
H. Alshaer, T.D. Bradley, M Patel have received grant funding from the agencies listed in the Funding section above. The results of this study are not influenced by any of the aforementioned grants as the granting agencies had no role in the design or conduct of this research nor had a bias towards a certain outcome.
All authors certify that they have no affiliations with or involvement in any organization or entity with any financial interest (such as honoraria; educational grants; participation in speakers' bureaus; membership, employment, consultancies, stock ownership, or other equity interest; and expert testimony or patent-licensing arrangements), or non-financial interest (such as personal or professional relationships, affiliations, knowledge or beliefs) in the subject matter or materials discussed in this manuscript.
Ethical approval
All procedures performed in studies involving human participants were in accordance with the ethical standards of the institutional and/or national research committee and with the 1964 Helsinki declaration and its later amendments or comparable ethical standards.
Informed consent
Informed consent was obtained from all individual participants included in the study.
Additional information
Comment
Obstructive sleep apnea continues to be a significant problem affecting approximately 10% of the adult population in developed countries. Multiple therapeutic options exist today for treatment. Some of the least invasive include devices which maintain a lateral sleeping position at night. This article provides a new concept for patients who prefer to sleep supine - movement of the head alone to a lateral position.. While the study is small and should be reproduced in a larger cohort, the data supports that some patients with OSA may see a substantial benefit when their head is turned to a lateral position.
Robin Germany
Minnesota, USA
About this article
Cite this article
Zhu, K., Bradley, T., Patel, M. et al. Influence of head position on obstructive sleep apnea severity. Sleep Breath 21, 821–828 (2017). https://doi.org/10.1007/s11325-017-1525-2
Received:

Revised:

Accepted:

Published:

Issue Date:
Keywords
Trunk posture

Head position

Obstructive sleep apnea

Supine-predominant sleep apnea