Abstract
Purpose
Data in the literature suggest that myofunctional therapy (MT) may be able to play a role in the treatment of children with sleep-disordered breathing (SDB). Our study investigated the effectiveness of MT in reducing respiratory symptoms in children with SDB by modifying tongue tone.
Methods
Polysomnographic recordings were performed at baseline to assess obstructive sleep apnea (OSA) severity in 54 children (mean age 7.1 ± 2.5 years, 29 male) with SDB. Patients were randomly assigned to either the MT or no-MT group. Myofunctional evaluation tests, an assessment of tongue strength, tongue peak pressure, and endurance using the Iowa Oral Performance Instrument (IOPI), and nocturnal pulse oximetry were performed before (T0) and after (T1) 2 months of treatment.
Results
MT reduced oral breathing (83.3 vs 16.6%, p < 0.0002) and lip hypotonia (78 vs 33.3%, p < 0.003), restored normal tongue resting position (5.6 vs 33.4%, p < 0.04), and significantly increased mean tongue strength (31.9 ± 10.8 vs 38.8 ± 8.3, p = 0.000), tongue peak pressure (34.2 ± 10.2 vs 38.1 ± 7.0, p = 0.000), and endurance (28.1 ± 8.9 vs 33.1 ± 8.7, p = 0.01) in children with SDB. Moreover, mean oxygen saturation increased (96.4 ± 0.6 vs 97.4 ± 0.7, p = 0.000) and the oxygen desaturation index decreased (5.9 ± 2.3 vs 3.6 ± 1.8, p = 0.001) after MT.
Conclusions
Oropharyngeal exercises appear to effectively modify tongue tone, reduce SDB symptoms and oral breathing, and increase oxygen saturation, and may thus play a role in the treatment of SDB.
This is a preview of subscription content, log in to check access.
Access options
Buy single article
Instant access to the full article PDF.
US$ 39.95
Tax calculation will be finalised during checkout.
Subscribe to journal
Immediate online access to all issues from 2019. Subscription will auto renew annually.
US$ 79
Tax calculation will be finalised during checkout.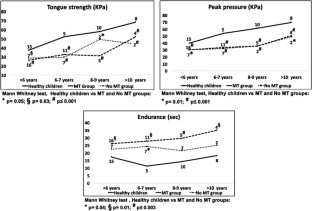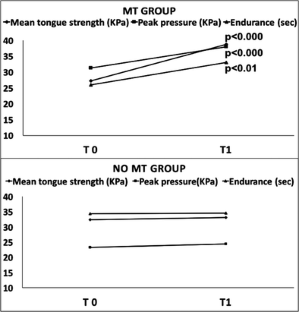 References
1.

Kaditis AG, Alonso Alvarez ML, Boudewyns A, Alexopoulos EI, Ersu R, Joosten K, Larramona H, Miano S, Narang I, Trang H, Tsaoussoglou M, Vandenbussche N, Villa MP, Van Waardenburg D, Weber S, Verhulst S (2016) Obstructive sleep disordered breathing in 2- to 18-year-old children: diagnosis and management. EurRespir J 47(1):69–94

2.

Kheirandish-Gozal L, Bhattacharjee R, Gozal D (2010) Autonomic alterations and endothelial dysfunction in pediatric obstructive sleep apnea. SleepMed 11(7):714–720

3.

Chang SJ, Chae KY (2010) Obstructive sleep apnea syndrome in children: epidemiology, pathophysiology, diagnosis and sequelae. Korean J Pediatr 53(10):863–871

4.

Villa MP, Castaldo R, Miano S, Paolino MC, Vitelli O, Tabarrini A, Mazzotta AR, Cecili M, Barreto M (2014) Adenotonsillectomy and orthodontic therapy in pediatric obstructive sleep apnea. SleepBreath 18(3):533–539

5.

Kaditis A, Kheirandish-Gozal L, Gozal D (2012) Algorithm for the diagnosis and treatment of pediatric OSA: a proposal of two pediatric sleep centers. SleepMed 13(3):217–227

6.

Harvold EP, Tomer BS, Vargervik K, Chierici G (1981) Primate experiments on oral respiration. Am J Orthod 79:359–372

7.

Vargervik K, Miller AJ, Chierici G, Harvold E, Tomer BS (1984) Morphologic response to changes in neuromuscular patterns experimentally induced by altered modes of respiration. Am J Orthod 85:115–124

8.

Huang YS, Guilleminault C (2013) Pediatric obstructive sleep apnea and the critical role of oral-facial growth: evidences. Front Neurol 3:184

9.

Guilleminault C1, Huang YS, Monteyrol PJ, Sato R, Quo S, Lin CH (2013) Critical role of myofascial reeducation in pediatric sleep-disordered breathing. Sleep Med 14(6):518–525

10.

Villa MP, Brasili L, Ferretti A, Vitelli O, Rabasco J, Mazzotta AR, Pietropaoli N, Martella S (2015) Oropharyngeal exercises to reduce symptoms of OSA after AT. Sleep Breath 19(1):281–289

11.

Villa MP, Paolino MC, Castaldo R, Vanacore N, Rizzoli A, Miano S, Del Pozzo M, Montesano M (2013) Sleep clinical record: an aid to rapid and accurate diagnosis of paediatric sleep disordered breathing. Eur Respir J 41(6):1355–1361

12.

Liistro G, Rombaux P, Belge C, Dury M, Aubert G, Rodenstein DO (2003) High Mallampati score and nasal obstruction are associated risk factors for obstructive sleep apnoea. Eur Respir J 21(2):248–252

13.

Brouilette R, Hanson D, David R, Klemka L, Szatkowski A, Fernbach S, Hunt C (1984) A diagnostic approach to suspected obstructive sleep apnea in children. J Pediatr 105(1):10–14

14.

Marzocchi GM CC (2000) Una scala di facile uso per la rilevazione dei comportamenti problematici dei bambini con Deficit di Attenzione e Iperattività. [A scale to indentify behavioural problems in ADHD children.]. Psicologia Clinica dello Sviluppo.43–64

15.

Iber C, Ancoli-Israel S, Chesson AL Jr, Quan SF, for the American Academy of Sleep Medicine (2007) The AASM manual for the scoring of sleep and associated events: rules, terminology and technical specifications, 1st edn. American Academy of Sleep Medicine, Westchester

16.

Brouillette RT, Morielli A, Leimanis A, Waters KA, Luciano R, Ducharme FM (2000) Nocturnal pulse oximetry as an abbreviated testing modality for pediatric obstructive sleep apnea. Pediatrics 105(2):405–412

17.

Chauvois A, Fournier M, Girardin F (1991) Rééducation des fonctions dans la thérapeutique orthodontique. Editions Sid, Vanves

18.

Levrini A (1997) Terapia miofunzionale. Rieducazione neuromuscolare integrata. Masson S.p.A, Milan

19.

Potter NL, Short R (2009) Maximal tongue strength in typically developing children and adolescents. Dysphagia 24(4):391–397

20.

Rappai M, Collop N, Kemp S, de Shazo R (2003) The nose and sleep-disordered breathing: what we know and what we do not know. Chest 124(6):2309–2323 Review

21.

Van Dyck C, Dekeyser A, Vantricht E, Manders E, Goeleven A, Fieuws S, Willems G (2016) The effect of orofacial myofunctional treatment in children with anterior open bite and tongue dysfunction: a pilot study. Eur J Orthod 38(3):227–234

22.

Peat JH (1968) A cephalometric study of tongue position. Am J Orthod 54:339–351

23.

Raymond JL (2000) A functional approach to the relationship between nursing and malocclusion. Rev Orthop Dento Faciale 34:379–402

24.

Guilleminault C, Huseni S, Lo L (2016) A frequent phenotype for paediatric sleep apnoea: short lingual frenulum. ERJ Open Res Jul 29;2(3)

25.

Guilleminault C, Akhtar F (2015) Pediatric sleep-disordered-breathing: new evidence on its development. Sleep Med Rev 24:46–56

26.

Camacho M, Certal V, Abdullatif J, Zaghi S, Ruoff CM, Capasso R, Kushida CA (2015) Myofunctional therapy to treat obstructive sleep apnea: a systematic review and meta-analysis. Sleep 38(5):669–675

27.

Lima MS, Nader CM, Franco LP, Meira ZM, Capanema FD, Guimarães RE, Becker HM (2016) Pulmonary hypertension evaluation by Doppler echocardiogram in children and adolescents with mouth breathing syndrome. Braz J Otorhinolaryngol Jun 8. pii: S1808–8694(16)30107–0
Ethics declarations
Funding source
There were no sources of funding or support for this research.
Conflict of interest
The authors declare that they have no conflict of interest. All authors certify that they have no affiliations with or involvement in any organization or entity with any financial or non-financial interest in the subject matter or materials discussed in this manuscript.
None of the authors has any relevant financial activities outside the submitted manuscript (over the 3 years prior to submission).
All procedures performed in studies involving human participants were in accordance with the ethical standards of the institutional research committee and with the 1964 Helsinki declaration and its later amendments or comparable ethical standards.
Additional informed consent was obtained from all individual participants for whom identifying information is included in this article.
This article does not contain any studies with animals performed by any of the authors.
Additional information
Declaration of authorship
Prof. Maria Pia Villa had full access to all of the data in the study and takes responsibility for the integrity of the data and the accuracy of the data analysis.
About this article
Cite this article
Villa, M.P., Evangelisti, M., Martella, S. et al. Can myofunctional therapy increase tongue tone and reduce symptoms in children with sleep-disordered breathing?. Sleep Breath 21, 1025–1032 (2017). https://doi.org/10.1007/s11325-017-1489-2
Received:

Revised:

Accepted:

Published:

Issue Date:
Keywords
Children

Obstructive sleep apnea

Myofunctional therapy

Oropharyngeal exercises