Abstract
Purpose
Alterations of the lingual frenulum may contribute to oromyofacial dysfunction, speech and swallowing impediments, underdevelopment of the maxillofacial skeleton, and even predispose to sleep breathing disorder. This study aims to assess the utility of existing instruments for evaluation of restricted tongue mobility, describe normal and abnormal ranges of tongue mobility, and provide evidence in support of a reliable and efficient measure of tongue mobility.
Methods
A prospective cohort study of 1052 consecutive patients was evaluated during a 3-month period. Age, gender, ethnicity, height, weight, BMI, maximal interincisal mouth opening (MIO), mouth opening with tongue tip to maxillary incisive papillae at roof of mouth (MOTTIP), Kotlow's free-tongue measurement, and presence of severe tongue-tie were recorded. Secondary outcome measures include tongue range of motion deficit (TRMD, difference between MIO and MOTTIP) and tongue range of motion ratio (TRMR, ratio of MOTTIP to MIO).
Results
Results indicate that MIO is dependent on age and height; MOTTIP and TRMD are dependent on MIO; Kotlow's free-tongue measurement is an independent measure of free-tongue length and tongue mobility. TRMR is the only independent measurement of tongue mobility that is directly associated with restrictions in tongue function.
Conclusions
We propose the use of tongue range of motion ratio as an initial screening tool to assess for restrictions in tongue mobility. "Functional" ankyloglossia can thus be defined and treatment effects followed objectively by using the proposed grading scale: grade 1: tongue range of motion ratio is >80%, grade 2 50–80%, grade 3 < 50%, grade 4 < 25%.
This is a preview of subscription content, log in to check access.
Access options
Buy single article
Instant access to the full article PDF.
US$ 39.95
Tax calculation will be finalised during checkout.
Subscribe to journal
Immediate online access to all issues from 2019. Subscription will auto renew annually.
US$ 79
Tax calculation will be finalised during checkout.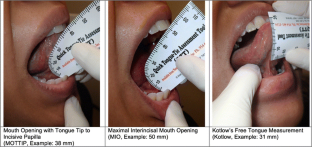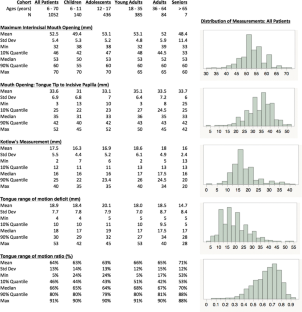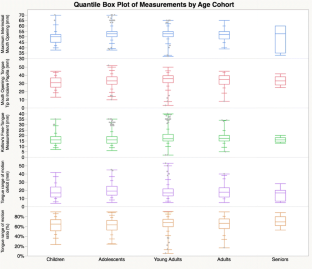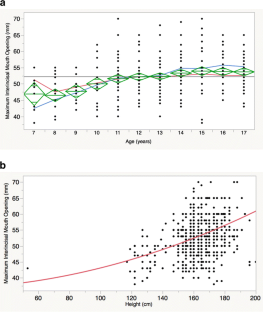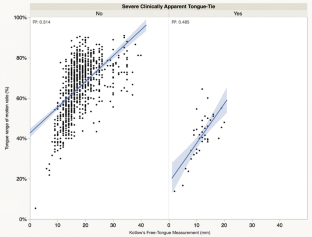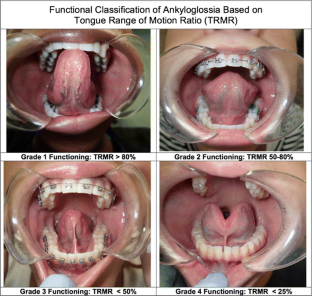 References
1.

Schoenwolf GC BS, Brauer PR, Francis-West PH (2015) Larsen's human embryology. vol 5th ed. Churchill Livingstone

2.

Tsaousoglou P, Topouzelis N, Vouros I, Sculean A (2015) Diagnosis and treatment of ankyloglossia: a narrative review and a report of three cases. Quintessence international (Berlin, Germany: 1985) 47(6):523–534

3.

Srinivasan B, Chitharanjan AB (2013) Skeletal and dental characteristics in subjects with ankyloglossia. Prog Orthod 14(1):1–7

4.

Martinelli RLC, Marchesan IQ, Berretin-Felix G (2012) Lingual frenulum protocol with scores for infants. Int J Orofacial Myology 38:104–112

5.

Meenakshi S, Jagannathan N (2014) Assessment of lingual frenulum lengths in skeletal malocclusion. Journal of clinical and diagnostic research: JCDR 8(3):202

6.

Guilleminault C (2013) Pediatric obstructive sleep apnea and the critical role of oral-facial growth: evidences. Front Neurol 3:184

7.

Martins DLL, Lima LFSC, de Farias Sales VS, Demeda VF, de Oliveira ÂRS, de Oliveira FM, Lima SBF (2014) The mouth breathing syndrome: prevalence, causes, consequences and treatments. A literature review. Journal of surgical and clinical research 5(1):47–55

8.

Boyd KL, Sheldon SH (2014) Principles and practice of pediatric sleep medicine. Chapter 34—childhood sleep-disorder breathing: a dental perspective. Elsevier Health Sciences

9.

Messner AH, Lalakea ML, Aby J, Macmahon J, Bair E (2000) Ankyloglossia: incidence and associated feeding difficulties. Archives of Otolaryngology–Head & Neck Surgery 126(1):36–39

10.

Marchesan IQ (2005) Lingual frenulum: quantitative evaluation proposal. International Journal of Orofacial Myology 31:39–48

11.

Marchesan IQ (2012) Lingual frenulum protocol. Int J Orofacial Myology 38:89–103

12.

Kotlow LA (1999) Ankyloglossia (tongue-tie): a diagnostic and treatment quandary. Quintessence International 30 (4)

13.

Hazelbaker AK (1993) The assessment tool for lingual frenulum function (ATLFF): use in a lactation consultant private practice

14.

Martinelli RLC, Marchesan IQ, Berretin-Felix G (2013) Lingual frenulum evaluation protocol for infants: relationship between anatomic and functional aspects. Rev CEFAC 15(3):599–610

15.

Harris PA, Taylor R, Thielke R, Payne J, Gonzalez N, Conde JG (2009) Research electronic data capture (REDCap)—a metadata-driven methodology and workflow process for providing translational research informatics support. J Biomed Inform 42(2):377–381

16.

Showfety KJ, Vig PS, Matteson S (1983) A simple method for taking natural-head-position cephalograms. Am J Orthod 83(6):495–500

17.

Moeller JL, Paskay LC, Gelb ML (2014) Myofunctional therapy: a novel treatment of pediatric sleep-disordered breathing. Sleep Medicine Clinics 9(2):235–243

18.

Ruffoli R, Giambelluca MA, Scavuzzo MC, Bonfigli D, Cristofani R, Gabriele M, Giuca MR, Giannessi F (2005) Ankyloglossia: a morphofunctional investigation in children. Oral Dis 11(3):170–174

19.

Vaz AC, Bai PM (2015) Lingual frenulum and malocclusion: an overlooked tissue or a minor issue. Indian J Dent Res 26(5):488

20.

Ferreira CLP, Machado BCZ, Borges CGP, Da Silva MAMR, Sforza C, De Felício CM (2014) Impaired orofacial motor functions on chronic temporomandibular disorders. J Electromyogr Kinesiol 24(4):565–571

21.

Guilleminault C, Huseni S, Lo L (2016) A frequent phenotype for paediatric sleep apnoea: short lingual frenulum. ERJ Open Research 2(3). doi:10.1183/23120541.00043-2016

22.

Defabianis P (1999) Ankyloglossia and its influence on maxillary and mandibular development.(a seven year follow-up case report). The Functional orthodontist 17(4):25–33

23.

Amir LH, James JP, Donath SM (2006) Reliability of the hazelbaker assessment tool for lingual frenulum function. Int Breastfeed J 1(1):1

24.

Ballard JL, Auer CE, Khoury JC (2002) Ankyloglossia: assessment, incidence, and effect of frenuloplasty on the breastfeeding dyad. Pediatrics 110(5):e63–e63

25.

Power RF, Murphy JF (2014) Tongue-tie and frenotomy in infants with breastfeeding difficulties: achieving a balance. Archives of disease in childhood:archdischild-2014-306211

26.

Queiroz MI (2004) Lingual frenulum: classification and speech interference. The International journal of orofacial myology: official publication of the International Association of Orofacial Myology 30:31–38

27.

Müller L, van Waes H, Langerweger C, Molinari L, Saurenmann RK (2013) Maximal mouth opening capacity: percentiles for healthy children 4–17 years of age. Pediatr Rheumatol 11(1):1

28.

Ferrés-Amat E, Pastor-Vera T, Ferrés-Amat E, Mareque-Bueno J, Prats-Armengol J, Ferrés-Padró E (2016) Multidisciplinary management of ankyloglossia in childhood. Treatment of 101 cases. A protocol. Medicina oral, patologia oral y cirugia bucal 21(1):e39
Acknowledgments
The authors would like to thank Reuben Kim DDS PhD ( UCLA School of Dentistry, Los Angeles, CA 90095) for editing of the manuscript.
Author contributions
All the authors met the four criteria for authorship established by the International Committee of Medical Journal Editors: Audrey Yoon, Soroush Zaghi, and Stanley Liu were responsible for the conception, design, analysis; drafting and revising the work; and reviewing the manuscript. Rachel Weitzman and Sandy Ha had substantial contributions to the acquisition of data for the work as well as in drafting and revising the work and reviewing the manuscript. Clarice S. Law and Christian Guilleminault had substantial contributions to data analysis, interpretation of data for the work, and revising the work critically for important intellectual content. Additionally, all authors provided final approval of the version to be published and agreed to be accountable for all aspects of the work including ensuring the accuracy and/or integrity of the work.
Ethics declarations
Funding
The Stanford REDCap database used for this study was supported by the National Center for Research Resources and the National Center for Advancing Translational Sciences, National Institutes of Health, through grant UL1 RR025744. The content is solely the responsibility of the authors and does not necessarily represent the official views of the NIH. There was otherwise no financial or material support for this work.
Conflict of interest
The authors declare that they have no conflict of interest.
Additional information
Comments
Otolaryngologists and pediatricians pay close attention to the frenulum status of newborns to enable breastfeeding. Dentists can evaluate for functional tongue tie and contribute to proper growth and development of the maxilla. This article gives us an easy way to make a judgment, but it mostly will help the dentist pay attention.
Steve Carstensen
Washington, USA
About this article
Cite this article
Yoon, A., Zaghi, S., Weitzman, R. et al. Toward a functional definition of ankyloglossia: validating current grading scales for lingual frenulum length and tongue mobility in 1052 subjects. Sleep Breath 21, 767–775 (2017). https://doi.org/10.1007/s11325-016-1452-7
Received:

Revised:

Accepted:

Published:

Issue Date:
Keywords
Ankyloglossia

Frenulum

Tongue tie

Oromyofacial dysfunction

Classification of ankyloglossia

Tongue tie grading scale