Abstract
Purpose
The symptoms of sleep apnea, such as sleep fragmentation and oxygen desaturation, might be risk factors for subsequent mood disorder (MD), but associations between sleep apnea and MD remain unclear. This nationwide population-based study thus aimed to identify the risk of MD in patients with vs. without sleep apnea.
Methods
This cohort study used data from the National Health Insurance database. In total, 5415 patients diagnosed with sleep apnea between 2000 and 2010 were evaluated, and 27,075 matched non-sleep apnea enrollees were included as a comparison cohort. All subjects were followed until 2011. The Cox proportional hazard ratio (HR) was used to investigate the relationship between MD and sleep apnea while controlling covariates and comorbidities of sleep apnea.
Results
Of 5415, 154 patients with sleep apnea (2.84 %) were diagnosed with MD during the follow-up period in comparison with 306 of 27,075 individuals (1.13 %) without antecedent sleep apnea. After adjusting for the selected factors and comorbidities, we found that patients with sleep apnea were from 1.82- to 2.07-fold greater risk of MD than the comparisons. Of the three subcategories of MD (major depressive disorder, bipolar disorder, and unspecified MD), sleep apnea had the highest predisposing risk with respect to major depressive disorder (adjusted HR from 1.82 to 2.07) and bipolar disorder (adjusted HR from 2.15 to 3.24).
Conclusions
There is a greater likelihood of MD manifesting in patients with a history of sleep apnea. Health professionals are thus advised to carefully monitor the psychological impacts of sleep apnea.
This is a preview of subscription content, log in to check access.
Access options
Buy single article
Instant access to the full article PDF.
US$ 39.95
Tax calculation will be finalised during checkout.
Subscribe to journal
Immediate online access to all issues from 2019. Subscription will auto renew annually.
US$ 99
Tax calculation will be finalised during checkout.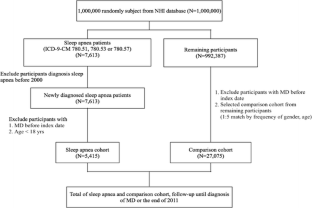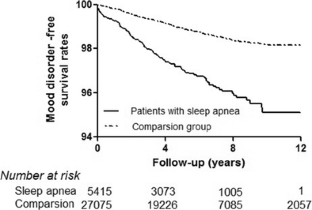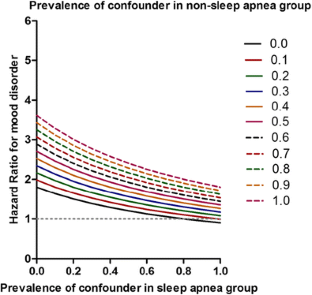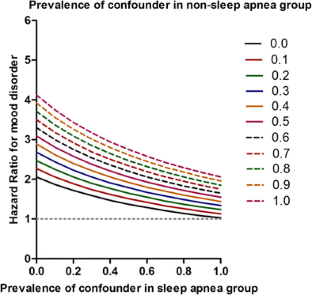 References
1.

Morgenthaler TI, Kagramanov V, Hanak V, Decker PA (2006) Complex sleep apnea syndrome: is it a unique clinical syndrome? Sleep 29(9):1203–1209

2.

Lee W, Nagubadi S, Kryger MH, Mokhlesi B (2008) Epidemiology of obstructive sleep apnea: a population-based perspective. Expert Rev Respir Med 2(3):349–364

3.

Tasali E, Mokhlesi B, Van Cauter E (2008) Obstructive sleep apnea and type 2 diabetes: interacting epidemics. Chest 133(2):496–506

4.

Sheu JJ, Wu CS, Lin HC (2012) Association between obstructive sleep apnea and sudden sensorineural hearing loss: a population-based case-control study. Arch Otolaryngol Head Neck Surg 138(1):55–59

5.

Bradley TD, Floras JS (2009) Obstructive sleep apnoea and its cardiovascular consequences. Lancet 373(9657):82–93

6.

Baran AS, Richert AC (2003) Obstructive sleep apnea and depression. CNS Spectr 8(2):128–134

7.

Sharafkhaneh A, Giray N, Richardson P, Young T, Hirshkowitz M (2005) Association of psychiatric disorders and sleep apnea in a large cohort. Sleep 28(11):1405–1411

8.

Lin WC, Winkelman JW (2012) Obstructive sleep apnea and severe mental illness: evolution and consequences. Curr Psychiatry Rep 14(5):503–510

9.

Dempsey JA, Veasey SC, Morgan BJ, O'Donnell CP (2010) Pathophysiology of sleep. Apnea Physiological Reviews 90(1):47–112

10.

Kjelsberg FN, Ruud EA, Stavem K (2005) Predictors of symptoms of anxiety and depression in obstructive sleep apnea. Sleep Med 6(4):341–346

11.

Saunamäki T, Jehkonen M (2007) Depression and anxiety in obstructive sleep apnea syndrome: a review. Acta Neurol Scand 116(5):277–288

12.

Chen YH, Keller JK, Kang JH, Hsieh HJ, Lin HC (2013) Obstructive sleep apnea and the subsequent risk of depressive disorder: a population-based follow-up study. J Clin Sleep Med 9(5):417–423

13.

Ohayon MM (2003) The effects of breathing-related sleep disorders on mood disturbances in the general population. J Clin Psychiatry 64(10):1195–1200

14.

El-Sherbini AM, Bediwy AS (2011) Association between obstructive sleep apnea (OSA) and depression and the effect of continuous positive airway pressure (CPAP) treatment. Neuropsychiatr Dis Treat 7(7):715–721

15.

Hattori M, Kitajima T, Mekata T, Kanamori A, Imamura M, Sakakibara H, Kayukawa Y, Okada T, Iwata N (2009) Risk factors for obstructive sleep apnea syndrome screening in mood disorder patients. Psychiatry Clin Neurosci 63(3):385–391

16.

Bliwise DL, Yesavage JA, Sink J, Widrow L, Dement WC (1986) Depressive symptoms and impaired respiration in sleep. J Consult Clin Psychol 54(5):734–735

17.

Bardwell WA, Ancoli-Israel S, Dimsdale JE (2001) Response bias influences mental health symptom reporting in patients with obstructive sleep apnea. Ann Behav Med 23(4):313–317

18.

Lee YC, Hung SY, Wang HK, Lin CW, Wang HH, Chen SW, Chang MY, Ho LC, Chen YT, Liou HH, Tsai TC, Tseng SH, Wang WM, Lin SH, Chiou YY (2014) Sleep apnea and the risk of chronic kidney disease: a nationwide population-based cohort study. Sleep 38(2):213–221

19.

Lin DY, Psaty BM, Kronmal RA (1998) Assessing the sensitivity of regression results to unmeasured confounders in observational studies. Biometrics 54(3):948–963

20.

Bresnitz EA, Goldberg R, Kosinski RM (1993) Epidemiology of obstructive sleep apnea. Epidemiol Rev 16(2):210–227

21.

Shiao TH, Liu CJ, Luo JC, Su KC, Chen YM, Chen TJ, Chou KT, Shiao GM, Lee YC (2013) Sleep apnea and risk of peptic ulcer bleeding: a nationwide population-based study. Am J Med 126(3):249–255

22.

Babson KA, Del Re AC, Bonn-Miller MO, Woodward SH (2013) The comorbidity of sleep apnea and mood, anxiety, and substance use disorders among obese military veterans within the veterans health administration. J Clin Sleep Med 9(12):1253–1258

23.

Soreca I, Levenson J, Lotz M, Frank E, Kupfer DJ (2012) Sleep apnea risk and clinical correlates in patients with bipolar disorder. Bipolar Disord 14(6):672–676

24.

Phillips BA, Berry DT, Lipke-Molby TC (1996) Sleep-disordered breathing in healthy, aged persons. Fifth and final year follow-up. Chest 110(3):654–658

25.

Yilmaz E, Sedky K, Bennett DS (2013) The relationship between depressive symptoms and obstructive sleep apnea in pediatric populations: a meta-analysis. J Clin Sleep Med 9(11):1213–1220

26.

Ejaz SM, Khawaja IS, Bhatia S, Hurwitz TD (2011) Obstructive sleep apnea and depression: a review. Innov Clin Neurosci 8(8):17–25

27.

Quintana-Gallego E, Carmona-Bernal C, Capote F, Sánchez-Armengol A, Botebol-Benhamou G, Polo-Padillo J, Castillo-Gómez J (2004) Gender differences in obstructive sleep apnea syndrome: a clinical study of 1166 patients. Respir Med 98(10):984–989

28.

Buysse DJ, Angst J, Gamma A, Ajdacic V, Eich D, Rössler W (2008) Prevalence, course, and comorbidity of insomnia and depression in young adults. Sleep 31(4):473–480

29.

Derderian SS, Bridenbaugh RH, Rajagopal KR (1988) Neuropsychologic symptoms in obstructive sleep apnea improve after treatment with nasal continuous positive airway pressure. Chest 94(5):1023–1027

30.

Bardwell WA, Norman D, Ancoli-Israel S, Loredo JS, Lowery A, Lim W, Dimsdale JE (2007) Effects of 2-week nocturnal oxygen supplementation and continuous positive airway pressure treatment on psychological symptoms in patients with obstructive sleep apnea: a randomized placebo-controlled study. Behav Sleep Med 5(1):21–38

31.

Crocker BD, Olson LG, Saunders NA (1990) Estimation of the probability of disturbed breathing during sleep before a sleep study. Am Rev Respir Dis 142(1):14–18

32.

Chervin RD (2000) Sleepiness, fatigue, tiredness, and lack of energy in obstructive sleep apnea. Chest 118(2):372–379

33.

Aurora RN, Chowdhuri S, Ramar K, Bista SR, Casey KR, Lamm CI, Kristo DA, Mallea JM, Rowley JA, Zak RS, Tracy SL (2012) The treatment of central sleep apnea syndromes in adults: practice parameters with an evidence-based literature review and meta-analyses. Sleep 35(1):17–40

34.

Yu BH, Ancoli-Israel S, Dimsdale JE (1999) Effect of CPAP treatment on mood states in patients with sleep apnea. J Psychiatr Res 33(5):427–432

35.

Fidan F, Unlü M, Sezer M, Geçici O, Kara Z (2006) Compliance to CPAP treatment and effects of treatment on anxiety and depression in patients with obstructive sleep apnea syndrome. Tuberk Toraks 55(3):271–277

36.

Sánchez AI, Martínez P, Miró E, Bardwell WA, Buela-Casal G (2009) CPAP and behavioral therapies in patients with obstructive sleep apnea: effects on daytime sleepiness, mood, and cognitive function. Sleep Med Rev 13(3):223–233

37.

Schwab RJ, Pack AI, Gupta KB, Metzger LJ, Oh E, Getsy JE, Hoffman EA, Gefter WB (1996) Upper airway and soft tissue structural changes induced by CPAP in normal subjects. Am J Respir Crit Care Med 154(4):1106–1116

38.

Diamanti C, Manali E, Ginieri-Coccossis M, Vougas K, Cholidou K, Markozannes E, Bakakos P, Liappas I, Alchanatis M (2013) Depression, physical activity, energy consumption, and quality of life in OSA patients before and after CPAP treatment. Sleep Breath 17(4):1159–1168

39.

Povitz M, Bolo CE, Heitman SJ, Tsai WH, Wang J, James MT (2014) Effect of treatment of obstructive sleep apnea on depressive symptoms: systematic review and meta-analysis. PLoS Med 11(11):e1001762
Ethics declarations
Conflict of interest
The authors declare that they have no conflict of interest.
Ethical approval
The study protocol was approved by the Chia-Yi Christian General Hospital Research Ethics Committee.
Funding
No funding was received for this research.
Additional information
Ming-Kun Lu and Hung-Pin Tan contributed equally to the study.
Electronic supplementary material
About this article
Cite this article
Lu, MK., Tan, HP., Tsai, IN. et al. Sleep apnea is associated with an increased risk of mood disorders: a population-based cohort study. Sleep Breath 21, 243–253 (2017). https://doi.org/10.1007/s11325-016-1389-x
Received:

Revised:

Accepted:

Published:

Issue Date:
Keywords
Sleep apnea

Mood disorder

Nationwide population-based study

Major depressive disorder

Bipolar disorder