Abstract
Objectives
The purpose of the study was to conduct a systematic review and meta-analysis in patients with obstructive sleep apnea (OSA), evaluating effects of topical nasal steroids on continuous positive airway pressure (CPAP) machine use and nasal symptoms.
Search methods
Data source: A comprehensive search of Pubmed, Scopus, Web of Science, and the Cochrane Library was performed through April 2016. Manual searches and subject matter expert input were also obtained. Studies assessing effects of nasal steroids on CPAP machine use in adults, which reported quantitative outcome data of CPAP compliance, were included.
Results
Two studies (144 patients) met inclusion criteria. Both were randomized, placebo-controlled clinical trials (RCT). Pooled fixed effects analysis did not identify a statistically significant difference between both the groups for average duration of CPAP machine use per night. But there was an overall increase in the usage of 0.4 h (95 % confidence interval (CI) (−0.20, 1.00); P = 0.19) in favor of nasal steroids. Difference of percentage of nights with CPAP use was not demonstrated (mean difference 0.06, 95 % CI (−0.27, 0.39); P = 0.71). There was also no significant difference in nasal symptoms (mean difference 0.63, 95 % CI (−0.11, 1.36), P = 0.1).
Conclusion
Nasal steroids showed benefits on CPAP use, but did not reach statistical significance. Data was based on meta-analysis of RCTs of 4-week follow-up in unselected OSA patients. Future controlled studies with selected group and longer follow-up duration are needed to confirm the benefits of nasal steroid on CPAP compliance in OSA patients.
Access options
Buy single article
Instant access to the full article PDF.
USD 39.95
Price excludes VAT (USA)
Tax calculation will be finalised during checkout.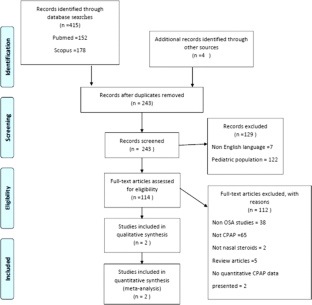 References
Kushida CA, Littner MR, Hirshkowitz M, Morgenthaler TI, Alessi CA, Bailey D, Boehlecke B, Brown TM, Coleman J Jr, Friedman L, Kapen S, Kapur VK, Kramer M, Lee-Chiong T, Owens J, Pancer JP, Swick TJ, Wise MS, American Academy of Sleep M (2006) Practice parameters for the use of continuous and bilevel positive airway pressure devices to treat adult patients with sleep-related breathing disorders. Sleep 29(3):375–380

He J, Kryger MH, Zorick FJ, Conway W, Roth T (1988) Mortality and apnea index in obstructive sleep apnea. Experience in 385 male patients. Chest 94(1):9–14

Dincer HE, O'Neill W (2006) Deleterious effects of sleep-disordered breathing on the heart and vascular system. Respiration 73(1):124–130. doi:10.1159/000089814

Antic NA, Catcheside P, Buchan C, Hensley M, Naughton MT, Rowland S, Williamson B, Windler S, McEvoy RD (2011) The effect of CPAP in normalizing daytime sleepiness, quality of life, and neurocognitive function in patients with moderate to severe OSA. Sleep 34(1):111–119

Weaver TE, Grunstein RR (2008) Adherence to continuous positive airway pressure therapy: the challenge to effective treatment. Proc Am Thorac Soc 5(2):173–178. doi:10.1513/pats.200708-119MG

Kreivi HR, Virkkula P, Lehto J, Brander P (2010) Frequency of upper airway symptoms before and during continuous positive airway pressure treatment in patients with obstructive sleep apnea syndrome. Respiration 80(6):488–494. doi:10.1159/000321371

Mickelson SA (2006) Medical management and definition of continuous positive airway pressure failure. Oper Tech Otolaryngol Head Neck Surg 17(4):216–222. doi:10.1016/j.otot.2006.10.003

Staevska MT, Mandajieva MA, Dimitrov VD (2004) Rhinitis and sleep apnea. Curr Allergy Asthma Rep 4(3):193–199

Higgins JP, Thompson SG, Deeks JJ, Altman DG (2003) Measuring inconsistency in meta-analyses. BMJ (Clinical research ed) 327(7414):557–560. doi:10.1136/bmj.327.7414.557

Moher D, Liberati A, Tetzlaff J, Altman DG (2009) Preferred reporting items for systematic reviews and meta-analyses: the PRISMA statement. PLoS Med 6(7):e1000097. doi:10.1371/journal.pmed.1000097

Ryan S, Doherty LS, Nolan GM, McNicholas WT (2009) Effects of heated humidification and topical steroids on compliance, nasal symptoms, and quality of life in patients with obstructive sleep apnea syndrome using nasal continuous positive airway pressure. J Clin Sleep Med 5(5):422–427

Strobel W, Schlageter M, Andersson M, Miedinger D, Chhajed PN, Tamm M, Leuppi JD (2011) Topical nasal steroid treatment does not improve CPAP compliance in unselected patients with OSAS. Respir Med 105(2):310–315. doi:10.1016/j.rmed.2010.10.003

Juniper EF, Thompson AK, Ferrie PJ, Roberts JN (2000) Development and validation of the mini Rhinoconjunctivitis Quality of Life Questionnaire. Clin Exp Allergy 30(1):132–140

Wiseman LR, Benfield P (1997) Intranasal fluticasone propionate. A reappraisal of its pharmacology and clinical efficacy in the treatment of rhinitis. Drugs 53(5):885–907

Morris LG, Setlur J, Burschtin OE, Steward DL, Jacobs JB, Lee KC (2006) Acoustic rhinometry predicts tolerance of nasal continuous positive airway pressure: a pilot study. Am J Rhinol 20(2):133–137

Parikh NG, Junaid I, Sheinkopf L, Randhawa I, Santiago SM, Klaustermeyer WB (2014) Clinical control in the dual diagnosis of obstructive sleep apnea syndrome and rhinitis: a prospective analysis. Am J Rhinol Allergy 28(1):e52–e55. doi:10.2500/ajra.2014.28.3977

Benninger MS, Ahmad N, Marple BF (2003) The safety of intranasal steroids. Otolaryngol Head Neck Surg 129(6):739–750. doi:10.1016/j.otohns.2003.10.001

Kirtsreesakul V, Hararuk K, Leelapong J, Ruttanaphol S (2015) Clinical efficacy of nasal steroids on nonallergic rhinitis and the associated inflammatory cell phenotypes. Am J Rhinol Allergy 29(5):343–349. doi:10.2500/ajra.2015.29.4234

Johnson M (1998) Development of fluticasone propionate and comparison with other inhaled corticosteroids. J Allergy Clin Immunol 101(4 Pt 2):S434–S439

Corren J (1999) Intranasal corticosteroids for allergic rhinitis: how do different agents compare? J Allergy Clin Immunol 104(4 Pt 1):S144–S149

Russell T (2014) Enhancing adherence to positive airway pressure therapy for sleep disordered breathing. Semin Respir Crit Care Med 35(5):604–612. doi:10.1055/s-0034-1390070

Ballard RD, Gay PC, Strollo PJ (2007) Interventions to improve compliance in sleep apnea patients previously non-compliant with continuous positive airway pressure. J Clin Sleep Med 3(7):706–712

AlAhmari MD, Sapsford RJ, Wedzicha JA, Hurst JR (2012) Dose response of continuous positive airway pressure on nasal symptoms, obstruction and inflammation in vivo and in vitro. Eur Respir J 40(5):1180–1190. doi:10.1183/09031936.00199911

Constantinidis J, Knobber D, Steinhart H, Kuhn J, Iro H (2000) Fine-structural investigations of the effect of nCPAP-mask application on the nasal mucosa. Acta Otolaryngol 120(3):432–437

Mador MJ, Krauza M, Pervez A, Pierce D, Braun M (2005) Effect of heated humidification on compliance and quality of life in patients with sleep apnea using nasal continuous positive airway pressure. Chest 128(4):2151–2158. doi:10.1378/chest.128.4.2151

Saka C, Vuralkan E, Firat IH, Alicura S, Hucumenoglu S, Akin I, Ardic S, Gokler A (2012) The effects of CPAP treatment on nasal mucosa in patients with obstructive sleep apnea. Eur Arch Otorhinolaryngol 269(9):2065–2067. doi:10.1007/s00405-011-1906-2
Ethics declarations
Conflict of interest
The authors declare that they have no competing interests.
Funding
No funding was received for this research.
About this article
Cite this article
Charakorn, N., Hirunwiwatkul, P., Chirakalwasan, N. et al. The effects of topical nasal steroids on continuous positive airway pressure compliance in patients with obstructive sleep apnea: a systematic review and meta-analysis. Sleep Breath 21, 3–8 (2017). https://doi.org/10.1007/s11325-016-1375-3
Received:

Accepted:

Published:

Issue Date:

DOI: https://doi.org/10.1007/s11325-016-1375-3
Keywords
Continuous positive airway pressure

Nasal steroid

Obstructive sleep apnea

Sleep apnea syndromes