Abstract
Introduction
Oropharyngeal exercises are new, non-invasive, cost effective treatment modality for the treatment of mild to moderate obstructive sleep apnoea. It acts by increasing the tone of pharyngeal muscles, is more physiological, and effects are long lasting.
Aim of the study
The aim of our present study was to evaluate the effect of oropharyngeal exercises in the treatment of mild to moderate obstructive sleep apnoea.
Method
Twenty patients of mild to moderate obstructive sleep apnoea syndrome (OSAS) were given oropharyngeal exercise therapy for 3 months divided into three phases in graded level of difficulty. Each exercise had to be repeated 10 times, 5 sets per day at their home. Oropharyngeal exercises were derived from speech–language pathology and included soft palate, tongue, and facial muscle exercises. Anthropometric measurements, snoring frequency, intensity, Epworth daytime sleepiness and Berlin sleep questionnaire, and full polysomnography were performed at baseline and at study conclusion.
Results
Body mass index (25.6 ± 3.1) did not change significantly at the end of the study period. There was significant reduction in the neck circumference (38.4 ± 1.3 to 37.8 ± 1.6) at the end of the study. Significant improvement was seen in symptoms of daytime sleepiness, witnessed apnoea, and snoring intensity. Significant improvement was also seen in sleep indices like minimum oxygen saturation, time duration of Sao2 < 90 %, sleep efficiency, arousal index, and total sleep time N3 stage of sleep at the end of study.
Conclusion
Graded oropharyngeal exercise therapy increases the compliance and also reduces the severity of mild to moderate OSAS.
Access options
Buy single article
Instant access to the full article PDF.
US$ 39.95
Tax calculation will be finalised during checkout.
Subscribe to journal
Immediate online access to all issues from 2019. Subscription will auto renew annually.
US$ 79
Tax calculation will be finalised during checkout.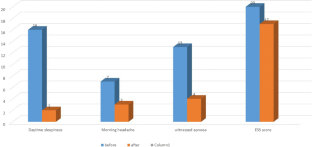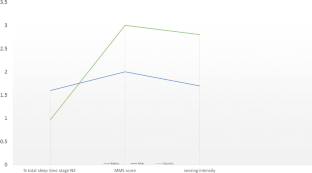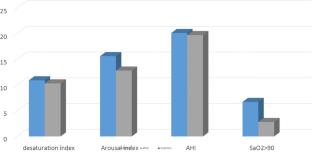 References
1.

Guilleminault C, van den Hoed J, Mitler MM (1978) Clinical overview of the sleep apnea syndrome. In: Guilleminault C, Dement WC (eds) Sleep apnea syndromes. Alan R Liss p, New York, pp. 1–12

2.

American Academy of Sleep Medicine. International classification of sleep disorders (2005) 2nd Edition: Diagnostic and coding manual. Westchester, IL: American Academy of Sleep Medicine

3.

Fletcher EC, DeBehnke RD, Lovoi MS, Gorin AB (1985) Undiagnosed sleep apnea in patients with essential hypertension. Ann Intern Med 103:190–195

4.

Patil SP, Schneider H, Schwartz AR, Smith PL (2007) Adult obstructive sleep apnea: pathophysiology and diagnosis. Chest 132(1):325–337

5.

Schwab RJ, Pasirstein M, Pierson R, et al. (2003) Identification of upper airway anatomic risk factors for obstructive sleep apnea with volumetric magnetic resonance imaging. Am J RespirCrit Care Med 168(5):522–530

6.

Gleadhill IC, Schwartz AR, Schubert N, et al. (1991) Upper airway collapsibility in snorers and in patients with obstructive hypopnea and apnea. Am Rev Respir Dis 143:1300–1303

7.

Sullivan CE, Issa FG, Berthon-Jones M, Eves L (1981) Reversal of obstructive sleep apnea by continuous positive airway pressure applied through the nares. Lancet 1:862–865

8.

Series F, Marc I (1997) Efficacy of automatic continuous positive airway pressure therapy that uses an estimated required pressure in the treatment of the obstructive sleep apnea syndrome. Ann Intern Med 127:588–595

9.

Waldhorn RE, Herrick TW, Nguyen MC, O'Donnell AE, Sodero J, Potolicchio SJ (1990) Long-term compliance with nasal continuous positive airway pressure therapy of obstructive sleep apnea. Chest 97:33–38

10.

Schwartz AR, Gold AR, Schubert N, et al. (1991) Effect of weight loss on upper airway collapsibility in obstructive sleep apnea. Am Rev Respir Dis 144:494–498

11.

Nowara S (1995) Lowe et al. Oral appliances for treatment of snoring and sleep apnea: a review. Sleep 18(6):501–510

12.

Langin T, Pepin JL, Pendlebury S, et al. (1998) Upper airway changes in snorers and mild sleep apnea sufferers after uvulopalatopharyngoplasty (UPPP). Chest 113:1595–1603

13.

Wiegand DA, Latz B, Zwillich CW, et al. (1990) Upper airway resistance and geniohyoid muscle activity in normal men during wakefulness and sleep. J ApplPhysiol 69:1252–1261

14.

Friedman M, Schalch P, Lin HC, et al. (2008) Palatal implants for the treatment of snoring and obstructive sleep apnea/hypopnea syndrome. Otolaryngol Head Neck Surg 138:209–216

15.

Riley RW, Powell NB, Guilleminault C (1989) Maxillofacial surgery and obstructive sleep apnea: a review of 80 patients. Otolaryngol Head Neck Surg 101:353–361

16.

Guimaraes KC, Drager LF, Genta PR, et al. (2009) Effect of oropharyngeal exercises on patients with moderate obstructive sleep apnea syndrome. Am J Respir Crit Care Med 179:962–966

17.

Rodrigues RN, Tavares MG, Tavares P (2007) Oral myofunctional therapy applied on two cases of severe obstructive sleep apnea syndrome. Intr Arch Otorhynolaryngology 2(3):350–354

18.

Hilton MP, Savage J, et al. (2013) Singing exercises improve sleepiness and frequency of snoring among snorers–a randomized controlled trial. Int J Otolaryngol Head Neck Surg 2:97–102

19.

Younis A, HemmatBaz, and Amina Abd El Maksoud. "Upper airway exercises in patient with obstructive sleep apnea. "http://www2.mans.edu.eg/hospitals/muh/depts/sdbu/Research/Papers/Upper.pdf

20.

Iber C, Bersenbrugge A, Skatrud JB, et al. (1982) Ventilatory adaptions to resistive loading during wakefulness and non-REM sleep. J ApplPhysiol 52:607–614
Ethics declarations
All procedures performed in studies involving human participants were in accordance with the ethical standards of the institutional and/or national research committee and with the 1964 Helsinki declaration and its later amendments or comparable ethical standards.
Conflict of Interest
All authors certify that they have no affiliations with or involvement in any organization or entity with any financial interest (such as honoraria, educational grants, participation in speakers' bureaus, membership, employment, consultancies, stock ownership or other equity interest, and expert testimony or patent-licensing arrangements), or non-financial interest (such as personal or professional relationships, affiliations, knowledge, or beliefs) in the subject matter or materials discussed in this manuscript.
Disclosures
There is no conflict of interest or financial disclosure to be made.
Informed consent
Informed consent was obtained from all individual participants included in the study.
Human and animal rights
This article does not contain any studies with animals performed by any of the authors.
Additional information
This material has never been published and is not currently under evaluation in any other peer-reviewed publication.
Electronic supplementary materials
About this article
Cite this article
Verma, R.K., Johnson J, J.R., Goyal, M. et al. Oropharyngeal exercises in the treatment of obstructive sleep apnoea: our experience. Sleep Breath 20, 1193–1201 (2016). https://doi.org/10.1007/s11325-016-1332-1
Received:

Revised:

Accepted:

Published:

Issue Date:
Keywords
Obstructive sleep apnoea

Oropharyngeal exercise therapy

Polysomnography

Effectiveness