Abstract
Purpose
Clinical observation hinted improved symptoms of restless legs syndrome (RLS) after vitamin D supplements. Hence, the aim of this study is to evaluate the effect of vitamin D supplementation on the severity of RLS symptoms.
Methods
Twelve adult subjects diagnosed with primary RLS and vitamin D deficiency were recruited. Patients with secondary RLS were excluded from this study. The complete cell count; serum levels of ferritin, iron, glycated hemoglobin, and vitamin D3 (25 (OH) vitamin D); and renal and bone profiles of the patients were assayed. Patients with vitamin D deficiency (<50 nmol/l) were treated with vitamin D3 supplements (high oral dose or intramuscular injection). The severity scores of RLS were reassessed after the vitamin D3 level was corrected to >50 nmol/l and compared with those before the administration of the supplements.
Results
The median pretreatment vitamin D level was 21.7 nmol/l (13.45–57.4), which improved to 61.8 nmol/l (42.58–95.9) (P = 0.002) with the treatment. The median RLS severity score improved significantly from 26 (15–35) at baseline to 10 (0–27) after correction of the vitamin D levels (P = 0.002).
Conclusion
This study indicates that vitamin D supplementation improves the severity of RLS symptoms and advocates that vitamin D deficiency is conceivably associated with RLS.
Access options
Buy single article
Instant access to the full article PDF.
US$ 39.95
Tax calculation will be finalised during checkout.
Subscribe to journal
Immediate online access to all issues from 2019. Subscription will auto renew annually.
US$ 79
Tax calculation will be finalised during checkout.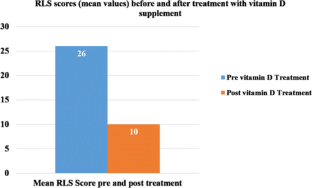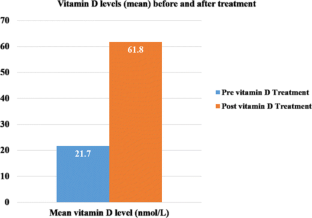 References
1.

Ohayon MM, O'Hara R, Vitiello MV (2012) Epidemiology of restless legs syndrome: a synthesis of the literature. Sleep Med Rev 16:283–295

2.

Phillips B, Young T, Finn L, Asher K, Hening WA, Purvis C (2000) Epidemiology of restless legs symptoms in adults. Arch Intern Med 160:2137–2141

3.

Berger K, Luedemann J, Trenkwalder C, John U, Kessler C (2004) Sex and the risk of restless legs syndrome in the general population. Arch Intern Med 164:196

4.

Ibia M, Sawadab H, Nakanishia M, Kumea T, Katsukia H, Kanekoc S, Shimohamab S, Akaikea A (2001) Protective effects of 1,25-(OH)2D3 against the neurotoxicity of glutamate and reactive oxygen species in mesencephalic culture. Neuropharmacology 40:761–771

5.

Prakash S, Bhanvadia RJ, Shah ND (2010) Restless legs syndrome with carbamazepine-induced osteomalacia: causal or casual association. Gen Hosp Psychiatry 32(2):228

6.

Allen RP, Picchietti D, Hening WA, Trenkwalder C, Walters AS, Montplaisi J (2003) Restless legs syndrome: diagnostic criteria, special considerations, and epidemiology. A report from the restless legs syndrome diagnosis and epidemiology workshop at the National Institutes of Health. Sleep Med 4(2):101–119

7.

Walters AS, LeBrocq C, Dhar A, Hening W, Rosen R, Allen RP, Trenkwalder C, International Restless Legs Syndrome Study Group (2003) Validation of the International Restless Legs Syndrome Study Group rating scale for restless legs syndrome. Sleep Med 4:121–132

8.

Abetz L, Arbuckle R, Allen RP, Garcia-Borreguero D, Hening W, Walters AS, Mavraki E, Kirsch JM (2006) The reliability, validity and responsiveness of the International Restless Legs Syndrome Study Group rating scale and subscales in a clinical-trial setting. Sleep Med 7(4):340–349

9.

Alsuwadia AO, Farag YM, Al Sayyari AA, Mousa DH, Alhejaili FF, Al-Harbi AS, Housawi AA, Mittal BV, Singh AK (2013) Prevalence of vitamin D deficiency in Saudi adults. Saudi Med J 34(8):814–818

10.

BaHammam A, Al-shahrani K, Al-zahrani S, Al-shammari A, Al-amri N, Sharif M (2011) The prevalence of restless legs syndrome in adult Saudis attending primary health care. Gen Hosp Psychiatry 33(2):102–106

11.

Balaban H, Yıldız ÖK, Çil G, Şentürk İA, Erselcan T, Bolayır E, Topaktaş S (2012) Serum 25- hydroxyvitamin D levels in restless legs syndrome patients. Sleep Med 13(7):953–957

12.

Allen RP, Earley CJ (2007) The role of iron in restless legs syndrome. MovDisord 22(18):440–448

13.

Zucconi M, Manconi M (2008) Sleep and quality of life in restless legs syndrome. In: Verster JC, Pandi-Perumal SR, Streiner D (eds) Sleep and quality of life in clinical medicine. Humana Press, Totowa, NJ

14.

Manconi M, Ferri R, Zucconi M, Clemens S, Giarolli L, Bottasini V, Ferini-Strambi L (2011) Preferential D2 or preferential D3 dopamine agonists in restless legs syndrome. Neurology 77(2):110–117

15.

Walters AS, Rye DB (2009) Review of the relationship of restless legs syndrome and periodic limb movements in sleep to hypertension, heart disease, and stroke. Sleep 32(5):589–597

16.

Meguro S, Tomita M, Katsuki T, Kato K, Oh H, Ainai A, Ito R, Takeda S, Kawai T, Atsumi Y, Itoh H, Hasegawa H (2011) Plasma 25- hydroxyvitamin D is independently associated with hemoglobin concentration in male subjects with type 2 diabetes mellitus. Int J Endocrinol 362981:5. doi:10.1155/2011

17.

Abou-Raya S, Helmii M, Abou-Raya A (2009) Bone and mineral metabolism in older adults with Parkinson's disease. Age Ageing 38(6):675–680

18.

Evatt ML, Delong MR, Khazai N, Rosen A, Triche S, Tangpricha V (2008) Prevalence of vitamin d insufficiency in patients with Parkinson disease and Alzheimer disease. Arch Neurol 65(10):1348–1352

19.

Cui X, Pelekanos M, Liu PY, Burne TH, McGrath JJ, Eyles DW (2013) The vitamin D receptor in dopamine neurons; its presence in human substantia nigra and its ontogenesis in rat midbrain. Neuroscience 236:77–87

20.

Newmark HL, Newmark J (2007) Vitamin D and Parkinson's disease—a hypothesis. Mov Disord 22(4):461–468

21.

Danielle ED, Lydia MM, Natalie LC, Jeanne EM, Mahlon RD, Kurt DP, Jonathan AD, Tangpricha V, Gary WM, Marian LE (2012) 25-Hydroxyvitamin D depletion does not exacerbate MPTP-induced dopamine neuron damage in mice. PLoS ONE 7(7):e39227

22.

Garcia-Borreguero D, Kohnen R, Boothby L, Tzonova D, Larrosa O, Dunkl E (2013) Validation of the multiple suggested immobilization test: a test for the assessment of severity of restless legs syndrome (Willis-Ekbom disease). Sleep 36(7):1101–1109
Conflict of interest
The authors have reported no significant conflicts of interest exist with any companies/organizations whose products or services may be discussed in this article.
Funding support
None
Author contributorship
Siraj Wali and Ayman Krayem wrote the proposal, recruited the patients, interpreted the results, and wrote the manuscript. Afnan Shukr, Ayah Boudal, and Ahmad Alsaiari recruited the patients, conducted the statistical analysis, and wrote the manuscript.
About this article
Cite this article
Wali, S., Shukr, A., Boudal, A. et al. The effect of vitamin D supplements on the severity of restless legs syndrome. Sleep Breath 19, 579–583 (2015). https://doi.org/10.1007/s11325-014-1049-y
Received:

Revised:

Accepted:

Published:

Issue Date:
Keywords
Restless legs syndrome

Vitamin D deficiency

Rating score

Diagnosis