Abstract
Purpose
Both obstructive sleep apnea syndrome (OSAS) and sleep bruxism (SB) are commonly related to arousal events. In this study, we examined the effect of SB on the sleep architecture and investigated the relationship between SB and sleep respiratory events in patients with OSAS.
Methods
Patients with OSAS (n = 67) in whom apnea/hypopnea occurred five or more times per hour were recruited to this study. Healthy volunteers (n = 16) were recruited as controls. None of the healthy volunteers had any sleep disorders or medical disorders, nor had they taken any medication or alcohol. Data were collected by standard polysomnography during overnight sleep tests in a dark, quiet room.
Results
The frequency of SB was higher in the OSAS than in the control group. The risk of SB was significantly higher in the OSAS than in the control group (odds ratio, 3.96; 95 % confidence interval, 1.03–15.20; P < 0.05). Apnea/hypopnea and desaturation events occurred significantly more frequently in patients with than without SB. The frequency of the phasic type of SB correlated positively with that of obstructive apnea, micro-arousal, and oxygen desaturation. The frequency of SB events during micro-arousal events consequent on apnea/hypopnea events was significantly higher in the OSAS than in the control group.
Conclusions
We found that patients with OSAS have a high risk of SB. In particular, this is the first report relating phasic-type SB to obstructive apnea events. This relationship suggests that improvement in OSAS might prevent exacerbations of SB.
Access options
Buy single article
Instant access to the full article PDF.
USD 39.95
Price excludes VAT (USA)
Tax calculation will be finalised during checkout.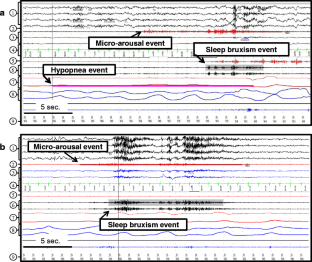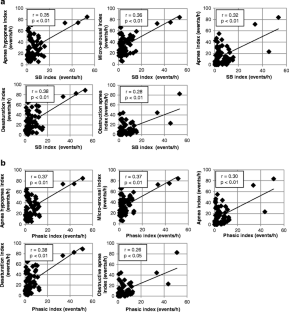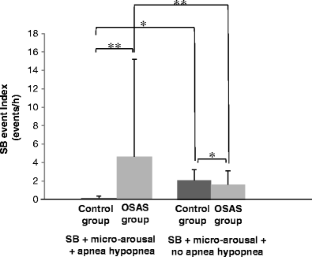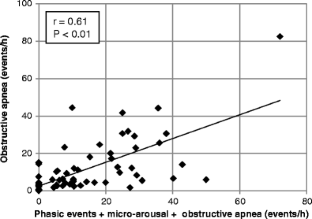 References
American Academy of Orofacial Pain Guidelines Committee (1996) Orofacial pain: guidelines for assessment, diagnosis and management. Quintessence, Chicago

American Academy of Sleep Medicine (2005) International classification of sleep disorders: diagnostic and coding manual. American Sleep Disorders Association, Rochester

Ohayon MM, Li KK, Guilleminault C (2001) Risk factors for sleep bruxism in the general population. Chest 119(1):53–61

Miyawaki S, Tanimoto Y, Araki Y, Katayama A, Fujii A, Takano-Yamamoto T (2003) Association between nocturnal bruxism and gastroesophageal reflux. Sleep 26(7):888–892

Sari S, Sonmez H (2001) The relationship between occlusal factors and bruxism in permanent and mixed dentition in Turkish children. J Clin Pediatr Dent 25(3):191–194

Vanderas AP, Manetas KJ (1995) Relationship between malocclusion and bruxism in children and adolescents: a review. Pediatr Dent 17(1):7–12

American Academy of Sleep Medicine (1999) Sleep related breathing disorders in adults: recommendations for syndrome definition and measurement techniques in clinical research. Sleep 22(5):667–689

Johns MW (1993) Daytime sleepiness, snoring and obstructive sleep apnea. The Epworth Sleepiness Scale. Chest 103(1):30–36

Shahar E, Whitney CW, Redline S (2001) Sleep-disordered breathing and cardiovascular disease: cross sectional results of the Sleep Heart Health Study. Am J Respir Crit Care Med 163(1):19–25

Skatvedt O, Akre H, Godtibsen OB (1996) Nocturnal polysomnography with and without continuous pharyngeal and esophageal pressure measurements. Sleep 19(6):485–490

Ferguson KA, Ono T, Lowe AA, Ryan CF, Fleetham JA (1995) The relationship between obesity and craniofacial structure in obstructive sleep apnea. Chest 108(2):375–381

Izu SC, Itamoto CH, Pradella-Hallinan M, Pizarro GU, Tufik S, Pignatari S, Fujita RR (2010) Obstructive sleep apnea syndrome (OSAS) in mouth breathing children. Braz J Otorhinolaryngol 76(5):552–556

Staevska MT, Mandajieva MA, Dimitrov VD (2004) Rhinitis and sleep apnea. Curr Allergy Asthma Rep 4(3):193–199

Young T, Peppard PE, Gottlieb DJ (2002) Epidemiology of obstructive sleep apnea: a population health perspective. Am J Respir Crit Care Med 165(9):1217–1239

Okubo M, Suzuki M, Horiuchi A, Okabe S, Ikeda K, Higano S, Mitani H, Hida W, Kobayashi T, Sugawara J (2006) Morphologic analyses of mandible and upper airway soft tissue by MRI of patients with obstructive sleep apnea hypopnea syndrome. Sleep 29(7):909–915

Gregorio PB, Athanazio RA, Bitencourt AG, Neves FB, Terse R, Hora F (2008) Symptoms of obstructive sleep apnea-hypopnea syndrome in children. J Bras Pneumol 34(6):356–361

Phillips BA, Okeson J, Paesani D, Gilmore R (1986) Effect of sleep position on sleep apnea and parafunctional activity. Chest 90(3):424–429

Kato T, Rompre P, Montplaisir JY, Sessle BJ, Lavigne GJ (2001) Sleep bruxism: an oromotor activity secondary to micro-arousal. 80(10):1940-1944

Fietze I, Quispe-Bravo S, Schiller W, Röttig J, Penzel T, Baumann G, Witt C (1999) Respiratory arousals in mild obstructive sleep apnea syndrome. Sleep 22(5):583–589

Iber C, Ancoil-Israel S, Chesson A, and Quan SF for the American Academy of Sleep Medicine (2007) The AASM manual for the scoring of sleep and associated events: rules, terminology and technical specifications, 1st edn. Westchester, Illinois

Lavigne GJ, Rompre PH, Montplaisir JY (1996) Sleep bruxism: validity of research diagnostic criteria in a controlled polysomnographic study. J Dent Res 75(1):546–552

Young T, Palta M, Dempsey J, Skatrud J, Weber S, Badr S (1993) The occurrence of sleep-disordered breathing among middle-aged adults. N Engl J Med 29(17):1230–1235

Vgontzas AN, Papanicolaou DA, Bixler EO, Hopper K, Lotsikas A, Lin HM, Kales A, Chrousos GP (2000) Sleep apnea and daytime sleepiness and fatigue: relation to visceral obesity, insulin resistance and hypercytokinemia. J Clin Endocrinol Metab 85(3):1151–1158

Young T, Shahar E, Nieto FJ, Redline S, Newman AB, Gottlieb DJ, Walsleben JA, Finn L, Enright P, Samet JM (2002) Predictors of sleep disordered breathing in community-dwelling adults: the Sleep Heart Health Study. Arch Intern Med 162(8):893–900

Glaros AG (1981) Incidence of diurnal and nocturnal bruxism. J Prosthet Dent 45(5):545–549

Lavigne GJ, Montplaisir JY (1994) Restless legs syndrome and sleep bruxism: prevalence and association among Canadians. Sleep 17(8):739–743

Rossetti LM, Pereira de Araujo Cdos R, Rossetti PH, Conti PC (2008) Association between rhythmic masticatory muscle activity during sleep and masticatory myofascial pain: a polysomnographic study. J Orofac Pain 22(3):190–200

Were JC, Rugh JD (1988) Destructive bruxism: sleep stage relationship. Sleep 11(2):172–181

Iriarte J, Murie-Fernandez M, Toledo E, Urrestarazu E, Alegre M, Viteri C, Salvador J, Baptista P, Alcaide B, Artieda J (2009) Sleep structure in patients with periodic limb movements and obstructive sleep apnea syndrome. J Clin Neurophysiol 26(4):267–271

Lavigne GJ, Rompré PH, Poirier G, Huard H, Kato T, Montplaisir JY (2001) Rhythmic masticatory muscle activity during sleep in humans. J Dent Res 80(2):443–448
Conflict of interest
None to declare.
About this article
Cite this article
Hosoya, H., Kitaura, H., Hashimoto, T. et al. Relationship between sleep bruxism and sleep respiratory events in patients with obstructive sleep apnea syndrome. Sleep Breath 18, 837–844 (2014). https://doi.org/10.1007/s11325-014-0953-5
Received:

Revised:

Accepted:

Published:

Issue Date:

DOI: https://doi.org/10.1007/s11325-014-0953-5
Keywords