Abstract
Purpose
Obstructive sleep apnea (OSA) has been implicated in both cardiovascular and cerebrovascular diseases. Systemic inflammation and coagulation may be related to cardiovascular pathophysiology in patients with OSA. Fibrinogen is a major coagulation protein associated with inflammation, and long-term elevated plasma fibrinogen is associated with an increased risk of major cardiovascular diseases. We assessed whether severity of OSA is associated with levels of fibrinogen in newly diagnosed, untreated, and otherwise healthy OSA patients.
Methods
We studied 36 men with OSA and 18 male control subjects (apnea–hypopnea index [AHI] <5 events/h). OSA patients were divided into mild (AHI ≥5 < 15 events/h) and severe (AHI ≥15 events/h) OSA groups. Morning fibrinogen levels in OSA patients were compared to those in control subjects of similar age, body mass index, blood pressure, smoking habits, and alcohol consumption.
Results
Fibrinogen levels were significantly elevated in patients with severe OSA compared to both control (P = 0.003) and mild OSA (P = 0.02) subjects after adjustment for covariates. However, there were no significant differences in fibrinogen levels between mild OSA and control subjects. Fibrinogen levels were directly related to AHI and arousal index and inversely related to mean and lowest oxygen saturation during sleep.
Conclusions
Severity of OSA was associated with increased fibrinogen level independent of other factors, suggesting that apneic events and oxygen desaturation during sleep are mechanisms for increased fibrinogen levels in patients with OSA.
Access options
Buy single article
Instant access to the full article PDF.
USD 39.95
Price excludes VAT (USA)
Tax calculation will be finalised during checkout.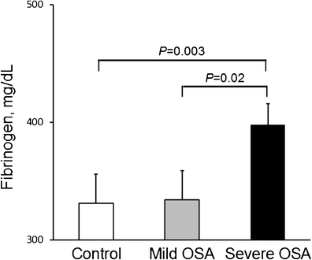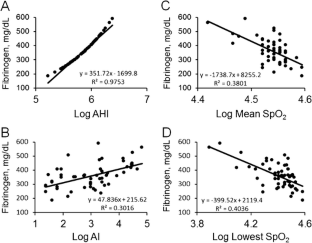 References
Shamsuzzaman AS, Gersh BJ, Somers VK (2003) Obstructive sleep apnea: implications for cardiac and vascular disease. JAMA 290(14):1906–1914

Somers VK, White DP, Amin R, Abraham WT, Costa F, Culebras A, Daniels S, Floras JS, Hunt CE, Olson LJ, Pickering TG, Russell R, Woo M, Young T (2008) Sleep apnea and cardiovascular disease: an American Heart Association/american College Of Cardiology Foundation Scientific Statement from the American Heart Association Council for High Blood Pressure Research Professional Education Committee, Council on Clinical Cardiology, Stroke Council, and Council On Cardiovascular Nursing. In collaboration with the National Heart, Lung, and Blood Institute National Center on Sleep Disorders Research (National Institutes of Health). Circulation 118(10):1080–1111

McNicholas WT, Bonsigore MR (2007) Sleep apnoea as an independent risk factor for cardiovascular disease: current evidence, basic mechanisms and research priorities. Eur Respir J 29(1):156–178

Yaggi HK, Concato J, Kernan WN, Lichtman JH, Brass LM, Mohsenin V (2005) Obstructive sleep apnea as a risk factor for stroke and death. N Engl J Med 353(19):2034–2041

Arzt M, Young T, Finn L, Skatrud JB, Bradley TD (2005) Association of sleep-disordered breathing and the occurrence of stroke. Am J Respir Crit Care Med 172(11):1447–1451

Somers VK, Dyken ME, Clary MP, Abboud FM (1995) Sympathetic neural mechanisms in obstructive sleep apnea. J Clin Invest 96(4):1897–1904

Peppard PE, Young T, Palta M, Skatrud J (2000) Prospective study of the association between sleep-disordered breathing and hypertension. N Engl J Med 342(19):1378–1384

Kato M, Roberts-Thomson P, Phillips BG, Haynes WG, Winnicki M, Accurso V, Somers VK (2000) Impairment of endothelium-dependent vasodilation of resistance vessels in patients with obstructive sleep apnea. Circulation 102(21):2607–2610

Shamsuzzaman AS, Winnicki M, Lanfranchi P, Wolk R, Kara T, Accurso V, Somers VK (2002) Elevated C-reactive protein in patients with obstructive sleep apnea. Circulation 105(21):2462–2464

Toraldo DM, Peverini F, De Benedetto M, De Nuccio F (2013) Obstructive sleep apnea syndrome: blood viscosity, blood coagulation abnormalities, and early atherosclerosis. Lung 191(1):1–7

Palmieri V, Celentano A, Roman MJ, de Simone G, Best L, Lewis MR, Robbins DC, Fabsitz RR, Howard BV, Devereux RB (2003) Relation of fibrinogen to cardiovascular events is independent of preclinical cardiovascular disease: the Strong Heart Study. Am Heart J 145(3):467–474

Wilhelmsen L, Svardsudd K, Korsan-Bengsten K, Larsson B, Wwlin L, Tibblin G (1984) Fibrinogen as a risk factor for stroke and mayocardial infarction. N Engl J Med 311:501–505

Meade TW, Mellows S, Brozovic M, Miller GJ, Chakrabarti RR, North WR, Haines AP, Stirling Y, Imeson JD, Thompson SG (1986) Haemostatic function and ischaemic heart disease: principal results of the Northwick Park Heart Study. Lancet 2(8506):533–537

Kannel W, Wolf P, Castelli W, D'Agostino R (1987) Fibrinogen and risk of cardiovascular disease. The Framingham Study. JAMA 258(9):1183–1186

Ernst E, Resch KL (1993) Fibrinogen as a cardiovascular risk factor: a meta-analysis and review of the literature. Ann Intern Med 118(12):956–963

Benderly M, Graff E, Reicher-Reiss H, Behar S, Brunner D, Goldbourt U (1996) Fibrinogen is a predictor of mortality in coronary heart disease patients. The Bezafibrate Infarction Prevention (BIP) Study Group. Arterioscler Thromb Vasc Biol 16(3):351–356

Thompson SG, Kienast J, Pyke SD, Haverkate F, van de Loo JC (1995) Hemostatic factors and the risk of myocardial infarction or sudden death in patients with angina pectoris. European Concerted Action on Thrombosis and Disabilities Angina Pectoris Study Group. N Engl J Med 332(10):635–641

Folsom AR, Wu KK, Rosamond WD, Sharrett AR, Chambless LE (1997) Prospective study of hemostatic factors and incidence of coronary heart disease: the Atherosclerosis Risk in Communities (ARIC) Study. Circulation 96(4):1102–1108

Tracy RP, Arnold AM, Ettinger W, Fried L, Meilahn E, Savage P (1999) The relationship of fibrinogen and factors VII and VIII to incident cardiovascular disease and death in the elderly: results from the cardiovascular health study. Arterioscler Thromb Vasc Biol 19(7):1776–1783

Stec JJ, Silbershatz H, Tofler GH, Matheney TH, Sutherland P, Lipinska I, Massaro JM, Wilson PF, Muller JE, D'Agostino RB Sr (2000) Association of fibrinogen with cardiovascular risk factors and cardiovascular disease in the Framingham Offspring Population. Circulation 102(14):1634–1638

Danesh J, Lewington S, Thompson SG, Lowe GD, Collins R, Kostis JB, Wilson AC, Folsom AR, Wu K, Benderly M, Goldbourt U, Willeit J, Kiechl S, Yarnell JW, Sweetnam PM, Elwood PC, Cushman M, Psaty BM, Tracy RP, Tybjaerg-Hansen A, Haverkate F, de Maat MP, Fowkes FG, Lee AJ, Smith FB, Salomaa V, Harald K, Rasi R, Vahtera E, Jousilahti P, Pekkanen J, D'Agostino R, Kannel WB, Wilson PW, Tofler G, Arocha-Pinango CL, Rodriguez-Larralde A, Nagy E, Mijares M, Espinosa R, Rodriquez-Roa E, Ryder E, Diez-Ewald MP, Campos G, Fernandez V, Torres E, Marchioli R, Valagussa F, Rosengren A, Wilhelmsen L, Lappas G, Eriksson H, Cremer P, Nagel D, Curb JD, Rodriguez B, Yano K, Salonen JT, Nyyssonen K, Tuomainen TP, Hedblad B, Lind P, Loewel H, Koenig W, Meade TW, Cooper JA, De Stavola B, Knottenbelt C, Miller GJ, Cooper JA, Bauer KA, Rosenberg RD, Sato S, Kitamura A, Naito Y, Palosuo T, Ducimetiere P, Amouyel P, Arveiler D, Evans AE, Ferrieres J, Juhan-Vague I, Bingham A, Schulte H, Assmann G, Cantin B, Lamarche B, Despres JP, Dagenais GR, Tunstall-Pedoe H, Woodward M, Ben-Shlomo Y, Davey Smith G, Palmieri V, Yeh JL, Rudnicka A, Ridker P, Rodeghiero F, Tosetto A, Shepherd J, Ford I, Robertson M, Brunner E, Shipley M, Feskens EJ, Kromhout D, Dickinson A, Ireland B, Juzwishin K, Kaptoge S, Lewington S, Memon A, Sarwar N, Walker M, Wheeler J, White I, Wood A (2005) Plasma fibrinogen level and the risk of major cardiovascular diseases and nonvascular mortality: an individual participant meta-analysis. JAMA 294(14):1799–1809

Kaptoge S, Di Angelantonio E, Pennells L, Wood AM, White IR, Gao P, Walker M, Thompson A, Sarwar N, Caslake M, Butterworth AS, Amouyel P, Assmann G, Bakker SJ, Barr EL, Barrett-Connor E, Benjamin EJ, Bjorkelund C, Brenner H, Brunner E, Clarke R, Cooper JA, Cremer P, Cushman M, Dagenais GR, D'Agostino RB Sr, Dankner R, Davey-Smith G, Deeg D, Dekker JM, Engstrom G, Folsom AR, Fowkes FG, Gallacher J, Gaziano JM, Giampaoli S, Gillum RF, Hofman A, Howard BV, Ingelsson E, Iso H, Jorgensen T, Kiechl S, Kitamura A, Kiyohara Y, Koenig W, Kromhout D, Kuller LH, Lawlor DA, Meade TW, Nissinen A, Nordestgaard BG, Onat A, Panagiotakos DB, Psaty BM, Rodriguez B, Rosengren A, Salomaa V, Kauhanen J, Salonen JT, Shaffer JA, Shea S, Ford I, Stehouwer CD, Strandberg TE, Tipping RW, Tosetto A, Wassertheil-Smoller S, Wennberg P, Westendorp RG, Whincup PH, Wilhelmsen L, Woodward M, Lowe GD, Wareham NJ, Khaw KT, Sattar N, Packard CJ, Gudnason V, Ridker PM, Pepys MB, Thompson SG, Danesh J (2012) C-reactive protein, fibrinogen, and cardiovascular disease prediction. N Engl J Med 367(14):1310–1320

Peled N, Greenberg A, Pillar G, Zinder O, Levi N, Lavie P (1998) Contributions of hypoxia and respiratory disturbance index to sympathetic activation and blood pressure in obstructive sleep apnea syndrome. Am J Hypertens 11(11 Pt 1):1284–1289

Imoberdorf R, Garlick PJ, McNurlan MA, Casella GA, Peheim E, Turgay M, Bartsch P, Ballmer PE (2001) Enhanced synthesis of albumin and fibrinogen at high altitude. J Appl Physiol 90(2):528–537

Hartmann G, Tschop M, Fischer R, Bidlingmaier C, Riepl R, Tschop K, Hautmann H, Endres S, Toepfer M (2000) High altitude increases circulating interleukin-6, interleukin-1 receptor antagonist and C-reactive protein. Cytokine 12(3):246–252

Vgontzas AN, Papanicolaou DA, Bixler EO, Kales A, Tyson K, Chrousos GP (1997) Elevation of plasma cytokines in disorders of excessive daytime sleepiness: role of sleep disturbance and obesity. J Clin Endocrinol Metab 82(5):1313–1316

Vgontzas AN, Papanicolaou DA, Bixler EO, Lotsikas A, Zachman K, Kales A, Prolo P, Wong ML, Licinio J, Gold PW, Hermida RC, Mastorakos G, Chrousos GP (1999) Circadian interleukin-6 secretion and quantity and depth of sleep. J Clin Endocrinol Metab 84(8):2603–2607

Basoglu OK, Sarac F, Sarac S, Uluer H, Yilmaz C (2011) Metabolic syndrome, insulin resistance, fibrinogen, homocysteine, leptin, and C-reactive protein in obese patients with obstructive sleep apnea syndrome. Ann Thorac Med 6(3):120–125

von Kanel R, Le DT, Nelesen RA, Mills PJ, Ancoli-Israel S, Dimsdale JE (2001) The hypercoagulable state in sleep apnea is related to comorbid hypertension. J Hypertens 19(8):1445–1451

Wessendorf TE, Thilmann AF, Wang YM, Schreiber A, Konietzko N, Teschler H (2000) Fibrinogen levels and obstructive sleep apnea in ischemic stroke. Am J Respir Crit Care Med 162(6):2039–2042

Guaediola JJ, Matheson PJ, Clavijo LC, Wilson MA, Fletcher EC (2001) Hypercoagulability in patients with obstructive sleep apnea. Sleep Med 2:517–523

Chin K, Kita H, Noguchi T, Otsuka N, Tsuboi T, Nakamura T, Shimizu K, Mishima M, Ohi M (1998) Improvement of factor VII clotting activity following long-term NCPAP treatment in obstructive sleep apnoea syndrome. Q J Med 91(9):627–633

Phillips CL, McEwen BJ, Morel-Kopp MC, Yee BJ, Sullivan DR, Ward CM, Tofler GH, Grunstein RR (2012) Effects of continuous positive airway pressure on coagulability in obstructive sleep apnoea: a randomised, placebo-controlled crossover study. Thorax 67(7):639–644

Kaditis AG, Alexopoulos EI, Kalampouka E, Kostadima E, Angelopoulos N, Germenis A, Zintzaras E, Gourgoulianis K (2004) Morning levels of fibrinogen in children with sleep-disordered breathing. Eur Respir J 24(5):790–797

Shearer WT, Reuben JM, Mullington JM, Price NJ, Lee BN, Smith EO, Szuba MP, Van Dongen HP, Dinges DF (2001) Soluble TNF-alpha receptor 1 and IL-6 plasma levels in humans subjected to the sleep deprivation model of spaceflight. J Allergy Clin Immunol 107(1):165–170

Vasse M, Paysant J, Soria J, Collet JP, Vannier JP, Soria C (1996) Regulation of fibrinogen biosynthesis by cytokines, consequences on the vascular risk. Haemostasis 26(Suppl 4):331–339

Resch KL, Ernst E, Matrai A, Paulsen HF (1992) Fibrinogen and viscosity as risk factors for subsequent cardiovascular events in stroke survivors. Ann Intern Med 117(5):371–375

Danesh J, Whincup P, Walker M, Lennon L, Thomson A, Appleby P, Gallimore JR, Pepys MB (2000) Low grade inflammation and coronary heart disease: prospective study and updated meta-analyses. BMJ 321(7255):199–204

Eber B, Schumacher M (1993) Fibrinogen: its role in the hemostatic regulation in atherosclerosis. Semin Thromb Hemost 19(2):104–107

Ernst E (1993) Fibrinogen as a cardiovascular risk factor—interrelationship with infections and inflammation. Eur Heart J 14(Suppl K):82–87

Ernst E (1993) The role of fibrinogen as a cardiovascular risk factor. Atherosclerosis 100(1):1–12

Lee AJ, Smith WC, Lowe GD, Tunstall-Pedoe H (1990) Plasma fibrinogen and coronary risk factors: the Scottish Heart Health Study. J Clin Epidemiol 43(9):913–919

Smith EB, Keen GA, Grant A, Stirk C (1990) Fate of fibrinogen in human arterial intima. Arteriosclerosis 10(2):263–275

Chin K, Ohi M, Kita H, Noguchi T, Otsuka N, Tsuboi T, Mishima M, Kuno K (1996) Effects of NCPAP therapy on fibrinogen levels in obstructive sleep apnea syndrome. Am J Respir Crit Care Med 153(6 Pt 1):1972–1976

Krobot K, Hense HW, Cremer P, Eberle E, Keil U (1992) Determinants of plasma fibrinogen: relation to body weight, waist-to-hip ratio, smoking, alcohol, age, and sex. Results from the second MONICA Augsburg survey 1989–1990. Arterioscler Thromb 12(7):780–788

Rosengren A, Wilhelmsen L (1996) Fibrinogen, coronary heart disease and mortality from all causes in smokers and nonsmokers. The study of men born in 1933. J Intern Med 239(6):499–507
Acknowledgments
The authors are grateful to J. Denise Wetzel, CCHMC Medical Writer, for critical review of the manuscript. These studies were supported by an American Heart Association Scientist Development Grant (0730129 N, AS) and the National Institutes of Health (NIH) grants HL-70302, HL-65176, TW05463, TW05469, and 1 UL1 RR024150. This publication was made possible by CTSA Grant Number UL1 TR000135 from the National Center for Advancing Translational Sciences (NCATS), a component of the NIH. Its contents are solely the responsibility of the authors and do not necessarily represent the official view of NIH.
Conflict of interest
Dr. Somers has served as a consultant for Respicardia, NeuPro, Apnex and ResMed and is an investigator on studies funded with a gift to Mayo Foundation from the Philips-Respironics Foundation. The other authors declare that they have no conflict of interest.
About this article
Cite this article
Shamsuzzaman, A., Amin, R.S., Calvin, A.D. et al. Severity of obstructive sleep apnea is associated with elevated plasma fibrinogen in otherwise healthy patients. Sleep Breath 18, 761–766 (2014). https://doi.org/10.1007/s11325-014-0938-4
Received:

Revised:

Accepted:

Published:

Issue Date:

DOI: https://doi.org/10.1007/s11325-014-0938-4
Keywords
Sleep apnea

Coagulation

Inflammation

Cardiovascular disease

Risk factors