Abstract
Purpose
Undiagnosed obstructive sleep apnoea (OSA) in the community makes comparisons of OSA subjects with control samples from the general population problematic. This study aims to estimate undiagnosed moderate to severe OSA in a general population sample and to determine the capacity of questions from the Berlin questionnaire (BQ) to identify subjects without diagnosed OSA of this severity.
Methods
Using a general population sample (n = 793) with no history of OSA, case and control status for moderate–severe OSA was determined by home-based nasal flow and oximetry-derived apnoea–hypopnoea index using a cut-off value of ≥15 events/h to define cases. The diagnostic accuracy of the complete BQ and its component questions in identifying cases was assessed by calculating sensitivity, specificity, positive and negative predictive values, positive and negative likelihood ratios and post-test probabilities.
Results
The age-standardised prevalence estimate of moderate–severe OSA was 9.1 % (12.4 % in men, 5.7 % in women). Sensitivity of the BQ in this population was 54 %, and specificity, 70 %. A combination of questions regarding snoring frequency and hypertension provided maximal post-test probability of OSA and greatest post-screen sample size.
Conclusions
Undiagnosed OSA is highly prevalent in the Western Australian general population. While the complete BQ is a sub-optimal screening instrument for the general population, snoring frequency or hypertension can be used to screen out moderate–severe OSA from general population samples with limited reduction in sample size. As there are few general population samples available for epidemiological or genetic studies of OSA and its associated phenotypes, these results may usefully inform future case–control studies.
This is a preview of subscription content, log in to check access.
Access options
Buy single article
Instant access to the full article PDF.
US$ 39.95
Price includes VAT for USA
Subscribe to journal
Immediate online access to all issues from 2019. Subscription will auto renew annually.
US$ 99
This is the net price. Taxes to be calculated in checkout.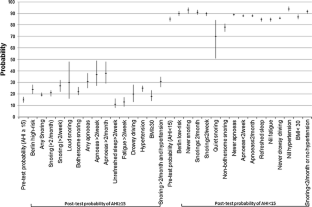 References
1.

Young T, Palta M, Dempsey J, Skatrud J, Weber S, Badr S (1993) The occurrence of sleep-disordered breathing among middle-aged adults. N Engl J Med 328(17):1230–1235

2.

Ferrie JE, Kumari M, Salo P, Singh-Manoux A, Kivimaki M (2011) Sleep epidemiology—a rapidly growing field. Int J Epidemiol 40(6):1431–1437. doi:10.1093/ije/dyr203

3.

Netzer NC, Stoohs RA, Netzer CM, Clark K, Strohl KP (1999) Using the Berlin questionnaire to identify patients at risk for the sleep apnea syndrome. Ann Intern Med 131(7):485–491

4.

Hiestand DM, Britz P, Goldman M, Phillips B (2006) Prevalence of symptoms and risk of sleep apnea in the US population: results from the national sleep foundation sleep in America 2005 poll. Chest 130(3):780–786

5.

Kapsimalis F, Kryger M (2009) Sleep breathing disorders in the U.S. female population. J Womens Health (Larchmt) 18(8):1211–1219

6.

Rothman K, Greenland S, Lash T (2008) Modern epidemology, 3rd edn. Lippincott, Williams & Wilkins, Sydney

7.

Young T, Peppard PE, Gottlieb DJ (2002) Epidemiology of obstructive sleep apnea: a population health perspective. Am J Respir Crit Care Med 165(9):1217–1239

8.

Bearpark H, Elliott L, Grunstein R, Cullen S, Schneider H, Althaus W, Sullivan C (1995) Snoring and sleep apnea. A population study in Australian men. Am J Respir Crit Care Med 151(5):1459–1465

9.

Young T, Evans L, Finn L, Palta M (1997) Estimation of the clinically diagnosed proportion of sleep apnea syndrome in middle-aged men and women. Sleep 20(9):705–706

10.

Abrishami A, Khajehdehi A, Chung F (2010) A systematic review of screening questionnaires for obstructive sleep apnea. Can J Anaesth 57(5):423–438

11.

Netzer NC, Hoegel JJ, Loube D, Netzer CM, Hay B, Alvarez-Sala R, Strohl KP (2003) Prevalence of symptoms and risk of sleep apnea in primary care. Chest 124(4):1406–1414

12.

Ahmadi N, Chung SA, Gibbs A, Shapiro CM (2008) The Berlin questionnaire for sleep apnea in a sleep clinic population: relationship to polysomnographic measurement of respiratory disturbance. Sleep Breath 12(1):39–45

13.

Sert Kuniyoshi FH, Zellmer MR, Calvin AD, Lopez-Jimenez F, Albuquerque FN, Van der Walt C, Trombetta IC, Caples SM, Shamsuzzaman AS, Bukartyk J, Konecny T, Gami AS, Kara T, Somers VK (2011) Diagnostic accuracy of the Berlin questionnaire in detecting sleep-disordered breathing in patients with a recent myocardial infarction. Chest 140(5):1192–1197

14.

Chung F, Yegneswaran B, Liao P, Chung SA, Vairavanathan S, Islam S, Khajehdehi A, Shapiro CM (2008) Validation of the Berlin questionnaire and American Society of Anesthesiologists checklist as screening tools for obstructive sleep apnea in surgical patients. Anesthesiology 108(5):822–830

15.

Hrubos-Strom H, Randby A, Namtvedt SK, Kristiansen HA, Einvik G, Benth J, Somers VK, Nordhus IH, Russell MB, Dammen T, Omland T, Kvaerner KJ (2011) A Norwegian population-based study on the risk and prevalence of obstructive sleep apnea. The Akershus Sleep Apnea Project (ASAP). J Sleep Res 20(1 Pt 2):162–170

16.

Kang K, Park KS, Kim JE, Kim SW, Kim YT, Kim JS, Lee HW (2012) Usefulness of the Berlin Questionnaire to identify patients at high risk for obstructive sleep apnea: a population-based door-to-door study. Sleep Breath (in press).

17.

James AL, Knuiman MW, Divitini ML, Hui J, Hunter M, Palmer LJ, Maier G, Musk AW (2010) Changes in the prevalence of asthma in adults since 1966: the Busselton health study. Eur Respir J 35(2):273–278

18.

Australian Bureau of Statistics (ABS) (2008) Population by age and sex, regions of Australia, 2007 (Data cube). At http://www.abs.gov.au/AUSSTATS/abs@.nsf/DetailsPage/3235.02007?OpenDocument. Accessed 30 September 2011

19.

Gantner D, Ge JY, Li LH, Antic N, Windler S, Wong K, Heeley E, Huang SG, Cui P, Anderson C, Wang JG, McEvoy D (2010) Diagnostic accuracy of a questionnaire and simple home monitoring device in detecting obstructive sleep apnoea in a Chinese population at high cardiovascular risk. Respirology 15(6):952–960

20.

Bhushan B, Guleria R, Misra A, Luthra K, Vikram NK (2009) TNF-alpha gene polymorphism and TNF-alpha levels in obese Asian Indians with obstructive sleep apnea. Respir Med 103(3):386–392

21.

Zhang X, Liu RY, Lei Z, Zhu Y, Huang JA, Jiang X, Liu Z, Liu X, Peng X, Hu H, Zhang HT (2009) Genetic variants in interleukin-6 modified risk of obstructive sleep apnea syndrome. Int J Mol Med 23(4):485–493

22.

Hanaoka M, Yu X, Urushihata K, Ota M, Fujimoto K, Kubo K (2008) Leptin and leptin receptor gene polymorphisms in obstructive sleep apnea syndrome. Chest 133(1):79–85

23.

Popko K, Gorska E, Potapinska O, Wasik M, Stoklosa A, Plywaczewski R, Winiarska M, Gorecka D, Sliwinski P, Popko M, Szwed T, Demkow U (2008) Frequency of distribution of inflammatory cytokines IL-1, IL-6 and TNF-alpha gene polymorphism in patients with obstructive sleep apnea. J Physiol Pharmacol 59(Suppl 6):607–614

24.

Yakut T, Karkucak M, Ursavas A, Gulten T, Burgazlioglu B, Gorukmez O, Karadag M (2010) Lack of association of ACE gene I/D polymorphism with obstructive sleep apnea syndrome in Turkish patients. Genet Mol Res 9(2):734–738

25.

Cosentino FI, Bosco P, Drago V, Prestianni G, Lanuzza B, Iero I, Tripodi M, Spada RS, Toscano G, Caraci F, Ferri R (2008) The APOE epsilon4 allele increases the risk of impaired spatial working memory in obstructive sleep apnea. Sleep Med 9(8):831–839

26.

Benjamin JA, Moller M, Ebden P, Bartle I, Lewis KE (2008) Serum angiotensin converting enzyme and the obstructive sleep apnea hypopnea syndrome. J Clin Sleep Med 4(4):325–331

27.

Barcelo A, Elorza MA, Barbe F, Santos C, Mayoralas LR, Agusti AG (2001) Angiotensin converting enzyme in patients with sleep apnoea syndrome: plasma activity and gene polymorphisms. Eur Respir J 17(4):728–732

28.

Yue W, Liu H, Zhang J, Zhang X, Wang X, Liu T, Liu P, Hao W (2008) Association study of serotonin transporter gene polymorphisms with obstructive sleep apnea syndrome in Chinese Han population. Sleep 31(11):1535–1541

29.

Xiao Y, Huang X, Qiu C, Zhu X, Liu Y (1999) Angiotensin I-converting enzyme gene polymorphism in Chinese patients with obstructive sleep apnea syndrome. Chin Med J (Engl) 112(8):701–704

30.

Riha RL, Brander P, Vennelle M, McArdle N, Kerr SM, Anderson NH, Douglas NJ (2005) Tumour necrosis factor-alpha (−308) gene polymorphism in obstructive sleep apnoea–hypopnoea syndrome. Eur Respir J 26(4):673–678

31.

Bayazit YA, Yilmaz M, Erdal E, Ciftci TU, Ceylan A, Kokturk O, Celenk F, Kemaloglu YK (2009) Role of nitric oxide synthase gene intron 4 and exon 7 polymorphisms in obstructive sleep apnea syndrome. Eur Arch Otorhinolaryngol 266(3):449–454

32.

Ogus C, Ket S, Bilgen T, Keser I, Cilli A, Gocmen AY, Tosun O, Gumuslu S (2010) Insertion/deletion polymorphism and serum activity of the angiotensin-converting enzyme in Turkish patients with obstructive sleep apnea syndrome. Biochem Genet 48(5-6):516–523

33.

Saarelainen S, Lehtimaki T, Kallonen E, Laasonen K, Poussa T, Nieminen MM (1998) No relation between apolipoprotein E alleles and obstructive sleep apnea. Clin Genet 53(2):147–148

34.

Gottlieb DJ, Whitney CW, Bonekat WH, Iber C, James GD, Lebowitz M, Nieto FJ, Rosenberg CE (1999) Relation of sleepiness to respiratory disturbance index: the Sleep Heart Health Study. Am J Respir Crit Care Med 159(2):502–507

35.

Ruehland WR, Rochford PD, O'Donoghue FJ, Pierce RJ, Singh P, Thornton AT (2009) The new AASM criteria for scoring hypopneas: impact on the apnea hypopnea index. Sleep 32(2):150–157

36.

Erman MK, Stewart D, Einhorn D, Gordon N, Casal E (2007) Validation of the ApneaLink for the screening of sleep apnea: a novel and simple single-channel recording device. J Clin Sleep Med 3(4):387–392
Acknowledgments
The authors gratefully acknowledge Michelle Olaithe, Matthew Knuiman, Kashif Mukhtar and Mark Divitini, the Busselton community and the ResMed Science Center.
Conflict of interest
The authors declare that they have no conflict of interest.
About this article
Cite this article
Simpson, L., Hillman, D.R., Cooper, M.N. et al. High prevalence of undiagnosed obstructive sleep apnoea in the general population and methods for screening for representative controls. Sleep Breath 17, 967–973 (2013). https://doi.org/10.1007/s11325-012-0785-0
Received:

Revised:

Accepted:

Published:

Issue Date:
Keywords
Berlin

Case–control

OSA

General population

Portable monitoring

Epidemiology