Abstract
Purpose
Clinical and epidemiologic investigations suggest a strong association between obesity and obstructive sleep apnea (OSA). The purpose of this study is to evaluate the currently available literature reporting on the effectiveness of dietary weight loss in treating OSA among obese patients.
Methods
Relevant studies were identified by computerized searches of PubMed, EMBASE, CINAHL, Web of Science, and The Cochrane Central Register of Controlled Trials through September 2011 as well as the reference lists of all obtained articles. Information on study design, patient characteristics, pre- and post-dietary weight loss measures of OSA and body mass index (BMI), and study quality was obtained. Data were extracted by two independent analysts. Weighted averages using a random-effects model are reported with 95 % confidence intervals.
Results
Nine articles representing 577 patients were selected. Dietary weight loss program resulted in a pooled mean BMI reduction of 4.8 kg/m2 (95 % confidence interval [CI] 3.8-5.9). The random-effects pooled apnea hypopnea (AHI) indices at pre- and post-dietary intervention were 52.5 (range 10.0–91.0) and 28.3 events/h (range 5.4–64.5), respectively (p < 0.001). Compared to control, the weighted mean difference of AHI was decreased by −14.3 events/h (95 % CI −23.5 to −5.1; p = 0.002) in favor of the dietary weight loss programs.
Conclusions
Dietary weight loss programs are effective in reducing the severity of OSA but not adequate in relieving all respiratory events. Weight reduction programs should be considered as adjunct rather than curative therapy.
Access options
Buy single article
Instant access to the full article PDF.
USD 39.95
Price includes VAT (USA)
Tax calculation will be finalised during checkout.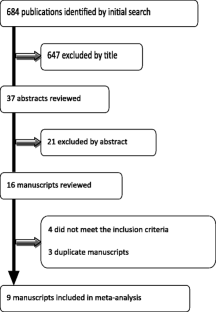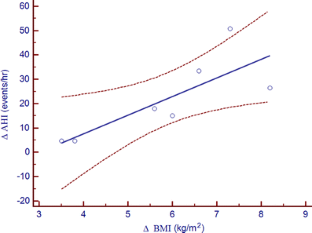 References
1.

Kuczmarski RJ, Flegal KM (2000) Criteria for definition of overweight in transition: background and recommendations for the United States. Am J Clin Nutr 72:1074–1081

2.

Flegal KM, Carroll MD, Ogden CL, Curtin LR (2010) Prevalence and trends in obesity among US adults, 1999–2008. JAMA 303:235–241

3.

Ogden CL, Carroll MD, Curtin LR, McDowell MA, Tabak CJ, Flegal KM (2006) Prevalence of overweight and obesity in the United States, 1999–2004. JAMA 295:1549–1555

4.

Johnson-Taylor WL, Fisher RA, Hubbard VS, Starke-Reed P, Eggers PS (2008) The change in weight perception of weight status among the overweight: comparison of NHANES III (1988–1994) and 1999–2004 NHANES. Int J Behav Nutr Phys Act 5:9

5.

Sturm R (2003) Increases in clinically severe obesity in the United States, 1986–2000. Arch Intern Med 163:2146–2148

6.

Resta O, Foschino-Barbaro MP, Legari G, Talamo S, Bonfitto P, Palumbo A, Minenna A, Giorgino R, De Pergola G (2001) Sleep-related breathing disorders, loud snoring and excessive daytime sleepiness in obese subjects. Int J Obes Relat Metab Disord 25:669–675

7.

Peppard PE, Young T, Palta M, Dempsey J, Skatrud J (2000) Longitudinal study of moderate weight change and sleep-disordered breathing. JAMA 284:3015–3021

8.

Carneiro G, Florio RT, Zanella MT, Pradella-Hallinan M, Ribeiro-Filho FF, Tufik S, Togeiro SM (2012) Is mandatory screening for obstructive sleep apnea with polysomnography in all severely obese patients indicated? Sleep Breath 16:163–168

9.

Young T, Palta M, Dempsey J, Skatrud J, Weber S, Badr S (1993) The occurrence of sleep-disordered breathing among middle-aged adults. N Engl J Med 328:1230–1235

10.

Smith PL, Gold AR, Meyers DA, Haponik EF, Bleecker ER (1985) Weight loss in mildly to moderately obese patients with obstructive sleep apnea. Ann Intern Med 103:850–855

11.

Peppard PE, Young T, Palta M, Skatrud J (2000) Prospective study of the association between sleep-disordered breathing and hypertension. N Engl J Med 342:1378–1384

12.

Bixler EO, Vgontzas AN, Lin HM, Ten Have T, Leiby BE, Vela-Bueno A, Kales A (2000) Association of hypertension and sleep-disordered breathing. Arch Intern Med 160:2289–2295

13.

Shahar E, Whitney CW, Redline S, Lee ET, Newman AB, Javier Nieto F, O'Connor GT, Boland LL, Schwartz JE, Samet JM (2001) Sleep-disordered breathing and cardiovascular disease: cross-sectional results of the Sleep Heart Health Study. Am J Respir Crit Care Med 163:19–25

14.

Mooe T, Franklin KA, Holmstrom K, Rabben T, Wiklund U (2001) Sleep-disordered breathing and coronary artery disease: long-term prognosis. Am J Respir Crit Care Med 164:1910–1913

15.

Chung S, Yoon IY, Lee CH, Kim JW (2011) The effects of nasal continuous positive airway pressure on vascular functions and serum cardiovascular risk factors in obstructive sleep apnea syndrome. Sleep Breath 15:71–76

16.

He J, Kryger MH, Zorick FJ, Conway W, Roth T (1988) Mortality and apnea index in obstructive sleep apnea. Experience in 385 male patients. Chest 94:9–14

17.

Lavie P, Herer P, Peled R, Berger I, Yoffe N, Zomer J, Rubin AH (1995) Mortality in sleep apnea patients: a multivariate analysis of risk factors. Sleep 18:149–157

18.

Engleman HM, Martin SE, Kingshott RN, Mackay TW, Deary IJ, Douglas NJ (1998) Randomised placebo controlled trial of daytime function after continuous positive airway pressure (CPAP) therapy for the sleep apnoea/hypopnoea syndrome. Thorax 53:341–345

19.

Engleman HM, Kingshott RN, Wraith PK, Mackay TW, Deary IJ, Douglas NJ (1999) Randomized placebo-controlled crossover trial of continuous positive airway pressure for mild sleep apnea/hypopnea syndrome. Am J Respir Crit Care Med 159:461–467

20.

Schwartz AR, Gold AR, Schubert N, Stryzak A, Wise RA, Permutt S, Smith PL (1991) Effect of weight loss on upper airway collapsibility in obstructive sleep apnea. Am Rev Respir Dis 144:494–498

21.

Tuomilehto HP, Seppa JM, Partinen MM, Peltonen M, Gylling H, Tuomilehto JO, Vanninen EJ, Kokkarinen J, Sahlman JK, Martikainen T, Soini EJ, Randell J, Tukiainen H, Uusitupa M (2009) Lifestyle intervention with weight reduction: first-line treatment in mild obstructive sleep apnea. Am J Respir Crit Care Med 179:320–327

22.

Foster GD, Borradaile KE, Sanders MH, Millman R, Zammit G, Newman AB, Wadden TA, Kelley D, Wing RR, Pi-Sunyer FX, Reboussin D, Kuna ST (2009) A randomized study on the effect of weight loss on obstructive sleep apnea among obese patients with type 2 diabetes: the Sleep AHEAD study. Arch Intern Med 169:1619–1626

23.

Johansson K, Neovius M, Lagerros YT, Harlid R, Rossner S, Granath F, Hemmingsson E (2009) Effect of a very low energy diet on moderate and severe obstructive sleep apnoea in obese men: a randomised controlled trial. BMJ 339:b4609

24.

Moher D, Cook DJ, Eastwood S, Olkin I, Rennie D, Stroup DF (1999) Improving the quality of reports of meta-analyses of randomised controlled trials: the QUOROM statement. Quality of reporting of meta-analyses. Lancet 354:1896–1900

25.

Harris RP, Helfand M, Woolf SH, Lohr KN, Mulrow CD, Teutsch SM, Atkins D (2001) Current methods of the US Preventive Services Task Force: a review of the process. Am J Prev Med 20:21–35

26.

Levine M, Walter S, Lee H, Haines T, Holbrook A, Moyer V (1994) Users' guides to the medical literature. IV. How to use an article about harm. Evidence-Based Medicine Working Group. JAMA 271:1615–1619

27.

Higgins JP, Thompson SG, Deeks JJ, Altman DG (2003) Measuring inconsistency in meta-analyses. BMJ 327:557–560

28.

Egger M, Smith GD, Phillips AN (1997) Meta-analysis: principles and procedures. BMJ 315:1533–1537

29.

Nahmias J, Kirschner M, Karetzky MS (1993) Weight loss and OSA and pulmonary function in obesity. N J Med: J Med Soc N J 90:48–53

30.

Nerfeldt P, Nilsson BY, Mayor L, Udden J, Friberg D (2010) A two-year weight reduction program in obese sleep apnea patients. J Clin Sleep Med 6:479–486

31.

Pasquali R, Colella P, Cirignotta F, Mondini S, Gerardi R, Buratti P, Rinaldi Ceroni A, Tartari F, Schiavina M, Melchionda N et al (1990) Treatment of obese patients with obstructive sleep apnea syndrome (OSAS): effect of weight loss and interference of otorhinolaryngoiatric pathology. Int J Obes 14:207–217

32.

Sampol G, Munoz X, Sagales MT, Marti S, Roca A, Dolors de la Calzada M, Lloberes P, Morell F (1998) Long-term efficacy of dietary weight loss in sleep apnoea/hypopnoea syndrome. Eur Respir J 12:1156–1159

33.

Suratt PM, McTier RF, Findley LJ, Pohl SL, Wilhoit SC (1992) Effect of very-low-calorie diets with weight loss on obstructive sleep apnea. Am J Clin Nutr 56:182S–184S

34.

Tuomilehto H, Gylling H, Peltonen M, Martikainen T, Sahlman J, Kokkarinen J, Randell J, Tukiainen H, Vanninen E, Partinen M, Tuomilehto J, Uusitupa M, Seppa J (2010) Sustained improvement in mild obstructive sleep apnea after a diet- and physical activity-based lifestyle intervention: postinterventional follow-up. Am J Clin Nutr 92:688–696

35.

Johansson K, Hemmingsson E, Harlid R, Trolle Lagerros Y, Granath F, Rossner S, Neovius M (2011) Longer term effects of very low energy diet on obstructive sleep apnoea in cohort derived from randomised controlled trial: prospective observational follow-up study. BMJ 342:d3017

36.

Sahlman J, Seppa J, Herder C, Peltonen M, Peuhkurinen K, Gylling H, Vanninen E, Tukiainen H, Punnonen K, Partinen M, Uusitupa M, Tuomilehto H (2010) Effect of weight loss on inflammation in patients with mild obstructive sleep apnea. Nutrition, Metabolism, and Cardiovascular Diseases, in press

37.

Romero-Corral A, Caples SM, Lopez-Jimenez F, Somers VK (2010) Interactions between obesity and obstructive sleep apnea: implications for treatment. Chest 137:711–719

38.

Schwartz AR, Patil SP, Squier S, Schneider H, Kirkness JP, Smith PL (2010) Obesity and upper airway control during sleep. J Appl Physiol 108:430–435

39.

Foreyt JP, Goodrick GK (1993) Evidence for success of behavior modification in weight loss and control. Ann Intern Med 119:698–701

40.

Tumiati R, Mazzoni G, Crisafulli E, Serri B, Beneventi C, Lorenzi CM, Grazzi G, Prato F, Conconi F, Fabbri LM, Clini EM (2008) Home-centred physical fitness programme in morbidly obese individuals: a randomized controlled trial. Clin Rehabil 22:940–950

41.

Wadden TA, Butryn ML (2003) Behavioral treatment of obesity. Endocrinol Metab Clin N Am 32:981–1003

42.

Greenburg DL, Lettieri CJ, Eliasson AH (2009) Effects of surgical weight loss on measures of obstructive sleep apnea: a meta-analysis. Am J Med 122:535–542

43.

Ioannidis JP (1998) Effect of the statistical significance of results on the time to completion and publication of randomized efficacy trials. JAMA 279:281–286

44.

Ioannidis JP, Cappelleri JC, Sacks HS, Lau J (1997) The relationship between study design, results, and reporting of randomized clinical trials of HIV infection. Control Clin Trials 18:431–444

45.

Ioannidis JP, Cappelleri JC, Lau J (1998) Issues in comparisons between meta-analyses and large trials. JAMA 279:1089–1093
Funding support
This work was supported in part by VA Merit Review Award HSR&D 10-087-1 (AES). The opinions of the authors herein are their private views and are not to be construed as reflecting the views of the Department of Veterans Affairs.
About this article
Cite this article
Anandam, A., Akinnusi, M., Kufel, T. et al. Effects of dietary weight loss on obstructive sleep apnea: a meta-analysis. Sleep Breath 17, 227–234 (2013). https://doi.org/10.1007/s11325-012-0677-3
Received:

Revised:

Accepted:

Published:

Issue Date:
Keywords
Sleep apnea

Obesity

Weight reduction

Meta-analysis