Abstract
Purpose
This study aims to use clinical scales in a standardized fashion in evaluating the frequency of a high and narrow hard palate and/or small and retroplaced mandible in children with polysomnographically demonstrated sleep-disordered breathing (SDB).
Methods
This is a retrospective review of clinical and polysomnographic data from children (2–17 years old) with SDB. Exclusion criteria were obesity, presence of a syndromic disorder, and incomplete chart information. Data on demographics, reason for referral, sleep history, Mallampati scale, size of the tonsils (Friedman scale), bite occlusion (dental positioning), and correlating clinical presentation and comparative physical exam of nasomaxillary and mandibular features (using subjective grading scales) were collected, as were results of pre- and post- treatment polysomnography.
Results
Data from 400 children were analyzed. With increasing age, fewer referrals were made for abnormal breathing during sleep and more were made for daytime impairment and generally poor sleep. There were 290 children (72.6%) who had tonsils graded 3+ or 4+, but 373 (93.3%) had craniofacial features considered to be risk factors for SDB, including small mandible and/or high and narrow hard palate associated with a narrow nasomaxillary complex. Mean pretreatment apnea–hypopnea index (AHI) was 14.6 ± 17.1 and AHI was similar in the three age groups. Initial treatment was adenotonsillectomy. Follow-up was obtained in 378 subjects, and 167 cases demonstrated residual AHI. Incomplete response to adenotonsillectomy was seen more often in children with Mallampati scale scores of 3 and 4.
Conclusion
Non-obese children with SDB had different initial clinical complaints based on age. Independently of age, facial anatomic structures limiting nasal breathing and those considered to be risk factors for SDB were commonly seen in the total group. Clinical assessment of craniofacial features considered as risk factors for SDB and more particularly a Mallampati scale score of 3 or 4 can be useful in identifying children who may be more at risk for limited response to adenotonsillectomy, suggesting a subsequent need for post-surgery polysomnography.
Access options
Buy single article
Instant access to the full article PDF.
US$ 39.95
Tax calculation will be finalised during checkout.
Subscribe to journal
Immediate online access to all issues from 2019. Subscription will auto renew annually.
US$ 79
Tax calculation will be finalised during checkout.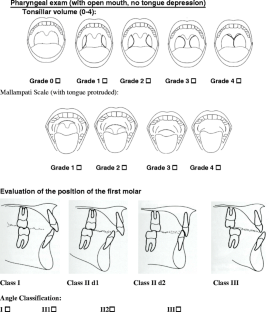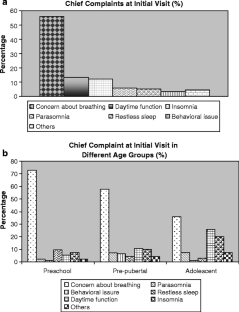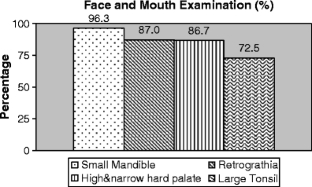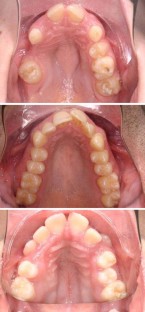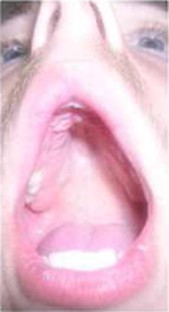 Abbreviations
SDB:

Sleep-disordered breathing

AHI:

Apnea–hypopnea index

AASM:

American Academy of Sleep Medicine

RDI:

Respiratory disturbance index

ANOVA:

Analysis of variance

CPAP:

Continuous positive airway pressure

REM:

Rapid eye movement

OSA:

Obstructive sleep apnea
References
1.

Guilleminault C, Partinen M, Praud JP, Quera-Salva MA, Powell NB, Riley RW (1989) Morphometric facial changes and obstructive sleep apnea in adolescent. J Pediatr 114:997–999

2.

Tasker C, Crosby JH, Stradling JR (2002) Evidence for persistence of upper airway narrowing during sleep, 12 years after adenotonsillectomy. Arch Dis Child 86:34–37

3.

Guilleminault C, Li KK, Khramtsov A, Pelayo R, Martinez S (2004) Sleep disordered breathing: surgical outcome in prepubertal children. Laryngoscope 114:132–137

4.

Tauman R, Gulliver TE, Krishna J, Montgomery-Downs HE, O'Brien LM, Ivanenko A, Gozal D (2006) Persistence of obstructive sleep apnea syndrome in children after adenotonsillectomy. J Pediatr 149:803–808

5.

Guilleminault C, Huang YS, Glamann C, Li K, Chan A (2007) Adenotonsillectomy and obstructive sleep apnea in children: a prospective survey. Otolaryngol Head Neck Surg 136:169–175

6.

Mallampati SR, Gatt S, Gugino SL, Desai S, Waraksa B, Freiberger D, Liu P (1985) A clinical sign to predict difficult tracheal intubation: a prospective study. Can Anaesth Soc J 32:429–434

7.

Gaultier C, Guilleminault C (2001) Genetics, control of breathing, and sleep-disordered breathing: a review. Sleep Med 2:297–308

8.

Cohen SR, Ross KA, Burstein FD, Lefaivre JF, Riski JE, Simms C (1998) Skeletal expansion combined with soft-tissue reduction in the treatment of obstructive sleep apnea in children: physiologic results. Otolaryngol Head Neck Surg 119:476–485

9.

Cistulli PA, Palmisano RG, Poole MD (1998) Treatment of obstructive sleep apnea-syndrome by rapid maxillary expansion. Sleep 21:831–835

10.

Pirelli P, Saponara M, Guilleminault C (2004) Rapid maxillary expansion in children with obstructive sleep apnea. Sleep 27:761–766

11.

Villa MP, Malagola C, Pagani J, Montesano M, Rizzoli A, Guilleminault C, Ronchetti R (2007) Rapid maxillary expansion in children with obstructive sleep apnea syndrome: 12-month follow-up. Sleep Med 8:128–134

12.

Friedman M, Ibrahim H, Bass L (2002) Clinical staging for sleep-disordered breathing. Otolaryngol Head Neck Surg 127:13–21

13.

Friedman M, Tanyeri H, La Rosa M, Landsberg R, Vaidyanathan K, Pieri S, Caldarelli D (1999) Clinical predictors of obstructive sleep apnea. Laryngoscope 109:1901–1907

14.

Guilleminault C, Li K, Kramtsov A, Palombini L, Pelayo R (2004) Breathing patterns in prepubertal children with sleep related disorders. Arch Pediatr Adolesc Med 158:153–161

15.

Chervin RD, Hedger K, Dillon JE, Pituch KJ (2000) Pediatric Sleep Questionnaire (PSQ): validity and reliability of scales for sleep-disordered breathing, snoring, sleepiness and behavioral problems. Sleep Med 1:21–34

16.

Kolar JC, Salter EM (1997) Craniofacial anthropometry. Practical measurement of the head and face for clinical, surgical and research use. Charles C Thomas, Springfield, IL

17.

Iber C, Ancoli-Israel S, Chesson AL, Quan SF (eds) (2007) The AASM manual for the scoring of sleep and associated events. American Academy of Sleep Medicine (publ.), Westchester, IL, pp 45–50

18.

Rechtschaffen A, Kales A (1968) A manual of standardized terminology: techniques and scoring systems for sleep stages of human subjects. UCLA Brain Information Service/Brain Research Institute, Los Angeles, CA

19.

American Sleep Disorders Association Atlas Task Force (1992) EEG arousals: scoring rules and examples. Sleep 15:173–184

20.

Chabolle F, Fleury Beds (2006) ORL et Troubles du Sommeil. Société française d'ORL et de Chirurgie de la Face et du Cou. SFORL. (2007) Examen clinique ORL et troubles du sommeil. Groupe Sommeil - Société Française d'Oto-Rhino-Laryngologie. http://www.sforl.org/doc/Examen%20clinique%20ORL%20et%20troubles%20du%20sommeil1.doc. Accessed 17 February 2010

21.

Mitchell RB (2007) Adenotonsillectomy for obstructive sleep apnea in children: outcome evaluated by pre- and post-polysomnogram. Laryngoscope 117:1844–1854

22.

Brietzke SE, Gallagher D (2006) The effectiveness of tonsillectomy and adenoidectomy in the treatment of pediatric obstructive sleep apnea/hypopnea syndrome: a meta-analysis study. Otolaryngol Head Neck Surg 134:979–984

23.

Walker P, Whitehead B, Gulliver T (2008) Polysomnographic outcome of adenotonsillectomy for obstructive sleep apnea in children under 5 years old. Otolaryngol Head Neck Surg 139:83–86

24.

Mitchell RE, Kelly J (2004) Outcome of adenotonsillectomy for severe obstructive sleep apnea in children and normal weight children. Int J Ped Otorhinolaryngol 137:43–48

25.

Bhattarcharjee R, Gozal-Kheirandish L, Spruyt K, Mitchell RB, Promchiarak J, Simakajorboon N, Katidis AG, Splainguard M, Brooks LJ, Marcus CL, Sin S, Areus R, Verhulst SI, Gozal D (2010) Adenotonsillectomy outcomes in treatment of OSA in children: a multicenter retrospective study. Am J Respir Crit Care Med 182:676–683
Acknowledgements
Dr. Jee Hyun Kim was supported by a post doctoral fellowship from South Korea. This was orally presented at the World Congress on Sleep Apnea, Seoul (Korea) 2009.
We greatly thank Shannon S. Sullivan, M.D., and Christina V. Darby, M.D., for their help in the preparation of this manuscript.
About this article
Cite this article
Kim, J.H., Guilleminault, C. The nasomaxillary complex, the mandible, and sleep-disordered breathing. Sleep Breath 15, 185–193 (2011). https://doi.org/10.1007/s11325-011-0504-2
Received:

Revised:

Accepted:

Published:

Issue Date:
Keywords
Pediatric sleep-disordered breathing

Adenotonsillectomy

Incomplete response

Craniofacial features

Narrow nasomaxillary complex