Abstract
Background
The high efficacy of continuous positive airway pressure (CPAP) in treating obstructive sleep apnea (OSA) is limited by poor compliance often related to pressure intolerance. Mandibular advancement devices (MADs) are proven alternative therapy although not universally effective. A combination of nasal CPAP and MAD may provide another option for CPAP-intolerant patients with incomplete response to MAD.
Methods
Ten patients with residual apnea/hypopnea events on MAD who were intolerant to CPAP were recruited prospectively from the sleep clinic. After a washout period of 1 week off MAD, subjects were asked to use an auto-CPAP unit along with their prescribed MAD for three consecutive nights. Oxygen desaturations were obtained from overnight oximetry. Efficacy of the combination therapy was evaluated by the Epworth Sleepiness Scale and Smartcard data recordings.
Results
The combination of MAD and nasal CPAP was well tolerated by all participants. Compared to CPAP alone, the optimal CPAP pressure required to eliminate all obstructive events on the combination therapy was reduced from 9.4 ± 2.3 to 7.3 ± 1.4 cm H2O (p = 0.001). The residual apnea hypopnea index on the MAD decreased from 11.2 ± 3.9 to 3.4 ± 1.5 on the combination therapy (p < 0.001). The number of oxygen desaturations was also less with the combination therapy than with MAD (p < 0.001). Both the MAD and the combination therapy were effective in reducing daytime sleepiness from 12.7 ± 2.1 at baseline to 9.7 ± 3.1 (p = 0.04) and 7.5 ± 4.1 (p = 0.007), respectively.
Conclusions
Combination therapy of MAD and nasal CPAP is effective in normalizing respiratory disturbances of sleep apnea in selected OSA patients who are intolerant to CPAP.
Access options
Buy single article
Instant access to the full article PDF.
US$ 39.95
Tax calculation will be finalised during checkout.
Subscribe to journal
Immediate online access to all issues from 2019. Subscription will auto renew annually.
US$ 79
Tax calculation will be finalised during checkout.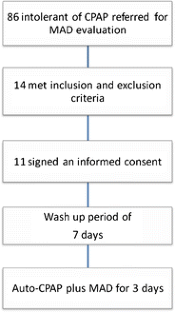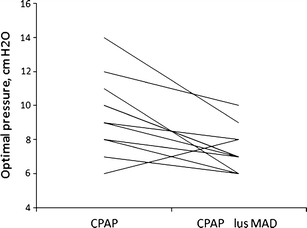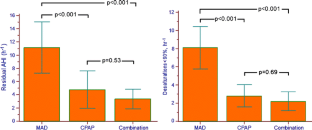 References
1.

Gay P, Weaver T, Loube D, Iber C (2006) Evaluation of positive airway pressure treatment for sleep related breathing disorders in adults. Sleep 29:381–401

2.

Noseda A, Jann E, Hoffman G, Linkowski P, Kerkhofs M (2000) Compliance with nasal continuous positive airway pressure assessed with a pressure monitor: pattern of use and influence of sleep habits. Respir Med 94:76–81

3.

Rosenberg R, Doghramji P (2009) Optimal treatment of obstructive sleep apnea and excessive sleepiness. Adv Ther 26:295–312

4.

Hudgel DW, Fung C (2000) A long-term randomized, cross-over comparison of auto-titrating and standard nasal continuous airway pressure. Sleep 23:645–648

5.

Ferguson KA, Ono T, Lowe AA, al-Majed S, Love LL, Fleetham JA (1997) A short-term controlled trial of an adjustable oral appliance for the treatment of mild to moderate obstructive sleep apnoea. Thorax 52:362–368

6.

Mayer G, Meier-Ewert K (1995) Cephalometric predictors for orthopaedic mandibular advancement in obstructive sleep apnea. Eur J Orthod 17:35–43

7.

Eveloff SE, Rosenberg CL, Carlisle CC, Millman RP (1994) Efficacy of a Herbst mandibular advancement device in obstructive sleep apnea. Am J Respir Crit Care Med 149:905–909

8.

Randerath WJ, Heise M, Hinz R, Ruehle K-H (2002) An individually adjustable oral appliance vs continuous positive airway pressure in mild-to-moderate obstructive sleep apnea syndrome. Chest 122:569–575

9.

Ferguson KA, Cartwright R, Rogers R, Schmidt-Nowara W (2006) Oral appliances for snoring and obstructive sleep apnea: a review. Sleep 29:244–262

10.

Denbar MA (2002) A case study involving the combination treatment of an oral appliance and auto-titrating CPAP unit. Sleep Breath 6:125–128

11.

Kushida C, Morgenthaler T, Littner M, Alessi CA, Bailey D, Coleman J Jr, Friedman L, Hirshkowitz M, Kapen S, Kramer M, Lee-Chiong T, Owens J, Pancer JP, American Academy of Sleep (2006) Practice parameters for the treatment of snoring and obstructive sleep apnea with oral appliances: an update for 2005. Sleep 29:240–243

12.

Rechtschaffen A, Kales A (1968) A manual of standardized terminology, technique, and scoring system for sleep stages of human subjects. BIS/BRI, UCLA, Los Angeles

13.

Johns MW (1991) A new method for measuring daytime sleepiness: the Epworth sleepiness scale. Sleep 14:540–545

14.

Zeng B, Ng AT, Liu B, Qian J, Darendeliler MA, Cistulli PA (2006) Effect of mandibular advancement splint (MAS) on upper airway anatomy. Proc Am Thorac Soc 3:A868, Abstract

15.

Heinzer RC, Stanchina ML, Malhotra A, Fogel RB, Patel SR, Jordan AS, Schory K, White DP (2005) Lung volume and continuous positive airway pressure requirements in obstructive sleep apnea. Am J Respir Crit Care Med 172:114–117

16.

Ayas NT, Patel SR, Malhotra A, Schulzer M, Malhotra M, Jung D, Fleetham J, White DP (2004) Auto-titrating versus standard continuous positive airway pressure for the treatment of obstructive sleep apnea: results of a meta-analysis. Sleep 27:249–253

17.

Senn O, Brack T, Matthews F, Russi E, Bloch K (2003) Randomized short-term trial of two auto-CPAP devices versus fixed continuous positive airway pressure for the treatment of sleep apnea. Am J Respir Crit Care Med 168:1506–1511

18.

Desai H, Patel A, Grant BJ, Mador MJ (2009) Accuracy of autotitrating CPAP to estimate the residual apnea–hypopnea index in patients with obstructive sleep apnea on treatment with autotitrating CPAP. Sleep Breath 13:383–390
Acknowledgements
We would like to thank Joe Saltino, LPN for his assistance in arranging overnight oximetry to all participants and downloading the Smartcard data recordings. Dr. Morohunfolu E. Akinnusi is supported by a grant from the American Sleep Foundation.
Conflict of interest
None
About this article
Cite this article
El-Solh, A.A., Moitheennazima, B., Akinnusi, M.E. et al. Combined oral appliance and positive airway pressure therapy for obstructive sleep apnea: a pilot study. Sleep Breath 15, 203–208 (2011). https://doi.org/10.1007/s11325-010-0437-1
Received:

Revised:

Accepted:

Published:

Issue Date:
Keywords
Oral appliance

CPAP

Mandibular advancement device

Sleep apnea