Abstract
Background
Continuous positive airway pressure (CPAP) devices with the option of flexible pressure delivery (e.g., C-Flex) are thought to provide an improved degree of comfort and result in better therapeutic adherence while maintaining standard CPAP efficacy. The purpose of this study was to compare adherence and subjective measures of comfort between C-Flex and CPAP treatment.
Methods
The study was an international, multisite, single-blinded study with participants randomized to either C-Flex or CPAP. Participants completed subjective measures of sleepiness and comfort at baseline, and at 30-, 90-, and 180-day follow-ups. Additionally, compliance data were downloaded from the device at each follow-up. Repeated measures analysis of variance was used to assess the effects of treatment.
Results
There were 138 men and 46 women (average age of 48 ± 9.2, average Epworth Sleepiness Scale score of 14.9 ± 3.6, and average diagnostic apnea/hypopnea index (AHI) of 51.9 ± 27.7). C-Flex and CPAP groups were comparable on baseline measures, achieved comparable AHI on titration, and had comparable PAP pressure requirements. C-Flex users had comparable average hours of use per night and total nights of use across the study, but had a trend (p < .07) toward achieving greater total hours of utilization. While both groups had comparable decreases in sleepiness, C-Flex users reported on visual analog scales greater comfort (64.3 vs. 57.4; p = .01).
Conclusions
The results of this study demonstrated that C-Flex has comparable resolution of respiratory indices and adherence. Furthermore, C-Flex users reported greater mask comfort.
Access options
Buy single article
Instant access to the full article PDF.
USD 39.95
Price excludes VAT (USA)
Tax calculation will be finalised during checkout.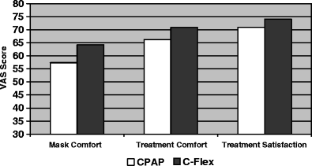 References
Day R, Gerhardstein R, Lumley A, Roth T, Rosenthal L (1999) The behavioral morbidity of obstructive sleep apnea. Prog Cardiovasc Dis 41:341–354

Marin JM, Carrizo SJ, Vicente E, Agusti AGN (2005) Long-term cardiovascular outcomes in men with obstructive sleep apnoea–hypopnoea with or without treatment with continuous positive airway pressure: an observational study. Lancet 365:1046–1053

Yaggi HK, Concato J, Kernan WN, Lichtman JH, Brass LM, Mohsenin V (2005) Obstructive sleep apnea as a risk factor for stroke and death. N Engl J Med 353(19):2034–2041

Kushida CA, Littner MR, Hirshkowitz M, Morgenthaler TI, Alessi CA, Bailey D, Boehlecke B, Brown TM, Coleman J Jr, Friedman L, Kapen S, Kapur VK, Kramer M, Lee-Chiong T, Owens J, Pancer JP, Swick TJ, Wise MS (2006) Practice parameters for the use of continuous and bi-level positive airway pressure devices to treat adult patients with sleep-related breathing disorders. Sleep 29(3):375–380

Stepnowsky CJ, Marler MR, Ancoli-Israel S (2002) Determinants of nasal CPAP compliance. Sleep Med 3:239–247

Weaver TE, Kribbs NB, Pack AI, Kline LR, Chugh DK, Maislin G, Smith PL, Schwartz AR, Schubert NM, Gillen KA, Dinges DF (1997) Night-to-night variability in CPAP use over the first three months of treatment. Sleep 20:278–283

Krieger J, Kurtz D, Petiau C, Sforza E, Trautmann D (1996) Long-term compliance with CPAP therapy in obstructive sleep apnea patients and snorers. Sleep 19:S136–S143

Wild MR, Engleman HM, Douglas NJ, Espie CA (2004) Can psychological factors help us to determine adherence to CPAP?: a prospective study. Eur Respir J 24:461–465

Sin DD, Mayers I, Man GCW, Pawluck L (2002) Long-term compliance rates to continuous positive airway pressure in obstructive sleep apnea: a population-based study. Chest 121:430–435

Pelletier-Fleury N, Rakotonanahary D, Fleury B (2001) The age and other factors in the evaluation of compliance with nasal continuous positive airway pressure for obstructive sleep apnea syndrome. A Cox's proportional hazard analysis. Sleep Med 2:225–232

Engleman HM, Martin SE, Douglas NJ (1994) Compliance with CPAP therapy in patients with the sleep apnoea/hypopnea syndrome. Thorax 49:263–266

Weaver TE, Maislin G, Dinges DF et al (2007) Relationship between hours of CPAP use and achieving normal levels of sleepiness and daytime functioning. Sleep 30(6):711–719

Aloia MS, Stanchina M, Arnedt T, Malhotra A, Millman RP (2005) Treatment adherence and outcomes in flexible vs standard continuous positive airway pressure therapy. Chest 127(6):2085–2093

Wenzel M, Jerl J, Dellweg D, Barchfeld T, Wenzel G, Kohler D (2007) Expiratory pressure reduction (C-flex method) versus fix CPAP in the therapy for obstructive sleep apnoea. Pneumologie 61(11):692–695

Mulgrew AT, Cheema R, Fleetham J, Ryan CF, Ayas NT (2007) Efficacy and patient satisfaction with autoadjusting CPAP with variable expiratory pressure vs standard CPAP: a two-night randomized crossover trial. Sleep Breath 11(1):31–37

Nilius G, Domanski U, Ruhle KH (2006) Pressure-relief continuous positive airway pressure vs. constant continuous positive airway pressure: a comparison of efficacy and compliance. Chest 130(4):1018–1024

Rechtstaffen A, Kales A (eds) (1968). A manual of standardized terminology, techniques, and scoring system for sleep stages of human subjects, vol 204. National Institute of Health, Bethesda, MD, pp 1–54

American Academy of Sleep Medicine Task Force (1999) Sleep-related breathing disorders in adults: recommendations for syndrome definition and measurement techniques in clinical research. Sleep 22(5):667–689

SAS Institute Inc. (1999) SAS OnlineDoc®, Version 8. SAS Institute, Cary, NC

Rosenthal L, Dolan DC, Taylor D (2006) Response to CPAP therapy in sleepy and non-sleepy OSA patients. Sleep 29:A211

Henry D, Rosenthal L (2006) The significance of gender and partner-reporting on the lay-diagnosis, management, and treatment of apnea: a perspective from medical anthropology. Sleep 29:A204

Stepnowsky CJ, Marler MR, Paulau J, Brooks A (2006) Social-cognitive correlates of CPAP adherence in experienced users. Sleep Med 7:350–356

Aloia MS, Goodwin MS, Velicer WF, Arnedt J, Zimmerman ME, Skrekas J, Harris S, Millman RP (2006) Individual difference in patterns of adherence to PAP in obstructive sleep apnea. Sleep 29:A590
Acknowledgements
This study was funded by Respironics, Inc.
About this article
Cite this article
Dolan, D.C., Okonkwo, R., Gfullner, F. et al. Longitudinal comparison study of pressure relief (C-Flex™) vs. CPAP in OSA patients. Sleep Breath 13, 73–77 (2009). https://doi.org/10.1007/s11325-008-0199-1
Received:

Revised:

Accepted:

Published:

Issue Date:

DOI: https://doi.org/10.1007/s11325-008-0199-1
Keywords