Abstract
Tongue retaining devices (TRDs) are one type of oral appliance used to treat sleep disordered breathing. Previous studies have evaluated customized TRDs in comparison to mandibular repositioner appliances. The purpose of this study was to evaluate a noncustomized TRD compared to a control device. A randomized, controlled, crossover design was utilized. The primary outcome was the difference in reduction of the respiratory disturbance index (RDI) between the active suction device (S) and the control, nonsuction device (NS). Secondary outcomes included snoring index, Epworth Sleepiness Scale as well as patient and partner quality-of-life index. Crossover analysis found that only the S device significantly reduced the RDI by 4.9 (95% confidence interval 0.85–8.9) events more than the NS device. This represented a reduction in mean RDI from baseline of 15.5 (±17.6) to 8.9 (±7.6) with the S device. Significant reduction in snoring index was also only found with the S device (214.7–132.9 per hour). Fifty-four percent of subjects indicated they would continue to use only the S device. The S device, with suction, showed better objective and subjective outcomes. Future studies are needed to evaluate these types of devices in larger populations with a wide range of disease severity.
Access options
Buy single article
Instant access to the full article PDF.
US$ 39.95
Tax calculation will be finalised during checkout.
Subscribe to journal
Immediate online access to all issues from 2019. Subscription will auto renew annually.
US$ 79
Tax calculation will be finalised during checkout.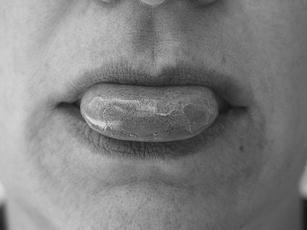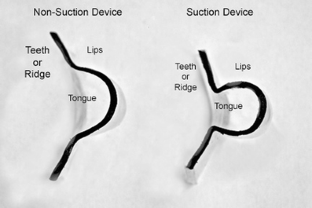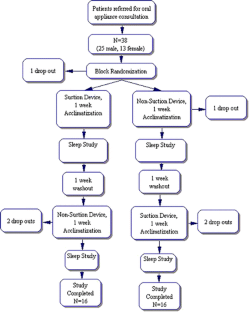 References
1.

Young T, Palta M, Dempsey J, Skatrud J, Weber S, Badr S (1993) The occurrence of sleep-disordered breathing among middle-aged adults. N Engl J Med 328:1230–1235

2.

Gislason T, Janson C, Tomasson K (1995) Epidemiological aspects of snoring and hypertension. J Sleep Res 4:145–149

3.

Olson LG, King MT, Hensley MJ, Saunders NA (1995) A community study of snoring and sleep-disordered breathing. Prevalence. Am J Respir Crit Care Med 152:711–716

4.

Whittle AT, Finch SP, Mortimore IL, MacKay TW, Douglas NJ (1997) Use of home sleep studies for diagnosis of the sleep apnoea/hypopnoea syndrome. Thorax 52:1068–1073

5.

Young T, Evans L, Finn L, Palta M (1997) Estimation of the clinically diagnosed proportion of sleep apnea syndrome in middle-aged men and women. Sleep 20:705–706

6.

Kapur V, Strohl KP, Redline S, Iber C, O'Connor G, Nieto J (2002) Underdiagnosis of sleep apnea syndrome in U.S. communities. Sleep Breath 6:54

7.

White J, Cates C, Wright J (2003) Continuous positive airways pressure for obstructive sleep apnoea. Cochrane Database Syst Rev 3:CD001106

8.

Chervin RD, Theut S, Bassetti C, Aldrich MS (1997) Compliance with nasal CPAP can be improved by simple interventions. Sleep 20:284–289

9.

Pepin JL, Krieger J, Rodenstein D, Cornette A, Sforza E, Delguste P, Deschaux C, Grillier V, Levy P (1999) Effective compliance during the first 3 months of continuous positive airway pressure. A European prospective study of 121 patients. Am J Respir Crit Care Med 160:1124–1129

10.

Mehta A, Qian J, Petocz P, Darendeliler MA, Cistulli PA (2001) A randomized, controlled study of a mandibular advancement splint for obstructive sleep apnea. Am J Respir Crit Care Med 163:1457–1461

11.

Bloch KE, Iseli A, Zhang JN, Xie X, Kaplan V, Stoeckli PW, Russi EW (2000) A randomized, controlled crossover trial of two oral appliances for sleep apnea treatment. Am J Respir Crit Care Med 162:246–251

12.

Ferguson KA, Cartwright R, Rogers R, Schmidt-Nowara W (2006) Oral appliances for snoring and obstructive sleep apnea: a review. Sleep 29:244–262

13.

Cartwright RD (1985) Predicting response to the tongue retaining device for sleep apnea syndrome. Arch Otolaryngol 111:385–388

14.

Barthlen GM, Brown LK, Wiland MR, Sadeh JS, Patwari J, Zimmerman M (2000) Comparison of three oral appliances for treatment of severe obstructive sleep apnea syndrome. Sleep Med 1:299–305

15.

Kushida CA, Morgenthaler TI, Littner MR, Alessi CA, Bailey D, Coleman JJ, Friedman L, Hirshkowitz M, Kapen S, Kramer M, Lee-Chiong T, Owens J, Pancer JP (2006) Practice parameters for the treatment of snoring and obstructive sleep apnea with oral appliances: An update for 2005. Sleep 29:240–243

16.

Cartwright RD, Samelson CF (1982) The effects of a nonsurgical treatment for obstructive sleep apnea. The tongue-retaining device. JAMA 248:705–709

17.

Vazquez JC, Tsai WH, Flemons WW, Masuda A, Brant R, Hajduk E, Whitelaw WA, Remmers JE (2000) Automated analysis of digital oximetry in the diagnosis of obstructive sleep apnoea. Thorax 55:302–307

18.

Issa FG, Morrison D, Hadjuk E, Iyer R, Feroah T, Remmers JE, Whitelaw WA (1993) Digital monitoring of obstructive sleep apnea using snoring sound and arterial oxygen saturation. Sleep 16:S132

19.

Johns MW (1991) A new method for measuring daytime sleepiness: the Epworth sleepiness scale. Sleep 14:540–545

20.

Lacasse Y, Godbout C, Series F (2002) Independent validation of the Sleep Apnoea Quality of Life Index. Thorax 57:483–488

21.

Mok WY, Lam CL, Lam B, Cheung MT, Yam L, Ip MS (2004) A Chinese version of the Sleep Apnea Quality of Life Index was evaluated for reliability, validity, and responsiveness. J Clin Epidemiol 57:470–478

22.

Hills M, Armitage P (1979) The two-period crossover clinical trial. Br J Clin Pharmacol 8:7–20

23.

Ferguson KA (2003) The role of oral appliance therapy in the treatment of obstructive sleep apnea. Clin Chest Med 24:355–364

24.

Dort LC, Hussein J (2004) Snoring and obstructive sleep apnea: compliance with oral appliance therapy. J Otolaryngol 33:172–176

25.

Isono S, Remmers JE, Tanaka A, Sho Y, Nishino T (1996) Static properties of the passive pharynx in sleep apnea. Sleep 19:S175–S177

26.

Ono T, Lowe AA, Ferguson KA, Fleetham JA (1996) A tongue retaining device and sleep-state genioglossus muscle activity in patients with obstructive sleep apnea. Angle Orthodontist 66:273–280

27.

Flemons WW, Reimer MA (1998) Development of a disease-specific health-related quality of life questionnaire for sleep apnea. Am J Respir Crit Care Med 158:494–503

28.

Flemons WW, Reimer MA (2002) Measurement properties of the Calgary sleep apnea quality of life index. Am J Respir Crit Care Med 165:159–164
Acknowledgements
We are indebted to Dr. Ward Flemons and Dr. Willis Tsai for their helpful discussions.
Additional information
Research conducted at the University of Calgary, Calgary, Canada. Research in part funded by the Alberta Heritage Fund for Medical Research
About this article
Cite this article
Dort, L., Brant, R. A randomized, controlled, crossover study of a noncustomized tongue retaining device for sleep disordered breathing. Sleep Breath 12, 369–373 (2008). https://doi.org/10.1007/s11325-008-0187-5
Received:

Revised:

Accepted:

Published:

Issue Date:
Keywords
Sleep disordered breathing

Tongue retaining devices

Oral appliances

Snoring

Randomized controlled trial