Abstract
This study aimed to assess the accuracy of a wrist-worn device based on peripheral arterial tonometry (Watch_PAT 100) to detect residual episodes of respiratory disturbance during continuous positive airway pressure (CPAP) therapy. Concurrent polysomnography was used as the reference standard to identify sleep disordered breathing (SDB) events. The study was conducted in three sleep laboratories affiliated with tertiary care academic medical centers. Seventy patients using CPAP to treat obstructive sleep apnea for at least 3 months, following an in-laboratory titration to determine the optimal therapeutic positive airway pressure, participated in this study. Symptoms indicating suboptimal therapy were not required for participation, but self-reported adherence to CPAP therapy was necessary for inclusion. Interventions are not applicable in this study. The accuracy of the PAT-derived respiratory disturbance index (PAT RDI scored by automated algorithm) to detect residual SDB on CPAP was assessed against polysomnography (PSG) using Bland–Altman analysis, receiver–operator characteristic (ROC) curves, and likelihood ratios for increasing (LR+) and decreasing (LR−) the probability of moderate–severe SDB in the study population. Respiratory events on the PSG were quantified using standard criteria for research investigations ("Chicago criteria") to yield a PSG RDI.C. Based on the PSG results, 19% of the participants had moderate–severe SDB (PSG RDI.C>15 events per hour) on their prescribed pressure. For PAT RDI >15 events per hour, the area under the ROC curve was 0.95 (SE 0.03, p<0.0001, 95% CI 0.89 to 1.00), the LR+ was 8.04 (95% CI 3.64–17.7), and the LR− was 0.17 (95% CI 0.05–0.62). The mean difference between the PAT RDI and PSG RDI.C was three (2SD 14.5) events per hour. Therefore, residual moderate–severe SDB on CPAP was not uncommon in a multicenter population self-reporting adherence to CPAP therapy to treat obstructive sleep apnea. The Watch_PAT device accurately identified participants with moderate–severe SDB while using CPAP in the attended setting of a sleep laboratory.
Access options
Buy single article
Instant access to the full article PDF.
USD 39.95
Price excludes VAT (USA)
Tax calculation will be finalised during checkout.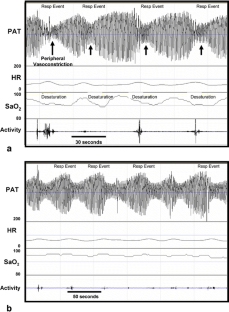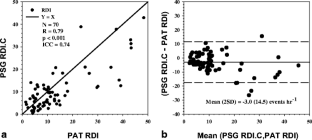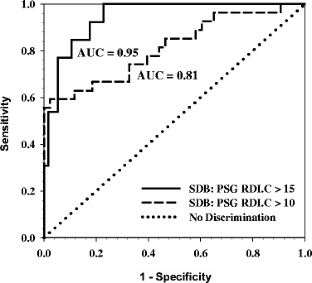 References
Remmers JE, deGroot WJ, Sauerland EK, Anch AM (1978) Pathogenesis of upper airway occlusion during sleep. J Appl Physiol 44:931–938

Lavie P, Herer P, Hoffstein V (2000) Obstructive sleep apnea syndrome as a risk factor for hypertension: population study. BMJ 320:479–482

Peppard PE, Young T, Palta M, Skatrud J (2000) Prospective study of the association between sleep-disordered breathing and hypertension. N Engl J Med 342:1378–1384

Hung J, Whitford EG, Parsons RW, Hillman DR (1990) Association of sleep apnea with myocardial infarction in men. Lancet 336:261–264

Dyken ME, Somers VK, Yamada T, Ren ZY, Zimmerman MB (1996) Investigating the relationship between stroke and obstructive sleep apnea. Stroke 27:401–407

Leuenberger U, Jacob E, Sweer L, Waravdekar N, Zwillich C, Sinoway L (1995) Surges of muscle sympathetic nerve activity during obstructive apnea are linked to hypoxemia. J Appl Physiol 79:581–588

Hedner J, Darpo B, Ejnell H, Carlson J, Caidahl K (1995) Reduction in sympathetic activity after long-term CPAP treatment in sleep apnea: cardiovascular implications. Eur Respir J 8:222–229

Narkiewicz K, Kato M, Phillips BG, Pesek CA, Davison DE, Somers VK (1999) Nocturnal continuous positive airway pressure decreases daytime sympathetic traffic in obstructive sleep apnea. Circulation 100:2332–2335

Marin JM, Carrizo SJ, Vicente E, Agusti AG (2005) Long-term cardiovascular outcomes in men with obstructive sleep apnea–hypopnea with or without treatment with continuous positive airway pressure: an observational study. Lancet 365:1046–1053

White DP, Gibb TJ (1998) Evaluation of the Healthdyne NightWatch system to titrate CPAP in the home. Sleep 21:198–204

Pack AI, Black JE, Schwartz JR, Matheson JK (2001) Modafinil as adjunct therapy for daytime sleepiness in obstructive sleep apnea. Am J Respir Crit Care Med 164:1675–1681

Shahar E, Whitney CW, Redline S et al (2001) Sleep-disordered breathing and cardiovascular disease: cross-sectional results of the Sleep Heart Health Study. Am J Respir Crit Care Med 163:19–25

Grote L, Hedner J, Grunstein R, Kraiczi H (2000) Therapy with nCPAP: incomplete elimination of sleep related breathing disorder. Eur Respir J 16:921–927

Thomas RJ, Daly RW, Weiss JW (2005) Low-concentration carbon dioxide is an effective adjunct to positive airway pressure in the treatment of refractory mixed central and obstructive sleep-disordered breathing. Sleep 28:69–77

Schnall RP, Shlitner A, Sheffy J, Kedar R, Lavie P (1999) Periodic, profound peripheral vasoconstriction—a new marker of obstructive sleep apnea. Sleep 22:939–946

Bar A, Pillar G, Dvir I, Sheffy J, Schnall RP, Lavie P (2003) Evaluation of a portable device based on peripheral arterial tone for unattended home sleep studies. Chest 123:695–703

Ayas NT, Pittman S, MacDonald M, White DP (2003) Assessment of a wrist-worn device in the detection of obstructive sleep apnea. Sleep Med 4:435–442

Pittman SD, Ayas NT, MacDonald MM, Malhotra A, Fogel RB, White DP (2004) Using a wrist-worn device based on peripheral arterial tonometry to diagnose obstructive sleep apnea: in-laboratory and ambulatory validation. Sleep 27:923–933

O'Donnell CP, Allan L, Atkinson P, Schwartz AR (2002) The effect of upper airway obstruction and arousal on peripheral arterial tonometry in obstructive sleep apnea. Am J Respir Crit Care Med 166:965–971

Johns MW (1991) A new method for measuring daytime sleepiness: the Epworth sleepiness scale. Sleep 14:540–545

Hedner J, Pillar G, Pittman SD, Zou D, Grote L, White DP (2004) A novel adaptive wrist actigraphy algorithm for sleep–wake assessment in sleep apnea patients. Sleep 27:1560–1566

American Academy of Sleep Medicine Task Force (1999) Sleep-related breathing disorders in adults: recommendations for syndrome definition and measurement techniques in clinical research. The Report of an American Academy of Sleep Medicine Task Force. Sleep 22:667–689

Rechtschaffen A, Kales A (1968) A manual of standardized terminology, techniques, and scoring system for sleep stages of human subjects. Brain Information Service, Los Angeles

Sleep Disorders Atlas Task Force of the American Sleep Disorders Association (1992) EEG arousals: scoring rules and examples: a preliminary report. Sleep 15:173–184

Portney LG, Watkins MP (1993) Foundations of clinical research: applications to Practice, 1st edn. Appleton & Lange, Norwalk, CT

Bland JM, Altman DG (1986) Statistical methods for assessing agreement between two methods of clinical measurement. Lancet 1:307–310

Hanley JA, McNeil BJ (1982) The meaning and use of the area under a receiver operating characteristic (ROC) curve. Radiology 143:29–36

Flemons WW, Littner MR, Rowley JA et al (2003) Home diagnosis of sleep apnea: a systematic review of the literature. An evidence review cosponsored by the American Academy of Sleep Medicine, the American College of Chest Physicians, and the American Thoracic Society. Chest 124:1543–1579

Standards of medical care in diabetes (2004) Diabetes Care 27:15S–35S

Sackett D, Strauss S, Richardson W, Rosenberg W, Haynes R (2000) Evidence-based medicine: how to practice and teach EBM, 2nd edn. Churchill Livingston, Edinburgh, Scotland
Acknowledgements
S.D. Pittman, Dr. Pillar and Dr. White have served as consultants for Itamar Medical, the developer of the Watch_PAT device. Itamar Medical Ltd. provided the research support necessary to conduct this study. S.D. Pittman is currently employed by Respironics. Dr. Berry has also received research support from Fisher Paykel, Dymedix, and ResMed. Dr. Malhotra has received unrestricted research support from Respironics and is a member of the speaker's bureau for Respironics and Sepracor. Dr. White is also a consultant for Respironics, WideMED, the Alfred Mann Foundation, Cephalon, and Aspire Medical.
About this article
Cite this article
Pittman, S.D., Pillar, G., Berry, R.B. et al. Follow-up assessment of CPAP efficacy in patients with obstructive sleep apnea using an ambulatory device based on peripheral arterial tonometry. Sleep Breath 10, 123–131 (2006). https://doi.org/10.1007/s11325-006-0058-x
Published:

Issue Date:

DOI: https://doi.org/10.1007/s11325-006-0058-x
Keywords