Abstract
Purpose
We conducted a pilot trial utilizing [18F]FMAU [1-(2′-deoxy-2′-[18F]fluoro-β-d-arabinofuranosyl thymine] as a tumor tracer in positron emission tomography (PET) and evaluated its reproducibility, and changes in maximum and peak standardized uptake value (SUVmax and SUVpeak) with zoledronic acid treatment in castrate resistant prostate cancer (CRPC) patients with bone metastases (BM).
Procedures
Eligible patients had CRPC with radiographic evidence of BM and creatinine clearance >30 ml/min. Two baseline [18F]FMAU-PET scans (about 1 week apart, range 2–12 days) were obtained for testing reproducibility. Zoledronic acid 4 mg was infused over 15 min within 1 week after second scan and a third PET scan was obtained 7 days later. The bony lesion with the highest uptake on the first scan was compared with later scans. Bone turnover markers and prostate-specific antigen (PSA) were obtained pre- and post-therapy. PET response was defined as decline in SUVmean of ≥15 % after zoledronic acid.
Results
Eleven patients were evaluated, median age was 65 years, five were African-American and six were Caucasian, and median PSA level was 36.3 ng/ml (range 1.0–1209.3). Notably, the range of absolute percent SUVmax changes varied between 0.77 and 54.7, and only nine measurements were greater than one (1.09–2.19). Zoledronic acid did not appreciably change FMAU uptake. No clinical response was noted. Urine N-telopeptide (NTx) was markedly decreased in all patients after zoledronic acid and serum bone-specific alkaline phosphatase (BSAP) registered a modest change. Urine NTx correlated more closely with SUV max than serum BSAP.
Conclusions
FMAU tracer was able to detect bone metastases in CRPC patients but uptake was highly variable in bony lesions. Zoledronic acid did not produce an appreciable change in scans. Future investigations of FMAU tracer as a marker of early response in CRPC is recommended.
Access options
Buy single article
Instant access to the full article PDF.
US$ 39.95
Tax calculation will be finalised during checkout.
Subscribe to journal
Immediate online access to all issues from 2019. Subscription will auto renew annually.
US$ 79
Tax calculation will be finalised during checkout.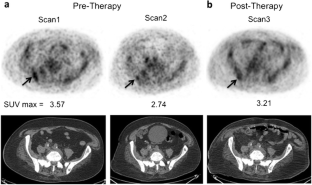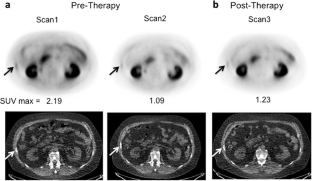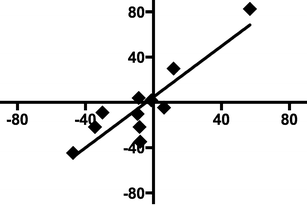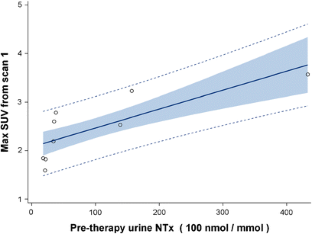 References
1.

Smith MR, Halabi S, Ryan CJ et al (2014) Randomized controlled trial of early zoledronic acid in men with castration-sensitive prostate cancer and bone metastases: results of CALGB 90202 (alliance). J Clin Oncol 32:1143–1150

2.

Kachnic LA (2013) RTOG 0518: randomized phase III trial to evaluate zoledronic acid for prevention of osteoporosis and associated fractures in prostate cancer patients. Prostate Cancer Prostatic Dis 16:382–386

3.

Green JR (2003) Antitumor effects of bisphosphonates. Cancer 97(3 Suppl):840–847

4.

James ND, Sydes MR, Clarke NW et al (2016) Addition of docetaxel, zoledronic acid, or both to fi rst-line long-term hormone therapy in prostate cancer (STAMPEDE): survival results from an adaptive, multiarm, multistage,platform randomised controlled trial. Lancet 19:1163–1177

5.

Jadvar H, Desai B, Ji L et al (2012) Prospective evaluation of 18F-NaF and 18F-FDG PET/CT in detection of occult metastatic disease in biochemical recurrence of prostate cancer. Clin Nucl Med 37:637–643

6.

Hillner BE, Siegel BA, Hanna L et al (2014) Impact of 18F-fluoride PET in patients with known prostate cancer: initial results from the National Oncologic PET Registry. J Nucl Med 55:574–581

7.

Muzahir S, Jeraj R, Liu G et al (2015) Differentiation of metastatic vs degenerative joint disease using semi-quantitative analysis with (18)F-NaF PET/CT in castrate resistant prostate cancer patients. Am J Nucl Med Mol Imaging 5:162

8.

Castellucci P, Jadvar H (2012) PET/CT in prostate cancer: non-choline radiopharmaceuticals. Q J Nucl Med Mol Imaging 56:367–374

9.

Sun H, Sloan A, Mangner TJ, Vaishampayan U et al (2005) Imaging DNA synthesis with [18F]FMAU and positron emission tomography in patients with cancer. Eur J Nucl Med Mol Imaging 32:15–22

10.

Tehrani OS, Muzik O, Heilbrun LK et al (2007) Tumor imaging using 1-(2'-deoxy-2'-18F-fluoro-beta-D-arabinofuranosyl)thymine and PET. J Nucl Med 48:1436–1441
Acknowledgements
This study was partially supported by the NIH Cancer Center Support Grant CA022453 and the Department of Defense Grant # 07078003 (WX1XWH-11-1-0050).
Ethics declarations
Conflict of Interest
The authors declare that they have no conflict of interest.
About this article
Cite this article
Vaishampayan, U.N., Tehrani, O.S., Lawhorn-Crews, J.M. et al. A Pilot Trial Evaluating Zoledronic Acid Induced Changes in [18F]FMAU-Positron Emission Tomography Imaging of Bone Metastases in Prostate Cancer. Mol Imaging Biol 19, 810–816 (2017). https://doi.org/10.1007/s11307-017-1057-y
Key words
Castrate resistant prostate cancer

Zoledronic acid

Prostate-specific antigen

Positron emission tomography

Imaging