Abstract
Purpose
Several preclinical imaging systems are commercially available, but their purchase and maintenance costs make them unaffordable for the majority of small- and medium-sized groups. Taking into account the needs of average users, we developed "γ-eye", a mouse-sized, benchtop γ-camera suitable for in vivo scintigraphic imaging.
Procedures
The γ-eye is based on two position-sensitive photomultiplier tubes, coupled to a CsI(Na) pixelated scintillator and a low-energy lead collimator with parallel hexagonal holes.
Results
The spatial resolution of the system is 2 mm at 0 mm. The energy resolution is 26 % at 140 keV and the maximum recorded sensitivity 210 cps/MBq. The system was evaluated in a proof-of-concept animal study, using three different clinical Tc-99m-labeled radiopharmaceuticals. Phantom and animal studies demonstrate its ability to provide semiquantitative results even for short scans.
Conclusions
Systems' performance, dimensions, and cost make γ-eye a unique solution for efficient whole-body mouse nuclear imaging.
Access options
Buy single article
Instant access to the full article PDF.
US$ 39.95
Tax calculation will be finalised during checkout.
Subscribe to journal
Immediate online access to all issues from 2019. Subscription will auto renew annually.
US$ 79
Tax calculation will be finalised during checkout.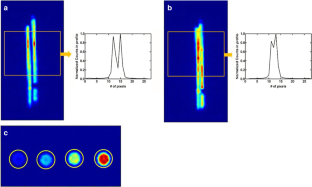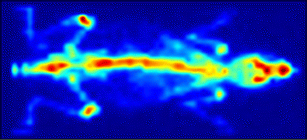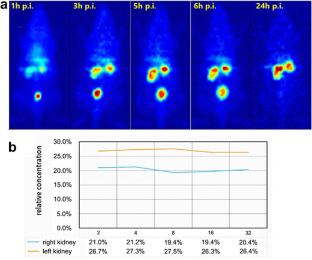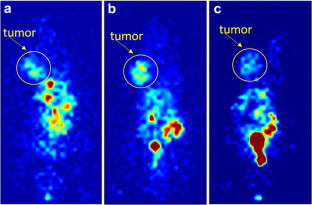 References
1.

Peterson TE, Shokouhi S (2012) Advances in preclinical SPECT instrumentation. J Nucl Med 53:841–844

2.

Gomes CM, Abrunhosa AJ, Ramos P, Pauwels EKJ (2011) Molecular imaging with SPECT as a tool for drug development. Adv Drug Deliv Rev 63:547–554

3.

Balaban RS, Hampshire VA (2001) Challenges in small animal noninvasive imaging. ILAR J 42:248–262

4.

Franc BL, Acton PD, Mari C, Hasegawa BH (2008) Small-animal SPECT and SPECT/CT: important tools for preclinical investigation. J Nucl Med 49:1651–1663

5.

Peremans K, Cornelissen B, Van Den Bossche B et al (2005) A review of small animal imaging planar and pinhole SPECT γ camera imaging. Vet Radiol Ultrasound 46:162–170

6.

Kagadis GC, Loudos G, Katsanos K et al (2010) In vivo small animal imaging: current status and future prospects. Med Phys 37:6421–6442

7.

Stout DB, Zaidi H (2016) Preclinical multimodality imaging in vivo. PET Clin 3:251–273

8.

Zanzonico P (2012) Principles of nuclear medicine imaging: planar, SPECT, PET, multi-modality, and auto radiography systems. Radiat Res 177:349–364

9.

Zaidi H (2014) Molecular imaging of small animals: instrumentation and applications. Springer

10.

Ntziachristos V, Turner G, Dunham J et al (2005) Planar fluorescence imaging using normalized data. J Biomed Opt. doi:10.1117/1.2136148

11.

Jung JH, Choi Y, Hong KJ, Min BJ, Choi JY, Choe YS, Lee KH, Kim BT (2009) Development of a dual modality imaging system: a combined gamma camera and optical imager. Phys Med Biol 54:4547–4559

12.

Meikle SR, Kench P, Kassiou M, Banati RB (2005) Small animal SPECT and its place in the matrix of molecular imaging technologies. Phys Med Biol 50:R45.5

13.

Goorden MC, van der Have F, Kreuger R et al (2013) VECTor: a preclinical imaging system for simultaneous submillimeter SPECT and PET. J Nucl Med 54:306–312

14.

Loudos G, Majewski S, Wojcik R et al (2007) Performance evaluation of a dedicated camera suitable for dynamic radiopharmaceuticals evaluation in small animals. IEEE Trans Nucl Sci 54:454–460

15.

Xi W, Seidel J, Kakareka JW et al (2010) MONICA: a compact, portable dual gamma camera system for mouse whole-body imaging. Nucl Med Biol 37:245–253

16.

Kim H, Furenlid LR, Crawford MJ et al (2006) SemiSPECT: a small-animal single-photon emission computed tomography (SPECT) imager based on eight cadmium zinc telluride (CZT) detector arrays. Med Phys 33:465–474

17.

Miller BW, Barber HB, Barrett HH, et al (2012) Progress in BazookaSPECT: high-resolution, dynamic scintigraphy with large-area imagers. Proc SPIE-- Int Soc Opt Eng.

18.

Metaxa A-F, Efthimiadou EK, Boukos N et al (2014) Hollow microspheres based on—folic acid modified—hydroxypropyl cellulose and synthetic multi-responsive bio-copolymer for targeted cancer therapy: controlled release of daunorubicin, in vitro and in vivo studies. J Colloid Interface Sci 435:171–181

19.

Psimadas D, Oliveira H, Thevenot J et al (2014) Polymeric micelles and vesicles: biological behavior evaluation using radiolabeling techniques. Pharm Dev Technol 19:189–193

20.

Zoppellaro G, Kolokithas-Ntoukas A, Polakova K et al (2014) Theranostics of Epitaxially condensed colloidal Nanocrystal clusters, through a soft biomineralization route. Chem Mater 26:2062–2074

21.

Fragogeorgi EA, Savina IN, Tsotakos T et al (2014) Comparative in vitro stability and scintigraphic imaging for trafficking and tumor targeting of a directly and a novel 99mTc(I)(CO)3 labeled liposome. Int J Pharm 465:333–346

22.

Psimadas D, Baldi G, Ravagli C et al (2014) Comparison of the magnetic, radiolabeling, hyperthermic and biodistribution properties of hybrid nanoparticles bearing CoFe2O4 and Fe3O4 metal cores. Nanotechnology 25:25101

23.

Popov V (2004) Matrix output device readout system, US6747263B1.

24.

Bhatia BS, Bugby SL, Lees JE, Perkins AC (2015) A scheme for assessing the performance characteristics of small field-of-view gamma cameras. Phys Med 31:98–103

25.

Bugby SL, Lees JE, Bhatia BS, Perkins AC (2014) Characterisation of a high resolution small field of view portable gamma camera. Phys Med 30:331–339

26.

Zhang Q, Lu Y, Yang K, Ren Q (2013) Position mapping and a uniformity correction method for small-animal SPECT based on connected regional recognition. Nucl Instrum Methods Phys Res Sect Accel Spectrometers Detect Assoc Equip 704:1–6

27.

Jeong MH, Choi Y, Chung YH et al (2004) Performance improvement of small gamma camera using NaI(Tl) plate and position sensitive photo-multiplier tubes. Phys Med Biol 49:4961–4970

28.

Knoll GF (2010) Radiation detection and measurement. Wiley

29.

Nock BA, Maina T, Krenning EP, de Jong M (2014) "To serve and protect": enzyme inhibitors as radiopeptide escorts promote tumor targeting. J Nucl Med 55:121–127

30.

Audenhaege KV, Holen RV, Vandenberghe S et al (2015) Review of SPECT collimator selection, optimization, and fabrication for clinical and preclinical imaging. Med Phys 42:4796–4813

31.

Miller BW, Moore JW, Barrett HH et al (2011) 3D printing in X-ray and gamma-ray imaging: a novel method for fabricating high-density imaging apertures. Nucl Instrum Methods Phys Res Sect Accel Spectrometers Detect Assoc Equip 659:262–268

32.

Georgiou M, Loudos G, Stratos D et al (2012) Optimization of a gamma imaging probe for axillary sentinel lymph mapping. J Instrum 7:P09010

33.

Kato T, Kataoka J, Nakamori T et al (2013) A novel gamma-ray detector with submillimeter resolutions using a monolithic MPPC array with pixelized Ce:LYSO and Ce:GGAG crystals. Nucl Instrum Methods Phys Res Sect Accel Spectrometers Detect Assoc Equip 699:235–241

34.

Bouckaert C, Vandenberghe S, Van Holen R (2014) Evaluation of a compact, high-resolution SPECT detector based on digital silicon photomultipliers. Phys Med Biol 59:7521–7539

35.

Psimadas D, Georgoulias P, Valotassiou V, Loudos G (2012) Molecular nanomedicine towards cancer: 111In-labeled nanoparticles. J Pharm Sci 101:2271–2280

36.

Banerjee S, Pillai MRA, (Russ) Knapp FF (2015) Lutetium-177 therapeutic radiopharmaceuticals: linking chemistry, radiochemistry, and practical applications. Chem Rev 115:2934–2974

37.

Tandon V, Gauthier N, Ruddy TD (2013) SPECT radiopharmaceuticals. In: Heller GV, Hendel RC (eds) Handb. Nucl. Cardiol. Springer, London, pp. 95–101

38.

Banerjee SR, Pomper MG (2013) Clinical applications of gallium-68. Appl Radiat Isot Data Instrum Methods Use Agric Ind Med 0:2–13

39.

Jan S, Benoit D, Becheva E et al (2011) GATE V6: a major enhancement of the GATE simulation platform enabling modelling of CT and radiotherapy. Phys Med Biol 56:881–901

40.

Pizzonia J, Holmberg J, Orton S et al (2012) Multimodality animal rotation imaging system (Mars) for in vivo detection of intraperitoneal tumors. Am J Reprod Immunol N Y N 1989 67:84–90

41.

Loudos GK, Papadimitroulas P, Zotos P et al (2010) Development and evaluation of QSPECT open-source software for the iterative reconstruction of SPECT images. Nucl Med Commun 31:558–566
Ethics declarations
Ethical Approval
All procedures performed in studies involving human participants were in accordance with the ethical standards of the institutional and/or national research committee and with the 1964 Helsinki Declaration and its later amendments or comparable ethical standards.
Human and Animal Rights
All applicable institutional and/or national guidelines for the care and use of animals were followed.
Conflict of Interest
The technology similar to the "γ-eye" presented in this manuscript will be commercialized in the near future by BET Solutions, Athens, Greece. At this point, γ-eye system is in prototype version. Eleftherios Fysikopoulos and Konstantinos Mikropoulos are currently coworkers of BET Solutions, George Loudos is consultant for BET Solutions, and Maria Georgiou is a general partner of BET Solutions.
About this article
Cite this article
Georgiou, M., Fysikopoulos, E., Mikropoulos, K. et al. Characterization of "γ-Eye": a Low-Cost Benchtop Mouse-Sized Gamma Camera for Dynamic and Static Imaging Studies. Mol Imaging Biol 19, 398–407 (2017). https://doi.org/10.1007/s11307-016-1011-4
Key words
Single photon emission

Scintigraphic small animal imaging

Position sensitive photomultiplier tube

Performance evaluation