Abstract
Purpose
During lung surgery, identification of surgical margins is challenging. We hypothesized that molecular imaging with a fluorescent probe to pulmonary adenocarcinomas could enhance residual tumor during resection.
Procedures
Mice with flank tumors received a contrast agent targeting folate receptor alpha. Optimal dose and time of injection was established. Margin detection was compared using traditional methods versus molecular imaging. A pilot study was then performed in three humans with lung adenocarcinoma.
Results
The peak tumor-to-background ratio (TBR) of murine tumors was 3.9. Fluorescence peaked at 2 h and was not improved beyond 0.1 mg/kg. Traditional inspection identified 30 % of mice with positive margins. Molecular imaging identified an additional 50 % of residual tumor deposits (p < 0.05). The fluorescent probe visually enhanced all human tumors with a mean TBR of 3.5.
Conclusions
Molecular imaging is an important adjunct to traditional inspection to identify surgical margins after tumor resection.
This is a preview of subscription content, log in to check access.
Access options
Buy single article
Instant access to the full article PDF.
US$ 39.95
Price includes VAT for USA
Subscribe to journal
Immediate online access to all issues from 2019. Subscription will auto renew annually.
US$ 99
This is the net price. Taxes to be calculated in checkout.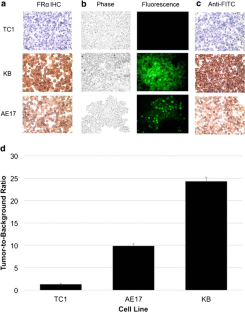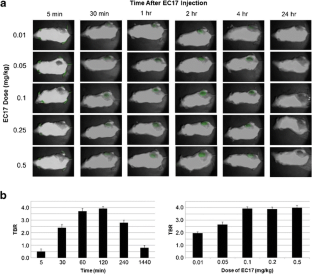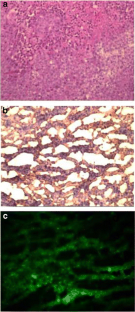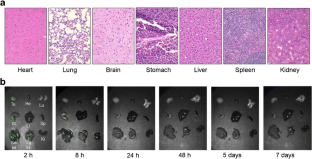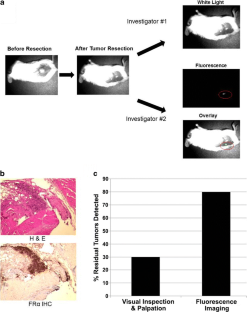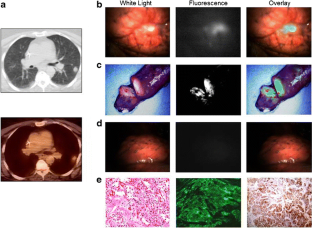 References
1.

Aliperti LA, Predina JD, Vachani A, Singhal S (2011) Local and systemic recurrence is the Achilles heel of cancer surgery. Ann Surg Oncol 18:603–607

2.

Osarogiagbon RU, Phelps G, McFarlane J, Bankole O (2011) Causes and consequences of deviation from multidisciplinary care in thoracic oncology. J Thorac Oncol 6:510–516

3.

Detterbeck FC, Tanoue LT, Boffa DJ (2010) Anatomy, biology and concepts, pertaining to lung cancer stage classification. Zhongguo Fei Ai Za Zhi 13:1–8

4.

Pisters KM, Le Chevalier T (2005) Adjuvant chemotherapy in completely resected non-small-cell lung cancer. J Clin Oncol 23:3270–3278

5.

Vaidya A, Hawke C, Tiguert R, Civantos F, Soloway M (2001) Intraoperative T staging in radical retropubic prostatectomy: is it reliable? Urology 57:949–954

6.

Singhal S, Nie S, Wang MD (2001) Nanotechnology applications in surgical oncology. Annu Rev Med 61:359–373

7.

Madajewski B, Judy BF, Mouchli A, Kapoor V, Holt D, Wang MD, Nie S, Singhal S (2012) Intraoperative near-infrared imaging of surgical wounds after tumor resections can detect residual disease. Clin Cancer Res 18:5741–5751

8.

van der Vorst JR, Schaafsma BE, Hutteman M et al (2013) Near-infrared fluorescence-guided resection of colorectal liver metastases. Cancer 119:3411–3418

9.

van Dam GM, Themelis G, Crane LM et al (2011) Intraoperative tumor-specific fluorescence imaging in ovarian cancer by folate receptor-alpha targeting: first in-human results. Nat Med 17:1315–1319

10.

Kelemen LE (2006) The role of folate receptor alpha in cancer development, progression and treatment: cause, consequence or innocent bystander? Int J Cancer 119:243–250

11.

Low PS, Antony AC (2004) Folate receptor-targeted drugs for cancer and inflammatory diseases. Adv Drug Deliv Rev 56:1055–1058

12.

Low PS, Henne WA, Doorneweerd DD (2008) Discovery and development of folic-acid-based receptor targeting for imaging and therapy of cancer and inflammatory diseases. Acc Chem Res 41:120–129

13.

Xia W, Low PS (2010) Folate-targeted therapies for cancer. J Med Chem 53:6811–6824

14.

O'Shannessy DJ, Yu G, Smale R et al (2012) Folate receptor alpha expression in lung cancer: diagnostic and prognostic significance. Oncotarget 3:414–425

15.

Lu Y, Sega E, Leamon CP, Low PS (2004) Folate receptor-targeted immunotherapy of cancer: mechanism and therapeutic potential. Adv Drug Deliv Rev 56:1161–1176

16.

Low PS, Kularatne SA (2009) Folate-targeted therapeutic and imaging agents for cancer. Curr Opin Chem Biol 13:256–262

17.

Davis MR, Manning LS, Whitaker D et al (1992) Establishment of a murine model of malignant mesothelioma. Int J Cancer 52:881–886

18.

Lu Y, Xu LC, Parker N et al (2006) Preclinical pharmacokinetics, tissue distribution, and antitumor activity of a folate-hapten conjugate-targeted immunotherapy in hapten-immunized mice. Mol Cancer Ther 5:3258–3267

19.

Lu Y, Low PS (2002) Folate targeting of haptens to cancer cell surfaces mediates immunotherapy of syngeneic murine tumors. Cancer Immunol Immunother 51:153–162

20.

Predina JD, Judy B, Fridlender ZG et al (2012) A positive-margin resection model recreates the postsurgical tumor microenvironment and is a reliable model for adjuvant therapy evaluation. Cancer Biol Ther 13:745–755

21.

Judy BF, Aliperti LA, Predina JD et al (2012) Vascular endothelial-targeted therapy combined with cytotoxic chemotherapy induces inflammatory intratumoral infiltrates and inhibits tumor relapses after surgery. Neoplasia 14:352–359

22.

Fedor D, Johnson WR, Singhal S (2013) Local recurrence following lung cancer surgery: incidence, risk factors, and outcomes. Surg Oncol 22:156–161

23.

Gomez DR, Komaki R (2012) Postoperative radiation therapy for non-small cell lung cancer and thymic malignancies. Cancers (Basel) 4:307–322

24.

Trajkovic-Arsic M, Mohajerani P, Sarantopoulos A et al (2014) Multimodal molecular imaging of integrin alphavbeta3 for in vivo detection of pancreatic cancer. J Nucl Med 55:446–451

25.

Metildi CA, Kaushal S, Pu M et al (2014) Fluorescence-guided surgery with a fluorophore-conjugated antibody to carcinoembryonic antigen (CEA), that highlights the tumor, improves surgical resection and increases survival in orthotopic mouse models of human pancreatic cancer. Ann Surg Oncol 21:1405–1411

26.

Hiroshima Y, Maawy A, Metildi CA et al (2014) Successful fluorescence-guided surgery on human colon cancer patient-derived orthotopic xenograft mouse models using a fluorophore-conjugated anti-CEA antibody and a portable imaging system. J Laparoendosc Adv Surg Tech A 24:241–247

27.

Sturm MB, Joshi BP, Lu S et al (2013) Targeted imaging of esophageal neoplasia with a fluorescently labeled peptide: first-in-human results. Sci Transl Med 5:184ra161

28.

Yang L, Sajja HK, Cao Z et al (2013) uPAR-targeted optical imaging contrasts as theranostic agents for tumor margin detection. Theranostics 4:106–118

29.

Chi C, Du Y, Ye J et al (2014) Intraoperative imaging-guided cancer surgery: from current fluorescence molecular imaging methods to future multi-modality imaging technology. Theranostics 4:1072–1084

30.

Jacques SL (2013) Optical properties of biological tissues: a review. Phys Med Biol 58:37–61
Funding
This work was supported by the National Institutes of Health RO1 CA163256.
Conflict of Interest
Dr. Low is a consultant and stakeholder in OnTarget Laboratories LLC. Dr. Nie discloses a relationship as a consultant for Spectropath Inc.
About this article
Cite this article
Keating, J.J., Okusanya, O.T., De Jesus, E. et al. Intraoperative Molecular Imaging of Lung Adenocarcinoma Can Identify Residual Tumor Cells at the Surgical Margins. Mol Imaging Biol 18, 209–218 (2016). https://doi.org/10.1007/s11307-015-0878-9
Key words
Surgical oncology

Molecular imaging

Lung cancer

Thoracic surgery

Folate receptor alpha