Abstract
Purpose
GF120918 has a high inhibitory effect on P-glycoprotein (P-gp) and breast cancer resistance protein (BCRP). We developed [11C]GF120918 as a positron emission tomography (PET) probe to assess if dual modulation of P-gp and BCRP is useful to evaluate brain penetration.
Procedures
PET studies using [11C]GF120918 were conducted on P-gp and/or Bcrp knockout mice as well as wild-type mice.
Results
In PET studies, the AUCbrain [0–60 min] and K 1 value in P-gp/Bcrp knockout mice were nine- and 26-fold higher than that in wild-type mice, respectively. These results suggest that brain penetration of [11C]GF120918 is related to modulation of P-gp and BCRP and is limited by two transporters working together.
Conclusions
PET using [11C]GF120918 may be useful for evaluating the function of P-gp and BCRP. PET using P-gp/Bcrp knockout mice may be an effective method to understand the overall contributions the functions of P-gp and BCRP.
This is a preview of subscription content, log in to check access.
Access options
Buy single article
Instant access to the full article PDF.
US$ 39.95
Price includes VAT for USA
Subscribe to journal
Immediate online access to all issues from 2019. Subscription will auto renew annually.
US$ 99
This is the net price. Taxes to be calculated in checkout.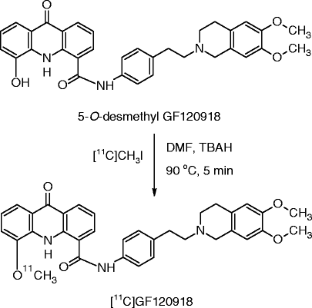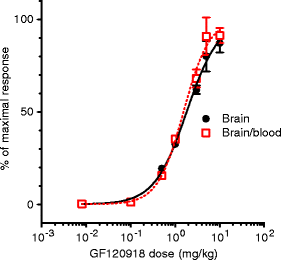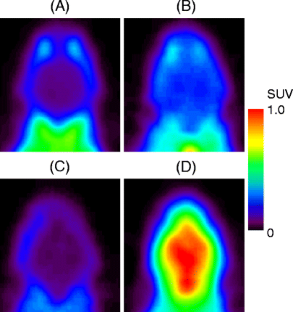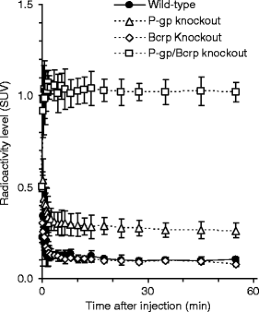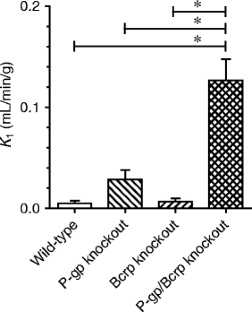 References
1.

Hyafil F, Vergely C, Du Vignaud P, Grand-Perret T (1993) In vitro and in vivo reversal of multidrug resistance by GF120918, an acridonecarboxamide derivative. Cancer Res 53:4595–4602

2.

Doyle LA, Yang W, Abruzzo LV et al (1998) A multidrug resistance transporter from human MCF-7 breast cancer cells. Proc Natl Acad Sci USA 95:15665–15670

3.

de Bruin M, Miyake K, Litman T, Robey R, Bates SE (1999) Reversal of resistance by GF120918 in cell lines expressing the ABC half-transporter, MXR. Cancer Lett 146:117–126

4.

Allen JD, Brinkhuis RF, Wijnholds J, Schinkel AH (1999) The mouse Bcrp1/Mxr/Abcp gene: amplification and overexpression in cell lines selected for resistance to topotecan, mitoxantrone, or doxorubicin. Cancer Res 59:4237–4241

5.

Allen JD, van Loevezijn A, Lakhai JM et al (2002) Potent and specific inhibition of the breast cancer resistance protein multidrug transporter in vitro and in mouse intestine by a novel analogue of fumitremorgin C. Mol Cancer Ther 1:417–425

6.

Hendricks CB, Rowinsky EK, Grochow LB, Donehower RC, Kaufmann SH (1992) Effect of P-glycoprotein expression on the accumulation and cytotoxicity of topotecan (SK&F 104864), a new camptothecin analogue. Cancer Res 52:2268–2278

7.

Maliepaard M, van Gastelen MA, de Jong LA et al (1999) Overexpression of the BCRP/MXR/ABCP gene in a topotecan-selected ovarian tumor cell line. Cancer Res 59:4559–4563

8.

Jonker JW, Smit JW, Brinkhuis RF et al (2000) Role of breast cancer resistance protein in the bioavailability and fetal penetration of topotecan. J Natl Cancer Inst 92:1651–1656

9.

Breedveld P, Beijnen JH, Schellens JH (2006) Use of P-glycoprotein and BCRP inhibitors to improve oral bioavailability and CNS penetration of anticancer drugs. Trends Pharmacol Sci 27:17–24

10.

Nicolazzo JA, Katneni K (2009) Drug transport across the blood-brain barrier and the impact of breast cancer resistance protein (ABCG2). Curr Top Med Chem. 9:130–147

11.

Kruijtzer CM, Beijnen JH, Rosing H et al (2002) Increased oral bioavailability of topotecan in combination with the breast cancer resistance protein and P-glycoprotein inhibitor GF120918. J Clin Oncol 20:2943–2950

12.

Malingré MM, Beijnen JH, Rosing H et al (2001) Co-administration of GF120918 significantly increases the systemic exposure to oral paclitaxel in cancer patients. Br J Cancer 84:42–47

13.

Planting AS, Sonneveld P, van der Gaast A et al (2005) A phase I and pharmacologic study of the MDR converter GF120918 in combination with doxorubicin in patients with advanced solid tumors. Cancer Chemother Pharmacol 55:91–99

14.

Kuppens IE, Witteveen EO, Jewell RC et al (2007) A phase I, randomized, open-label, parallel-cohort, dose-finding study of elacridar (GF120918) and oral topotecan in cancer patients. Clin Cancer Res 13:3276–3285

15.

Cooray HC, Blackmore CG, Maskell L, Barrand MA (2002) Localisation of breast cancer resistance protein in microvessel endothelium of human brain. Neuroreport 13:2059–2063

16.

Doyle LA, Ross DD (2003) Multidrug resistance mediated by the breast cancer resistance protein BCRP (ABCG2). Oncogene 22:7340–7358

17.

Eisenblätter T, Hüwel S, Galla HJ (2003) Characterisation of the brain multidrug resistance protein (BMDP/ABCG2/BCRP) expressed at the blood-brain barrier. Brain Res 971:221–231

18.

Cisternino S, Mercier C, Bourasset F, Roux F, Scherrmann JM (2004) Expression, up-regulation, and transport activity of the multidrug-resistance protein Abcg2 at the mouse blood-brain barrier. Cancer Res 64:3296–3301

19.

de Vries NA, Zhao J, Kroon E, Buckle T, Beijnen JH, van Tellingen O (2007) P-glycoprotein and breast cancer resistance protein: two dominant transporters working together in limiting the brain penetration of topotecan. Clin Cancer Res 13:6440–6449

20.

Kawamura K, Yamasaki T, Yui J et al (2009) In vivo evaluation of P-glycoprotein and breast cancer resistance protein modulation in the brain using [11C]gefitinib. Nucl Med Biol 36:239–246

21.

Dodic N, Dumaitre B, Daugan A, Pianetti P (1995) Synthesis and activity against multidrug resistance in Chinese hamster ovary cells of new acridone-4-carboxamides. J Med Chem 38:2418–2426

22.

Gilday JP, Moody D (2004) Process for the preparation of 4-(3′-chlorp-4′-fluoroanilino)-7-methoxy-6-(3-morpholinopropoxy) quinazoline. PCT Int Appl WO/2004/024703 A1

23.

Schinkel AH, Mayer U, Wagenaar E et al (1997) Normal viability and altered pharmacokinetics in mice lacking mdr1-type (drug-transporting) P-glycoproteins. Proc Natl Acad Sci USA 94:4028–4033

24.

Jonker JW, Buitelaar M, Wagenaar E et al (2002) The breast cancer resistance protein protects against a major chlorophyll-derived dietary phototoxin and protoporphyria. Proc Natl Acad Sci USA 99:15649–15654

25.

Jonker JW, Freeman J, Bolscher E et al (2005) Contribution of the ABC transporters Bcrp1 and Mdr1a/1b to the side population phenotype in mammary gland and bone marrow of mice. Stem Cells 23:1059–1065

26.

Rewcastle GW, Denny WA (1985) The Synthesis of substituted 9-oxoacridan-4-carboxylic acids; Part 2. The use of 2-iodoisophthalic acid in the Jourdan-Ullmann reaction. Synthesis 1985:217–222

27.

Suzuki K, Inoue O, Hashimoto K, Yamasaki T, Kuchiki M, Tamate K (1985) Computer-controlled large scale production of high specific activity [11C]Ro15-1788 for PET studies of benzodiazepine receptors. Int J Appl Radiat Isot 36:971–976

28.

Ikoma Y, Takano A, Ito H et al (2006) Quantitative analysis of 11C-verapamil transfer at the human blood-brain barrier for evaluation of P-glycoprotein function. J Nucl Med 47:1531–1537

29.

Takei M, Kida T, Suzuki K (2001) Sensitive measurement of positron emitters eluted from HPLC. Appl Radiat Isot 55:229–234

30.

Montgomery AJ, Asselin MC, Farde L, Grasby PM (2007) Measurement of methylphenidate-induced change in extrastriatal dopamine concentration using [11C]FLB 457 PET. J Cereb Blood Flow Metab 27:369–377

31.

Luurtsema G, Schuit RC, Klok RP et al (2009) Evaluation of [11C]laniquidar as a tracer of P-glycoprotein: radiosynthesis and biodistribution in rats. Nucl Med Biol 36:643–649

32.

Zhou L, Schmidt K, Nelson FR, Zelesky V, Troutman MD, Feng B (2009) The effect of breast cancer resistance protein and P-glycoprotein on the brain penetration of flavopiridol, imatinib mesylate (Gleevec), prazosin, and 2-methoxy-3-(4-(2-(5-methyl-2-phenyloxazol-4-yl)ethoxy)phenyl)propanoic acid (PF-407288) in mice. Drug Metab Dispos 37:946–955

33.

Hubensack M, Müller C, Höcherl P et al (2008) Effect of the ABCB1 modulators elacridar and tariquidar on the distribution of paclitaxel in nude mice. J Cancer Res Clin Oncol 134:597–607
Acknowledgements
We are grateful to Mrs. Yukio Nakamura (Tokyo Nuclear Services), Nobuki Nengaki (SHI Accelerator Service, SAS), Masanao Ogawa (SAS), Yuichiro Yoshida (SAS), and Hisashi Suzuki (National Institute of Radiological Sciences, NIRS) for their technical assistance with the radiosynthesis. We thank the staff of Cyclotron Operation Section NIRS for their technical assistance in radioisotope production and the staff of the Department of Molecular Probes NIRS for assistance. This study was partially supported by consignment expenses from the Molecular Imaging Program from the Ministry of Education, Culture, Sports, Science and Technology (MEXT) of the Japanese Government.
About this article
Cite this article
Kawamura, K., Yamasaki, T., Konno, F. et al. Evaluation of Limiting Brain Penetration Related to P-glycoprotein and Breast Cancer Resistance Protein Using [11C]GF120918 by PET in Mice. Mol Imaging Biol 13, 152–160 (2011). https://doi.org/10.1007/s11307-010-0313-1
Key words
Positron emission tomography (PET)

P-glycoprotein (P-gp)

Breast cancer resistance protein (BCRP)

Carbon-11

GF120918

Elacridar