Abstract
Purpose
The purpose of this study was to evaluate a dual tracer 2-deoxy-2-[F-18]fluoro-d-glucose (FDG) and 11C-choline positron emission tomography (PET) protocol in the detection of biochemical prostate cancer relapse.
Procedures
Seventy-three patients (median Prostate Specific Antigen (PSA) Test value 2.7 ng/ml (1.1–5.4)) after radical treatment. PET scans were performed by means of a ECAT-Exact HR+ in the first 18 patients and in a PET/computed tomography Biograph II in the remaining 55 patients.
Results
The sensitivity of 11C-choline and FDG was 60.6% and 31%. In PSA levels over 1.9 ng/ml, sensitivity increased to 80% and 40%, respectively. In the group receiving adjuvant hormone therapy, the diagnostic yields were 71.2% and 43%, respectively. While 11C-choline-PET could not differentiate well and poorly differentiated Gleason score patients, FDG-PET results were almost significant (p = 0.058).
Conclusions
A PSA value higher than 1.9 ng/ml determines a significant increase in the diagnostic yield. Adjuvant hormonotherapy has no influence on the PET results. FDG has a better correlation with the Gleason score than 11C-choline.
Access options
Buy single article
Instant access to the full article PDF.
USD 39.95
Price excludes VAT (USA)
Tax calculation will be finalised during checkout.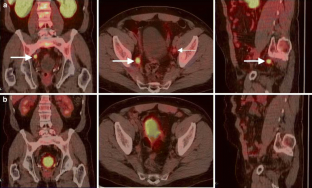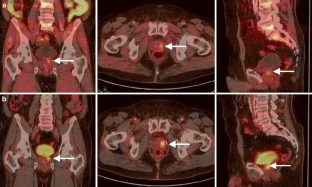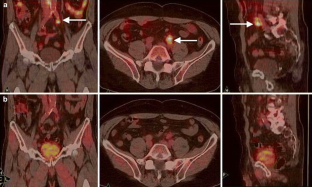 References
Catalona WJ, Smith DS, Ratliff TL, Basler JW (1993) Detection of organ-confined prostate cancer is increased through prostate-specific antigen-based screening. JAMA 270(8):948–954

Moul JW (1998) Treatments options for prostate cancer: part1-stage, grade, PSA and changes in the 1990s. Am J Manag Care 4:1031

Ravery V (1999) The significance of recurrent PSA after radical prostatectomy: benign versus malignant sources. Semin Urol Oncol 17(3):127–129

Consensus statement: guidelines for PSA following radiation therapy (1997) American Society for Therapeutic Radiology and Oncology Consensus Panel. Int J Radiat Oncol Biol Phys 37:1035-1041

Partin AW, Pearson JD, Landis PK et al (1994) Evaluation of serum prostate-specific antigen velocity after radical prostatectomy to distinguish local recurrence from distant metastases. Urology 43(5):649–659

Moul JW (2000) Prostate specific antigen only progression of prostate cancer. J Urol 163(6):1632–1642

Coakley FV, Teh HS, Qayyum A, Swanson MG et al (2004) Endorectal MR imaging and MR spectroscopic imaging for locally recurrent prostate cancer after external beam radiation therapy: preliminary experience. Radiology 233(2):441–448

Sanz G, Robles JE, Gimenez M et al (1999) Positron emission tomography with 18fluorine-labelled deoxyglucose: utility in localized and advanced prostate cancer. BJU Int 84(9):1028–1031

Jeong HJ, Min JJ, Park JM et al (2002) Determination of the prognostic value of [(18) F]fluorodeoxyglucose uptake by using positron emission tomography in patients with non-small cell lung cancer. Nucl Med Commun 23(9):865–870

Nunez R, Macapinlac HA, Yeung HW et al (2002) Combined 18F-FDG and 11C-methionine PET scans in patients with newly progressive metastatic prostate cancer. J Nucl Med 43(1):46–55

Oyama N, Miller TR, Dehdashti F et al (2003) 11C-acetate PET imaging of prostate cancer: detection of recurrent disease at PSA relapse. J Nucl Med 44(4):549–555

Hara T, Kosaka N, Kishi H (1998) PET imaging of prostate cancer using carbon-11-choline. J Nucl Med 39(6):990–995

Breeuwsma AJ, Pruim J, Jongen MM et al (2005) In vivo uptake of [11C]choline does not correlate with cell proliferation in human prostate cancer. Eur J Nucl Med Mol Imaging 32(6):668–673

Van Laere K, Ceyssens S, Van Calenbergh F et al (2005) Direct comparison of 18F-FDG and 11C-methionine PET in suspected recurrence of glioma: sensitivity, inter-observer variability and prognostic value. Eur J Nucl Med Mol Imaging 32(1):39–51

Richter JA, Rodriguez M, Martinez Monge R et al (2005) Value of PET18FDG and 11C-choline in the early diagnosis of relapse in prostate cancer. J Nucl Med 46:98P [abstract]

Pound CR, Partin AW, Eisenberger MA, Chan DW, Pearson JD, Walsh PC (1999) Natural history of progression after PSA elevation following radical prostatectomy. JAMA 281(17):1591–1597

Boccon-Gibod L, Djavan WB, Hammerer P, Hoeltl W, Kattan MW, Prayer-Galetti T et al (2004) Management of prostate-specific antigen relapse in prostate cancer: a European consensus. Int J Clin Pract 58:382–390

Moul JW (2003) Biochemical recurrence of prostate cancer. Curr Probl Cancer 27(5):243–272

Peñuelas I, Martí-Climent JM, García-Velloso MJ, Rodríguez-Fraile M, Richter JA (2003) Automatización de la síntesis en fase sólida y la purificación de (N-metil[11C])colina. Rev Esp Med Nuclear 22(3):163 [abstract]

Picchio M, Messa C, Landoni C et al (2003) Value of [11C]choline-positron emission tomography for re-staging prostate cancer: a comparison with [18F]fluorodeoxyglucose-positron emission tomography. J Urol 169(4):1337–1340

de Jong IJ, Pruim J, Elsinga PH, Vaalburg W, Mensink HJ (2003) 11C-choline positron emission tomography for the evaluation after treatment of localized prostate cancer. Eur Urol 44(1):32–38

Krause BJ, Souvatzoglou M, Tuncel M et al (2008) The detection rate of [(11) C]Choline-PET/CT depends on the serum PSA-value in patients with biochemical recurrence of prostate cancer. Eur J Nucl Med Mol Imaging 35(1):18–23

Reske SN, Blumstein NM, Glatting G (2008) [(11) C]choline PET/CT imaging in occult local relapse of prostate cancer after radical prostatectomy. Eur J Nucl Med Mol Imaging 35(1):9–17

Rinnab L, Mottaghy FM, Blumstein NM et al (2007) Evaluation of [11C]-choline positron-emission/computed tomography in patients with increasing prostate-specific antigen levels after primary treatment for prostate cancer. BJU Int 100(4):786–793

Husarik DB, Miralbell R, Dubs M, John H et al (2008) Evaluation of [(18) F]-choline PET/CT for staging and restaging of prostate cancer. Eur J Nucl Med Mol Imaging 35(2):253–263

Amling CL, Bergstralh EJ, Blute ML, Slezak JM, Zincke H (2001) Defining prostate specific antigen progression after radical prostatectomy: what is the most appropriate cut point? J Urol 165(4):1146–1151

Freedland SJ, Sutter ME, Dorey F, Aronson WJ (2003) Defining the ideal cutpoint for determining PSA recurrence after radical prostatectomy. Prostate-specific antigen. Urology 61(2):365–369

D'Amico AV, Moul JW, Carroll PR, Sun L, Lubeck D, Chen MH (2003) Surrogate end point for prostate cancer-specific mortality after radical prostatectomy or radiation therapy. J Natl Cancer Inst 95(18):1376–1383

Vees H, Buchegger F, Albrecht S et al (2007) 18F-choline and/or 11C-acetate positron emission tomography: detection of residual or progressive subclinical disease at very low prostate-specific antigen values (<1 ng/mL) after radical prostatectomy. BJU Int 99(6):1415–1420

Heinisch M, Dirisamer A, Loidl W et al (2006) Positron emission tomography with F-18-fluorocholine for restaging of prostate cancer patients: meaningful at PSA >5 ng/ml? Mol Imaging Biol 8(1):43–48

Coleman R, DeGrado T, Wang S et al (2000) Preliminary evaluation of F-18 fluorocholine (FCH) as a PET tumor imaging agent. Clin Positron Imaging 3(4):147 [Abstract]

Kubota K, Kubota R, Yamada S (1993) FDG accumulation in tumor tissue. J Nucl Med 34(3):419–421

Minn H, Joensuu H, Ahonen A, Klemi P (1988) Fluorodeoxyglucose imaging: a method to assess the proliferative activity of human cancer in vivo. Comparison with DNA flow cytometry in head and neck tumors. Cancer 61(9):1776–1781

Gheiler EL, Tefilli MV, Tiguert R et al (1998) Predictors for maximal outcome in patients undergoing salvage surgery for radio-recurrent prostate cancer. Urology 51(5):789–795

Pucar D, Sella T, Schöder H (2008) The role of imaging in the detection of prostate cancer local recurrence after radiation therapy and surgery. Curr Opin Urol 18(1):87–97

Leventis AK, Shariat SF, Slawin KM (2001) Local recurrence after radical prostatectomy: correlation of US features with prostatic fossa biopsy findings. Radiology 219(2):432–439

Albertsen PC, Hanley JA, Harlan LC et al (2000) The positive yield of imaging studies in the evaluation of men with newly diagnosed prostate cancer: a population based analysis. J Urol 163(4):1138–1143

Sella T, Schwartz LH, Swindle PW et al (2004) Suspected local recurrence after radical prostatectomy: endorectal coil MR imaging. Radiology 231(2):379–385
Additional information
Financial support
University of Navarra PIUNA Grant
About this article
Cite this article
Richter, J.A., Rodríguez, M., Rioja, J. et al. Dual Tracer 11C-Choline and FDG-PET in the Diagnosis of Biochemical Prostate Cancer Relapse After Radical Treatment. Mol Imaging Biol 12, 210–217 (2010). https://doi.org/10.1007/s11307-009-0243-y
Received:

Revised:

Accepted:

Published:

Issue Date:

DOI: https://doi.org/10.1007/s11307-009-0243-y
Key words
PET

FDG

11C-Choline

Prostate cancer

Relapse

Early detection

PSA