Abstract
Introduction
Hyperhomocysteinemia (HHCys) is an independent risk factor for various diseases such as cardiovascular diseases, Alzheimer's, and cancers. Folate deficiency is one of the significant reasons for HHCys. However, it is not known whether folate deficiency with HHCys is associated with any serum metabolites.
Objectives
Our objective was to identify the metabolic alterations in people having folate deficiency with HHCys and check whether a short-term folic acid therapy could reverse those metabolic changes.
Methods
The study enrolled 34 participants aged between 18 and 40 years having folate deficiency (< 4.6 ng/mL) with HHCys (> 15 μmol/L) and 21 normal healthy individuals. A short-term intervention of oral folic acid (5 mg/day) was done in the HHCys group for 30 days. Untargeted metabolomics analysis of serum was performed in all study subjects before and after the folic acid treatment. Different univariate methods and the multivariable-adjusted linear regression models were employed to determine an association between homocysteine level and metabolite profile.
Results
Metabolomics analysis data showed that many metabolites involved in the biochemical pathways of lipid metabolisms such as polyunsaturated fatty acids, glycerolipids, and phospholipids were downregulated in the HHCys group. Short-term oral folic acid therapy significantly reduced their serum homocysteine level. However, the metabolic pathway alterations observed in folate-deficient HHCys-condition were unaltered even after the folic acid treatment.
Conclusions
Our study revealed that people who have a folic acid deficiency with HHCys have an altered metabolite profile related to lipid metabolism, which cannot be reversed by short-term folic acid therapy.
Access options
Buy single article
Instant access to the full article PDF.
USD 39.95
Price excludes VAT (USA)
Tax calculation will be finalised during checkout.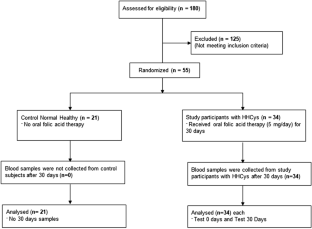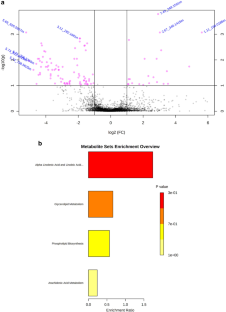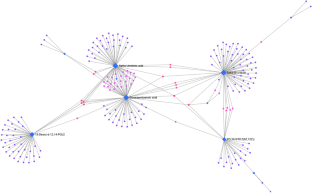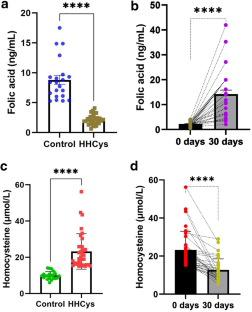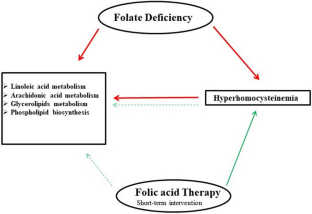 Data availability
The metabolomics data is available at MetaboLights (Study ID: MTBLS2150).
Abbreviations
HCys:

Homocysteine

HHCys:

Hyperhomocysteinemia

SAM:

S-adenosylmethionine

SAH:

S-adenosyl homocysteine

RPLC:

Reversed-phase liquid chromatography

HILIC:

Hydrophilic interaction chromatography

PUFA:

Polyunsaturated fatty acids
Acknowledgements
The authors wish to thank our participants in this project.
Ethics declarations
Conflict of interest
The authors declare and certify that they have no conflict of interest.
Ethical approval
This study was approved by the institutional ethical committee of Rajiv Gandhi Centre for Biotechnology (IHEC/01/2016/13) and Medical Trust Hospital and Diabetes Care Centre. All procedures performed in the studies involving human participants were following the institutional and national research committee's ethical standards and with the 1964 Helsinki declaration and its later amendments or comparable ethical standards.
Informed consent
Informed consent was obtained from all the study participants.
Additional information
Publisher's Note
Springer Nature remains neutral with regard to jurisdictional claims in published maps and institutional affiliations.
Supplementary Information
Below is the link to the electronic supplementary material.
About this article
Cite this article
Kumar, A.A., Anusree, V.R., Satheesh, G. et al. Hyperhomocysteinemia-related serum metabolome alterations not normalized by short-term folic acid treatment. Metabolomics 17, 47 (2021). https://doi.org/10.1007/s11306-021-01798-z
Received:

Accepted:

Published:

DOI: https://doi.org/10.1007/s11306-021-01798-z
Keywords
Hyperhomocysteinemia

Folic acid

Lipid metabolism

Untargeted metabolomics