Abstract
Background
Metabolomics has been recognized as a powerful approach for disease screening. In order to highlight potential health issues in subjects, a key factor is the possibility to compare quantitatively the metabolome of their biofluids with reference values from healthy individuals. Such efforts towards the systematic characterization of the metabolome of biofluids in perfect health conditions, far from concluded for humans, have barely begun on horses.
Objectives
The present work attempts, for the first time, to give reference quantitative values for the molecules mostly represented in the urine metabolome of horses at rest and under light training, as observable by 1H-NMR.
Methods
The metabolome of ten trotter horses, four male and six female, ranging from 3 to 8 years of age, has been observed by 1H-NMR spectroscopy before and after three training sessions.
Results
We could characterize and quantify 54 molecules in trotter horse urine, originated from diet, protein digestion, energy generation or gut-microbial co-metabolism.
Conclusion
We were able to describe how gender, age and exercise affected their concentration, by means of a two steps protocol based on univariate and robust principal component analysis.
Access options
Buy single article
Instant access to the full article PDF.
USD 39.95
Price excludes VAT (USA)
Tax calculation will be finalised during checkout.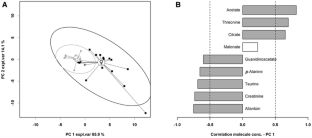 References
Artioli, G. G., Gualano, B., Smith, A., Stout, J., & Lancha, A. H. (2010). Role of β-alanine supplementation on muscle carnosine and exercise performance. Medicine and Science in Sports and Exercise, 42(6), 1162–1173. https://doi.org/10.1249/MSS.0b013e3181c74e38.

Assfalg, M., Bertini, I., Colangiuli, D., Luchinat, C., Schäfer, H., Schütz, B., & Spraul, M. (2008). Evidence of different metabolic phenotypes in humans. Proceedings of the National Academy of Sciences of the United States of America, 105(5), 1420–1424. https://doi.org/10.1073/pnas.0705685105.

Barrilero, R., Ramírez, N., Vallvé, J. C., Taverner, D., Fuertes, R., Amigó, N., & Correig, X. (2017). Unravelling and quantifying the "nMR-Invisible" metabolites interacting with human serum albumin by binding competition and T2 relaxation-based decomposition analysis. Journal of Proteome Research, 16(5), 1847–1856. https://doi.org/10.1021/acs.jproteome.6b00814.

Bollard, M. E., Stanley, E. G., Lindon, J. C., Nicholson, J. K., & Holmes, E. (2005). NMR-based metabonomic approaches for evaluating physiological influences on biofluid composition. NMR in Biomedicine. https://doi.org/10.1002/nbm.935.

Buhl, R., & Ersbøll, A. K. (2012). Echocardiographic evaluation of changes in left ventricular size and valvular regurgitation associated with physical training during and after maturity in Standardbred trotters. Journal of the American Veterinary Medical Association, 240(2), 205–212. https://doi.org/10.2460/javma.240.2.205.

Carroll, C. L., & Huntington, P. J. (1988). Body condition scoring and weight estimation of horses. Equine Veterinary Journal, 20(1), 41–45. https://doi.org/10.1111/j.2042-3306.1988.tb01451.x.

Chambers, J. M., Freeny, A., & Heiberger, R. M. (1992). Analysis of variance; Designed experiments. Statistical models in S, 5, 145–193.

Conover, W. J., & Iman, R. L. (1981). Rank transformations as a bridge between parametric and nonparametric statistics. American Statistician, 35(3), 124–128. https://doi.org/10.1080/00031305.1981.10479327.

De Luca, A., Pierno, S., & Camerino, D. C. (2015). Taurine: The appeal of a safe amino acid for skeletal muscle disorders. Journal of Translational Medicine, 13(1), 243. https://doi.org/10.1186/s12967-015-0610-1.

Dieterle, F., Ross, A., Schlotterbeck, G., & Senn, H. (2006). Probabilistic quotient normalization as robust method to account for dilution of complex biological mixtures. Application in 1H NMR metabonomics. Analytical Chemistry, 78(13), 4281–4290. https://doi.org/10.1021/ac051632c.

Dougal, K., De La Fuente, G., Harris, P. A., Girdwood, S. E., Pinloche, E., Geor, R. J., et al. (2014). Characterisation of the faecal bacterial community in adult and elderly horses fed a high fibre, high oil or high starch diet using 454 pyrosequencing. PLoS ONE, 9(2), e87424 https://doi.org/10.1371/journal.pone.0087424.

Escalona, E. E., Leng, J., Dona, A. C., Merrifield, C. A., Holmes, E., Proudman, C. J., & Swann, J. R. (2015). Dominant components of the thoroughbred metabolome characterised by 1H-nuclear magnetic resonance spectroscopy: A metabolite atlas of common biofluids. Equine Veterinary Journal, 47(6), 721–730. https://doi.org/10.1111/evj.12333.

Foschi, C., Laghi, L., D'Antuono, A., Gaspari, V., Zhu, C., Dellarosa, N., et al. (2018). Urine metabolome in women with Chlamydia trachomatis infection. PLoS ONE, 13(3), e0194827. https://doi.org/10.1371/journal.pone.0194827.

Fujii, H., Nakai, K., & Fukagawa, M. (2011). Role of oxidative stress and indoxyl sulfate in progression of cardiovascular disease in chronic kidney disease. Therapeutic Apheresis and Dialysis. https://doi.org/10.1111/j.1744-9987.2010.00883.x.

Hermansen, L., & Osnes, J. B. (1972). Blood and muscle pH after maximal exercise in man. Journal of Applied Physiology, 32(3), 304–308.

Hubert, M., Rousseeuw, P. J., & Vanden Branden, K. (2005). ROBPCA: A new approach to robust principal component analysis. Technometrics, 47(1), 64–79. https://doi.org/10.1098/004017004000000563.

Joncquel-Chevalier Curt, M., Voicu, P. M., Fontaine, M., Dessein, A. F., Porchet, N., Mention-Mulliez, K., et al. (2015). Creatine biosynthesis and transport in health and disease. Biochimie. https://doi.org/10.1016/j.biochi.2015.10.022.

Joré, C., Loup, B., Garcia, P., Paris, A. C., Popot, M. A., Audran, M., et al. (2017). Liquid chromatography: High resolution mass spectrometry-based metabolomic approach for the detection of Continuous Erythropoiesis Receptor Activator effects in horse doping control. Journal of Chromatography A, 1521, 90–99. https://doi.org/10.1016/j.chroma.2017.09.029.

Kneen, M. A., & Annegarn, H. J. (1996). Algorithm for fitting XRF, SEM and PIXE X-ray spectra backgrounds. Nuclear Instruments and Methods in Physics Research, Section B: Beam Interactions with Materials and Atoms, 109–110, 209–213. https://doi.org/10.1016/0168-583X(95)00908-6.

Kochhar, S., Jacobs, D. M., Ramadan, Z., Berruex, F., Fuerholz, A., & Fay, L. B. (2006). Probing gender-specific metabolism differences in humans by nuclear magnetic resonance-based metabonomics. Analytical Biochemistry, 352(2), 274–281. https://doi.org/10.1016/j.ab.2006.02.033.

Laghi, L., Picone, G., & Capozzi, F. (2014). Nuclear magnetic resonance for foodomics beyond food analysis. TrAC - Trends in Analytical Chemistry. https://doi.org/10.1016/j.trac.2014.04.009.

Laghi, L., Zhu, C., Campagna, G., Rossi, G., Bazzano, M., & Laus, F. (2018). Probiotic supplementation in trained trotter horses: Effect on blood clinical pathology data and urine metabolomic assessed in field. Journal of Applied Physiology. https://doi.org/10.1152/japplphysiol.01131.2017.

Liland, K. H., Almøy, T., & Mevik, B. H. (2010). Optimal choice of baseline correction for multivariate calibration of spectra. Applied Spectroscopy, 64(9), 1007–1016. https://doi.org/10.1366/000370210792434350.

Lostroh, A. J. (1968). Regulation by testosterone and insulin of citrate secretion and protein synthesis in explanted mouse prostates. Proceedings of the National Academy of Sciences, 60(4), 1312–1318.

Marcolini, E., Babini, E., Bordoni, A., Di Nunzio, M., Laghi, L., Maczó, A., et al. (2015). Bioaccessibility of the bioactive peptide carnosine during in vitro digestion of cured beef meat. Journal of Agricultural and Food Chemistry, 63(20), 4973–4978 https://doi.org/10.1021/acs.jafc.5b01157.

Mayneris-Perxachs, J., Bolick, D. T., Leng, J., Medlock, G. L., Kolling, G. L., Papin, J. A., et al. (2016). Protein-and zinc-deficient diets modulate the murine microbiome and metabolic phenotype. American Journal of Clinical Nutrition, 104(5), 1253–1262. https://doi.org/10.3945/ajcn.116.131797.

Merrifield, C. A., Lewis, M., Claus, S. P., Beckonert, O. P., Dumas, M.-E., Duncker, S., et al. (2011). A metabolic system-wide characterisation of the pig: A model for human physiology. Molecular BioSystems, 7(9), 2577. https://doi.org/10.1039/c1mb05023k.

Mikami, T., Kita, K., Tomita, S., Qu, G. J., Tasaki, Y., & Ito, a (2000). Is allantoin in serum and urine a useful indicator of exercise-induced oxidative stress in humans? Free Radical Research, 32(3), 235–244. https://doi.org/10.1080/10715760000300241.

Müller, W., Nocke, T., & Schumann, H. (2006). Enhancing the visualization process with principal component analysis to support the exploration of trends. In Conferences in Research and Practice in Information Technology Series.

Nicholson, J. K., Lindon, J. C., & Holmes, E. (1999). "Metabonomics": Understanding the metabolic responses of living systems to pathophysiological stimuli via multivariate statistical analysis of biological NMR spectroscopic data. Xenobiotica, 29(11), 1181–1189. https://doi.org/10.1080/004982599238047.

Pappalardo, L., Pelczer, I., & Ralston, S. L. (2013). Metabolic differences between draft-cross and mustang horses detected by metabonomic analyses. Journal of Equine Veterinary Science, 33(12), 1044–1049. https://doi.org/10.1016/j.jevs.2013.03.182.

Poli, D., Carbognani, P., Corradi, M., Goldoni, M., Acampa, O., Balbi, B., et al. (2005). Exhaled volatile organic compounds in patients with non-small cell lung cancer: Cross sectional and nested short-term follow-up study. Respiratory Research. https://doi.org/10.1186/1465-9921-6-71.

Psihogios, N. G., Gazi, I. F., Elisaf, M. S., Seferiadis, K. I., & Bairaktari, E. T. (2008). Gender-related and age-related urinalysis of healthy subjects by NMR-based metabonomics. NMR in Biomedicine, 21(3), 195–207. https://doi.org/10.1002/nbm.1176.

R Development Core Team. (2011). R: A language and environment for statistical computing (Vol. 1). Vienna, Austria: R foundation for statistical computing. https://doi.org/10.1007/978-3-540-74686-7.

Slupsky, C. M., Rankin, K. N., Wagner, J., Fu, H., Chang, D., Weljie, A. M., et al. (2007). Investigations of the effects of gender, diurnal variation, and age in human urinary metabolomic profiles. Analytical Chemistry, 79(18), 6995–7004. https://doi.org/10.1021/ac0708588.

Soupart, P. (1959). Urinary excretion of free amino acids in normal adult men and women. Clinica Chimica Acta, 4(2), 265–271.

Wishart, D. S., Tzur, D., Knox, C., Eisner, R., Guo, A. C., Young, N., et al. (2007). HMDB: The human metabolome database. Nucleic Acids Research, 35(SUPPL. 1), D521–D526. https://doi.org/10.1093/nar/gkl923.

Zhang, S., Liu, L., Steffen, D., Ye, T., & Raftery, D. (2012). Metabolic profiling of gender: Headspace-SPME/GC–MS and 1H NMR analysis of urine. Metabolomics, 8(2), 323–334.

Zylber-Katz, E., Granit, L., & Levy, M. (1984). Relationship between caffeine concentrations in plasma and saliva. Clinical Pharmacology and Therapeutics, 36(1), 133–137. https://doi.org/10.1038/clpt.1984.151.
Acknowledgements
Chenglin Zhu gratefully acknowledges financial support from Chinese Scholarship Council (Grant No. 201606910076).
Ethics declarations
Conflict of interest
Authors declare that they have no conflict of interest.
Electronic supplementary material
Below is the link to the electronic supplementary material.
About this article
Cite this article
Zhu, C., Faillace, V., Laus, F. et al. Characterization of trotter horses urine metabolome by means of proton nuclear magnetic resonance spectroscopy. Metabolomics 14, 106 (2018). https://doi.org/10.1007/s11306-018-1403-3
Received:

Accepted:

Published:

DOI: https://doi.org/10.1007/s11306-018-1403-3
Keywords
Trotter horse

Urine

Metabolomics

1H-NMR