Abstract
Background and aims
Pollen is essential for successful plant reproduction and critical for plant-pollinator mutualisms, as pollen is essential larval nutrition. However, we understand very little about the chemical constituents of pollen leading us to this exploratory study characterizing plant and beehive pollen.
Methods
We performed a metabolomics assay of canola flower pollen and beehive pollen.
Results and discussion
The metabolome of canola pollen is affected by irrigation showing differences in lipids and non-polar secondary metabolites. Metabolome of beehive pollen is affected by plant source showing differences in pentose sugars, myo-inositol and furanose. Further research is needed to document the nutritional bases of plant-pollinator mutualism.
This is a preview of subscription content, log in to check access.
Access options
Buy single article
Instant access to the full article PDF.
US$ 39.95
Tax calculation will be finalised during checkout.
Subscribe to journal
Immediate online access to all issues from 2019. Subscription will auto renew annually.
US$ 99
Tax calculation will be finalised during checkout.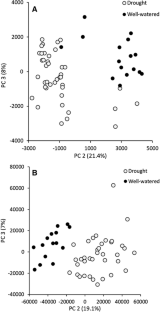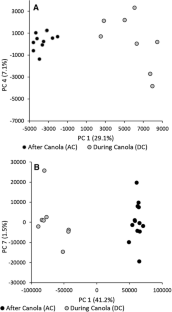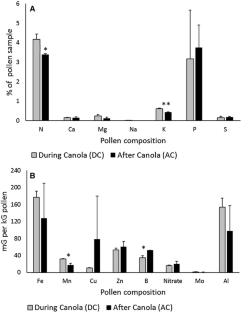 References
Abdel-Ghany, S. E., Day, I., Heuberger, A. L., Broeckling, C. D., & Reddy, A. S. (2013). Metabolic engineering of Arabidopsis for butanetriol production using bacterial genes. Metabolic Engineering, 20, 109–120. https://doi.org/10.1016/j.ymben.2013.10.003.

Anderson, K. E., Carroll, M. J., Sheehan, T., Mott, B. M., Maes, P., & Corby-Harris, V. (2014). Hive-stored pollen of honey bees: Many lines of evidence are consistent with pollen preservation, not nutrient conversion. Molecular Ecology, 23, 5904–5917. https://doi.org/10.1111/mec.12966.

Avni, D., Hendriksma, H. P., Dag, A., Uni, Z., & Shafir, S. (2014). Nutritional aspects of honey bee-collected pollen and constraints on colony development in the eastern Mediterranean. Journal of Insect Physiology. https://doi.org/10.1016/j.jinsphys.2014.07.001.

Bradford, M. M. (1976). Rapid and sensitive method for quantitation of microgram quantities of protein utilizing principle of protein–dye binding. Analytical Biochemistry, 72, 248–254.

Brodschneider, R., & Crailsheim, K. (2010). Nutrition and health in honey bees. Apidologie, 41, 278–294.

Broeckling, C. D., Afsar, F. A., Neumann, S., Ben-Hur, A., & Prenni, J. E. (2014). RAMClust: A novel feature clustering method enables spectral-matching-based annotation for metabolomics data. Analytical Chemistry, 86, 6812–6817.

Bronstein, J. L. (1994). Our current understanding of mutualism. The Quarterly Review of Biology, 69, 31–51.

Brown, R. (1982). Pollen trap for beehives. U.S. Patent No. 4,337,541. Washington, DC: U.S. Patent and Trademark Office. https://patents.google.com/patent/US4337541.

Campos, M. G. R., et al. (2008). Pollen composition and standardisation of analytical methods. Journal of Apicultural Research, 47, 154–161. https://doi.org/10.1080/00218839.2008.11101443.

Free, J. B. (1970). Insect Pollination of Crops. London: Academic Press.

Ganna, A., et al. (2014). Large-scale metabolomic profiling identifies novel biomarkers for incident coronary heart disease. PLoS Genet, 10, e1004801. https://doi.org/10.1371/journal.pgen.1004801.

Herbert, E. W., & Shimanuki, H. (1978). Chemical composition and nutritive value of bee-collected and bee-stored pollen. Apidologie, 9, 33–40.

Keller, I., Fluri, P., & Imdorf, A. (2005a). Pollen nutrition and colony development in honey bees—Part II. Bee World, 86, 27–34. https://doi.org/10.1080/0005772X.2005.11099650.

Keller, I., Fluri, P., & Imdorf, A. (2005b). Pollen nutrition and colony development in honey bees: Part 1. Bee World, 86, 3–10. https://doi.org/10.1080/0005772X.2005.11099641.

Mao, W., Schuler, M. A., & Berenbaum, M. R. (2013). Honey constituents up-regulate detoxification and immunity genes in the western honey bee Apis mellifera. Proceedings of the National Academy of Sciences USA, 110, 8842–8846.

Matilla, H. R., & Otis, G. W. (2006). The effects of pollen availability during larval development on the behaviour and physiology of spring-reared honey bee workers. Apidologie, 37, 533–546.

Meindl, G. A., & Ashman, T.-L. (2013). The effects of aluminum and nickel in nectar on the foraging behavior of bumblebees. Environmental Pollution, 177, 78–81. https://doi.org/10.1016/j.envpol.2013.02.017.

Olofsson, T. C., & Vásquez, A. (2008). Detection and identification of a novel lactic acid bacterial flora within the honey stomach of the honeybee Apis mellifera. Current Microbiology, 57, 356–363. https://doi.org/10.1007/s00284-008-9202-0.

Rashed, M. N., & Soltan, M. E. (2004). Major and trace elements in different types of Egyptian mono-floral and non-floral bee honeys. Journal of Food Composition and Analysis, 17, 725–735. https://doi.org/10.1016/j.jfca.2003.10.004.

Roulston, T. a. H., Cane, J. H., & Buchmann, S. L. (2000). What governs protein content of pollen: Pollinator preferences, pollen–pistil interactions, or phylogeny? Ecological Monographs, 70, 617–643. https://doi.org/10.1890/0012-9615(2000)070%5B0617:WGPCOP%5D2.0.CO;2.

Scofield, H. N., & Mattila, H. R. (2015). Honey bee workers that are pollen stressed as larvae become poor foragers and waggle dancers as adults. PLoS ONE, 10, e0121731. https://doi.org/10.1371/journal.pone.0121731.

Searcy, K. B., & Mulcahy, D. L. (1985). Pollen tube competition and selection for metal tolerance in Silene dioica (Caryophyllaceae) and Mimulus guttatus (Scrophulariaceae). American Journal of Botany, 72, 1695–1699.

Smith, C. A., Want, E. J., O'Maille, G., Abagyan, R., Siuzdak (2006). XCMS: Processing mass spectrometry data for metabolite profiling using nonlinear peak alignment, matching and identification. Analytical Chemistry, 78, 779–787.

Søvik, E., Perry, C. J., LaMora, A., Barron, A. B., & Ben-Shahar, Y. (2015). Negative impact of manganese on honeybee foraging. Biology Letters, 11, 20140989.

van der Steen, J. J. M., & de Kraker, J. (2012). Spatial and temporal variation of metal concentrations in adult honeybees (Apis mellifera L.). Environmental Monitoring and Assessment, 184, 4119–4126.

Vásquez, A., & Olofsson, T. C. (2009). The lactic acid bacteria involved in the production of bee pollen and bee bread. Journal of Apicultural Research, 48, 189–195. https://doi.org/10.3896/IBRA.1.48.3.07.

Vaudo, A. D., Tooker, J. F., Grozinger, C. M., & Patch, H. M. (2015). Bee nutrition and floral resource restoration. Current Opinion in Insect Science, 10, 133–141. https://doi.org/10.1016/j.cois.2015.05.008.
Acknowledgements
Honey bee Health Task Force (North American Pollinator Protection Campaign) and United States Geological Survey grants funded the study. Thanks to Colton O'Brien for help with bee colonies. Proteomics and Metabolomics Facility at Colorado State University analyzed samples, performed data analyses and generated reports that are presented here.
Ethics declarations
Conflict of interest
Authors declare no potential conflicts of interest.
Ethical approval
This research does not involve Human Participants and/or Animals.
Inform Consent
All authors provide consent.
Electronic supplementary material
Below is the link to the electronic supplementary material.
About this article
Cite this article
Arathi, H.S., Bjostad, L. & Bernklau, E. Metabolomic analysis of pollen from honey bee hives and from canola flowers. Metabolomics 14, 86 (2018). https://doi.org/10.1007/s11306-018-1381-5
Received:

Accepted:

Published:
Keywords
Canola

Honey bees

Metabolomics

p-Coumaric acid

Pollen