Abstract
Bread is one of the most widely consumed foods. Its impact on human health is currently of special interest for researchers. We aimed to identify biomarkers of bread consumption by applying a nutrimetabolomic approach to a free-living population. An untargeted HPLC–q-TOF-MS and multivariate analysis was applied to human urine from 155 subjects stratified by habitual bread consumption in three groups: non-consumers of bread (n = 56), white-bread consumers (n = 48) and whole-grain bread consumers (n = 51). The most differential metabolites (variable importance for projection ≥1.5) included compounds originating from cereal plant phytochemicals such as benzoxazinoids and alkylresorcinol metabolites, and compounds produced by gut microbiota (such as enterolactones, hydroxybenzoic and dihydroferulic acid metabolites). Pyrraline, riboflavin, 3-indolecarboxylic acid glucuronide, 2,8-dihydroxyquinoline glucuronide and N-α-acetylcitrulline were also tentatively identified. In order to combine multiple metabolites in a model to predict bread consumption, a stepwise logistic regression analysis was used. Receiver operating curves were constructed to evaluate the global performance of individual metabolites and their combination. The area under the curve values [AUC (95 % CI)] of combined models ranged from 77.8 % (69.1–86.4 %) to 93.7 % (89.4–98.1 %), whereas the AUC for the metabolites included in the models had weak values when they were evaluated individually: from 58.1 % (46.6–69.7 %) to 78.4 % (69.8–87.1 %). Our study showed that a daily bread intake significantly impacted on the urinary metabolome, despite being examined under uncontrolled free-living conditions. We further concluded that a combination of several biomarkers of exposure is better than a single biomarker for the predictive ability of discriminative analysis.
Access options
Buy single article
Instant access to the full article PDF.
USD 39.95
Price excludes VAT (USA)
Tax calculation will be finalised during checkout.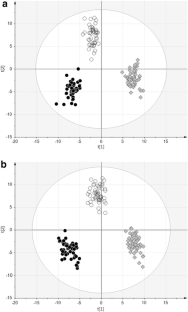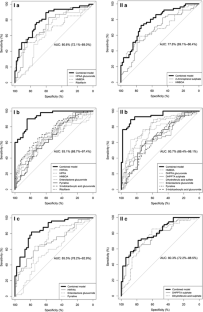 References
Adhikari, K. B., Laursen, B. B., Gregersen, P. L., et al. (2013). Absorption and metabolic fate of bioactive dietary benzoxazinoids in humans. Molecular Nutrition and Food Research, 57, 1847–1858.

Andersen, M. B., Rinnan, A., Manach, C., et al. (2014). Untargeted metabolomics as a screening tool for estimating compliance to a dietary pattern. Journal of Proteome Research, 13, 1405–1418.

Bach-Faig, A., Berry, E. M., Lairon, D., et al. (2011). Mediterranean diet pyramid today. Science and cultural updates. Public Health Nutrition, 14, 2274–2284.

Bautista-Castano, I., Sanchez-Villegas, A., Estruch, R., et al. (2012). Changes in bread consumption and 4-year changes in adiposity in Spanish subjects at high cardiovascular risk. British Journal of Nutrition, 110, 337–346.

Bautista-Castano, I., & Serra-Majem, L. (2012). Relationship between bread consumption, body weight, and abdominal fat distribution: Evidence from epidemiological studies. Nutrition Reviews, 70, 218–233.

Beckmann, M., Lloyd, A. J., Haldar, S., et al. (2013). Hydroxylated phenylacetamides derived from bioactive benzoxazinoids are bioavailable in humans after habitual consumption of whole grain sourdough rye bread. Molecular Nutrition and Food Research, 57, 1859–1873.

Bondia-Pons, I., Barri, T., Hanhineva, K., et al. (2013). UPLC–QTOF/MS metabolic profiling unveils urinary changes in humans after a whole grain rye versus refined wheat bread intervention. Molecular Nutrition and Food Research, 57, 412–422.

Bondia-Pons, I., Nordlund, E., Mattila, I., et al. (2011). Postprandial differences in the plasma metabolome of healthy Finnish subjects after intake of a sourdough fermented endosperm rye bread versus white wheat bread. Nutrition Journal, 10, 116.

Depeint, F., Bruce, W. R., Shangari, N., et al. (2006). Mitochondrial function and toxicity: Role of the B vitamin family on mitochondrial energy metabolism. Chemico-Biological Interactions, 163, 94–112.

Dong, H., Zhang, A., Sun, H., et al. (2012). Ingenuity pathways analysis of urine metabolomics phenotypes toxicity of Chuanwu in Wistar rats by UPLC–Q-TOF-HDMS coupled with pattern recognition methods. Molecular Biosystems, 8, 1206–1221.

Estruch, R., Ros, E., Salas-Salvado, J., et al. (2013). Primary prevention of cardiovascular disease with a Mediterranean diet. New England Journal of Medicine, 368, 1279–1290.

Fernandez-Ballart, J. D., Pinol, J. L., Zazpe, I., et al. (2010). Relative validity of a semi-quantitative food-frequency questionnaire in an elderly Mediterranean population of Spain. British Journal of Nutrition, 103, 1808–1816.

Gil, A., Ortega, R. M., & Maldonado, J. (2011). Wholegrain cereals and bread: A duet of the Mediterranean diet for the prevention of chronic diseases. Public Health Nutrition, 14, 2316–2322.

Hellwig, M., & Henle, T. (2012). Quantification of the Maillard reaction product 6-(2-formyl-1-pyrrolyl)-l-norleucine (formyline) in food. European Food Research and Technology, 235, 99–106.

Ismail, N. A., Posma, J. M., Frost, G., et al. (2013). The role of metabonomics as a tool for augmenting nutritional information in epidemiological studies. Electrophoresis, 34, 2276–2286.

Jiang, D., & Peterson, D. G. (2013). Identification of bitter compounds in whole wheat bread. Food Chemistry, 141, 1345–1353.

Johansson-Persson, A., Barri, T., Ulmius, M., et al. (2013). LC–QTOF/MS metabolomic profiles in human plasma after a 5-week high dietary fiber intake. Analytical and Bioanalytical Chemistry, 405, 4799–4809.

Lankinen, M., Schwab, U., Seppanen-Laakso, T., et al. (2011). Metabolomic analysis of plasma metabolites that may mediate effects of rye bread on satiety and weight maintenance in postmenopausal women. Journal of Nutrition, 141, 31–36.

Li, F., Pang, X., Krausz, K. W., et al. (2013). Stable isotope- and mass spectrometry-based metabolomics as tools in drug metabolism: A study expanding tempol pharmacology. Journal of Proteome Research, 12, 1369–1376.

Llorach, R., Garcia-Aloy, M., Tulipani, S., et al. (2012). Nutrimetabolomic strategies to develop new biomarkers of intake and health effects. Journal of Agriculture and Food Chemistry, 60, 8797–8808.

Llorach-Asuncion, R., Jauregui, O., Urpi-Sarda, M., & Andres-Lacueva, C. (2010). Methodological aspects for metabolome visualization and characterization: A metabolomic evaluation of the 24 h evolution of human urine after cocoa powder consumption. Journal of Pharmaceutical and Biomedical Analysis, 51, 373–381.

Llorach, R., Urpi-Sarda, M., Jauregui, O., et al. (2009). An LC–MS-based metabolomics approach for exploring urinary metabolome modifications after cocoa consumption. Journal of Proteome Research, 8, 5060–5068.

Lozupone, C. A., Stombaugh, J. I., Gordon, J. I., et al. (2012). Diversity, stability and resilience of the human gut microbiota. Nature, 489, 220–230.

Magnus, V., Simaga, S., Iskric, S., & Kveder, S. (1982). Metabolism of tryptophan, indole-3-acetic acid, and related compounds in parasitic plants from the genus Orobanche. Plant Physiology, 69, 853–858.

Martinez-Gonzalez, M. A., Corella, D., Salas-Salvado, J., et al. (2012). Cohort profile: Design and methods of the PREDIMED study. International Journal of Epidemiology, 41, 377–385.

Martinez-Gonzalez, M. A., Palma, S., & Toledo, E. (2006). Correlación y regresión. In M. A. Martinez-Gonzalez (Ed.), Bioestadística Amigable. Madrid: Díaz de Santos.

Mataix Verdú, J. (2003). Tabla de Composición de Alimentos. Granada: Universidad de Granada.

McKeown, N. M., Meigs, J. B., Liu, S., et al. (2002). Whole-grain intake is favorably associated with metabolic risk factors for type 2 diabetes and cardiovascular disease in the Framingham Offspring Study. American Journal of Clinical Nutrition, 76, 390–398.

Michalska, A., Amigo-Benavent, M., Zielinski, H., & del Castillo, M. D. (2008). Effect of bread making on formation of Maillard reaction products contributing to the overall antioxidant activity of rye bread. Journal of Cereal Science, 48, 123–132.

Moazzami, A. A., Bondia-Pons, I., Hanhineva, K., et al. (2012). Metabolomics reveals the metabolic shifts following an intervention with rye bread in postmenopausal women—A randomized control trial. Nutrition Journal, 11, 88.

Moco, S., Martin, F. P., & Rezzi, S. (2012). Metabolomics view on gut microbiome modulation by polyphenol-rich foods. Journal of Proteome Research, 11, 4781–4790.

Moraes, M. C., Birkett, M. A., Gordon-Weeks, R., et al. (2008). cis-Jasmone induces accumulation of defence compounds in wheat, Triticum aestivum. Phytochemistry, 69, 9–17.

Nielsen, K. L., Hartvigsen, M. L., Hedemann, M. S., et al. (2014). Similar metabolic responses in pigs and humans to breads with different contents and compositions of dietary fibers: A metabolomics study. American Journal of Clinical Nutrition, 99, 941–949.

Pujos-Guillot, E., Hubert, J., Martin, J. F., et al. (2013). Mass spectrometry-based metabolomics for the discovery of biomarkers of fruit and vegetable intake: Citrus fruit as a case study. Journal of Proteome Research, 12, 1645–1659.

Qi, Y., Li, P., Zhang, Y., et al. (2012). Urinary metabolite markers of precocious puberty. Molecular and Cellular Proteomics, 11: M111.011072.

Quilez, J., & Salas-Salvado, J. (2012). Salt in bread in Europe: Potential benefits of reduction. Nutrition Reviews, 70, 666–678.

R Core Team. (2014). R: A language and environment for statistical computing. R Foundation for Statistical Computing. http://www.R-project.org/.

Robin, X., Turck, N., Hainard, A., et al. (2011). pROC: An open-source package for R and S+ to analyze and compare ROC curves. BMC Bioinformatics, 12, 77.

Roux, A., Xu, Y., Heilier, J. F., et al. (2012). Annotation of the human adult urinary metabolome and metabolite identification using ultra high performance liquid chromatography coupled to a linear quadrupole ion trap-Orbitrap mass spectrometer. Analytical Chemistry, 84, 6429–6437.

Sofi, F., Abbate, R., Gensini, G. F., & Casini, A. (2010). Accruing evidence on benefits of adherence to the Mediterranean diet on health: An updated systematic review and meta-analysis. American Journal of Clinical Nutrition, 92, 1189–1196.

Spanish Agency for Food Safety and Nutrition. (2011). ENIDE: National Survey of Dietary Intake (2009–2010): Results of consumer data. In AESAN. Retrieved January 23, 2013, from http://www.aesan.msc.es/AESAN/docs/docs/evaluacion_riesgos/datos_consumo/ENIDE.pdf.

Spanish Food Composition Database (BEDCA). (2010). BEDCA Database v1.0. In RedBEDCA, AESAN. Retrieved January 23, 2013, from http://www.bedca.net.

Sumner, L. W., Amberg, A., Barrett, D., et al. (2007). Proposed minimum reporting standards for chemical analysis Chemical Analysis Working Group (CAWG) Metabolomics Standards Initiative (MSI). Metabolomics, 3, 211–221.

Tousoulis, D., Antoniades, C., Tentolouris, C., et al. (2002). l-Arginine in cardiovascular disease: Dream or reality? Vascular Medicine, 7, 203–211.

Tulipani, S., Llorach, R., Jauregui, O., et al. (2011). Metabolomics unveils urinary changes in subjects with metabolic syndrome following 12-week nut consumption. Journal of Proteome Research, 10, 5047–5058.

Williams, P. G. (2012). Evaluation of the evidence between consumption of refined grains and health outcomes. Nutrition Reviews, 70, 80–99.

Xia, J., Broadhurst, D. I., Wilson, M., & Wishart, D. S. (2013). Translational biomarker discovery in clinical metabolomics: An introductory tutorial. Metabolomics, 9, 280–299.

Zhen, Y., Krausz, K. W., Chen, C., et al. (2007). Metabolomic and genetic analysis of biomarkers for peroxisome proliferator-activated receptor alpha expression and activation. Molecular Endocrinology, 21, 2136–2151.
Acknowledgments
This research was supported by Spanish National Grants from the Ministry of Economy and Competitiveness (MINECO), as well as FEDER (Fondo Europeo de Desarrollo Regional): AGL2009-13906-C02-01, AGL2010-10084-E, CONSOLIDER INGENIO 2010 Programme: FUN-C-FOOD-CSD2007-063, and ISCIII-CIBEROBN; Merck Serono Research Grants 2010 from Fundación Salud 2000, and by "Pan cada día" open call promoted by the Scientific Committee of Bread and by INCERHPAN. The "CIBER de Fisiopatología de la Obesidad y Nutrición" (CIBEROBN) is an initiative of the Instituto de Salud Carlos III, Madrid, Spain. M. G. A. thanks the Generalitat de Catalunya's Agency AGAUR for the predoctoral FI-DGR 2011 Fellowship. R. Ll. and M. U. S. thank the "Ramón y Cajal" (RYC-2010–07334 and RYC-2011-09677, respectively) and ST the "Juan de la Cierva" program, both programmes from MINECO and Fondo Social Europeo (FSE). MF was funded by a contract from the Catalan Government and the Instituto de Salud Carlos III FEDER (FIS CP06/00100). None of the funding sources had any involvement in the study or data analysis.
Conflict of interest
The authors declare that they have no conflict of interest.
Electronic supplementary material
Below is the link to the electronic supplementary material.
About this article
Cite this article
Garcia-Aloy, M., Llorach, R., Urpi-Sarda, M. et al. Nutrimetabolomics fingerprinting to identify biomarkers of bread exposure in a free-living population from the PREDIMED study cohort. Metabolomics 11, 155–165 (2015). https://doi.org/10.1007/s11306-014-0682-6
Received:

Accepted:

Published:

Issue Date:

DOI: https://doi.org/10.1007/s11306-014-0682-6
Keywords