Abstract
Isovaleric acidemia (IVA, MIM 248600) can be a severe and potentially life-threatening disease in affected neonates, but with a positive prognosis on treatment for some phenotypes. This study presents the first application of metabolomics to evaluate the metabolite profiles derived from urine samples of untreated and treated IVA patients as well as of obligate heterozygotes. All IVA patients carried the same homozygous c.367 G > A nucleotide change in exon 4 of the IVD gene but manifested phenotypic diversity. Concurrent class analysis (CONCA) was used to compare all the metabolites from the original complete data set obtained from the three case and two control groups used in this investigation. This application of CONCA has not been reported previously, and is used here to compare four different modes of scaling of all metabolites. The variables important in discrimination from the CONCA thus enabled the recognition of different metabolic patterns encapsulated within the data sets that would not have been revealed by using only one mode of scaling. Application of multivariate and univariate analyses disclosed 11 important metabolites that distinguished untreated IVA from controls. These included well-established diagnostic biomarkers of IVA, endogenous detoxification markers, and 3-hydroxycaproic acid, an indicator of ketosis, but not reported previously for this disease. Nine metabolites were identified that reflected the effect of treatment of IVA. They included detoxification products and indicators related to the high carbohydrate and low protein diet which formed the hallmark of the treatment. This investigation also provides the first comparative metabolite profile for heterozygotes of this inherited metabolic disorder. The detection of informative metabolites in even very low concentrations in all three experimental groups highlights the potential advantage of the holistic mode of analysis of inherited metabolic diseases in a metabolomics investigation.
This is a preview of subscription content, log in to check access.
Access options
Buy single article
Instant access to the full article PDF.
US$ 39.95
Tax calculation will be finalised during checkout.
Subscribe to journal
Immediate online access to all issues from 2019. Subscription will auto renew annually.
US$ 79
Tax calculation will be finalised during checkout.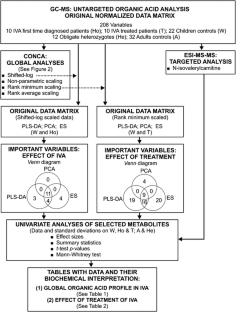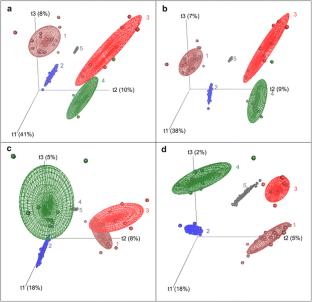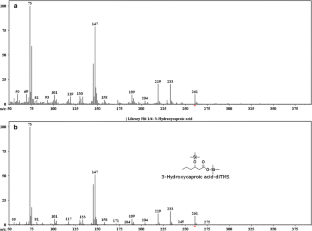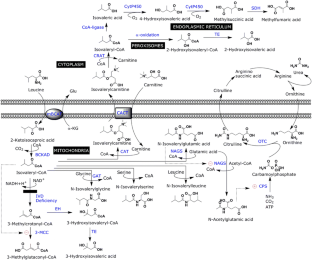 References
Bakker, H. D., Van Gennip, A. H., Duran, M., & Wadman, S. K. (1978). Methylmalonate excretion in a pregnancy at risk for methylmalonic acidaemia. Clinica Chimica Acta, 86, 349–352.

Baraldi, E., Carraro, S., Giordano, G., Reniero, F., Perilongo, G., & Zacchello, F. (2009). Metabolomics: moving towards personalized medicine. Italian Journal of Pediatrics, 35, 30–34.

Barker, M., & Rayens, W. (2003). Partial least squares for discrimination. Journal of Chemometrics, 17, 166–173.

Barshop, B. A. (2004). Metabolomic approaches to mitochondrial disease: Correlation of urine organic acids. Mitochondrion, 4, 521–527.

Becker, R. A., Chalmers, J. M., & Wilks, A. R. (1988). The new S-language. Pacific Grove: Wadsworth & Brooks Cole.

Brereton, R. G. (2003). Chemometrics—data analysis for the laboratory and chemical plant. West Sussex: John Wiley & Sons Ltd.

Chalmers, R. A., Healy, M. J. R., Lawson, A. M., & Watts, R. W. E. (1976). Urinary organic acid in man II. Effects of individual variation on diet on the urinary excretion of acidic metabolites. Clinical Chemistry, 22, 1288–1291.

Chong, I. G., & Jun, C. H. (2005). Performance of some variable selection methods when multicollinearity is present. Chemometrics and Intelligent Laboratory Systems, 78, 103–112.

Coude, F. X., Sweetman, L., & Nyhan, W. L. (1979). Inhibition by propionyl-coenzyme A of N-acetylglutamate synthase in rat liver mitochondria. A possible explanation for hyperammonemia in propionic and methylmalonic acidemia. Journal of Clinical Investigation, 64, 1544–1551.

Dercksen, M., Duran, M., Ijlst, L., Mienie, L. J., Reinecke, C. J., Ruiter, J. P. N., et al. (2012). Clinical variability of isovaleric acidimia in a genetically homogeneous population. Journal of Inherited Metabolic Diseases, 35, 1021–1029.

Duran, M., Schutgens, R. B. H., Ketel, A., et al. (1979). 3-Hydroxy-3-methylglutaryl coenzyme A lyase deficiency: Postnatal management following prenatal diagnosis by analysis of maternal urine. The Journal of Pediatrics, 95, 1004–1007.

Ellis, S. M., & Steyn, H. S. (2003). Practical significance (effect size) versus or in combination with statistical significance (p values). Management Dynamics, 12, 51–53.

Ensenauer, R., Vockley, J., Willard, J., et al. (2004). A common mutation is associated with a mild, potentially asymptomatic phenotype in patients with isovaleric acidemia diagnosed by newborn screening. American Journal of Human Genetics, 75, 1136–1142.

Guneral, F., & Bachman, C. (1994). Age-related reference values for urinary organic acids in a healthy Turkish pediatric population. Clinical Chemistry, 40, 862–868.

Hegazi, A. G., & Abd El-Hady, F. K. (2009). Influence of honey on suppression of human low density lipoprotein (LDL) peroxidation (in vitro). Evidence-Based Complementary and Alternative Medicine, 6, 113–121.

Hoffman, G. F., & Feyh, P. (2002). Organic acid analysis. In N. Blau, M. Duran, & M. E. Blaskovic (Eds.), Physician's guide to the laboratory diagnosis of metabolic diseases (pp. 27–44). Berlin: Springer.

Johnson, R. A., & Wichern, D. W. (1998). Applied multivariate statistical analysis (4th ed.). NJ: Upper Saddle River.

Jolliffe, I. T. (2002). Principal component analysis (2nd ed.). New York: Springer.

Kell, D. B. (2004). Metabolomics and systems biology: making sense of the soup. Current Opinion in Microbiology, 7, 296–307.

Kell, D. B. (2007). Metabolomic biomarkers: search, discovery and validation. Expert Review of Molecular Diagnostics, 7, 329–333.

Knerr, I., Weinhold, N., Vockley, J., & Gibson, K. M. (2012). Advances and challenges in the treatment of branched-chain amino/keto acid metabolic defects. Journal of Inherited Metabolic Diseases, 35, 29–40.

Koekemoer, G., & Swanepoel, J. W. H. (2008). A semi-parametric method for transforming data to normality. Statistics and Computing, 18, 241–257.

Koekemoer, G., Dercksen, M., Allison, J., Santana, L., & Reinecke, C. J. (2012). Concurrent class analysis identifies discriminatory variables from metabolomics data on isovaleric acidemia. Metabolomics, 8, S17–S28.

Loots, D. T. (2009). Abnormal tricarboxylic acid cycle metabolites in isovaleric acidemia. Journal of Inherited Metabolic Diseases, 3, 402–411.

Loots, D. T., Erasmus, E., & Mienie, L. J. (2005). Identification of 19 new metabolites induced by abnormal amino acid conjugation in isovaleric acidemia. Clinical Chemistry, 51, 1510–1512.

Luís, P. B., Ruiter, J. P., Ijlst, L., Diogo, L., Garcia, P., de Almeida, I. T., et al. (2012). Inhibition of 3-methylcrotonyl-CoA carboxylase explains the increased excretion of 3-hydroxyisovaleric acid in valproate-treated patients. Journal of Inherited Metabolic Disease, 35, 443–449.

Mamas, M., Dunn, W. B., Neyses, L., & Goodacre, R. (2011). The role of metabolites and metabolomics in clinical applicable biomarkers of disease. Archives of Toxicology, 85, 5–17.

Morrow, D. A., & de Lemos, J. A. (2007). Benchmarks for the assessment of novel cardiovascular biomarkers. Circulation, 115, 949–952.

Mukherji, M., Kershaw, N. J., Schofield, C. J., Wierzbicki, A. S., & Lloyd, M. D. (2002). Utilization of sterol carrier protein-2 by phytanoyl-CoA 2-hydroxylase in the peroxisomal α-oxidation of phytanic acid. Chemistry & Biology, 9, 597–605.

Niwa, T., & Yamada, K. (1985). 3-Hydroxyhexanoic acid: An abnormal metabolite in urine and serum of diabetic ketoacidotic patients. Journal of Chromatography, 337, 1–7.

Norman, E. L., Martelo, O. J., & Denton, M. D. (1982). Cobalamin (vitamin B12) deficiency detected by urinary methylmalonic acid quantitation. Blood, 59, 1128–1131.

Ogura, T. & Sakamoto, Y. Application of metabolomics techniques using LC/MS and GC/MS profiling analysis of green tea leaves. SHIMADZU Corporation, application note No. 10. http://www2.shimadzu.com/applications/GCMS,LCMS/LAANCXXE011.pdf. Accessed 7 Mar 2012.

Pan, Z., Gu, H., Talaty, N., Chen, H., Shanaiah, N., Hainline, B. E., et al. (2007). Principal component analysis of urine metabolites detected by NMR and DESI-MS in patients with inborn errors of metabolism. Analytical and Bioanalytical Chemistry, 387, 539–549.

Pitt, J. J., Eggington, M., & Kahler, S. G. (2002). Comprehensive screening of urine samples for inborn errors of metabolism by electrospray tandem mass spectrometry. Clinical Chemistry, 48, 1970–1980.

Rasmunsen, K. (1989). Studies on methylmalonic acid in humans. I. Concentrations in serum and urinary excretion in normal subjects after feeding and during fasting, and after loading with protein, fat, sugar, isoleucine and valine. Clinical Chemistry, 35, 2271–2276.

Reinecke, C. J., Koekemoer, G., van der Westhuizen, F. H., et al. (2012). Metabolomics of urinary organic acids in disorders of the respiratory chain. Metabolomics, 8, 264–283.

Robinson, M., White, F. J., Cleary, M. A., Wraith, E., Lam, W. K., & Walter, J. H. (2000). Increased risk of vitamin B12 deficiency in patients with phenylketonuria on an unrestricted or relaxed diet. The Journal of Pediatrics, 136, 545–547.

Sakata, T. (1990). Structural and stereoisometric specificity of serum-borne sugar acids related to feeding control in rats. Brain Research Bulletin, 25, 969–974.

Scriver, C. R., Beaudet, A. L., Sly, W. S., Valle, D., Childs, K., Kinzler, K. W. E., et al. (2001). The metabolic and molecular basis of inherited disease. New York: McGraw-Hill.

Styczynski, M. P., Moxley, J. F., Tong, L. V., Walther, J. L., Jensen, K. L., & Stephanopoulos, G. N. (2007). Systematic identification of conserved metabolites in GC/MS data for metabolomics and biomarker discovery. Analytical Chemistry, 79, 966–973.

Sweetman, L., & Williams, J. C. (2001) Branched chain organic acidurias. In C. R. Scriver, A. L. Beaudet, D. Valle, W. S. Sly, B. Childs, K. Kinzler, K. W. E. (Eds.) The metabolic and molecular basis of inherited disease (pp. 2125–2163). McGraw-Hill, New York.

Tanaka, K., Budd, M. A., Efron, M. L., & Isselbacher, K. J. (1966). Isovaleric acidemia: a new genetic defect of the leucine metabolism. Proceedings of the National Academy of Sciences of the United States of America, 56, 236–242.

Tanaka, K., Ikeda, Y., Matsubara, Y., & Hyman, D. (1988). Molecular basis of isovaleric acidemia in the study of the acyl-CoA dehydrogenase family. Advanced Neurology, 48, 107–131.

Truscott, R. J., Malegan, D., McCairns, E., Burke, D., Hick, L., Sims, P., et al. (1981). New metabolites in isovaleric acidemia. Clinica Chimica Acta, 110, 187–203.

Van den Berg, R. A., Hoefsloot, H. C. J., Westerhuis, J. A., Smilde, A. K., & Van der Werf, M. J. (2006). Centering, scaling, and transformations: improving the biological information content of metabolomics data. BMC Genomics, 7, 141–157.

Vangala, S., & Tonelli, A. (2007). Biomarkers, metabonomics, and drug development: Can inborn errors of metabolism help in understanding drug toxicity? AAPS Journal, 9, E284–E297.

Vockley, J., & Ensenauer, R. (2006). Isovaleric acidemia: New aspects of genetic and phenotypic heterogeneity. American Journal of Medical Genetics Part C, 142C, 95–103.

Wanders, R. J. A., & Waterham, H. R. (2006). Biochemistry of mammalian peroxisomes revisited. Annual Review of Biochemistry, 75, 295–332.

Wang, Y., & Van Eys, J. (1981). Nutritional significance of fructose and sugar alcohols. Annual Review of Nutrition, 1, 437–475.

Wold, S. (1976). Pattern recognition by means of disjoint principal component models. Pattern Recognition, 8, 127–139.
Acknowledgments
M. Dercksen is a recipient of a PhD scholarship from the Carolina MacGillavry Foundation awarded by the "Koninklijke Nederlandse Akademie van Wetenschappen". Funding for the project from the Technological Innovation Agency of the South African Department of Science and Technology and from North-West University is likewise acknowledged. We also thank the IVA families for their participation in the study.
About this article
Cite this article
Dercksen, M., Koekemoer, G., Duran, M. et al. Organic acid profile of isovaleric acidemia: a comprehensive metabolomics approach. Metabolomics 9, 765–777 (2013). https://doi.org/10.1007/s11306-013-0501-5
Received:

Accepted:

Published:

Issue Date:
Keywords
Isovaleric acidemia

Data pre-treatment

CONCA

Urinary organic acids

Metabolic profile

Dietary treatment