Abstract
In this study, nuclear magnetic resonance techniques coupled with multivariate data analysis were used for the metabolic profiling of mycelia and fruiting bodies of the entomopathogenic fungi, Cordyceps bassiana according to developmental stages. A direct extraction method using two deuterated solvents of D2O and CDCl3 was used to investigate the relative levels of identified metabolites in each extraction condition in the mycelium and fruiting body formation stages. There was a clear separation among mycelia and fruiting bodies with various developmental stages in partial least-squares discriminant analysis (PLS-DA) derived score plots. During the transition from mycelia to fruiting bodies, the major metabolic change observed was the conversion of glucose to mannitol, and beauvericin to phenylalanine and 1-hydroxyisovaleric acid. In the developmental stages of fruiting bodies studied, there was a clear separation between stage 3 and the other stages in PLS-DA derived score plots. Nineteen compounds including 13 amino acids, 2 nucleosides, 3 organic acids, and glucose showed the highest levels in stage 3 fruiting bodies. The flavonoid content in the fruiting bodies showed similar levels during stages 1, 2, and 3, whereas the level at stage 4 was significantly decreased compared to the other stages. Results suggest that the fruiting body of C. bassiana is richer in natural resources at stage 3 compared to the other fruiting body stages due to its high abundance of compounds including total flavonoids. The metabolome information acquired in this study can be useful criteria for the quality control of commercial use of C. bassiana.
Access options
Buy single article
Instant access to the full article PDF.
US$ 39.95
Tax calculation will be finalised during checkout.
Subscribe to journal
Immediate online access to all issues from 2019. Subscription will auto renew annually.
US$ 79
Tax calculation will be finalised during checkout.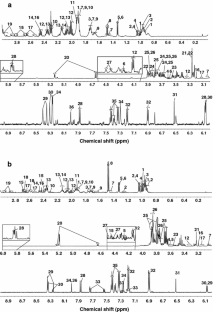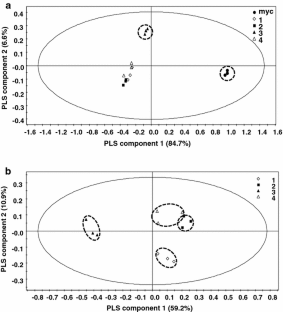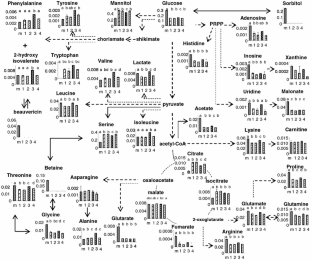 References
Barker, M., & Rayens, W. (2003). Partial least squares for discrimination. Journal of Chemometrics, 17, 166–173.

Barros, L., Calhelha, R. C., Vaz, J. A., Ferreira, I. C. F. R., Baptista, P., & Estevinho, L. M. (2007). Antimicrobial activity and bioactive compounds of Portuguese wild edible mushrooms methanolic extracts. European Food Research and Technology, 225, 151–156.

Barros, L., Cruz, T., Baptista, P., Estevinho, L. M., & Ferreira, I. C. F. R. (2008). Wild and commercial mushrooms as source of nutrients and nutraceuticals. Food and Chemical Toxicology, 46, 2742–2747.

Benavente-Garcia, O., Castillo, J., Marin, F. R., Ortuño, A., & José, A. (1997). Uses and properties of citrus flavonoids. Journal of Agriculture and Food Chemistry, 45, 4505–4515.

Byeon, S. E., Lee, S. Y., Kim, A. R., et al. (2011). Inhibition of cytokine expression by a butanol extract from Cordyceps bassiana. Pharmazie, 66, 58–62.

Calo, L., Fornelli, F., Ramires, R., et al. (2004). Cytotoxic effects of the mycotoxin beauvericin to human cell lines of myeloid origin. Pharmacological Research, 49, 73–77.

Cannell, R. J., Rashid, T., Ismail, I., Sidebottom, P., Knaggs, A., & Marshall, P. (1997). Novel metabolites of warfarin produced by Beauveria bassiana and Streptomyces rimosus: A novel application of HPLC-NMR. Xenobiotica, 27, 147–157.

Choi, Y., Lee, S. M., Chun, J., Lee, H. B., & Lee, J. (2006). Influence of heat treatment on the antioxidant activities and polyphenolic compounds of Shiitake (Lentinus edodes) mushroom. Food Chemistry, 99, 381–387.

Eley, K. L., Halo, L. M., Song, Z., et al. (2007). Biosynthesis of the 2-pyridone tenellin in the insect pathogenic fungus Beauveria bassiana. European Journal of Chemical Biology, 8, 289–297.

Ellis, F. W., & Krantz, J. C., Jr. (1941). Sugar alcohols XXII. Metabolism and toxicity studies with mannitol and sorbitol in man and animals. Journal of Biological Chemistry, 141, 147–154.

Eriksson, L., Johansson, E., Kettaneh-Wold, N., Wold, S., Trygg, J., & Wikström, C. (2006). Multi- and megavariate data analysis part I: Basic principles and applications (2nd ed.). Umea: Umetric Academy.

Garza-López, P. M., Konigsberg, M., Gómez-Quiroz, L. E., & Loera, O. (2011). Physiological and antioxidant response by Beauveria bassiana Bals (Vuill.) to different oxygen concentrations. World Journal of Microbiology and Biotechnology, 28, 1–7.

Gupta, S., Krasnoff, S. B., Underwood, N. L., Renwick, J. A. A., & Roberts, D. W. (1991). Isolation of beauvericin as an insect toxin from Fusarium semitectum and Fusarium moniliforme var. subglutinans. Mycopathologia, 115, 185–189.

Hammond, J. B. W., & Nichols, R. (1976). Carbohydrate metabolism in Agaricus bisporus (Lange) Sing: Changes in soluble carbohydrates during growth of mycelium and sporophore. Journal of General Microbiology, 93, 309–320.

Haskom, G., & Cronstein, B. N. (2004). Adenosine: An endogenous regulator of innate immunity. Trends in Immunology, 25, 33–39.

Kanehisa Laboratories. (2012). KEGG Pathway Database. Retrieved Feb 9, 2012 from http://www.genome.jp/kegg/pathway.html.

Kim, H. S., Park, S. J., Hyun, S. H., et al. (2011). Biochemical monitoring of black raspberry (Rubus coreanus Miquel) fruits according to maturation stage by 1H NMR using multiple solvent systems. Food Research International, 44, 1977–1987.

Kim, Y., Park, Y. J., Yang, S. O., et al. (2010). Hypoxanthine levels in human urine serve as a screening indicator for the plasma total cholesterol and low-density lipoprotein modulation activities of fermented red pepper paste. Nutrition Research, 30, 455–461.

Lee, J. O., Shrestha, B., Kim, T. W., Sung, G. H., & Sung, J. M. (2007). Stable formation of fruiting body in Cordyceps bassiana. Mycobiology, 35, 230–234.

Logrieco, A., Moretti, A., Ritieni, A., Caiaffa, M. F., & Macchia, L. (2002). Beauvericin: Chemistry, biology and significance. In U. Rajeev (Ed.), Advances in microbial toxin research and its biotechnological exploitation (pp. 23–30). New York: Kluwer Academic.

Molnár, I., Gibson, D. M., & Krasnoff, S. B. (2010). Secondary metabolites from entomopathogenic Hypocrealean fungi. Natural Products Reports, 27, 1241–1275.

Namatame, I., Tomoda, H., Ishibashi, S., & Ōmura, S. (2004). Antiatherogenic activity of fungal beauveriolides, inhibitors of lipid droplet accumulation in macrophages. Proceedings of the National Academy of Sciences of the United States of America, 101, 737–742.

Ohshiro, T., Rudel, L. L., Omura, S., & Tomoda, H. (2007). Selectivity of microbial acyl-CoA: Cholesterol acyltransferase inhibitors toward isozymes. Journal of Antibiotics, 60, 43–51.

Oller-López, J. L., Iranzo, M., Mormeneo, S., Oliver, E., Cuerva, J. M., & Oltra, J. E. (2005). Bassianolone: An antimicrobial precursor of cephalosporolides E and F from the entomoparasitic fungus Beauveria bassiana. Organic and Biomolecular Chemistry, 3, 1172–1173.

Quesada-Moraga, E., & Vey, A. (2004). Bassiacridin, a protein toxic for locusts secreted by the entomopathogenic fungus Beauveria bassiana. Mycological Research, 108, 441–452.

Strasser, H., Vey, A., & Butt, T. M. (2000). Are there any risks in using entomopathogenic fungi for pest control, with particular reference to the bioactive metabolites of Metarhizium, Tolypocladium and Beauveria species? Biocontrol Science and Technology, 10, 717–735.

Sung, J. M., Lee, J. O., Humber, R. A., Sung, G. H., & Shrestha, B. (2006). Cordyceps bassiana and production of stromata in vitro showing Beauveria anamorph in Korea. Mycobiology, 34, 1–6.

Tomoda, H., & Doi, T. (2007). Discovery and combinatorial synthesis of fungal metabolites beauveriolides, novel antiatherosclerotic agents. Accounts of Chemical Research, 41, 32–39.

Verpoorte, R., Choi, Y. H., & Kim, H. K. (2007). NMR-based metabolomics at work in phytochemistry. Phytochemistry Reviews, 6, 3–14.

Vey, A., Hoagland, R. E., & Butt, T. M. (2001). Toxic metabolites of fungal biocontrol agents. In T. M. Butt, C. Jackson, & N. Magan (Eds.), Fungi as biocontrol agents. progress, problems, and potential (pp. 311–346). Oxford: CABI Publishing.

Westerhuis, J. A., Hoefsloot, H. C. J., Smit, S., et al. (2008). Assessment of PLSDA cross validation. Metabolomics, 4, 81–89.

Wu, G., Li, L., Sung, G. H., et al. (2011). Inhibition of 2,4-dinitrofluorobenzene-induced atopic dermatitis by topical application of the butanol extract of Cordyceps bassiana in NC/Nga mice. Journal of Ethnopharmacology, 134, 504–509.

Xu, Y., Orozco, R., Kithsiri-Wijeratne, E. M., et al. (2009). Biosynthesis of the cyclooligomer depsipeptide bassianolide, an insecticidal virulence factor of Beauveria bassiana. Fungal Genetics and Biology, 46, 353–364.

Zhan, J., Burns, A. M., Liu, M. X., Faeth, S. H., & Gunatilaka, A. A. L. (2007). Search for cell motility and angiogenesis inhibitors with potential anticancer activity: Beauvericin and other constituents of two endophytic strains of Fusarium oxysporum. Journal of Natural Products, 70, 227–232.
Acknowledgments
This work was supported by a grant from the Next-Generation BioGreen 21 Program (No. PJ0081542011), Rural Development Administration, Republic of Korea and by the National Research Foundation of Korea Grant funded by the Korean Government (MEST) (NRF-C1ABA001-2011-0021047).
Electronic supplementary material
Below is the link to the electronic supplementary material.
About this article
Cite this article
Park, S.J., Hyun, SH., Suh, H.W. et al. Biochemical characterization of cultivated Cordyceps bassiana mycelia and fruiting bodies by 1H nuclear magnetic resonance spectroscopy. Metabolomics 9, 236–246 (2013). https://doi.org/10.1007/s11306-012-0442-4
Received:

Accepted:

Published:

Issue Date:
Keywords
Cordyceps bassiana

Metabolomics

1H-NMR

Artificial cultivation

Developmental stages