Abstract
Scutellaria is a geographically widespread and diverse genus of the Lamiaceae family of herbaceous plants commonly known as skullcaps. Scutellaria is used widely as an ethnobotanical herb for the treatment of various ailments ranging from cancers, cirrhosis, jaundice, hepatitis, anxiety and nervous disorders. We used (1) reverse-phase liquid chromatography coupled to a diode array detector (LC-DAD), and (2) multiple reaction monitoring (MRM) using mass spectrometry (LC-MS/MS) to quantify the levels of acteoside, scutellarin, scetellarein, baicalin, baicalein, wogonin, wogonoside, apigenin, chrysin, and oroxylin A in aqueous methanolic extracts of roots, shoots and leaves of S. baicalensis, S. lateriflora, S. racemosa, S. tomentosa and S. wrightii. Our results indicate that both methods (LC-DAD and LC-MS/MS) were robust for the detection of the 10 analytes from Scutellaria extracts although greater sensitivities were achieved using LC-MS/MS in MRM mode. MRM enabled the detection of low levels of analytes which were otherwise undetected using LC-DAD. The baicalin content of S. wrightii roots were 5-fold higher than the commonly used S. baicalensis. Additionally, we also showed that leaves of both S. wrightii and S. tomentosa are good sources of scutellarin compared to S. baicalensis. Our data clearly demonstrated that previously uncharacterized species, S. wrightii and S. tomentosa are both good sources of flavonoids, particularly scutellarin, baicalin, wogonin and baicalein.
Access options
Buy single article
Instant access to the full article PDF.
US$ 39.95
Tax calculation will be finalised during checkout.
Subscribe to journal
Immediate online access to all issues from 2019. Subscription will auto renew annually.
US$ 79
Tax calculation will be finalised during checkout.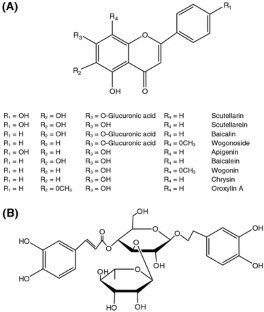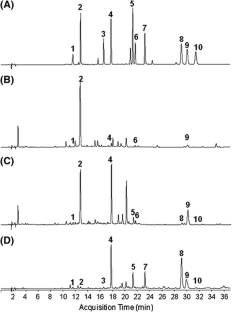 References
Alan, A. R., Zeng, H., Assani, A., Shi, W. L., McRaw, H. E., Murch, S. J., et al. (2007). Assessment of genetic stability of the germplasm lines of medicinal plant Scutellaria baicalensis Georgi (Huang-qin) in long-term, in vitro maintained cultures. Plant Cell Reports, 26, 1345–1355.

Awad, R., Amason, J. T., Trudeau, V., Bergeron, C., Budzinski, J. W., Foster, B. C., et al. (2003). Phytochemical and biological analysis of Skullcap (Scutellaria lateriflora L.): A medicinal plant with anxiolytic properties. Phytomedicine, 10, 640–649.

Chen, Y., Lu, N., Ling, Y., Gao, Y., Wang, L., Sun, Y., et al. (2009). Wogonoside inhibits polysaccharide-induced angiogenesis in vitro and in vivo via toll-like receptor 4 signal transduction. Toxicology, 259, 10–17.

Cole, I. B., Cao, J., Alan, A. R., Saxena, P. K., & Murch, S. J. (2008). Comparisons of Scutellaria baicalensis, Scutellaria lateriflora and Scutellaria racemosa: Genome size, antioxidant potential and phytochemistry. Planta Medica, 74, 474–481.

Cole, I. B., Saxena, P. K., & Murch, S. J. (2007). Medicinal biotechnology in the genus Scutellaria. In Vitro Cellular & Developmental Biology—Plant, 43, 318–327.

Horvath, C., Martos, P. A., & Saxena, P. K. (2005). Indentification and quantification of eight flavones in root and shoot tissues of the medicinal plant Huang-qin (Scutellaria baicalensis Georgi) using high-performance liquid chromatography with diode array and mass spectrometric detection. Journal of Chromatography A, 1062, 199–207.

Lee, K.-W., Kim, H. J., Lee, Y. S., Park, H.-J., Choi, J.-W., Ha, J., et al. (2007). Acteoside inhibits human promyelocytic HL-60 leukemia cell proliferation via inducing cell cycle arrest at G0/G1 phase and differentiation into monocyte. Carcinogenesis, 28, 1928–1936.

Lin, C. M., Shyu, K. G., Wang, B. W., Chang, H., Chen, Y. H., & Chiu, J. H. (2010). Chrysin suppresses IL-6-induced angiogenesis via down-regulation of JAK1/STAT3 and VEGF: An in vitro and in vivo approach. Journal of Agriculture and Food Chemistry, 58, 7082–7087.

Makino, T., Hishida, A., Goda, Y., & Mizukami, H. (2008). Comparison of the major flavonoid content of S. baicalensis, S. lateriflora, and their commercial products. Journal of Natural Medicines, 62, 294–299.

Mu, R., Qi, Q., Gu, H., Wang, J., Yang, Y., Rong, J., et al. (2009). Involvement of p53 in oroxylin A-induced apoptosis in cancer cells. Molecular Carcinogenesis, 48, 1159–1169.

Murch, S. J., Rupasinghe, H. P. V., Goodenowe, D., & Saxena, P. K. (2004). A metabolomic analysis of medicinal diversity in Huang-qin (Scutellaria baicalensis Georgi.) genotypes: Discovery of novel compounds. Plant Cell Reports, 23, 419–425.

Parajuli, P., Joshee, N., Rimando, A., Mittal, S., & Yadav, A. K. (2009). In vitro antitumour mechanisms of various Scutellaria extracts and constituent flavonoids. Planta Medica, 75, 41–48.

Shang, X., He, X., He, X., Li, M., Zhang, R., Fan, P., et al. (2010). The genus Scutellaria an ethnopharmacological and phytochemical review. Journal of Ethnopharmacology, 128, 279–313.

Xie, L., Wang, X., Basnet, P., Matsunaga, N., Yamaji, S., Yang, D., et al. (2002). Chemical and Pharmaceutical Bulletin, 50, 896–899.

Xu, X. F., Cai, B. L., Guan, S. M., Li, Y., Wu, J. Z., Wang, Y., et al. (2010) Baicalin induces human mucoepidermoid carcinoma Mc3 cells apoptosis in vitro and in vivo. Investigational New Drug. doi:10.1007/s10637-010-9402-x.

Zgórka, G., & Hajnos, A. (2003). The application of solid-phase extraction and reversed phase high-performance liquid chromatography for simultaneous isolation and determination of plant flavonoids and phenolic acids. Chromatographia, 57, S77–S80.
Acknowledgments
This work is supported by Science Foundation Ireland Research Frontiers Programme Grants (06/SFI/RFP/GEN034 and 08/SFI/RFP/EOB1087) and a Science Foundation Ireland Equipment Grant (06/SFI/RFP/GEN034ES) to C.K-Y.N.
Electronic supplementary material
Below is the link to the electronic supplementary material.
About this article
Cite this article
Nurul Islam, M., Downey, F. & Ng, C.K.Y. Comparative analysis of bioactive phytochemicals from Scutellaria baicalensis, Scutellaria lateriflora, Scutellaria racemosa, Scutellaria tomentosa and Scutellaria wrightii by LC-DAD-MS. Metabolomics 7, 446–453 (2011). https://doi.org/10.1007/s11306-010-0269-9
Received:

Accepted:

Published:

Issue Date:
Keywords
Scutellaria

Flavonoid

Phenolics

LC-DAD-MS