Abstract
The aim of the study was to evaluate metabolite variability in human eccrine sweat using a metabonomics based approach. Eccrine sweat is a dilute electrolyte solution whose primary function is to control body temperature via evaporative cooling. Although the composition of sweat is primarily water, previous studies have shown that a diverse array of organic and inorganic compounds are also present. Human eccrine sweat samples from 30 female and 30 male subjects were analysed using high-resolution 1H nuclear magnetic resonance (NMR) spectroscopy in conjunction with statistical pattern recognition. High-resolution 1H NMR spectroscopy produced spectra of the sweat samples that readily identified and quantified many different metabolites. The major metabolite classes found to be present were lactate, amino acids and lipids, with lactate being by far the most dominant metabolite found in all samples. Principal Components Analysis, Principal Components-Discriminant Analysis and Partial Least Squares-Discriminant Analysis of the eccrine sweat samples, revealed no significant differences in metabolite composition and concentration between female and male subjects. Also, the variation between subjects did not appear to be correlated with any other clinical information provided by the subjects. Overall, the spectra data set demonstrates the large physiological variability in terms of number of metabolites present and concentrations between subjects i.e. human eccrine sweat samples exhibit a high degree of inter-individual variability.
Access options
Buy single article
Instant access to the full article PDF.
US$ 39.95
Tax calculation will be finalised during checkout.
Subscribe to journal
Immediate online access to all issues from 2019. Subscription will auto renew annually.
US$ 79
Tax calculation will be finalised during checkout.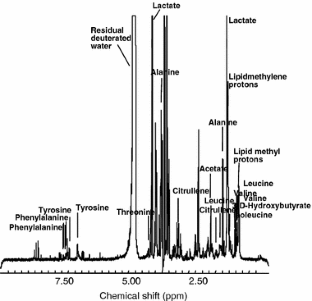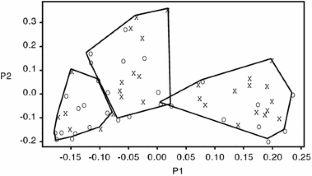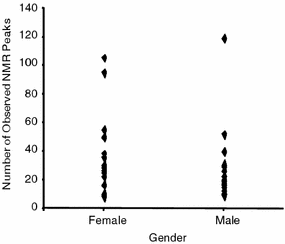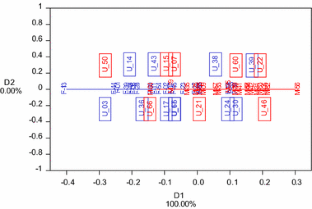 References
Al-Tamer Y.Y., Hadi E.A., Al-Badrani I.I. (1997) Sweat urea, uric acid and creatinine concentrations in uraemic patients. Urol. Res. 25: 337–340

Beckwith-Hall B.M., Brindle J.T., Barton R.H., Coen M., Holmes E., Nicholson J.K., Antti H. (2002) Application of orthogonal signal correction to minimise the effects of physical and biological variation in high resolution 1H NMR spectra of biofluids. Analyst 127: 1283–1288

Berglund L.G., McNall P.E. (1973). Human sweat film area and composition during prolonged sweating. J. Appl. Physiol. 35: 714–718

Bijman J., Quinton P.M. (1987) Lactate and bicarbonate uptake in the sweat-duct of cystic-fibrosis and normal subjects. Pediatr. Res. 21:79–82

Brindle J.T., Antti H., Holmes E., Tranter G., Nicholson J.K., Bethell H.W.L., Clarke S., Schofield P.M., McKillingin E., Mosedale D.E., Grainger D.J. (2002). Rapid and non-invasive diagnosis of the presence and severity of coronary heart disease. Nat. Med. 8: 1439–1444

Coltman C.A., Rowe N.J., Atwell R.J. (1966) The amino acid content of sweat in normal adults. Am. J. Clin. Nutr. 18: 373–378

Daykin C.A., Duynhoven J.P.M., Groenewegen A., Dachtler M., Van Amelsyoort J.M.M., Mulder T.P.J. (2005) Nuclear magnetic resonance spectroscopic based studies of the metabolism of black tea polyphenols in humans. J. Agr. Food Chem. 53: 1428–1434

Embden G., Tachau H. (1910) Über das vorkommen von serin im menschlichen schweiβe (About the exsistence of serine in human sweat). Biochem. Z. 28: 230–236

Eriksson L., Johansson E., Kettaneh-Wold N., Wold S. (1999) Introduction to Multi- and Mega-variate Data Analysis using Projection Methods. Umetrics, Umea, Sweden

Fernie A.R., Trethewey R.N., Krotzky A.J., Willmitzer L. (2004) Metabolite profiling: from diagnostics to systems biology. Nat. Rev. Mol. Cell Biol. 5: 763–769

Förström L., Goldyne M.E., Winkelmann R.K. (1974) Prostaglandin activity in human eccrine sweat. Prostaglandins. 7: 459–464

Frewin D.B., Eakins K.E., Downey J.A., Bhattacherjee P. (1973) Prostaglandin-like activity in human eccrine sweat. Aust. J. Exp. Biol. Med. Sci. 51: 701–705

Gavaghan C.L., Wilson I.D., Nicholson J.K. (2002) Physiological variation in metabolic phenotyping and functional genomic studies: use of orthogonal signal correction and PLS-DA. FEBS Lett. 530: 191–196

Gitlitz P.H., Sunderman F.W., Hohnadel D.C. (1974) Ion-exchange chromatography of amino acids in sweat collected from healthy subjects during sauna bathing. Clin. Chem. 20: 1305–1312

Gordon R.S., Ronald J.R., Thompson H., Muenzer J., Thrasher D. (1971) Sweat lactate in man is derived from blood glucose. Appl. Physiol. 31: 713–716

Griffin J.L. (2003) Metabonomics: NMR spectroscopy and pattern recognition analysis of body fluids and tissues for characterisation of xenobiotic toxicity and disease diagnosis. Curr. Opin. Chem. Biol. 7: 648–654

Griffin J.L., Anthony D.C., Campbell S.J., Gauldie J., Pitossi F., Styles P., Sibson N.R. (2004) Study of cytokine induced neuropathology by high resolution proton NMR spectroscopy of rat urine. FEBS Lett. 568: 49–54

Keun H.C., Ebbels T.M.D., Antti H., Bollard M.E., Beckonert O., Schlotterbeck G., Senn H., Niederhauser U., Holmes E., Lindon J.C., Nicholson J.K. (2002) Analytical reproducibility in 1H NMR-based metabonomic urinalysis. Chem. Res. Toxicol. 15: 1380–1386

Keun H.C., Ebbels T.M.D., Antti H., Bollard M.E., Beckonert O., Holmes E., Lindon J.C., Nicholson J.K. (2003) Improved analysis of multivariate data by variable stability scaling: application to NMR-based metabolic profiling. Anal. Chim. Acta 490: 265–276

Lenz E.M., Bright J., Wilson I.D., Morgan S.R., Nash A.F.P. (2003) A 1H NMR-based metabonomic study of urine and plasma samples obtained from healthy human subjects. J. Pharm. Biomed. Anal. 33: 1103–1115

Liappis N., Hungerland H. (1972) Quantitative study of free amino acids in human eccrine sweat during normal conditions and exercise. Am. J. Clin. Nutr. 25: 661–663

Liappis N., Kelderbacher S.D., Kesseler K., Bantzer P. (1979) Quantitative study of free amino acids in human eccrine sweat excreted from the forearms of healthy trained and untrained men during exercise. Eur. J. Appl. Physiol. 42: 227–234

Liappis, N., Kochbeck, E., Eckhardt, G., Hahne, H., Kesseler, K. and Bantzer, P. (1980) Aminosäurenverluste im menschlichen Schweiß – Einfluß von hormoneinnahme, körperlichem training und vom geschlecht auf die aminosäurenausscheidung in schweiß (Amino acid losses in human sweat – Influence of oral contraceptives, physical exercise and sex on the excretion of amino acids in sweat). Arch. Dermatol. Res. 269, 311–323.

Lindon J.C., Nicholson J.K., Wilson I.D. (2000) Directly coupled HPLC-NMR and HPLC-NMR-MS in pharmaceutical research and development. J. Chrom. B 748: 233–258

Massart D.L., Kaufman P. (1983). The Interpretation of Analytical Chemical Data by the Use of Cluster Analysis. John Wiley and Sons, New York

Nicholson J.K., Buckingham M.J., Sadler P.J. (1983) High resolution H-1-NMR studies of vertebrate blood and plasma. Biochem. J. 211: 605–615

Nicholson J.K., Sadler P.J., Bales J.R., Juul S.M., Macleod A.F., Sonksen P.H. (1984) Monitoring metabolic disease by proton nmr of urine. Lancet 324: 751–752

Nicholson J.K., Foxall P.J.D., Spraul M., Farrant R.D., Lindon J.C. (1995) 750-MHZ H-1 and H-1-C-13 NMR-spectroscopy of human blood-plasma. Anal. Chem. 67: 793–811

Peter G., Schröpl F., Feisel H.G., Thürauf W. (1970). Gaschromatographische untersuchungen von freien und gebundenen fettsäuren im ekkrinen schweiss. Arch. Klin. Exp. Dermatol. 238: 154–162

Quinton P.M., Elder H.Y., McEwan Jenkinson D., Bovell D.L. (1999). Structure and function of human sweat glands. In: Laden K., Felger C.B. (eds) Antiperspirants and Deodorants (Cosmetic Science & Technology Series/Vol. 20), 2nd ed., Marcel Dekker Inc., New York, pp. 17–57

Sato K. (1977) The physiology, pharmacology, and biochemistry of the eccrine sweat gland. Rev. Physiol. Biochem. Pharmacol. 79:51–131

Taylor R.P., Polliack A.A., Bader D.L. (1994) The analysis of metabolites in human sweat: analytical methods and potential application to investigation of pressure ischaemia of soft tissues. Ann. Clin. Biochem. 31: 18–24

Vandeginste B.G.M., Massart D.L., Buydens L.C.M., De Jong S., Lewi P.J., Smeyers-Verbeke J. (1998). Handbook of Chemometrics and Qualimetrics: Part B. Elsevier, Amsterdam

Weiner J.S., van Heyningen R.E. (1952) Observations on lactate content of sweat. J. Appl. Physiol. 4: 734–744

Wolfe S., Cage G., Epstein M., Tice L., Miller H., Gordon R.S. (1970) Metabolic studies of isolated human eccrine sweat glands. J. Clin. Invest. 49: 1880–1884

Yokoyama Y., Aragaki M., Sato H., Tsuchiya M. (1991) Determination of sweat constituents by liquid ionization mass spectrometry. Anal. Chim. Acta. 246: 405–411

Yoshikawa K., Matsushita K., Ohsaka A. (1982) 1H-NMR spectroscopy in aqueous mediums. Examination of experimental conditions with human urine as a model sample. Physiol. Chem. Phys. 14: 385–389
About this article
Cite this article
Harker, M., Coulson, H., Fairweather, I. et al. Study of metabolite composition of eccrine sweat from healthy male and female human subjects by 1H NMR spectroscopy. Metabolomics 2, 105–112 (2006). https://doi.org/10.1007/s11306-006-0024-4
Received:

Accepted:

Published:

Issue Date:
Keywords
gender

metabonomics

principal components analysis