Abstract
ATP, ADP, UTP, and UDP acting as ligands of specific P2Y receptors activate intracellular signaling cascades to regulate a variety of cellular processes, including proliferation, migration, differentiation, and cell death. Contrary to a widely held opinion, we show here that nucleoside 5′-O-monophosphorothioate analogs, containing a sulfur atom in a place of one nonbridging oxygen atom in a phosphate group, act as ligands for selected P2Y subtypes. We pay particular attention to the unique activity of thymidine 5′-O-monophosphorothioate (TMPS) which acts as a specific partial agonist of the P2Y6 receptor (P2Y6R). We also collected evidence for the involvement of the P2Y6 receptor in human epithelial adenocarcinoma cell line (HeLa) cell migration induced by thymidine 5′-O-monophosphorothioate analog. The stimulatory effect of TMPS was abolished by siRNA-mediated P2Y6 knockdown and diisothiocyanate derivative MRS 2578, a selective antagonist of the P2Y6R. Our results indicate for the first time that increased stability of thymidine 5′-O-monophosphorothioate as well as its affinity toward the P2Y6R may be responsible for some long-term effects mediated by this receptor.
Access options
Buy single article
Instant access to the full article PDF.
US$ 39.95
Tax calculation will be finalised during checkout.
Subscribe to journal
Immediate online access to all issues from 2019. Subscription will auto renew annually.
US$ 79
Tax calculation will be finalised during checkout.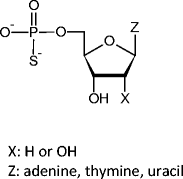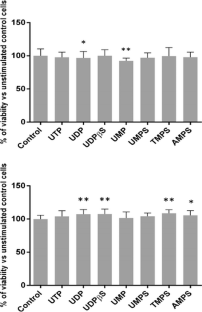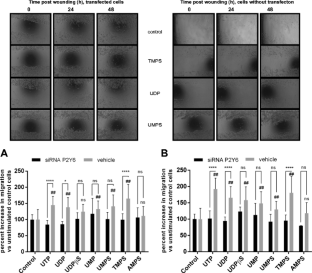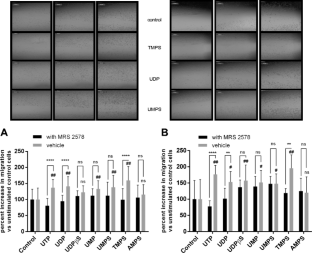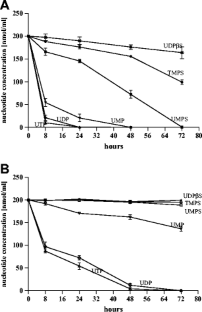 Abbreviations
AMPS:

Adenosine 5′-O-monophosphorothioate

FBS:

Fetal bovine serum

HUVEC:

Human umbilical vein endothelial cells

MRS 2578:

N,N″-1,4-butanediylbis[N′-(3-isothiocyanatophenyl)thiourea

P2YR:

P2Y receptor

TMPS:

Thymidine 5′-O-monophosphorothioate

UDPβS:

Uridine 5′-O-(2-thiodiphosphate)

UMPS:

Uridine 5′-O-monophosphorothioate

HPLC:

High-performance liquid chromatography
References
1.

Browne LE, Jiang LH, North RA (2010) New structure enlivens interest in P2X receptors. Trends Pharmacol Sci 31:229–237

2.

Abbracchio MP, Burnstock G, Boeynaems JM, Barnard EA, Boyer JL, Kennedy C, Knight GE, Fumagalli M, Gachet C, Jacobson KA, Weisman GA (2006) International Union of Pharmacology LVIII: update on the P2Y G protein-coupled nucleotide receptors: from molecular mechanisms and pathophysiology to therapy. Pharmacol Rev 58:281–341

3.

Communi D, Parmentier M, Boeynaems JM (1996) Cloning, functional expression and tissue distribution of the human P2Y6 receptor. Biochem Biophys Res Commun 222:303–308

4.

Burnstock G (2007) Purine and pyrimidine receptors. Cell Mol Life Sci 64:1471–1483

5.

Kennedy C, Qi AD, Herold CL, Harden TK, Nicholas RA (2000) ATP, an agonist at the rat P2Y4 receptor, is an antagonist at the human P2Y4 receptor. Mol Pharmacol 57:926–931

6.

Abbracchio MP, Boeynaems JM, Barnard EA, Boyer JL, Kennedy C, Miras-Portugal MT, King BF, Gachet C, Jacobson KA, Weisman GA, Burnstock G (2003) Characterization of the UDP-glucose receptor (re-named here the P2Y14 receptor) adds diversity to the P2Y receptor family. Trends Pharmacol Sci 24:52–55

7.

Cha SH, Hahn TW, Sekine T, Lee KH, Endou H (2000) Purinoceptor-mediated calcium mobilization and cellular proliferation in cultured bovine corneal endothelial cells. Jpn J Pharmacol 82:181–187

8.

Satterwhite CM, Farrelly AM, Bradley ME (1999) Chemotactic, mitogenic, and angiogenic actions of UTP on vascular endothelial cells. Am J Physiol 276:H1091–H1097

9.

Erlinge D (1998) Extracellular ATP: a growth factor for vascular smooth muscle cells. Gen Pharmacol 31:1–8

10.

Eun SY, Ko YS, Park SW, Chang KC, Kim HJ (2015) IL-1β enhances vascular smooth muscle cell proliferation and migration via P2Y2 receptor-mediated RAGE expression and HMGB1 release. Vasc Pharmacol 72:108–117

11.

Huang N, Wang DJ, Heppel LA (1989) Extracellular ATP is a mitogen for 3T3, 3T6, and A431 cells and acts synergistically with other growth factors. Proc Natl Acad Sci U S A 86:7904–7908

12.

Jin H, Seo J, Eun SY, Joo YN, Park SW, Lee JH, Chang KC, Kim HJ (2014) P2Y2 R activation by nucleotides promotes skin wound-healing process. Exp Dermatol 23:480–485

13.

Neary JT, Rathbone MP, Cattabeni F, Abbracchio MP, Burnstock G (1996) Trophic actions of extracellular nucleotides and nucleosides on glial and neuronal cells. Trends Neurosci 19:13–18

14.

Schafer R, Sedehizade F, Welte T, Reiser G (2003) ATP- and UTP- activated P2Y receptors differently regulate proliferation of human lung epithelial tumor cells. Am J Physiol Lung Cell Mol Physiol 285:L376–L385

15.

Muscella A, Elia MG, Greco S, Storelli C, Marsigliante S (2003) Activation of P2Y2 purinoceptor inhibits the activity of the Na+/K + −ATPase in HeLa cells. Cell Signal 15:115–121

16.

Koziolkiewicz M, Gendaszewska E, Maszewska M, Stein CA, Stec WJ (2001) The mononucleotide-dependent, nonantisense mechanism of action of phosphodiester and phosphorothioate oligonucleotides depends upon the activity of an ecto-5′-nucleotidase. Blood 98:995–1002

17.

Nakamura T, Murata T, Hori M, Ozaki H (2013) UDP induces intestinal epithelial migration via the P2Y6 receptor. Br J Pharmacol 170:883–892

18.

Mamedova LK, Joshi BV, Gao ZG, von Kugelgen I, Jacobson KA (2004) Diisothiocyanate derivatives as potent, insurmountable antagonists of P2Y6 nucleotide receptors. Biochem Pharmacol 67:1763–1770

19.

Lazarowski ER, Homolya L, Boucher RC, Harden TK (1997) Identification of an ecto-nucleoside diphosphokinase and its contribution to interconversion of P2 receptor agonists. J Biol Chem 272:20402–20407

20.

Hou M, Harden TK, Kuhn CM, Baldetorp B, Lazarowski E, Pendergast W, Moller S, Edvinsson L (2002) UDP acts as a growth factor for vascular smooth muscle cells by activation of P2Y6 receptors. Am J Physiol Heart Circ Physiol 282:H784–H792

21.

Moore DJ, Chambers JK, Wahlin JP, Tan KB, Moore GB, Jenkins O, Emson PC, Murdock PR (2001) Expression pattern of human P2Y receptor subtypes: a quantitative reverse transcription-polymerase chain reaction study. Biochim Biophys Acta 152:107–119

22.

Okuda A, Furuya K, Kiyohara T (2003) ATP-induced calcium oscillations and change of P2Y subtypes with culture conditions in HeLa cells. Cell Biochem Funct 21:61–68

23.

Welter-Stahl L, da Silva CM, Schachter J, Persechini PM, Souza HS, Ojcius DM, Coutinho-Silva R (2009) Expression of purinergic receptors and modulation of P2X7 function by the inflammatory cytokine IFNgamma in human epithelial cells. Biochim Biophys Acta 1788:1176–1187

24.

Carter RL, Fricks IP, Barrett MO, Burianek LE, Zhou Y, Ko H, Das A, Jacobson KA, Lazarowski ER, Harden TK (2009) Quantification of Gi-mediated inhibition of adenylyl cyclase activity reveals that UDP is a potent agonist of the human P2Y14 receptor. Mol Pharmacol 76:1341–1348

25.

Guile SD, Ince F, Ingall AH, Kindon ND, Meghani P, Mortimore MP (2001) The medicinal chemistry of the P2 receptor family. Prog Med Chem 38:115–187

26.

Müller CE (2002) P2-pyrimidinergic receptors and their ligands. Curr Pharm Des 8:2353–2369

27.

Gendaszewska-Darmach E, Maszewska M, Zaklos M, Koziolkiewicz M (2003) Degradation of extracellular nucleotides and their analogs in HeLa and HUVEC cell cultures. Acta Biochim Pol 50:973–984

28.

Kim SG, Soltysiak KA, Gao ZG, Chang TS, Chung E, Jacobson KA (2003) Tumor necrosis factor α-induced apoptosis in astrocytes is prevented by the activation of P2Y6, but not P2Y4 nucleotide receptors. Biochem Pharmacol 65:923–931

29.

Mamedova LK, Wang R, Besada P, Liang BT, Jacobson KA (2008) Attenuation of apoptosis in vitro and ischemia/reperfusion injury in vivo in mouse skeletal muscle by P2Y6 receptor activation. Pharmacol Res 58:232–239

30.

Korcok J, Raimundo LN, Du X, Sims SM, Dixon SJ (2005) P2Y6 nucleotide receptors activate NF-κB and increase survival of osteoclasts. J Biol Chem 280:16909–16915

31.

Koizumi S, Shigemoto-Mogam Y, Nasu-Tada K, Shinozaki Y, Ohsawa K, Tsuda M, Joshi BV, Jacobson KA, Kohsaka S, Inoue K (2007) UDP acting at P2Y6 receptors is a novel mediator of microglial phagocytosis. Nature 446:1091–1095

32.

Köttgen M, Löffler T, Jacobi C, Nitschke R, Pavenstädt H, Schreiber R, Frische S, Nielsen S, Leipziger J (2003) P2Y6 receptor mediates colonic NaCl secretion via differential activation of cAMP-mediated transport. J Clin Invest 111:371–379

33.

Bar I, Guns PJ, Metallo J, Cammarata D, Wilkin F, Boeynams JM, Bult H, Robaye B (2008) Knockout mice reveal a role for P2Y6 receptor in macrophages, endothelial cells, and vascular smooth muscle cells. Mol Pharmacol 74:777–784

34.

Balasubramanian R, Ruiz de Azua I, Wess J, Jacobson KA (2010) Activation of distinct P2Y receptor subtypes stimulates insulin secretion in MIN6 mouse pancreatic beta cells. Biochem Pharmacol 79:1317–1326

35.

Markovskaya A, Crooke A, Guzmán-Aranguez AI, Peral A, Ziganshin AU, Pintor J (2008) Hypotensive effect of UDP on intraocular pressure in rabbits. Eur J Pharmacol 579:93–597

36.

Zhang Z, Wang Z, Ren H, Yue M, Huang K, Gu H, Liu M, Du B, Qian M (2011) P2Y(6) agonist uridine 5′-diphosphate promotes host defense against bacterial infection via monocytechemoattractant protein-1-mediated monocytes/macrophages recruitment. J Immunol 86:5376–5387

37.

El-Tayeb A, Qi A, Nicholas RA, Müller CE (2011) Structural modifications of UMP, UDP, and UTP leading to subtype-selective agonists for P2Y2, P2Y4, and P2Y6 receptors. J Med Chem 54:2878–2890

38.

El-Tayeb A, Qi A, Müller CE (2006) Synthesis and structure-activity relationships of uracil nucleotide derivatives and analogues as agonists at human P2Y2, P2Y4, and P2Y6 receptors. J Med Chem 49:7076–7087

39.

Boyer JL, Siddiqi S, Fischer B, Romero-Avila T, Jacobson KA, Harden TK (1996) Identification of potent P2Y-purinoceptor agonists that are derivatives of adenosine 5′-monophosphate. Br J Pharmacol 8:1959–1964

40.

Cristalli G, Podda GM, Costanzi S, Lambertucci C, Lecchi A, Vittori S, Volpini R, Zighetti ML, Cattaneo M (2005) Effects of 5′-phosphate derivatives of 2-hexynyl adenosine and 2-phenylethynyl adenosine on responses of human platelets mediated by P2Yreceptors. J Med Chem 48:2763–2766

41.

Communi D, Robaye B, Boeynaems JM (1999) Pharmacological characterization of the human P2Y11 receptor. Br J Pharmacol 128:1199–1206

42.

Conigrave AD, Lee JY, van der Weyden L, Jiang L, Ward P, Tasevski V, Luttrell BM, Morris MB (1998) Pharmacological profile of a novel cyclicAMP-linked P2 receptor on undifferentiated HL-60 leukemia cells. Br J Pharmacol 124:1580–1585

43.

Jacobson KA, Ivanov AA, de Castro S, Harden TK, Ko H (2009) Development of selective agonists and antagonists of P2Y receptors. Purinergic Signal 5:75–89

44.

Besada P, Shin DH, Costanzi S, Ko H, Mathé C, Gagneron J, Gosselin G, Maddileti S, Harden TK, Jacobson KA (2006) Structure-activity relationships of uridine 5′-diphosphate analogues at the human P2Y6 receptor. J Med Chem 49:5532–5543

45.

Costanzi S, Joshi BV, Maddileti S, Mamedova M, Gonzalez-Moa MJ, Marquez VE, Harden TK, Jacobson KA (2005) Human P2Y(6) receptor: molecular modeling leads to the rational design of a novel agonist based on a unique conformational preference. J Med Chem 48:8108–8111

46.

Maruoka H, Barrett MO, Ko H, Tosh DK, Melman A, Burianek LE, Balasubramanian R, Berk B, Costanzi S, Harden TK, Jacobson KA (2010) Pyrimidine ribonucleotides with enhanced selectivity as P2Y(6) receptor agonists: novel 4-alkyloxyimino, (S)-methanocarba, and 5′-triphosphate gamma-ester modifications. J Med Chem 53:4488–4501

47.

Meltzer D, Ethan O, Arguin G, Nadel Y, Danino O, Lecka J, Sévigny J, Gendron FP, Fischer B (2015) Synthesis and structure-activity relationship of uracil nucleotide derivatives towards the identification of human P2Y6 receptor antagonists. Bioorg Med Chem 23:5764–5773

48.

Frey PA, Sammons RD (1985) Bond order and charge localization in nucleoside phosphorothioates. Science 228:541–545

49.

Da Costa CP, Okruszek A, Sigel H (2003) Complex formation of divalent ions with uridine 5′-thiomonophosphate or methyl thiophosphate: comparison of complex stabilities with those of the parent phosphate ligands. ChemBioChem 4:593–602

50.

Major DT, Nahum V, Wang Y, Reiser G, Fisher B (2004) Molecular recognition in purinergic receptors. 2. Diastereoselectivity of the h-P2Y1-receptor. J Med Chem 47:4405–4416

51.

Węgłowska E, Szustak M, Gendaszewska-Darmach E (2015) Proangiogenic properties of nucleoside 5′-O-phosphorothioate analogues under hyperglycaemic conditions. Curr Top Med Chem 15:2464–2474

52.

Guga P, Koziołkiewicz M (2011) Phosphorothioate nucleotides and oligonucleotides - recent progress in synthesis and application. Chem Biodivers 8:1642–1681
Acknowledgments
The study was supported by the Ministry of Science and Higher Education (Project No. N 405 3047 36).
Ethics declarations
Conflict of interest
The authors confirm that this article content has no conflict of interest.
About this article
Cite this article
Gendaszewska-Darmach, E., Szustak, M. Thymidine 5'-O-monophosphorothioate induces HeLa cell migration by activation of the P2Y6 receptor. Purinergic Signalling 12, 199–209 (2016). https://doi.org/10.1007/s11302-015-9492-1
Received:

Accepted:

Published:

Issue Date:
Keywords
P2Y receptors

P2Y6

Nucleoside 5′-O-monophosphorothioates

HeLa cells

Cell migration