Abstract
This article examines the literature in Organizational Performance (OP) measurement in National Sport Governing Bodies (NSGBs). A scoping review was conducted involving a comprehensive search of all published literature between 1980 and 2022. The results showed a paucity of empirical studies published in scientific journals (N = 27), with an increase in publications in recent years. Quantitative approaches were highlighted as the most applied; and was reported that 60% of the studies were carried out in four countries, with small samples. Furthermore, the thematic analysis revealed that most of the research designs applied a multi model approach, while the factorial analysis carried out help identifying how models and OP macro-dimensions had have relate to each other among the studies reviewed. In this way, the study provides the first attempt to extensively review the literature on OP in NSGBs as well as provides insights of future research directions in the field.
Access options
Buy single article
Instant access to the full article PDF.
USD 39.95
Price excludes VAT (USA)
Tax calculation will be finalised during checkout.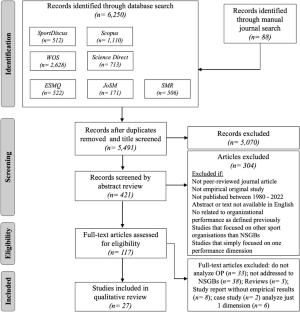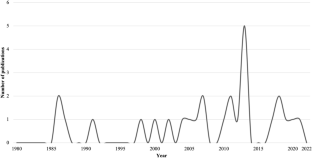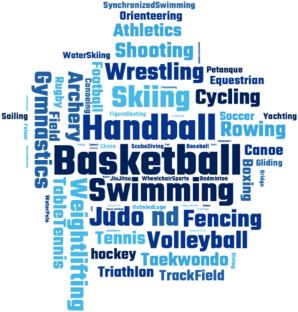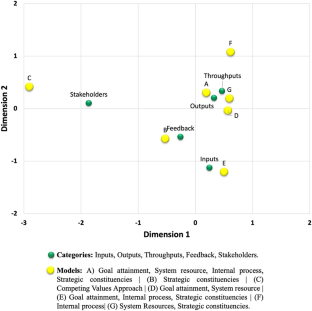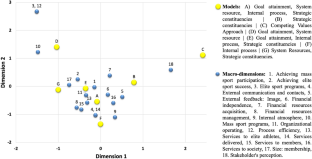 Data availability statement
The datasets generated for this study will not be made publicly available. Requests to access the datasets should be directed to the corresponding author.
Notes
Following the same line as Winand et al. (2014), when authors focused their research in analysing stakeholders' perceptions in isolation, we considered this category as a single macro-dimension. The analysis then, was carried out considering 21 macro-dimensions.
References
Andersson FO, Faulk L, Stewart AJ (2016) Toward more targeted capacity building: diagnosing capacity needs across organizational life stages. Voluntas 27(6):2860–2888. https://doi.org/10.1007/s11266-015-9634-7

Arksey H, O'Malley L (2005) Scoping studies: towards a methodological framework. Int J Soc Res Method Theory Practice 8(1):19–32. https://doi.org/10.1080/1364557032000119616

Balyi I, Way R, Higgs C (2018) Long-term athlete development. Human Kinetics, Champaign

Barth M, Emrich E, Daumann F (2018) Approaches and methods used for measuring organizational performance in national sport governing bodies from 1986 to 2014. A systematized review. Curr Issues Sport Sci. https://doi.org/10.15203/ciss_2018.010

Baruch Y, Ramalho N (2006) Communalities and distinctions in the measurement of organizational performance and effectiveness across for-profit and nonprofit sectors. Nonprofit Volunt Sect Q 35(1):39–65. https://doi.org/10.1177/0899764005282468

Bayle E, Madella A (2002) Development of a taxonomy of performance for national sport organizations. Eur J Sport Sci 2(2):1–21. https://doi.org/10.1080/17461390200072205

Bayle E, Robinson L (2007) A framework for understanding the performance of national governing bodies of sport. Eur Sport Manag Q 7(3):249–268

Bititci US, Carrie AS, McDevitt L (1997) Integrated performance measurement systems: a development guide. Int J Oper Prod Manag 17(5):522–534. https://doi.org/10.1108/01443579710167230

De Bosscher V (2016) A mixed methods approach to compare elite sport policies of nations: a critical reflection on the use of composite indicators in the SPLISS study 0437(May). https://doi.org/10.1080/17430437.2016.1179729

De Bosscher V, Bingham J, Shibli S, Van Bottenburg M, De Knop P (2007) sports policy factors leading to international sporting success. In Meyer & Meyer Sport UK

Cameron KS (1986) Effectiveness as paradox: consensus and conflict in conceptions of organizational effectiveness. Manag Sci 32(5):539–553. https://doi.org/10.1287/mnsc.32.5.539

Chappelet JL (2017) Beyond governance: the need to improve the regulation of international sport. Sport Soc 21(5):724–734. https://doi.org/10.1080/17430437.2018.1401355

Chelladurai P, Haggerty T (1991) Measures of organizational effectiveness of Canadian National Sport Organisations. Canad J Sport Sic 16(2):126–133

Chelladurai P, Zintz T (2015) Functions of national sport governing bodies: a network perspective. Public Policy Admin 14(4):529–544. https://doi.org/10.13165/VPA-15-14-4-03

Chelladurai P, Szyszlo M, Haggerty TR (1987) System-based dimensions of effectiveness: the case of national sport organizations. Can J Sport Sci 12:111–119

Colquhoun HL, Levac D, O'Brien KK, Straus S, Tricco AC, Perrier L, Kastner M, Moher D (2014) Scoping reviews: Time for clarity in definition, methods, and reporting. J Clin Epidemiol 67(12):1291–1294. https://doi.org/10.1016/j.jclinepi.2014.03.013

Creswell JW, Plano CV (2007) Designing and conducting mixed methods research. Sage, London

De Carlos P, Alén E, Pérez A (2017) Measuring the efficiency of the Spanish Olympic sports federations. Eur Sport Manag Q 17(2):210–225. https://doi.org/10.1080/16184742.2016.1245769

Doherty A, Cousens L (2013) Introduction to the special issue on community sport. Commun College J Res Pract 27:419–421. https://doi.org/10.1080/10668920490253555

Dowling M, Leopkey B, Smith L (2018) Governance in sport: a scoping review. J Sport Manag 32(5):438–451. https://doi.org/10.1123/jsm.2018-0032

Eydi DH, Abbasi DH, Ibrahim A (2013) Comparison of effectiveness in national olympic sporting organizations of Iran and Iraq. Univ J Manag 1(3):119–125. https://doi.org/10.13189/ujm.2013.010301

Ferreira A, Otley D (2009) The design and use of performance management systems: an extended framework for analysis. Manag Account Res 20(4):263–282. https://doi.org/10.1016/j.mar.2009.07.003

Fletcher D, Arnold R (2011) A qualitative study of performance leadership and management in elite sport. J Appl Sport Psychol 23(2):223–242

Frisby W (1986) Measuring the organizational effectiveness of National Sport Governing Bodies. Can J Appl Sport Sci 11(2):94–99

Green M (2005) Integrating macro- and meso-level approaches: a comparative analysis of elite sport development in Australia, Canada and the United Kingdom. Eur Sport Manag Q 5(2):143–166. https://doi.org/10.1080/16184740500188805

Hamann PM (2017) Towards a contingency theory of corporate planning: a systematic literature review. Manag Rev Quart 67(4):227–289. https://doi.org/10.1007/s11301-017-0132-4

Henry I, Amara M, Al-Tauql M, Lee PC (2005) A typology of approaches to comparative analysis of sports policy. J Sport Manag 19(4):480–496. https://doi.org/10.1123/jsm.19.4.480

Hoeber L, Shaw S (2017) Contemporary qualitative research methods in sport management. Sport Manag Rev 20(1):4–7. https://doi.org/10.1016/j.smr.2016.11.005

Hoye R, Doherty A (2011) Nonprofit sport board performance: a review and directions for future research. J Sport Manag 25(3):272–285. https://doi.org/10.1123/jsm.25.3.272

Kaplan RS, Norton DP (1996) Using the balanced scorecard as a strategic management system the idea in brief the idea in practice. Harv Bus Rev. https://doi.org/10.1016/S0840-4704(10)60668-0

Kaplan RS, Norton DP (2001) Transforming the balanced scorecard from performance measurement to strategic management: Part I. Account Horiz 15(1):87–104. https://doi.org/10.2308/acch.2001.15.1.87

Karteroliotis K, Papadimitriou D (2004) Confirmatory factor analysis of the sport organizational effectiveness scale. Psychol Rep 95(1):366–370. https://doi.org/10.2466/pr0.95.1.366-370

Kasale LL, Winand M, Robinson L (2018) Performance management of national sports organisations: a holistic theoretical model. Sport Bus Manag Int J 8(5):469–491. https://doi.org/10.1108/SBM-10-2017-0056

Kasale LL, Winand M, Morrow S (2019) A stakeholder approach to performance management in Botswana National Sport Organisations. Manag Sport Leisure 24(4):226–243. https://doi.org/10.1080/23750472.2019.1612269

Koh-Tan A (2011) The determinants of effectiveness of sporting associations in Singapore. Manag Leis 16(3):216–230. https://doi.org/10.1080/13606719.2011.583409

Levac D, Colquhoun H, O'Brien K (2010) Scoping studies: advancing the methodology. Implement Sci 5(69):1–18. https://doi.org/10.1186/1748-5908-5-69

Longenecker CO, Fink LS (2001) Improving management performance in rapidly changing organizations. J Manag Dev 20(1):7–18. https://doi.org/10.1108/02621710110365014

Madella A, Bayle E, Tome J (2005) The organisational performance of national swimming federations in Mediterranean countries: a comparative approach. Eur J Sport Sci 5(4):207–220. https://doi.org/10.1080/17461390500344644

Melnyk SA, Bititci U, Platts K, Tobias J, Andersen B (2014) Is performance measurement and management fit for the future? Manag Account Res 25(2):173–186. https://doi.org/10.1016/j.mar.2013.07.007

Millar P, Stevens J (2012) Management training and national sport organization managers: examining the impact of training on individual and organizational performances. Sport Manag Rev 15(3):288–303. https://doi.org/10.1016/j.smr.2012.01.003

Munn Z, Peters M, Stern C, Tufanaru C, McArthur A, Aromataris E (2018) Systematic review or scoping review? Guidance for authors when choosing between a systematic or scoping review approach 143

Nagel S, Schlesinger T, Bayle E, Giauque D (2015) Professionalisation of sport federations—a multi-level framework for analysing forms, causes and consequences. Eur Sport Manag Q 15(4):407–433. https://doi.org/10.1080/16184742.2015.1062990

Nardo M, Saisana M (2009) Handbook on constructing composite indicators. Putting theory into practice. Institute for the Protection and Security of the Citizen, pp 1–16

Neely A, Gregory M, Platts K (1995) Performance measurement system design: a literaturer review. Int J Oper Prod Manag 15(4):80–116

Neely A, Adams C, Kennerley M (2002) The performance prism: the scorecard for measuring and managing business success. Cranfield School of Management. https://doi.org/10.1108/eb016623

Nordin N, Khatibi A, Azam SMF (2022) Nonprofit capacity and social performance: mapping the field and future directions. Manage Rev Quart. https://doi.org/10.1007/s11301-022-00297-2

Nowy T, Wicker P, Feiler S, Breuer C (2015) Organizational performance of nonprofit and for-profit sport organizations. Eur Sport Manag Q 15(2):155–175

O'Boyle I, Hassan D (2014) Performance management and measurement in national-level non-profit sport organisations. Eur Sport Manag Q 14(3):299–314. https://doi.org/10.1080/16184742.2014.898677

Papadimitriou D (2007) Conceptualizing effectiveness in a non-profit organizational environment: an exploratory study. Int J Public Sect Manag 20(7):571–587. https://doi.org/10.1108/09513550710823498

Papadimitriou D, Taylor P (2000) Organisational effectiveness of hellenic national sports organisations: a multiple constituency approach. Sport Manag Rev 3(1):23–46. https://doi.org/10.1016/S1441-3523(00)70078-7

Paynter SR, Berner MM (2014) Measuring organizational capacity. J Health Hum Serv Adm 37(1):111–145

Perck J, Van Hoecke J, Westerbeek H, Breesch D (2016) Organisational change in local sport clubs: the case of Flemish gymnastics clubs. Sport Bus Manag Int J 6(2):158–181. https://doi.org/10.1108/SBM-01-2014-0002

Pielke R, Harris S, Adler J, Sutherland S, Houser R, McCabe J (2019) An evaluation of good governance in US Olympic sport National Governing Bodies. Eur Sport Manag Q 20(4):480–499. https://doi.org/10.1080/16184742.2019.1632913

Puga E, España E, Torres G, Cabello D (2022) The effect of the crisis on the economic federative situation and evolution of sports results in Spain. J Human Sport Exerc 17:378–388. https://doi.org/10.14198/JHSE.2022.172.13

Quinn RE, Rohrbaugh J (1983) A spatial model of effectiveness criteria: towards a competing values approach to organizational analysis. Manag Sci 29(3)

Radnor ZJ, Barnes D (2007) Historical analysis of performance measurement and management in operations management. Int J Product Perform Manag 56(5–6):384–396. https://doi.org/10.1108/17410400710757105

Shilbury D, Moore KA (2006) A study of organizational effectiveness for national olympic sporting organizations. Nonprofit Volunt Sect Q 35(1):5–38. https://doi.org/10.1177/0899764005279512

Solntsev I, Osokin N (2018) Designing a performance measurement framework for regional networks of national sports organizations: evidence from Russian football. Manag Sport Leisure 23(1/2):7–27

Sowa JE, Selden SC, Sandfort JR (2004) No longer unmeasurable a multidimensional integrated of nonprofit organizational effectiveness. Nonprofit Volunt Sect Q 33(4):711–728. https://doi.org/10.1177/0899764004269146

Swierzy P, Wicker P, Breuer C (2018) The impact of organizational capacity on voluntary engagement in sports clubs: a multi-level analysis. Sport Manage Rev 21(3):307–320. https://doi.org/10.1016/j.smr.2017.08.001

Watanabe NM, Shapiro S, Drayer J (2021) Big data and analytics in sport management. J Sport Manag 35(3):197–202. https://doi.org/10.1123/JSM.2021-0067

Willems J, Boenigk S, Jegers M (2014) Seven trade-offs in measuring nonprofit performance and effectiveness. Voluntas 25(6):1648–1670. https://doi.org/10.1007/s11266-014-9446-1

Winand M, Zintz T, Bayle E, Robinson L (2010) Organizational performance of Olympic sport governing bodies: dealing with measurement and priorities. Manag Leis 15(4):279–307

Winand M, Rihoux B, Qualizza D, Zintz T (2011) Combinations of key determinants of performance in sport governing bodies. Sport Bus Manage Int J 1(3):234–251. https://doi.org/10.1108/20426781111162657

Winand M, Rihoux B, Robinson L, Zintz T (2013) Pathways to high performance: a qualitative comparative analysis of sport governing bodies. Nonprofit Volunt Sect Q 42(4):739–762. https://doi.org/10.1177/0899764012443312

Winand M, Vos S, Claessens M, Thibaut E, Scheerder J (2014) A unified model of non-profit sport organizations performance: Perspectives from the literature. Manag Leis 19(2):121–150. https://doi.org/10.1080/13606719.2013.859460

Winand M, Steen A, Kasale LL (2021) Performance management practices in the sport sector: an examination of 32 Scottish National Sport Organizations. J Glob Sport Manage. https://doi.org/10.1080/24704067.2021.1899765

Zeimers G, Lefebvre A, Winand M, Anagnostopoulos C, Zintz T, Willem A (2021) Organisational factors for corporate social responsibility implementation in sport federations: a qualitative comparative analysis. Eur Sport Manag Q 21(2):173–193. https://doi.org/10.1080/16184742.2020.1731838

Zintz T, Camy J (2005) Manager le changement dans les fédérations sportives en Europe.
Acknowledgements
The authors thank the National Institute of Physical Education of Catalonia for providing the necessary support for this study.
Funding
This study has been part of the research project with code 2019-PINEF-00006 and was supported by a grant from the Secretariat of Universities and Research of the Generalitat de Catalunya (FI–2020) and the European Social Fund.
Ethics declarations
Conflict of interest
The authors declare that the research was conducted in the absence of any commercial or financial relationships that could be construed as a potential conflict of interest.
Additional information
Publisher's Note
Springer Nature remains neutral with regard to jurisdictional claims in published maps and institutional affiliations.
Supplementary Information
Below is the link to the electronic supplementary material.
Rights and permissions
Springer Nature or its licensor (e.g. a society or other partner) holds exclusive rights to this article under a publishing agreement with the author(s) or other rightsholder(s); author self-archiving of the accepted manuscript version of this article is solely governed by the terms of such publishing agreement and applicable law.
About this article
Cite this article
Muñoz, J., Solanellas, F. Measurement of organizational performance in national sport governing bodies domains: a scoping review. Manag Rev Q (2023). https://doi.org/10.1007/s11301-023-00325-9
Received:

Accepted:

Published:

DOI: https://doi.org/10.1007/s11301-023-00325-9
Keywords
National sport governing bodies

Organizational performance

Scoping review
JEL Classification