Abstract
The modern landscape of corporate venturing (CV) is emerging and has undergone increasingly rapid evolutions over the past two decades. A growing heterogeneity of CV modes can be observed such as corporate accelerators, corporate incubators, corporate venture capital, and strategic partnerships with startups. Selecting the appropriate mode is critical given that most corporations struggle to find the proverbial needle in the haystack. Furthermore, scholars' examination of CV is fragmented and involves competing frameworks and typologies, which fails to provide practitioners with a better understanding of how to effectively choose between distinct CV activities. Building upon a systematic review of the literature, the research question addressed in this paper is: Which CV modes and dimensions can be identified in the literature and how can they be categorized comprehensively? To address this, I propose a reconciliation of various CV dimensions by constructing a framework enhanced with practical examples derived from expert interviews. Going beyond the highly dispersed work on CV I strive to (1) identify, organize, and integrate the relevant literature on corporate venturing activities; (2) analyze the dimensions that have been proposed by scholars to categorize and characterize distinct CV activities; and (3) harmonize competing approaches and introduce a coherent and reconciled framework that organizes CV modes along 'inside-in', 'inside-out', and 'outside-in' innovation flows, thus helping practitioners and scholars alike better understand and choose more appropriately between discrete CV modes in relation to specific objectives.
Access options
Buy single article
Instant access to the full article PDF.
US$ 39.95
Tax calculation will be finalised during checkout.
Subscribe to journal
Immediate online access to all issues from 2019. Subscription will auto renew annually.
US$ 79
Tax calculation will be finalised during checkout.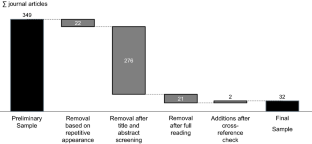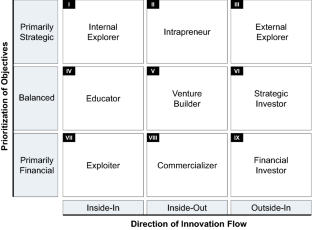 Notes
1.

The time frame covers articles published until August 31, 2017.

2.

The JOURQUAL 3 ranking published by the German Academic Association for Business Research can be viewed online at http://www.vhbonline.org (accessed on December 5th, 2017).

3.

Kohler (2016) describes 'Corporate Incubation' as providing a path to market for corporate non-core innovations. This definition aligns well with the characteristics of the 'Commercializer' but not with a typical incubator or incubating organization that is part of the 'Intrapreneur' CV mode profile.
References
Airbus. Airbus Bizlab. Retrieved from https://www.airbus-bizlab.com/

Alvarez-Garrido E, Dushnitsky G (2016) Are entrepreneurial venture's innovation rates sensitive to investor complementary assets? Comparing biotech ventures backed by corporate and independent VCs. Strateg Manag J 37(5):819–834

Badguerahanian L, Abetti PA (1999) The rise and fall of the Merlin-Gerin Foundry Business: a case study in French corporate entrepreneurship. J Bus Ventur 10(6):477–493

Barbero JL, Casillas JC, Ramos A, Guitar S (2012) Revisiting incubation performance. Technol Forecast Soc Change 79(5):888–902. https://doi.org/10.1016/j.techfore.2011.12.003

Battistini B, Hacklin F, Baschera P (2013) The state of corporate venturing: insights from a global study. Res Technol Manag (RTM) 56(1):31–39

Bermann B (2017) Connecting legacies to the new: company building is uniquely positioned to help both startups and corporates succeed in deep tech — if done right. Retrieved from https://medium.com/@BBergmann/connecting-legacies-to-the-new-5c6171d0b925

Biniari MG, Simmons SA, Monsen EW, Pizzarro Moreno MI (2014) The configuration of corporate venturing logics: an integrated resource dependence and institutional perspective. Small Bus Econ Entrep J 45(2):351–367

Birkinshaw J, Hill SA (2005) Corporate venturing units: vehicles for strategic sucess in the New Europe. Org Dyn 34(3):247–257. https://doi.org/10.1016/j.orgdyn.2005.06.009

Birkinshaw J, van Basten BR, Murray G (2002) Corporate venturing: the state of the art and the prospects for the future. London Business School, London

BMW (2017) BMW Startup Garage. Retrieved from https://www.bmwstartupgarage.com/

Brown B, Anthony S (2011) How P&G tripled its innovation succes rate. Retrieved from https://hbr.org/2011/06/how-pg-tripled-its-innovation-success-rate

Burgelman RA (1983) Corporate entrepreneurship and strategic management: insights from a process study. Manag Sci 29(12):1349–1364. https://doi.org/10.1287/mnsc.29.12.1349

Burgelman RA, Välikangas L (2005) Managing internal corporate venturing cycles. MIT Sloan Manag Rev 46(4):26

Campbell A, Birkinshaw J, Morrison A, van Basten Batenburg R (2003) The future of corporate venturing. MIT Sloan Manag Rev 45(1):30–37

BASF Venture Capital (2017a) More than Capital. Retrieved from https://www.basf.com/de/en/company/about-us/companies/BASF-Venture-Capital/Investment/Added-Value.html

BASF Venture Capital (2017b) Welcome to BASF Venture Capital

Carlile P, Christensen CM (2006) The cycles of theory building in management research. Working paper/Division of Research, Harvard Business School: vol 02,016. Boston, MA

Chang SJ (2004) Venture capital financing, strategic alliances, and the initial public offerings of Internet startups. J Bus Ventur 19(5):721–741. https://doi.org/10.1016/j.jbusvent.2003.03.002

Chesbrough HW (2000) Designing corporate ventures in the shadow of private venture capital. Calif Manag Rev 42(3):31–49

Chesbrough HW (2002) Making sense of corporate venture capital. Harvard Bus Rev 80(3):90–99

Chesbrough HW (2003) Open innovation: the new imperative for creating and profiting from technology. Harvard Business School Press, Boston

Clarkson E (2016) All in: re-imagining our role as an LP in venture. Retrieved from https://medium.com/sapphire-ventures-perspectives/all-in-re-imagining-our-role-as-an-lp-in-venture-1c8ff981d480

Cook DJ, Mulrow CD, Haynes RB (1997) Systematic reviews: synthesis of best evidence for clinical decisions. Ann Intern Med 126(5):379–380

Corbett A, Covin JG, O'Connor GC, Tucci CL (2013) Corporate entrepreneurship: state-of-the-art research and a future research agenda. J Prod Innov Manag 30(5):812–820. https://doi.org/10.1111/jpim.12031

Covin JG, Miles M (1999) Corporate entrepreneurship and the pursuit of competitive advantage. Corp Entrep Growth 23:47–63

Covin JG, Miles M (2007) Strategic use of corporate venturing. Entrep Theory Pract 31(2):183–207

De Bettignies JE, Chemla G (2008) Corporate venturing, allocation of talent, and competition for star managers. Manag Sci 54(3):505–521

De Clercq D, Fried VH, Lehtonen O, Sapienza HJ (2006) An entrepreneur's guide to the venture capital galaxy. Acad Manag Perspect 20(3):90–112

Dess GG, Ireland RD, Zahra SA, Floyd SW, Janney JJ, Lane PJ (2003) Emerging issues in corporate entrepreneurship. J Manag 29(3):351–378

Drover W, Busenitz L, Matusik S, Townsend D, Anglin A, Dushnitsky G (2016) A review and road map of entrepreneurial equity financing research: venture capital, corporate venture capital, angel investment, crowdfunding, and accelerators. J Manag 43(6):1820–1853. https://doi.org/10.1177/0149206317690584

Duane Ireland R, Kuratko DF, Morris MH (2006) A health audit for corporate entrepreneurship: innovation at all levels: part I. J Bus Strategy 27(1):10–17. https://doi.org/10.1108/02756660610640137

Dushnitsky G (2011) Riding the next wave of corporate venture captial. Bus Strategy Rev 22(3):44–49. https://doi.org/10.1111/j.1467-8616.2011.00773.x

Dushnitsky G, Lenox MJ (2006) When does corporate venture capital investment create firm value? J Bus Ventur 21(6):753–772

Ernst H, Witt P, Brachtendorf G (2005) Corporate venture capital as a strategy for external innovation: an exploratory empirical study. R&D Manag 35(3):233–242

Fink A (1998) Conducting research literature reviews: from paper to the Internet. Sage Publications, London

Gassmann O, Enkel E (2004) Towards a theory of open innovation: three core process archetypes. Lissabon

GE (2017) What is FastWorks? Retrieved from https://gereports.ca/fastworks/

Gimmy G, Kanbach D, Stubner S, Konig A, Enders A (2017) What BMW's corporate VC offers that regular investors can't. Retrieved from https://hbr.org/2017/07/what-bmws-corporate-vc-offers-that-regular-investors-cant

Hill SA, Birkinshaw J (2008) Strategy–organization configurations in corporate venture units: impact on performance and survival. J Bus Ventur 23(4):423–444. https://doi.org/10.1016/j.jbusvent.2007.04.001

Huang Y-F (2009) Strategic renewal within an information technology firm: exploration, exploitation and corporate venturing. Int J Entrep Behav Res 15(5):436–452

Hunt SD (2011) On the intersection of marketing history and marketing theory. Mark Theory 11(4):483–489. https://doi.org/10.1177/1470593111418802

Jones MV, Coviello N, Tang YK (2011) International Entrepreneurship research (1989–2009): a domain ontology and thematic analysis. J Bus Ventur 26(6):632–659. https://doi.org/10.1016/j.jbusvent.2011.04.001

Keil T (2004) Building external corporate venturing capability. J Manag Stud 41(5):799–825

Kohler T (2016) Corporate accelerators: building bridges between corporations and startups. Bus Horiz 59(3):347–357

Kuratko DF, Covin JG, Garrett RP (2009) Corporate venturing: insights from actual performance. Bus Horiz 52(5):459–467

Kuratko DF, Hornsby JS, Hayton JC (2015) Corporate entrepreneurship: the innovative challenge for a new global economic reality. Small Bus Econ Entrep J 45(2):245–253

March JG (1991) Exploration and exploitation in organizational learning. Organ Sci 2(1):71–87. https://doi.org/10.1287/orsc.2.1.71

Marchisio G, Mazzola P, Sciascia S, Miles M, Astrachan J (2010) Corporate venturing in family business: the effects on the family and its members. Entrep Reg Dev 22(3/4):349–377

Markham SK, Gentry ST, Hume D, Ramachandran R, Kingon AI (2005) Strategies and tactics for external corporate venturing. Res Technol Manag 48(2):49–59. https://doi.org/10.1080/08956308.2005.11657305

McGrath RG, Keil T, Tukiainen T (2006) Extracting value from corporate venturing. MIT Sloan Manag Rev 48:50–56

Mian SA, Lamine W, Fayolle A (2016) Technology business incubation: an overview of the state of knowledge. Technovation 50/51(2016):1–12

Miles MP, Covin JG (2017) Exploring the practice of corporate venturing: some common forms and their organizational implications. Entrep Theory Pract 26(3):21–40. https://doi.org/10.1177/104225870202600302

Morris MH, Kuratko DF, Covin JG (2007) Corporate entrepreneurship and innovation: entrepreneurial development within organizations, 2nd edn. Thomson/South-Western, Mason

Morris MH, Kuratko DF, Covin JG (2011) Corporate entrepreneurship and innovation: Entrepreneurial development within organizations, 3rd edn. South-Western Cengage Learning, Mason

Narayanan VK, Yang Y, Zahra SA (2009) Corporate venturing and value creation: a review and proposed framework. Res Policy 38(1):58–76. https://doi.org/10.1016/j.respol.2008.08.015

O'Dwyer B (2003) Conceptions of corporate social responsibility: the nature of managerial capture. Account Audit Account J 16(4):523–557. https://doi.org/10.1108/09513570310492290

O'Reilly CA III, Tushman ML (2004) The ambidextrous organization. Harvard Bus Rev 4:74–81

Pauwels C, Clarysse B, Wright M, van Hove J (2016) Understanding a new generation incubation model: the accelerator. Technovation 50/51(2016):13–24

Phan P, Wright M, Ucbasaran D, Tan W-L (2009) Corporate entrepreneurship: current research and future directions. J Bus Ventur 24(3):197–205

Pinchot G (1988) Intrapreneuring: Mitarbeiter als Unternehmer. Gabler, Wiesbaden

Power B (2014) How GE applies lean startup practices. Retrieved from https://hbr.org/2014/04/how-ge-applies-lean-startup-practices

Raisch S, Birkinshaw J (2008) Organizational ambidexterity: antecedents, outcomes, and moderators. J Manag 34(3):375–409. https://doi.org/10.1177/0149206308316058

Rajagopal RS (2006) Innovation and business growth through corporate venturing in Latin America: analysis of strategic fit. Manag Decis 44(5):703–718

Rathgeber P, Gutmann T, Levasier M (2017) Organizational best practices of company builders – a qualitative study. Res J Int School Manag (Jg. 4, Heft 1)

Ray S (2017) Artificial intelligence dominated this year's Microsoft Hackathon, with a winning project too hot to talk about. Retrieved from https://blogs.microsoft.com/firehose/2017/08/23/artificial-intelligence-dominated-this-years-microsoft-hackathon-with-a-winning-project-too-hot-to-talk-about/

Reimsbach D, Hauschild B (2012) Corporate venturing: an extended typology. J Manag Control Zeitschrift für Planung & Unternehmenssteuerung 23(1):71–80

Rice MP, O'Connor GC, Leifer R, McDermott CM, Standish-Kuon T (2000) Corporate venture capital models for promoting radical innovation. J Mark Theory Pract 8(3):1–10. https://doi.org/10.1080/10696679.2000.11501870

Ries E, Bischoff U (2015) Lean Startup: Schnell, risikolos und erfolgreich Unternehmen gründen (4. Auflage)

Röhm P (2018) Exploring the landscape of corporate venture capital: a systematic review of the entrepreneurial and finance literature. Manag Rev Q 68:279–319. https://doi.org/10.1007/s11301-018-0140-z

Sapphire Ventures (2017) About sapphire ventures. Retrieved from http://sapphireventures.com/about/

Schildt H, Keil T, Maula MVJ (2005) Explorative and exploitative learning from external corporate ventures. Entrep Theory Pract 29(4):493–515

Schrader U, Hennig-Thurau T (2009) VHBJOURQUAL2: method, results, and implications of the German Academic Association for Business Research's journal ranking. Bus Res (BuR) 2(2):180–204

Sharma P, Chrisman SJJ (2007) Toward a reconciliation of the definitional issues in the field of corporate entrepreneurship. In: Cuervo Á, Ribeiro D, Roig S (eds) entrepreneurship. Springer, Berlin, pp 83–103. https://doi.org/10.1007/978-3-540-48543-8_4

Siemens Technology Accelerator (2017) Turning innovation into business. Retrieved from http://www.sta.siemens.com/

Soper T (2015) At Microsoft's hackathon, employees come up with solutions to fix societal problems. Retrieved from https://www.geekwire.com/2015/at-microsofts-hackathon-employees-come-up-with-solutions-to-fix-societal-problems/

Sorrentino M, Williams ML (1995) Relatedness and corporate venturing: does it really matter? J Bus Ventur 10(1):59–73

Souitaris V, Zerbinati S (2014) How do corporate venture capitalists do deals? An exploration of corporate investment practices. Strateg Entrep J 8(4):321–348. https://doi.org/10.1002/sej.1178

Teng B-S (2007) Corporate entrepreneurship activities through strategic alliances: a resource-based approach toward competitive advantage. J Manag Stud 44(1):119–142. https://doi.org/10.1111/j.1467-6486.2006.00645.x

Thornhill S, Amit R (2001) A dynamic perspective of internal fit in corporate venturing. J Bus Ventur 16(1):25–50

Tranfield D, Denyer D, Smart P (2003) Towards a methodology for developing evidence-informed management knowledge by means of systematic review. Br J Manag 14(3):207–222. https://doi.org/10.1111/1467-8551.00375

van Haverbeke W, van de Vrande V, Chesbrough HW (2008) Understanding the advantages of open innovation practices in corporate venturing in terms of real options. Creat Innov Manag 17(4):251–258

WattX (2017) Retrieved from https://wattx.io/

Weber C, Weber B (2005). Corporate venture capital organizations in Germany: a comparison. Discussion papers/WZB. WZB, Berlin

Webster J, Watson R (2002) Analyzing the past to prepare for the future: writing a review. MIS Q 26(2):xiii–xxiii

Weiblen T, Chesbrough HW (2014) Engaging with startups to enhance corporate innovation. Calif Manag Rev (CMR) 57(2):66–90

Williams C, Lee SH (2009) Exploring the internal and external venturing of large R&D-intensive firms. R&D Manag 39(3):231–246. https://doi.org/10.1111/j.1467-9310.2009.00553.x

Zahra SA (1995) Corporate entrepreneurship and financial performance: the case of management leveraged buyouts. J Bus Ventur 10(3):225–247. https://doi.org/10.1016/0883-9026(94)00024-O

Zahra SA, George G (1999) Manufacturing strategy and new venture performance: a comparison of independent and corporate ventures in the biotechnology industry. J High Technol Manag Res 10(2):313–345
Acknowledgements
I am especially thankful to the editor and two anonymous reviewers for constructive criticisms and valuable comments, which were of great help in revising the article. Moreover, I thank Stephan Stubner (HHL Leipzig Graduate School of Management) and Joshua Eckblad (Tilburg School of Economics and Management) for their diligent proofreading and comments on prior versions of this paper.
Ethics declarations
Conflict of interest
The author declares that there is no conflict of interest regarding the publication of this paper.
Appendices
Appendix 1
See Table 1.
Appendix 2
See Table 2.
Appendix 3
See Table 3.
About this article
Cite this article
Gutmann, T. Harmonizing corporate venturing modes: an integrative review and research agenda. Manag Rev Q 69, 121–157 (2019). https://doi.org/10.1007/s11301-018-0148-4
Received:

Accepted:

Published:

Issue Date:
Keywords
Corporate entrepreneurship

Corporate venturing

Literature review

Innovation management

Corporate venturing framework

Corporate venturing typology

Open innovation
JEL Classification