Abstract
The paper contains an analysis of advantages and drawbacks of existing modeling approaches to exchange rate forecast and currency risk management. The behavioral features of foreign exchange market participants and their impact on market's long-term memory were analyzed after the onset of significant events. Special attention was paid to the "Pareto distribution series" to find the point values of the rates that form the trends and determine the trajectory of currency rates. Based on the existing researches of FX rate prediction models authors developed an alternative approach that gives more accurate forecasts of the FX rates and, respectively, currency risk assessment in national banking systems.
This is a preview of subscription content, log in to check access.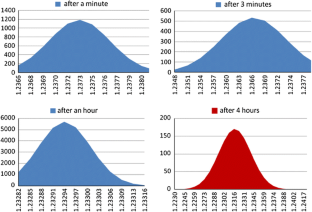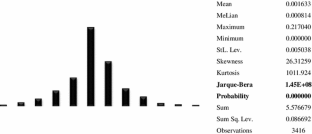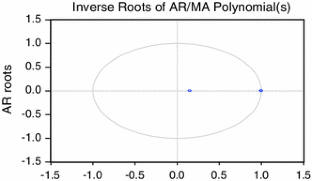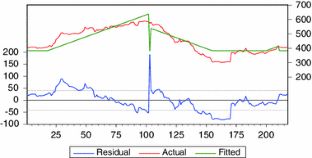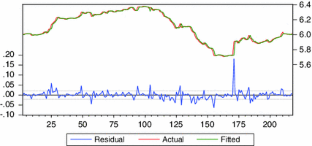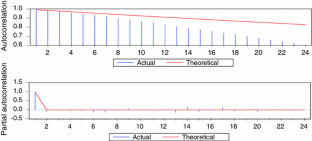 Notes
1.

Suppose, X- is an integrated times series. We subject this series to k-fold differentiation. If as a result we get a stationary time series of ARMA (p, q) type, then we say that the original series X is ARIMA (p, k, q), or integrated once ARMA (p, q) (ARIMA—autoregressive integrated moving average). If p = 0 or q = 0, and then use a short notation (Nosko 2000).

2.

Stationary time series must meet the following criteria: a constant variance, a constant mathematical expectation, a permanent structure of the correlogram.
References
Anderson TW (1971) The statistical analysis of time series. John Wiley and Sons Inc, New York

Bank for International Settlements (2010) Triennial central bank survey of foreign exchange and derivatives market activity in 2010. Final results

Basel II: International Convergence of Capital Measurement and Capital Standards: a revised framework, comprehensive version, June 2006. Part 2: The first pillar—minimum capital requirements. 192 p

Box GEP, Jenkins GM, Reinsel GC (1994) Time series analysis: forecasting and control, 3rd edn. Prentice Hall, Englewood Cliffs, pp 197–199

Chavatal Vasek (1983) Linear programming. Freeman, New York

Ching W-K, Ng MK (2006) Markov chains: models, algorithms and applications. Springer Science+Business Media, Inc., USA

Choi BS (1992) ARMA Model identification. Springer-Verlag, New York

Dickey DA, Fuller WA (1979) Distribution of the estimators for autoregressive time series with a unit root. J Am Stat Assoc 74–1979:427–431

Dickey DA, Hasza DP, Fuller WA (1984) Testing for unit roots in seasonal time series. J Am Stat Assoc 79(386):355–367

Jarque CM, Bera AK (1987) A test for normality of observations and regression residuals. Int Stat Rev 55:163–172

Levin RI, Kirkpatrick CA, Rubin DS (1982) Quantitative approaches to management, 5th edn. Mc-Graw-Hill, Tokyo

Luc Laeven and Fabián Valencia (2010) IMF Working paper systemic banking crises database: an update, June 2012

Muth J (1961) Rational expectations and the theory of price movements. Econometrica 29:315–335

Nosko VP (2000) Econometrics for beginners: basics, elementary methods, the application limits, interpretation of the results. Moscow. http://mech.math.msu.su/~piter/NOSKO.HTM
About this article
Cite this article
Sandoyan, E., Manukyan, D. Exchange Rate Forecast: a New Approach for Armenian Dram. Transit Stud Rev 20, 159–177 (2013). https://doi.org/10.1007/s11300-013-0283-5
Keywords
FX Market

FX Risk

Banking system and math modeling
JEL Classification