Abstract
On the whole GDP growth is usually considered robust in the CIS-8. However, there are remarkable differences in the quality of growth performances between the countries in the region. These differences cast doubts on the sustainability of the recent growth performance in some Caspian/Caucasian countries. This paper tries to develop a basic understanding of the different qualities of growth performance other than GDP growth rates. Therefore, we distinguish between volume-driven and efficiency-driven growth. Taking into account different resource endowments, we identify different patterns of physical capital accumulation and development of Total Factor Productivity (TFP) growth. The results of our fixed effects model indicate that governance has a significant positive effect on TFP and GDP per capita growth, whereas our results for regime type indicate a non-linear relationship. Therefore, we conclude that institutional quality seems to be the major determinant causing efficiency-driven growth and is thus of major importance when assessing the sustainability of growth paths in the region.
Access options
Buy single article
Instant access to the full article PDF.
USD 39.95
Price excludes VAT (USA)
Tax calculation will be finalised during checkout.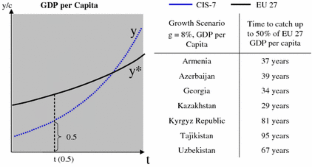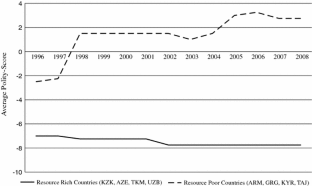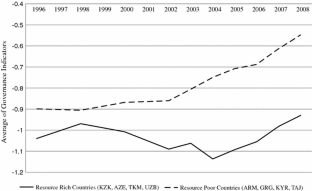 Notes
Commonwealth of Independent States (CIS). CIS-8: Armenia, Azerbaijan, Georgia, Kazakhstan, Kyrgyztan, Tadjikistan, Turkmenistan, Uzbekistan. Due to limited availability of data for Turkmenistan, we exclude Turkmenistan from our regressions and therefore sometimes refer to the CIS-7.

For the calculations of these estimates see Bolle and Meyer (2004).

An economic development strategy might be regarded as sustainable if the society of an economy is capable of establishing institutions and implementing policies, which enable the economy to be more resilient to both internal and external shocks. This in turn implies that governments need to be capable of implementing prudent macroeconomic policies in the short run and maintaining these policies throughout the development process (see amongst others Aghion et al. 2006; Rodrik 2006; Ocampo 2006).

The concept of genuine saving (formerly known as adjusted net saving) was first derived in Pearce and Atkinson (1993) and Hamilton (1994). Genuine saving provides a much broader indicator of sustainability by valuing changes in natural resources, environmental quality and human capital, in addition to the traditional measure of changes in produced assets provided by net saving. Genuine saving is calculated as follows: Gross national saving minus consumption of fixed capital plus current operating expenditures on education (to adjust for investments in human capital) minus the value of natural resource depletion (energy, metals, minerals, and net forest depletion are included) minus the value of damages from pollutants (the pollutants carbon dioxide and particulate matter are included). For a more technical description see Hamilton (2006).
References
Acemoglu D, Johnson S, Robinson JA (2004) Institutions as the fundamental cause of long-run growth, CEPR Discussion Papers 4458, C.E.P.R. Discussion Papers

Aghion P, Comin D, Howitt P (2006) When does domestic saving matter for economic growth? Working Paper Series 12275, NBER Working Paper

Alesina A, Rodrik D (1994) Distributive politics and economic growth. Q J Econ 109:465–490

Amin M, Djankov S (2009) Democracy and reforms, World Bank Policy Research Working Paper Series 4835, The Worldbank

Aslund A (2001) Building capitalism: The Transformation of the Former Soviet Bloc, Cambridge University Press, New York

Barro RJ (1990) Government spending in a simple model of endogenous growth. J Polit Econ 98:103–125

Barro RJ (1996) Democracy and growth. J Econ Growth 1:1–27

Beck T, Laeven L (2006) Institution building and growth in transition economies. J Econ Growth 11:157–186

Bolle MD, Meyer T (2004) The effectiveness of monetary policy in Albania and the need for further reform. In: Fifth conference evaluating the effectiveness of monetary policy, The Bank of Albania

Borensztein ER, Sahay R, Zettelmeyer J, Berg A (1999) The evolution of output in transition economies: explaining the differences, IMF Working Papers 99/73, International Monetary Fund

Campos NF, Coricelli F (2002) Growth in transition: what we know, what we don't, and what we should. J Econ Lit 40:793–836

Cetintas H, Barisik S (2009) Export, import and economic growth: the case of transition economies. Trans Stud Rev 15:636–649

De Haan J, Sturm JE (2003) Does more democracy lead to greater economic freedom? New evidence for developing countries. Eur J Polit Econ 19:547–563

Desai RM, Olofsgard A (2006) Constitutionalism and credibility in reforming economies. Econ Transit 14:479–504

Djankov SE, Glaeser R, La Porta F, Silanes Lopez-De, Shleifer A (2003) The new comparative economics. J Comp Econ 31:595–619

EBRD (2009) Selected economic indicators. http://www.ebrd.com/country/sector/econo/stats/index.htm, European Bank for Reconstruction and Development. Accessed 12 Jan 2010

Falcetti E, Raiser M, Sanfey P (2002) Defying the odds: initial conditions, reforms, and growth in the first decade of transition. J Comp Econ 30:229–250

Fidrmuc J, Tichit A (2007) Mind the break! Accounting for changing patterns of growth during transition, CEDI Discussion Paper Series 07-06, Centre for Economic Development and Institutions (CEDI), Brunel University

Haggard S, Kaufman RR (1997) The political economy of democratic transitions. Comp Polit 29:263–283

Hall RE, Jones CI (1999) Why do some countries produce so much more output per worker than others? Q J Econ 114:83–116

Hamilton K (1994) Green adjustments to GDP. Resour Policy 20:155–168

Hamilton K (2006) Where is the wealth of nations? Measuring capital for the 21st century. The Worldbank, Washington, DC

Hartwick JM (1977) Intergenerational equity and the investing of rents from exhaustible resources. Am Econ Rev 67:972–974

Havrylyshyn O (2006) Divergent paths in past-communist transformation: capitalism for all or capitalism for the few? Palgrave Macmillan, New York

Havrylyshyn O (2008) Growth recovery in CIS Countries: the sufficient minimum threshold of reforms. Comp Econ Stud 50:53–78

Hellman JS, Jones G, Kaufmann D (2003) Seize the state, seize the day: state capture, corruption, and influence in transition. J Comp Econ 31:751–773

Huntington SP (1968) Political order in changing societies. Yale University Press, New Haven

ILO Bureau of Statistics (2009) Key indicators of the labour market, statistics and databases, International Labour Organization

IMF (2004) World economic outlook 2004: advancing structural reforms, World economic and financial surveys, International Monetary Fund

IMF (2007) Regional economic outlook: Middle East and Central Asia. World economic and financial surveys, International Monetary Fund

IMF (2009) Regional economic outlook: Middle East and Central Asia, World economic and financial surveys, International Monetary Fund

Iradian G (2007) Rapid growth in transition economies: growth-accounting approach, IMF Working Paper 07/170, International Monetary Fund

Iwasaki I (2003) Transition strategies and economic performances in the Former Soviet States: a comparative institutional view, Discussion Paper Series a433, Institute of Economic Research, Hitotsubashi University

Kaufmann D, Kraay A, Mastruzzi M (2009) Governance matters VIII: aggregate and individual governance indicators, 1996–2008, World Bank Policy Research Working Paper 4978, The Worldbank

Kornai J (1992) The socialist system: the political economy of communism, Oxford University Press, New York

Levine R (1997) Financial development and economic growth: views and agenda. J Econ Lit 35:688–726

Mahdavy H (1970) The pattern and problems of economic development in rentier states: the case of Iran. In: Cook M (ed) Studies in the economic history of the Middle East, Oxford University Press, New York

Marshall MG, Jaggers K (2009) Polity IV Project: political regime characteristics and transitions, 1800–2007. http://www.systemicpeace.org/polity/polity4.htm. Accessed 26 Jan 2010

Mody A, Helnling T, Sahay R (2004) Debt accumulation in the CIS-7 countries: bad luck, bad policies, or bad advice. In: IMF Working Papers 04/93, International Monetary Fund

North DC (1990) Institutions, institutional change and economic performance. Cambridge University Press, Cambridge

North DC, Thomas RP (1973) The rise of the Western World: a new economic history. Cambridge University Press, Cambridge

Ocampo JA (2006) Market, social cohesion, and democracy. In: Working Papers 9, United Nations, Department of Economics and Social Affairs

Pearce DW, Atkinson GD (1993) Capital theory and the measurement of sustainable development: an indicator of 'weak' sustainability. Ecol Econ 8:103–108

Persson T, Tabellini G (2007) The growth effect of democracy: is it heterogeneous and how can it be estimated? In: Working Paper 13150, National Bureau of Economic Research

Pitlik H, Wirth S (2003) Do crises promote the extent of economic liberalization? An empirical test. Eur J Polit Econ 19:565–581

Polischuk L, Savvateev AV (2004) Spontaneous(non) emergence of property rights. Econ Transit 12:103–127

Rajan RG, Zingales L (2006) The persistence of underdevelopment: constituencies and competitive rent preservation. Working Paper 12093, National Bureau of Economic Research

Rodrik D (2006) Goodbye Washington consensus, hello Washington confusion? A review of The World Bank's economic growth in the 1990s: learning from a decade of reform. J Econ Lit XLIV:973–987

Rodrik D (2003) Growth strategies. NBER Working Papers 10050, National Bureau of Economic Research, Inc

Rodrik D, Subramanian A, Trebbi F (2004) Institutions rule: the primacy of institutions over geography and integration in economic development. J Econ Growth 9:131–165

Roland G (2002) The political economy of transition. J Econ Perspect 16:29–50

Staehr K (2005) Reforms and economic growth in transition economies: complementarity, sequencing and speed. Eur J Comp Econ 2:177–202

Stevens P (2003) Resource impact: curse or blessing? A literature survey. J Energy Lit IX:3–42

Tavares J, Wacziarg R (2001) How democracy affects growth. Eur Econ Rev 45:1341–1378

Williamson OE (2000) The new institutional economics: taking stock, looking ahead. J Econ Lit 38:595–613

Worldbank (2009) World Development Indicators (WDI). http://ddp-ext.worldbank.org
Acknowledgments
Special thanks for excellent research assistance to Martine Perry and Anne Schindler.
About this article
Cite this article
Salhi, A., Kern, A. & Rößler, M. Growth Patterns in the CIS-8: A Political Economy Approach. Transit Stud Rev 17, 686–708 (2010). https://doi.org/10.1007/s11300-010-0176-9
Received:

Accepted:

Published:

Issue Date:

DOI: https://doi.org/10.1007/s11300-010-0176-9
Keywords
Economic transition

Sustainable catch-up process

Total factor productivity

Institutions

Natural resources

CIS-8
JEL Classification