Abstract
In this paper we question the hypothesis of bounded rationality against full rationality in the context of job changing behavior, via simple econometric explorations on microdata drawn from Worker Histories Italian Panel (WHIP) and Sample of Integrated Labor Market Biographies (SIAB). The identification strategy builds on a quasi-counterfactual experiment in which the performance of each voluntary mover is compared to the average performance of a peer-group of stayers of the same skill group, co-workers in the firm from which the movers' job switch originated. Voluntary movers are identifiable in the WHIP and SIAB datasets, while it is not possible to do the same among the stayers. Full rationality suggests that the performance of voluntary movers should be superior to the stayers' (both voluntary and involuntary) as the involuntary stayers have a smaller decision set from which to choose. In this exploration we find a clear opposite result, which we take as evidence of bounded rationality of the movers.
This is a preview of subscription content, log in to check access.
Access options
Buy single article
Instant access to the full article PDF.
US$ 39.95
Price includes VAT for USA
Subscribe to journal
Immediate online access to all issues from 2019. Subscription will auto renew annually.
US$ 99
This is the net price. Taxes to be calculated in checkout.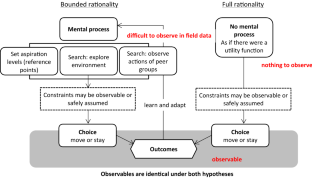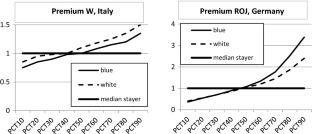 Notes
1.

"Major" reductions are assumed to be those in excess of 40% of the 1986 workforce.

2.

Some workers may have moved more than once in the observation period: the k-th employer is his last destination.

3.

Another plausible definition of y* could be in terms of individual earnings growth—say 10%—over each person's past salary W, in alternative to the cell W-median.
References
Akerlof GA (1984) An economic theorist's book of tales. Cambridge University Press, Cambridge

Akerlof GA (1991) Procrastination and obedience. Am Econ Rev 81(2):1–19

Akerlof GA (2007) The missing motivation in macroeconomics. Am Econ Rev 97(1):5–36

Akerlof GA, Dickens WT (1982) The economic consequences of cognitive dissonance. Am Econ Rev 72(3):307–319

Arrow KJ (1986) Rationality of self and others in an economic system. J Bus 59:385–399

Ashenfelter O, Genesove D (1992) Testing for price anomalies in real-estate auctions. Am Econ Rev 82(2):501–505

Becker G, Rayo L (2007) Evolutionary efficiency and happiness. J Polit Econ 115(2):302–337

Benartzi S, Thaler RH (1995) Myopic loss aversion and the equity premium puzzle. Quart J Econ 110(1):73–92

Conlisk J (1996) Why bounded rationality? J Econ Lit 34(2):669–700

Contini B, Morini M (2007) Testing bounded rationality against full rationality in job changing behavior. IZA WP p 3148

Della Vigna S, Malmender U (2006) Paying not to go to the gym. Am Econ Rev 96(3):694–719

Dohmen T (2014) The impact of behavioural economics on labour economics. Labour Econ 30:71–85

Fehr E, Goette L (2007) Do workers work more if wages are high? Evidence from a randomized field experiment. Am Econ Rev 97(1):298–317

Goldberger AS (1989) Economic and mechanical models of intergenerational transmission. Am Econ Rev 79(3):504–513

Jappelli T, Guiso L, Padula M (2013) Pension wealth uncertainty. J Risk Insur 80(4):1057–1085

Kahnemann D, Tverski A (1979) Prospect theory: an analysis of decision under risk. Econometrica 47(2):263–291

Kunreuther H et al (1978) Disaster insurance protection. Public policy lessons. Wiley, New York

Madrian BC, Shea DF (2001) The power of suggestion: inertia in 401(k) participation and savings behavior. Quart J Econ 116(4):1149–1188

Roth A (1988) Laboratory experimentation in economics: a methodological overview. Econ J 98(393):974–1031

Shui H, Ausubel LM (2004) Consumer time inconsistency: evidence from a market experiment in the credit card market. Econometric Society North American Summer Meetings series (176)

Simon HA (1955) A behavioral model of rational choice. Quart J Econ 69(1):99–118

Simon HA (1986) Rationality in psychology and economics. J Bus 59:209–224
Acknowledgements
Bruno Contini is grateful to C. Flinn for a casual observation at lunch table that led me to readdress from scratch the identification strategy of this study. I also thank an unknown referee for useful comments.
Additional information
Publisher's Note
Springer Nature remains neutral with regard to jurisdictional claims in published maps and institutional affiliations.
About this article
Cite this article
Contini, B., Pusch, T. Identifying bounded rationality with panel data: evidence from the labor markets of Italy and Germany. Mind Soc 17, 71–84 (2018). https://doi.org/10.1007/s11299-019-00204-5
Keywords
Behavioral economics

Decision making

Counterfactual identification