Abstract
Computer and communication technologies created new modes of creating and sharing arts. In this paper, we apply 'diffusion of innovation' theory to investigate how artistic content travels in an online social network site called deviantArt, a site designed for sharing user-generated artworks. We first define what innovation corresponds to in such a context, and then discuss how it can be measured with the help of network, image and text analysis methods. We propose to use user-shared resources as relatively easy targets of tracking innovation.
Access options
Buy single article
Instant access to the full article PDF.
US$ 39.95
Tax calculation will be finalised during checkout.
Subscribe to journal
Immediate online access to all issues from 2019. Subscription will auto renew annually.
US$ 79
Tax calculation will be finalised during checkout.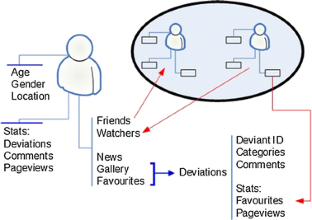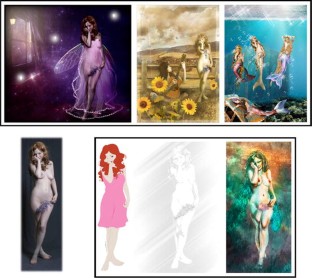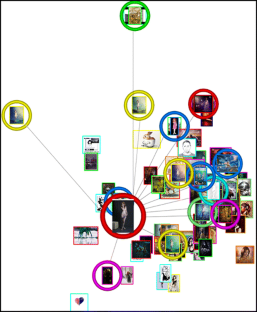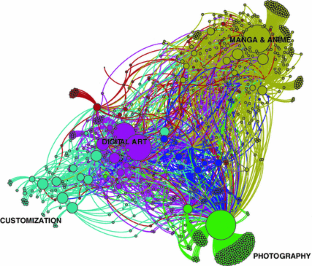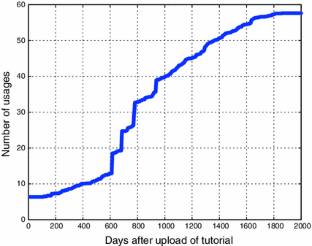 Notes
1.

SNS are defined as web-based services for users to construct a public or private profile and to connect with other users in a bounded system (Boyd and Ellison 2007). In this sense, dA resembles SNS as it offers basic services to its users, and it creates a community structure. However, dA works like a blog-sphere as well (see Adar et al. 2004 on blogging), as each dA member is bestowed a website on his/her own.

2.

3.

4.

See Akdag Salah (2010b) for a description on how the promotion mechanism works.
References
Adar E, Zhang L, Adamic LA, Lukose RM (2004) Implicit structure and the dynamics of blogspace. In: 13th international WWW conference New York: Workshop on the Weblogging Ecosystem

Akdag Salah AA (2010a) The online potential of art creation and dissemination: deviantArt as the next art venue. EVA2010. Computer Arts Society, London

Akdag Salah AA (2010b) Performing curatorial practices in a social network site: The curators of deviantArt. CHArt Conference, London

Akdag Salah A, Salah AA, Buter B, Dijkshoorn N, Modolo D, Nguyen Q, van Noort S, van de Poel B (2012) DeviantArt in spotlight: a network of artists. Leonardo 45(5):486–487

Bikhchandani S, Hirshleifer D, Welch I (1992) A theory of fads, fashion, custom, and cultural change as informational cascades. J Pol Econ 100:992–1026

Boyd DM (2007) Why youth (heart) social network sites: the role of networked publics in teenage social life. In: Buckingham D (ed) Youth, identity, and digital media. MIT Press, Cambridge, pp 119–142

Boyd DM, Ellison NB (2007) Social network sites: definition, history, and scholarship. J Comput Mediat Commun 13(1), article 11

Buter B, Dijkshoorn N, Modolo D, Nguyen Q, van Noort S, van de Poel B, Akdag Salah AA, Salah AA (2011) Explorative visualization and analysis of a social network for arts: The case of deviantArt. J Converg 2(2):87–94

Dalal N, Triggs B (2005) Histograms of oriented gradients for human detection. IEEE CVPR WKSHP 886–893

Lee SH, Kim P-J, Jeong H (2006) Statistical properties of sampled networks. PHYS REV E 73

Lewis K, Kaufmann J, Gonzalez M, Wimmer A, Christakis N (2008) Tastes, ties, and time: a new social network dataset using facebook.com. Soc Netw 30:330–342

Liben-Nowell D, Novak J, Kumar R, Raghavan P, Tomkins A (2005) Geographic routing in social networks. PNAS 102(33):11623–11628

Manovich L (2008) Cultural analytics: Analysis and visualization of large cultural data sets. Screen, February: 1–23

Mayer A, Puller SL (2008) The old boy and girl network: social network formation on university campuses. JPBE 92:329–347

Minamikawa A, Yokoyama H (2011) Blog tells what kind of personality you have: egogram estimation from japanese weblog. In: Proceedings of the ACM conference on computer supported cooperative work, pp 217–220

Rogers EM (1976) New product adoption and diffusion. J Consum Res March:290–301

Rogers EM (1995) Diffusion of innovations, 4th edn. Free Press, New York

Rogers EM, Agarwala-Rogers R (1976) Communication in organizations. Free Press, New York

Smeulders AWM, Worring M, Santini S, Gupta A, Jain R (2000) Content-based image retrieval at the end of the early years. IEEE T Pattern Anal 22(12):1349–1380

Snoek CGM, Huurnink B, Hollink L, de Rijke M, Schreiber G, Worring M (2007) Adding semantics to detectors for video retrieval. IEEE T Multimedia 9(5):975–986

Valente TW (1996) Social network thresholds in the diffusion of innovations. Soc Netw. doi:101016/0378-8733(95)00256-1

Valente TW, Davis RL (1999) Accelerating the diffusion of innovations using opinion leaders. Ann Am Acad 566:55–67

Yuan YC, Gay G (2006) Homophily of network ties and bonding and bridging social capital in computer-mediated distributed teams. J Comput Mediat Commun 11(4):1062–1084
Acknowledgments
This research is supported by Bogazici University BAP-6531 project and a Nederlandse Organisatie voor Wetenschappelijk Onderzoek NWO-VENI grant.
About this article
Cite this article
Akdag Salah, A.A., Salah, A.A. Flow of innovation in deviantArt: following artists on an online social network site. Mind Soc 12, 137–149 (2013). https://doi.org/10.1007/s11299-013-0113-9
Received:

Accepted:

Published:

Issue Date:
Keywords
Art market

Social network sites

Complex networks

Image analysis

Text analysis