Abstract
Objective
We argue that people often fail to perceive and process stimuli easily available to them. In other words, we challenge the tacit assumption that awareness is unbounded and provide evidence that humans regularly fail to see and use stimuli and information easily available to them. We call this phenomenon "bounded awareness" (Bazerman and Chugh in Frontiers of social psychology: negotiations, Psychology Press: College Park 2005).
Findings
We begin by first describing perceptual mental processes in which obvious information is missed—that is, simply not seen—by the visual perceiver. Inattentional blindness and change blindness are examples. We then extend this phenomenon to decision making and forecasting, using evidence about focalism to illustrate how people over focus on some information and fail to use other easily available information. We next examine how these processes of bounded awareness may extend to other important domains and across levels of analysis, such as information-sharing in groups, decision making in negotiators, and in competitive bidding situations such as auctions.
Conclusions
Bounded awareness is a phenomenon that encompasses a variety of psychological processes, all of which lead to the same error: a failure to see, seek, use, or share important and relevant information that is easily seen, sought, used, or shared.
Access options
Buy single article
Instant access to the full article PDF.
USD 39.95
Price includes VAT (USA)
Tax calculation will be finalised during checkout.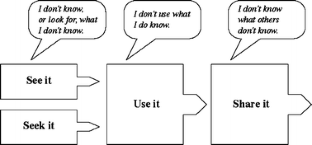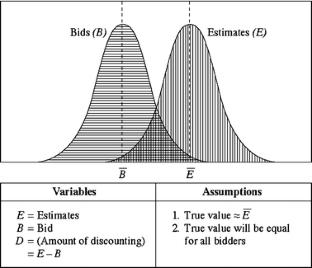 Notes
1.

In a dynamic game-theoretic equilibrium, the contestant would not know that she won, but should still keep her original choice.
References
Abrahams M (1999) What is this Ig? http://www.improbable.com/ig/what is this ig.html (October 1, 2004)

Akerlof G (1970) The market for lemons. Q J Econ 89:488-500

Angelone BL, Levin DT, Simons DJ (2003) The relationship between change detection and recognition of centrally attended objects in motion pictures. Perception 32(8):947-962

Ball SB, Bazerman MH, Carroll JS (1991) An evaluation of learning in the bilateral winner's curse. Organ Behav Hum Decis Process 48:1-22

Bazerman MH, Chugh D (2005) Bounded awareness: Focusing failures in negotiation. In: Thompson L (eds) Frontiers of social psychology: negotiations. Psychology Press, College Park

Bazerman MH, Samuelson WF (1983) I won the auction but don't want the prize. J Conflict Resolut 27:618-634

Bazerman MH, Baron J, Shonk K (2001) You can't enlarge the pie: six barriers to effective government. Basic Books, New York

Cain DM, Loewenstein G, Moore DA (2005) The dirt on coming clean: perverse effects of disclosing conflicts of interest. J Legal Stud 34(1):1-27

Camerer C, Lovallo D (1999) Overconfidence and excess entry: an experimental approach. Am Econ Rev 89(1):306-318

Carroll JS, Bazerman MH, Maury R (1988) Negotiator cognitions: a descriptive approach to negotiators' understanding of their opponents. Organ Behav Hum Decis Process 41(3):352-370

Chugh D, Bazerman MH, Banaji MR (2005) Bounded ethicality as a psychological barrier to recognizing conflicts of interest. In: Moore DA, Cain DM, Loewenstein G, Bazerman MH (eds) Conflicts of interest: problems and solutions from law, medicine and organizational settings. Cambridge University Press, London, pp 74-95

Fox CR, Tversky A (1998) A belief-based account of decision under uncertainty. Manage Sci 44(7):879-895

Friedman D (1998) Monty Hall's three doors: construction and deconstruction of a choice anomaly. Am Econ Rev 88(4):933-946

Gilbert DT, Wilson TD (2000) Miswanting: some problems in the forecasting of future affective states. In: Forgas JP (ed) Feeling and thinking: the role of affect in social cognition. Series: Studies in emotion and social interaction. Cambridge University Press, New York, pp 178-197

Gino F, Bazerman MH (2005) Slippery slopes and misconduct: the effect of gradual degradation on the failure to notice unethical behavior. Harvard Business School working paper 06-019

Grosskopf B, Bereby-Meyer Y (2005) Overcoming the winner's curse: an adaptive learning perspective. Working paper

Gruenfeld D, Mannix EA, Williams KY, Neale MA (1996) Group composition and decision making: How member familiarity and information distribution affect process and performance. Organ Behav Hum Decis Process 67:1-15

Johansson P, Hall L, Olsson A, Sikstrom S (2004) From change blindness to choice blindness. In: Paper for the conference toward a science of consciousness conference, April 7-11, Tucson

Mack A (2003) Inattentional blindness: looking without seeing. Curr Dir Psychol Sci 12(5):180-184

Mack A, Rock I (1998) Inattentional blindness. Series: Bradford books series in cognitive psychology. The MIT Press, Cambridge

Massey C, Wu G (2005) Detecting regime shifts. Manage Sci 51(6):932-947

Messick DM, Moore DA, Bazerman MH (1997) Ultimatum bargaining with a group: underestimating the importance of the decision rule. Organ Behav Hum Decis Process 69(2):87-101

Mitroff SR, Simons DJ, Franconeri SL (2002) The siren song of implicit change detection. J Exp Psychol Human Percept Perform 28:798-815

Moore DA (2000) The unexpected benefits of negotiating under time pressure. Unpublished doctoral dissertation, Northwestern University, Evanston

Moore CM, Egeth H (1997) Perception without attention: Evidence of grouping under conditions of inattention. J Exp Psychol Human Percept Perform 23(2):339-352

Moore DA, Kim TG (2003) Myopic social prediction and the solo comparison effect. J Pers Soc Psychol 85(6):1121-1135

Moore DA, Small DA (2004) Error and bias in comparative social judgment: On being both better and worse than we think we are. Tepper working paper 2004-E1, Pittsburgh

Moore DA, Cain DM, Loewenstein G, Bazerman MH (eds) (2005) Conflicts of interest: Challenges and solutions in business, law, medicine, and public policy. Cambridge University Press, New York

Nalebuff B (1987) Puzzles: Choose a curtain, duel-ity, two point conversions, and more. J Econ Perspect 1(1):157-163

Neisser U (1979) The concept of intelligence. Intelligence 3(3):217-227

Samuelson WF, Bazerman MH (1985) Negotiating under the winner's curse. In: Smith V (ed) Research in experimental economics, vol 3. JAI Press, Greenwich CT, pp 105-137

Schkade DA, Kahneman D (1998) Does living in California make people happy? A focusing illusion in judgments of life satisfaction. Psychol Sci 9(5):340-346

Selvin S (1975) Letter to the editor. Am Stat 29:67

Simon HA (1983) Reason in human affairs. Stanford University Press, Stanford CA

Simons DJ (2000) Current approaches to change blindness. Visual Cogn 7(1-3):1-15

Simons DJ, Chabris CF (1999) Gorillas in our midst: Sustained inattentional blindness for dynamic events. Perception 28(9):1059-1074

Simons DJ, Levin D (2003) What makes change blindness interesting? In: Irwin DE Ross BH (eds) The psychology of learning and motivation. Academic, San Diego

Simons DJ, Chabris CF, Schnur T, Levin DT (2002) Evidence for preserved representations in change blindness. Conscious Cogn 11(1):78-97

Stasser G (1988) Computer simulation as a research tool: the DISCUSS model of group decision making. J Exp Soc Psychol 24:393-422

Stasser G, Stewart D (1992) Discovery of hidden profiles by decision-making groups: solving a problem versus making a judgment. J Pers Soc Psychol 63(3):426-434

Stasser G, Titus W (1985) Pooling of unshared information in group decision making: biased information sampling during discussion. J Pers Soc Psychol 48:1467-1478

Tenbrunsel AE, Messick DM (2004) Ethical fading: the role of self deception in unethical behavior. Soc Justice Res 17(2):223-236

Thaler R (2000) From Homo economicus to Homo sapiens. J Econ Perspect 14:133-141

Tor A, Bazerman MH (2003) Focusing failures in competitive environments: explaining decision errors in the Monty Hall game, the Acquiring a Company problem, and multi-party ultimatums. J Behav Decis Making 16(5):353-374

Tversky A, Kahneman D (1974) Judgment under uncertainty: Heuristics and biases. Science 185:1124-1130

Tversky A, Koehler DJ (1994) Support theory: a nonextensional representation of subjective probability. Psychol Rev 101:547-567

Valley KL, Moag JS, Bazerman MH (1998) A matter of trust: effects of communication on the efficiency and distribution of outcomes. J Econ Behav Organ 34:211-238

Vaughn D (1996) The challenger launch decision: risky technology, culture, and deviance at NASA. University of Chicago, Chicago

vos Savant M (1990a) Ask Marilyn. Parade Magazine, September 9

vos Savant M (1990b) Ask Marilyn. Parade Magazine. December 2

vos Savant M (1991) Ask Marilyn. Parade Magazine. February 17

Wilson TD, Wheatley T, Meyers JM, Gilbert DT, Axsom D (2000) Focalism: a source of durability bias in affective forecasting. J Pers Soc Psychol 78(5):821-836
About this article
Cite this article
Chugh, D., Bazerman, M.H. Bounded awareness: what you fail to see can hurt you. Mind & Society 6, 1–18 (2007). https://doi.org/10.1007/s11299-006-0020-4
Received:

Accepted:

Published:

Issue Date:
Keywords
Bounded awareness

Focusing

Focalism

Winner's curse

Bounded rationality

Inattentional blindness

Change blindness