Abstract
Understanding the genetic bases of local adaptation in dominant conifer species is critical in predicting the impacts of rapid climate change on forest ecosystems. However, the genetic basis of adaptation is not yet fully understood due to the huge and complex genomes of conifers and the unavailability to date of suitable crossing material. In this study, we constructed a linkage map for Abies sachalinensis (2n = 24) and investigated quantitative trait loci (QTLs) associated with local adaptation along an altitudinal gradient. A segregating population of 239 seedlings was produced from a cross between two F1 hybrids (high-altitude × low-altitude genotypes). QTL mapping of phenological and growth traits was performed using a pseudo-testcross strategy with linkage maps based on 1251 single-nucleotide polymorphism (SNP) and three simple sequence repeat (SSR) markers. Two maps consisting of 12 linkage groups with an average marker interval of ca. 3 cM were constructed for each parent. The total lengths of the maps were 1861 and 1949 cM. A permutation test identified four significant QTLs and 11 additional suggestive QTLs, with high logarithm of odds (LOD) scores (> 3.0). This is the first highly saturated linkage map produced for Abies taxa. Our results suggest that spring bud phenology is controlled by several QTLs with moderate effects. The use of the mapping population created by crossing two hybrids (high × low altitude genotypes) and numerous SNP markers enabled us to investigate the genetic basis of adaptive traits in conifer species.
Access options
Buy single article
Instant access to the full article PDF.
USD 39.95
Price includes VAT (USA)
Tax calculation will be finalised during checkout.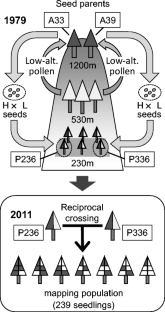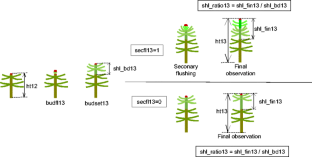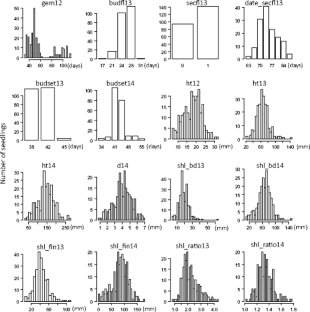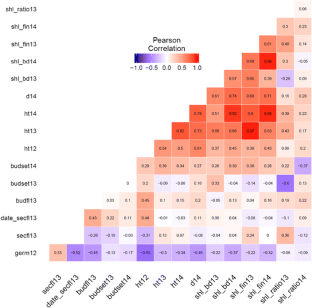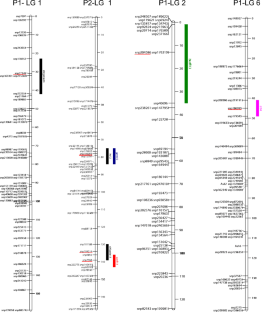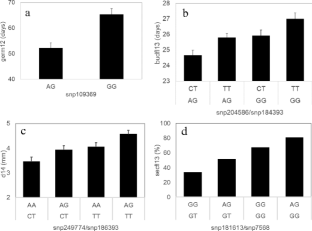 References
Ågren J, Oakley CG, McKay JK, Lovell JT, Schemske DW (2013) Genetic mapping of adaptation reveals fitness tradeoffs in Arabidopsis thaliana. Proc Nat Aca Sci USA 110:21077–21082

Aitken SN, Hannerz (2001) Genecology and gene management strategies for conifer cold hardiness. In: Bigras FJ, Columbo SJ (eds) Conifer cold hardiness. Kluwer, Dordrecht, pp 22–53

Aitken SN, Yeaman S, Holliday JA, Wang T, Curtis-McLane S (2008) Adaptation, migration or extirpation: climate change outcomes for tree populations. Evol Appl 1:95–111

Alberto F, Bouffier L, Louvet J-M, Lamy J-B, Delzon S, Kremer A (2011) Adaptive responses for seed and leaf phenology in natural populations of sessile oak along an altitudinal gradient. J Evol Biol 24:1442–1454

Anekonda TS, Adams WT, Aitken SN (1998) Influence of second flushing on genetic assessment of cold hardiness in coastal Douglas-fir (Pseudotsuga menziesii var. menziesii (Mirb.) Franco). For Ecol Manag 111:119–126

Baird NA, Etter PD, Atwood TS, Currey MC, Shiver AL, Lewis ZA, Selker EU, Cresko WA, Johnson EA (2008) Rapid SNP discovery and genetic mapping using sequenced RAD markers. PLoS One 3:e3376. https://doi.org/10.1371/journal.pone.0003376

Barchi L, Lanteri S, Portis E, Valè G, Volante A, Pulcini L, Ciriaci T, Acciarri N, Barbierato V, Toppino L, Rotino GL (2012) A RAD tag derived marker based eggplant linkage map and the location of QTLs determining anthocyanin pigmentation. PLoS One 7:e43740. https://doi.org/10.1371/journal.pone.0043740

Brachi B, Morris GP, Borevitz JO (2011) Genome-wide association studies in plants: the missing heritability is in the field. Genome Biol 12:232. https://doi.org/10.1186/gb-2011-12-10-232

Broman KW, Wu H, Sen S, Churchill GA (2003) R/qtl: QTL mapping in experimental crosses. Bioinformatics 19:889–890

Campbell RK (1979) Genecology of Douglas-fir in a watershed in the Oregon cascades. Ecology 60:1036–1050

Catchen JM, Amores A, Hohenlohe P, Cresko W, Postlethwait JH (2011) Stacks: building and genotyping loci de novo from short-read sequences. Genes Genomes Genet 1:171–182

Cavanagh C, Morell M, Mackay I, Powell W (2008) From mutations to MAGIC: resources for gene discovery, validation and delivery in crop plants. Curr Opin Plant Biol 11:215–221

de Miguel M, Cabezas J-A, de María N, Sánchez-Gómez D, Guevara M-Á, Vélez M-D, Sáez-Laguna E, Díaz L-M, Mancha J-A, Barbero M-C, Collada C, Díaz-Sala C, Aranda I, Cervera M-T (2014) Genetic control of functional traits related to photosynthesis and water use efficiency in Pinus pinaster Ait. drought response: integration of genome annotation, allele association and QTL detection for candidate gene identification. BMC Genomics 15:464. https://doi.org/10.1186/1471-2164-15-464

Eckert AJ, Bower AD, Wegrzyn JL, Pande B, Jermstad KD, Krutovsky KV, St. Clair JB, Neale DB (2009) Association genetics of coastal Douglas-fir (Pseudotsuga menziesii var. menziesii, Pinaceae). I. Cold-hardiness related traits. Genetics 182:1289–1302

Frewen BE, Chen THH, Howe GT, Davis J, Rohde A, Boerjan W, Bradshaw HD Jr (2000) Quantitative trait loci and candidate gene mapping of bud set and bud flush in Populus. Genetics 154:837–845

González-Martínez SC, Krutovsky KV, Neale DB (2006) Forest-tree population genomics and adaptive evolution. New Phytol 170:227–238

Goto S, Iijima H, Ogawa H, Ohya K (2011) Outbreeding depression caused by intraspecific hybridization between local and non-local genotypes in Abies Sachalinensis. Restor Ecol 19:243–250

Grattapaglia D, Sederoff R (1994) Genetic linkage maps of Eucalyptus grandis and Eucalyptus urophylla using a pseudo-testcross: mapping strategy and RAPD markers. Genetics 137:1121–1137

Haley CS, Knott SA (1992) A simple regression method for mapping quantitative trait loci in line crosses using flanking markers. Heredity 69:315–324

Howe GT, Aitken SN, Neale DB, Jermstad KD, Wheeler NC, Chen THH (2003) From genotype to phenotype: unraveling the complexities of cold adaptation in forest trees. Can J Bot 81:1247–1266

Hurme P, Sillanpää MJ, Arjas E, Repo T, Savolainen O (2000) Genetic basis of climatic adaptation in Scots pine by Bayesian quantitative locus analysis. Genetics 156:1309–1322

Husband BC, Schemske DW (1996) Evolution of the magnitude and timing of inbreeding depression in plants. Evolution 50:54–70

Ishizuka W, Goto S (2012) Modeling intraspecific adaptation of Abies sachalinensis to local altitude and responses to global warming, based on a 36-year reciprocal transplant experiment. Evol Appl 5:229–244

Ishizuka W, Ono K, Hara T, Goto S (2015) Use of intraspecific variation in thermal responses for estimating an elevational cline in the timing of cold hardening in a sub-boreal conifer. Plant Biol 17:177–185

Jermestad KD, Bassoni DL, Jech KS, Wheeler NC, Neale DB (2001) Mapping of quantitative trait loci controlling adaptive traits in coastal Douglas-fir. I. Timing of vegetative bud flush. Theor Appl Genet 102:1142–1151

Jump AS, Peñuelas J (2005) Running to stand still: adaptation and the response of plants to rapid climate change. Ecol Lett 8:1010–1020

Karam M-J, Lefèvre F, Dagher-Kharrat MB, Pinosio S, Vendramin GG (2015) Genomic exploration and molecular marker development in a large and complex conifer genome using RAD-seq and mRNAseq. Mol Ecol Resour 15:601–612

Kawecki TJ, Ebert D (2004) Conceptual issues in local adaptation. Ecol Lett 7:1225–1241

Körner C (2007) The use of 'altitude' in ecological research. Trends Ecol Evol 22:569–574

Kosambi DD (1944) The estimation of map distance from recombination values. Ann Eugenics 12:172–175

Kurahashi A (1995) Growth pattern of the F1 trees derived from reciprocal crosses between low and high elevation populations in Abies sachalinensis. Rep JSPS KAKENHI 04806020:44–49 (in Japanese)

Kurahashi A, Hamaya M (1981) Variation of morphological characters and growth response of Sahalien fir (Abies sachalinensis) in different altitudes. Bull Tokyo Univ For 71:101–151 (in Japanese with English summary)

Lind M, Källman T, Chen J, Ma X-F, Bousquet J, Morgante M, Zaina G, Karlsson B, Elfstrand M, Lascoux M, Stenlid J (2014) A Picea abies linkage map based on SNP markers identifies QTLs for four aspects of resistance to Heterobasidion parviporum infection. PLoS One 9:e101049. https://doi.org/10.1371/journal.pone.0101049

Meteorology division, Fundamental data development committee, The University of Tokyo Forests (2015) Annual report of meteorological observations in the University of Tokyo Forests, The University of Tokyo (Jan.2013-Dec.2013). Micel Info Univ Tokyo For 57:319–342

Meteorology division, Fundamental data development committee, The University of Tokyo Forests (2016) Annual report of meteorological observations in the University of Tokyo Forests, The University of Tokyo (Jan.2014-Dec.2014). Micel Info Univ Tokyo For 58:239–259

Neale DB, Savolainen O (2004) Association genetics of complex traits in conifers. Trends Plant Sci 9:325–330

Oleksyn J, Modrzynski J, Tjoelker MG, Zytkowiak R, Reich PB, Karolewski P (1998) Growth and physiology of Picea abies populations from elevational transects: common garden evidence for altitudinal ecotypes and cold adaptation. Funct Ecol 12:573–590

Pelgas B, Bousquet J, Meirmans PG, Ritland K, Isabel N (2011) QTL mapping in white spruce: gene maps and genomic regions underlying adaptive traits across pedigrees, years and environments. BMC Genomics 12:145. https://doi.org/10.1186/1471-2164-12-145

R Core Team (2014) R: A language and environment for statistical computing. R Foundation for Statistical Computing, Vienna, Austria. URL http://www.R-project.org/

Rehfeldt GE, Tchebakova NM, Parfenova YI, Wykoff WR, Kuzmina NA, Milyutin LI (2002) Intraspecific responses to climate in Pinus sylvestris. Glob Chang Biol 8:912–929

Roschanski AM, Csilléry K, Liepelt S, Oddou-Muratorio S, Ziegenhagen B, Huard F, Ullrich KK, Postolache D, Vendramin GG, Fady B (2016) Evidence of divergent selection for drought and cold tolerance at landscape and local scales in Abies alba Mill. in the French Mediterranean Alps. Mol Ecol 25:776–794

Sakaguchi S, Sugino T, Tsumura Y, Ito M, Crisp MD, Bowman DMJS, Nagano AJ, Honjo MN, Yasugi M, Kudoh H, Matsuki Y, Suyama Y, Isagi Y (2015) High-throughput linkage mapping of Australian white cypress pine (Callitris glaucophylla) and map transferability to related species. Tree Genet Genomes 11:121. https://doi.org/10.1007/s11295-015-0944-0

Schermann N, Adams WT, Aitken SN, Bastien J-C (1997) Genetic parameters of stem form traits in a 9-year-old coastal Douglas-fir progeny test in Washington. Silvae Genet 46:166–170

Sun R, Chang Y, Yang F, Wang Y, Li H, Zhao Y, Chen D, Wu T, Zhang X, Han Z (2015) A dense SNP genetic map constructed using restriction site-associated DNA sequencing enables detection of QTLs controlling apple fruit quality. PLoS One 16:747. https://doi.org/10.1186/s12864-015-1946-x

Van Ooijen J (2006) JoinMap 4. Software for the calculation of genetic linkage maps in experimental populations. Kyazma BV, Wageningen

Voorrips RE (2002) MapChart: software for the graphical presentation of linkage maps and QTLs. J Hered 93:77–78

Yamazaki T (1995) Pinaceae. In: Iwatsuki K, Yamazaki T, Boufford DE, Ohba H (eds) Flora of Japan. Ι. Pteriodophyta and Gymnospermae. Kodansha, Tokyo, pp 266–277

Yu J, Pressoir G, Briggs WH, Bi IV, Yamasaki M, Doebley JF, McMullen MD, Gaut BS, Nielsen DM, Holland JB, Kresovich S, Buckler ES (2006) A unified mixed-model method for association mapping that accounts for multiple levels of relatedness. Nature Genet 38:203–208
Acknowledgements
The authors thank A. Kurahashi for establishing the hybrid (high-altitude × low-altitude genotypes) parents of the mapping population used in this study. We also thank Y. Takashima, N. Kimura, S. Fukuoka, Y. Ando, Y, Nakatsubo, Y, Sato, K. Uchishiba, K. Okamura, and A. Takazawa for technical assistance. We thank S. Sakaguchi and S. Yabe for making suggestions about the experimental approach. We thank two anonymous reviewers and the associated editor for helpful suggestions to the early version of the manuscript. This work was supported by grants from JSPS KAKENHI, Grant Numbers 25292081 and 16H02554.
Data Archiving Statement
The nucleotide sequence data obtained in this study are archived in the DDBJ.
Ethics declarations
Conflict of interest
The authors declare that they have no conflict of interest.
Additional information
Communicated by F. Gugerli
Electronic supplementary material
The P1 and P2 Abies sachalinensis linkage maps used in this study. The linkage maps obtained consisted of 12 linkage groups. The total lengths of the linkage groups making up the P1 and the P2 map were 1861.4 and 1948.9 cM, respectively. The number of markers and the average distance between markers was 632 and 3.1 cM for the P1 map and 625 and 3.3 cM for the P2 map (Table 2). (PDF 31 kb)
About this article
Cite this article
Goto, S., Kajiya-Kanegae, H., Ishizuka, W. et al. Genetic mapping of local adaptation along the altitudinal gradient in Abies sachalinensis . Tree Genetics & Genomes 13, 104 (2017). https://doi.org/10.1007/s11295-017-1191-3
Received:

Revised:

Accepted:

Published:
Keywords
Adaptive traits

Altitudinal gradient

Linkage map

Phenology

QTL

RAD-seq