Abstract
Pear is one of the most important temperate fruits, with high genetic diversity, but controversial classification for some genotypes or species. Our study evaluates the polymorphism of 385 pear resources belonging to five cultivated species or interspecies of Pyrus, based on a set of 134 core simple sequence repeat (SSR) markers. A total of 690 variant alleles were detected, from 2 to 12 per locus, with an average of 5.45, as well as 30 rare alleles. The clustering relationship divided the pear genotypes into three groups, with the primary division between occidental and oriental pears, revealing separate evolution processes, followed by division of Pyrus ussuriensis, Pyrus pyrifolia, and Pyrus bretschneideri. Population structure analysis with K values of 2 to 8 reflected a clear genetic composition within different genotypes, supporting Pyrus sinkiangensis as a hybrid of oriental and occidental pears and P. pyrifolia and P. bretschneideri sharing a common ancestor. However, the division of genetic components also revealed separate evolution at the different geographic and environmental conditions of South China and North China. The varieties "Pingguoli" and "Chaoxianyangli," which currently have controversial classification, were classified into P. bretschneideri and Pyrus communis, respectively. A core collection of 88 accessions was chosen, covering all of the rare alleles and 95.54 % of all alleles. The high-quality and comprehensive evaluation of a wide range of pear cultivars by core SSR markers covering the whole genome demonstrated their excellent application for the study of genetic diversity, genetic relationships, and building a core collection for pear.
This is a preview of subscription content, log in to check access.
Access options
Buy single article
Instant access to the full article PDF.
US$ 39.95
Price includes VAT for USA
Subscribe to journal
Immediate online access to all issues from 2019. Subscription will auto renew annually.
US$ 99
This is the net price. Taxes to be calculated in checkout.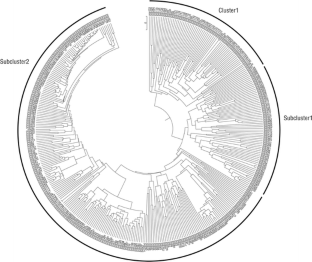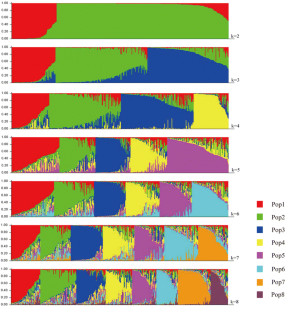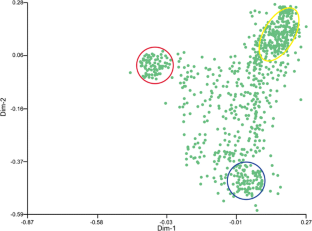 References
Ahmed N, Mir JI, Mir RR, Rather NA, Rashid R, Wani SH, Shafi W, Mir H, Sheikh MA (2012) SSR and RAPD analysis of genetic diversity in walnut (Juglans regia L.) genotypes from Jammu and Kashmir, India. Physiol and Mol Biol of Plants 18(2):149–160

Antao T, Lopes A, Lopes RJ, Beja-Pereira A, Luikart G (2008) LOSITAN: a workbench to detect molecular adaptation based on a F ST -outlier method. BMC bioinformatics 9(1):323

Bailey LH (1919) The standard cyclopedia of horticulture. Macmillan

Bao L, Chen K, Zhang D, Cao Y, Yamamoto T, Teng Y (2007) Genetic diversity and similarity of pear (Pyrus L.) cultivars native to East Asia revealed by SSR (simple sequence repeat) markers. Genet Resour and Crop Evol 54(5):959–971

Bao L, Chen K, Zhang D, Li X, Teng Y (2008) An assessment of genetic variability and relationships within Asian pears based on AFLP (amplified fragment length polymorphism) markers. Sci Hortic 116(4):374–380

Bassam BJ, Caetano-Anollés G, Gresshoff PM (1991) Fast and sensitive silver staining of DNA in polyacrylamide gels. Anal Biochem 196(1):80–83

Bolibok-Brągoszewska H, Targońska M, Bolibok L, Kilian A, Rakoczy-Trojanowska M (2014) Genome-wide characterization of genetic diversity and population structure in Secale. BMC Plant Biol 14(1):184

Cao L, Qu B (2006) Study on the classification of four pear varieties by peroxidase isoenzyme. Hubei Agricultural Sciences 45(1):89–91 (in Chinese)

Cao Y, Tian L, Gao Y, Yang J (2011) Evaluation of genetic identity and variation in cultivars of Pyrus pyrifolia (Burm.f.) Nakai from China using microsatellite markers. J HorticScienc & Biotechnol 86(4):331–336

Castillo C, Takasaki T, Saito T, Yoshimura Y, Norioka S, Nakanishi T (2001) Reconsideration of S-genotype assignments, and discovery of a new allele based on S-RNase PCR-RFLPs in Japanese pear cultivars. Breed Sci 51(1):5–11

Challice JS, Westwood MN (1973) Numerical taxonomic studies of the genus Pyrus using both chemical and botanical characters. Bot J Linn Soc 67:121–148

Chen H, Song Y, Li L, Khan MA, Li X, Schuyler S, Korban SS, Wu J, Zhang S (2014) Construction of a high-density simple sequence repeat consensus genetic map for pear (Pyrus spp.). Plant Mol Biol Report 33:316–325

Chen S, Xia T, Chen S, Zhou Y (2005) RAPD profiling in detecting genetic variation in endemic Coelonema (Brassicaceae) of Qinghai-Tibet Plateau of China. Biochem Genet 43(3-4):189–201

Costa F, Peace CP, Stella S, Serra S, Musacchi S, Bazzani M, Sansavini S, de Weg WEV (2010) QTL dynamics for fruit firmness and softening around an ethylene-dependent polygalacturonase gene in apple (Malus × domestica Borkh.). J Exp Bot 61(11):3029–3039

de Jesus ON, Silva SO e, Amorim EP, Ferreira CF, de Campos JMS, de Gaspari Silva G, Figueira A (2013) Genetic diversity and population structure of Musa accessions in ex situ conservation. BMC Plant Biol 13(1):41

Dong D, Fu X, Yuan F, Chen P, Zhu S, Li B, Yang Q, Yu X, Zhu D (2014) Genetic diversity and population structure of vegetable soybean (Glycine max (L.) Merr.) in China as revealed by SSR markers. Genet Resour Crop Evol 61(1):173–183

Emanuelli F, Lorenzi S, Grzeskowiak L, Catalano V, Stefanini M, Troggio M, Myles S, Martinez-Zapater JM, Zyprian E, Moreira FM, Grando SM (2013) Genetic diversity and population structure assessed by SSR and SNP markers in a large germplasm collection of grape. BMC Plant Biol 13(1):39

Erfani J, Ebadi A, Abdollahi H, Fatahi R (2012) Genetic diversity of some pear cultivars and genotypes using simple sequence repeat (SSR) markers. Plant Molecular Biology Reporter 30(5):1065–1072

Fan L, Zhang M, Liu Q, Li L, Song Y, Wang L, Zhang S, Wu J (2013) Transferability of newly developed pear SSR markers to other Rosaceae species. Plant Mol Biol Reporte 31(6):1271–1282

Fernandez-Fernandez F, Harvey NG., James, CM (2006) Isolation and characterization of polymorphic microsatellite markers from European pear (Pyrus communis L.). Molecular Ecology Notes 1039–1041

Frankel OH (1984) Genetic perspectives of germplasm conservation. Genetic manipulation: impact on man and society. Cambridge University Press, Cambridge, 161-170

Hamrick JL, Godt MJW, Sherman-Broyles SL (1992) Factors influencing levels of genetic diversity in woody plant species. Population genetics of forest trees. Springer, Netherlands, 95-124

Hao C, Wang L, Ge H, Dong Y, Zhang X (2011) Genetic diversity and linkage disequilibrium in Chinese bread wheat (Triticum aestivum L.) revealed by SSR markers. PLoS One 6(2), e17279

Hokanson SC, Lamboy WF, Szewc-McFadden AK, McFerson JR (2001) Microsatellite (SSR) variation in a collection of Malus (apple) species and hybrids. Euphytica 118(3):281–294

Huang L, Zhang X, Xie W, Zhang J, Cheng L, Yan H (2012) Molecular diversity and population structure of the forage grass Hemarthria compressa (Poaceae) in south China based on SRAP markers. Genet Mol Res 11:2441–2450

Hubisz MJ, Falush D, Stephens M, Pritchard JK (2009) Inferring weak population structure with the assistance of sample group information. Mol Ecol Resour 9:1322–1332

Iketani H, Yamamoto T, Katayama H, Uematsu C, Mase N, Ssto Y (2010) Introgression between native and prehistorically naturalized (archaeophytic) wild pear (Pyrus spp.) populations in Northern Tohoku, Northeast Japan. Conserv Genet 11(1):115–126

Iketani H, Katayama H, Uematsu C, Mase N, Sato Y, Yamamoto T (2012) Genetic structure of East Asian cultivated pears (Pyrus spp.) and their reclassification in accordance with the nomenclature of cultivated plants. Plant Syst Evol 298(9):1689–1700

Khan M, Han Y, Zhao Y, Korban S (2012) A high-throughput apple SNP genotyping platform using the GoldenGate™ assay. Gene 494(2):196–201

Kim HT, Hirata Y, Nou IS (2002) Determination of S-genotypes of pear (Pyrus pyrifolia) cultivars by S-RNase sequencing and PCR-RFLP analyses. Mol Cells 13(3):444–451

Kim KW, Chung HK, Cho GT, Ma KH, Chandrabalan D, Gwag JG, Kim TS, Cho EG, Park YJ (2007) PowerCore: a program applying the advanced M strategy with a heuristic search for establishing core sets. Bioinformatics 23(16):2155–2162

Kimura T, Shi YZ, Shoda M, Shoda M, Kotobuki K, Matsuta N, Hayashi T, Ban Y, Yamamoto T (2002) Identification of Asian pear varieties by SSR analysis. Breed Sci 52(2):115–121

Lin B, Shen D (1983) Studies on the germplasmic characteristic of Pyrus by use of isozymic patterns. Acta Agriculturae Universities Zhejiangensis 9(3):235–242 (in Chinese)

Liu J, Zheng X, Potter D, Hu C, Teng Y (2012) Genetic diversity and population structure of Pyrus calleryana (Rosaceae) in Zhejiang province, China. Biochem Syst Ecol 45:69–78

Liu Q, Song Y, Li J, Zhang M, Qi K, Zhang S, Wu J (2015) Analysis of genetic diversity of European pear (Pyrus communis L.) cultivars using core simple sequence repeat (SSR) markers. J Agric Bio 23(5):579–587 (in Chinese)

Lu J, Wu J, Zhang S, Wu H, Zhang Y (2011) Genetic diversity and polygentic relationship among pears revealed by SSR markers. Journal of Nanjing Agriculture University 34(2):38–46

Marshall DR, Brown AHD (1975) Optimum sampling strategies in genetic conservation. Crop genetic resources for today and tomorrow. 53-80

Monte-Corvo L, Goulao L, Oliveira C (2000) Discrimination of pear cultivars with RAPD, AFLPTM and ISSR. VIII International Symposium on Pear 596:187–191

Nirgude M, Babu BK, Shambhavi Y, Singh UM, Upadhyaya HD, Kumar A (2014) Development and molecular characterization of genic molecular markers for grain protein and calcium content in finger millet (Eleusine coracana (L.) Gaertn.). Mol Biol Rep 41(3):1189–1200

Oliveira CM, Mota M, Monte-Corvo L, Goulao L, Silva DM (1999) Molecular typing of Pyrus based on RAPD markers. Sci Hortic 79:163–174

Pan Z, Kawabata S, Sugiyama N, Sakiyama R, Cao Y (2001) Genetic diversity of cultivated resources of pear in north China. International Symposium on Asian Pears, Commemorating the 100th Anniversary of Nijisseiki Pear 587: 187-194

Pluess AR, Stöcklin J (2004) Population genetic diversity of the clonal plant Geum reptans (Rosaceae) in the Swiss Alps. Am J Bot 91(12):2013–2021

Pritchard JK, Stephens M, Donnelly P (2000) Inference of population structure using multilocus genotype data. Genetics 155:945–959

Pu F (1988) Pear germplasm resource and its research. China fruit. (2):42-46 (in Chinese)

Pu F and Wang Y (1963) China fruit flora, vol. III (pear). Shanghai Scientific and Technical, Shanghai (in Chinese)

Qu B, Jin X, Chen Y, Liu H, Wang P (2001) RAPD analysis of germplasm resources in Pyrus. Acta Horticulturae Sinica 28(5):460–462

Rana JC, Chahota RK, Sharma V, Rana M, Verma N, Verma B, Sharma TR (2015) Genetic diversity and structure of Pyrus accessions of Indian Himalayan region based on morphological and SSR markers. Tree Genetics & Genomes 11(1):1–14

Rehder A (1940) Manual of cultivated trees and shrubs. 2nd. New York: Macmillan

Rohlf FJ (1998) NTSYS-pc version 2.0. Numerical taxonomy and multivariate analysis system. Exeter software, Setauket, New York

Rubtsov GA (1944) Geographical distribution of the genus Pyrus and trends and factors in its evolution. Amer, Naturalist 78:358–366

Saleh B (2013) Genetic diversity in Ficus sycomorus L. species (Moraceae) using RAPD and IRAP markers. Agriculture 59(3):120–130

Shen D, Bo W, Xu F, Wu R (2014) Genetic diversity and population structure of the Tibetan poplar (Populus szechuanica var. tibetica) along an altitude gradient. BMC Genet 15(Suppl 1):S11

Song Y, Fan L, Chen H, Zhang M, Ma Q, Zhang S, Wu J (2014) Identifying genetic diversity and a preliminary core collection of Pyrus pyrifolia cultivars by a genome-wide set of SSR markers. Sci Hortic 167:5–16

Sosinski B, Gannavarapu M, Hager LD, Beck LE, King GJ, Ryder CD, Rajapakse S, Baird WV, Ballard RE, Abbott AG (2000) Characterization of microsatellite markers in peach [Prunus persica (L.) Batsch]. Theor Appl Genet 101(3):421–428

Sun J, Yin H, Li L, Song Y, Fan L, Zhang S, Wu J (2015) Evaluation of new IRAP markers of pear and their potential application in differentiating bud sports and other Rosaceae species. Tree Genetics & Genomes 11(2):1–13

Takasaki T, Okada K, Castillo C, Moriya Y, Saito T, Sawamura Y, Norioka N, Norioka S, Nakanishi T (2004) Sequence of the S 9-RNase cDNA and PCR-RFLP system for discriminating S 1- to S 9-allele in Japanese pear. Euphytica 135(2):157–167

Tamura K, Dudley J, Nei M, Kumar S (2007) MEGA4: Molecular Evolutionary Genetics Analysis (MEGA) software version 4.0. Mol Biol Evol 24(8):1596–1599

Teng Y, Kenji T, Fumio T, Akihiro I (2002) Genetic relationships of Pyrus species and cultivars native to East Asia revealed by randomly amplified polymorphic DNA markers. J A MER Soc Hort Sci 127(2):262–270

Teng Y, Tanabe K, Tamura F, ITAI A (2001) Genetic relationships of pear cultivars in Xinjiang, China, as measured by RAPD markers. J Hortic Sci Biotechnol 76(6):771–779

Terakami S, Kimura T, Nishitani C, Sawamura Y, Saito T, Hirabayashi T, Yamamoto T (2009) Genetic linkage map of the Japanese pear 'Housui' identifying three homozygous genomic regions. Journal of the Japanese Society for Horticultural Science 78:417–424

Tian L, Gao Y, Cao Y, Liu F, Yang J (2012) Identification of Chinese white pear cultivars using SSR markers. Genet Resour Crop Evol 59(3):317–326

Vavilov NI (1951) The origin, variation, immunity and breeding of cultivated plants. Soil Sci 72(6):482

Westwood MN, Challice JS (1978) Morphology and surface topography of pollen and anthers of Pyrus species. J Amer Soc Hort Sci 103:28–37

Wu J, Li LT, Li M, Khan MA, Li X, Chen H, Yin H, Zhang S (2014) High-density genetic linkage map construction and identification of fruit-related QTLs in pear using SNP and SSR markers. Journal of Experimental Botany Eru 311

Xu A, Zhu L, Jia B, Heng W, Ye Z (2011) Primarily identification of pear variants and analysis of their genetic relationship by SRAP markers. Journal of Anhui Agricultural University 3:031

Yamamoto T, Kimura T, Sawamura Y, Kotobuki K, Ban Y, Hayashi T, Matsuta N (2001) SSRs isolated from apple can identify polymorphism and genetic diversity in pear. Theor APPl Genet 102:865–870

Yamamoto T, Kimura T, Sawamura Y, Manabe T, Kotobuki K, Hayashi T, Ban Y, Matsuta N (2002) Simple sequence repeats for genetic analysis in pear. Euphytica 124(1):129–137

Yan M, Guang C, Pan X, Ma H, Li W (2008) A method suitable for extracting genomic DNA from animal and plant modified CTAB method. Agricultural Science &Technology 9(2):39–41

Yeh FC, Yang RC, Boyle TBJ, Ye ZH, Mao JX (1997) POPGENE, the user-friendly shareware for population genetic analysis. Molecular Biology and Biotechnology Centre, University of Alberta, Canada, 10

Yue X, Liu G, Zong Y, Teng Y, Cai D (2014) Development of genic SSR markers from transcriptome sequencing of pear buds. J Zhejiang Univ Sci B 15(4):303–312

Zhang D, Shu Q, Teng Y, Chou M, Bao L, Hu H (2007) Simple sequence repeat analysis on genetic assessment of Chinese red skinned sand pear cultivars. Acta Horticulturae Sinica 34(1):47–52 (in Chinese)

Zhang M, Fan L, Liu Q, Song Y, Wei S, Zhang S, Wu J (2014) A novel set of EST-derived SSR markers for pear and cross-species transferability in Rosaceae. Plant Mol Biol Report 32(1):290–302

Zhang P, Li J, Li X, Liu X, Zhao X, Lu Y (2011) Population structure and genetic diversity in a rice core collection (Oryza sativa L.) investigated with SSR markers. PLoS One 6(12), e27565

Zheng X, Cai D, Potter D, Postman J, Liu J, Teng Y (2014) Phylogeny and evolutionary histories of Pyrus L. revealed by phylogenetic trees and networks based on data from multiple DNA sequences. Mol Phylogenet Evol 80:54–65

Zhou H, Liao J, Xia Y, Teng Y (2013) Determination of genetic relationships between evergreen azalea cultivars in China using AFLP markers. Journal of Zhejiang University Science B 14(4):299–308 (in Chinese)

Zong Y, Sun P, Liu J, Yue X, Li K, Teng Y (2014) Genetic diversity and population structure of seedling populations of Pyrus pashia. Plant Mol Biol Report 32(3):644–651
Acknowledgments
The work was financially supported by the Earmarked Fund for China Agriculture Research System (CARS-29), the Science Foundation for Distinguished Young Scientists in Jiangsu Province (BK20150025), the Ministry of Education Program for New Century Excellent Talents in University (NCET-13-0864), and the Six Talent Peaks Project in Jiangsu Province (2014-NY-025)
Ethics declarations
Data archiving statement
The authors declare that all the work described in this manuscript followed the standard Tree Genetics and Genomes policy. All the primers used were in accordance with the article of Song et al. (2014).
Additional information
This article is part of the Topical Collection on Germplasm Diversity
Communicated by D. Chagné
About this article
Cite this article
Liu, Q., Song, Y., Liu, L. et al. Genetic diversity and population structure of pear (Pyrus spp.) collections revealed by a set of core genome-wide SSR markers. Tree Genetics & Genomes 11, 128 (2015). https://doi.org/10.1007/s11295-015-0953-z
Received:

Revised:

Accepted:

Published:
Keywords
Pear (Pyrus spp.)

Core SSR markers

Genetic diversity

Genetic structure

Core collection