Abstract
To extend the harvesting period of high quality seedless fruits in citrus variety breeding programs, 20 traits related to vegetative growth (2), sexual reproduction (5), and fruit quality (13) were genetically studied in a segregating population of hybrids derived from a reciprocal cross between two commercial varieties, Fortune (a Citrus clementina hybrid) and Chandler (a Citrus grandis hybrid) that largely differ in fruit size, taste, color, and harvesting date. Juice and fruit colors and tritable acidity showed a highly significant cytoplasm x harvest interaction where Fortune cytoplasm was associated with higher means of those parameters for the first and second harvests only. Type of cytoplasm was also associated with fruit seeds content and heterostyly of flowers. Very few hybrids (11.3 %) were self-compatible, and less than one fourth of the progeny showed parthenocarpic ability. Two Quantitative Trait Loci (QTLs) governing flower heterostyly and self-compatibility were found linked in group 3 of C. clementina where segregation distortion had been previously reported. Only two major QTLs were consistently detected for fruit quality traits, one in the C. clementina map contributing up to 21.3 % to rind thickness and another in the C. grandis map contributing up to 59.7 % to tritable acidity at the optimal maturing harvest. Unexpectedly, soluble-solids content and seed number of the fruit were positively and consistently correlated in the progeny what could be explained by linkage of some QTLs involved. Present information on the positions of 68 QTLs detected will be useful to search for candidate genes at the peak regions.
Access options
Buy single article
Instant access to the full article PDF.
US$ 39.95
Tax calculation will be finalised during checkout.
Subscribe to journal
Immediate online access to all issues from 2019. Subscription will auto renew annually.
US$ 79
Tax calculation will be finalised during checkout.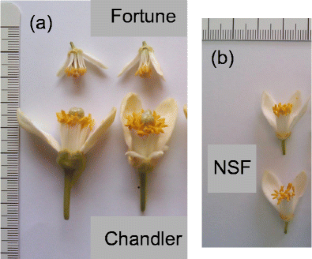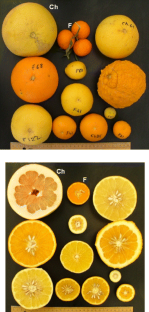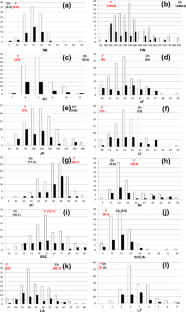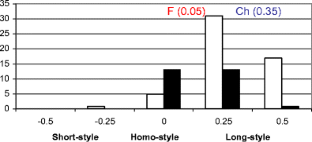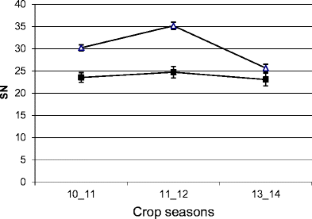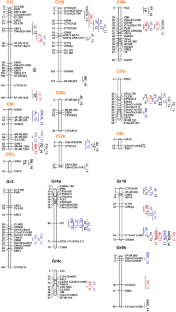 References
Aleza P, Juarez J, Hernandez M, Ollitrault P, Navarro L (2012) Implementation of extensive citrus triploid breeding programs based on 4x x 2x sexual hybridisations. Tree Genet Genomes 8:1293–1306

Asins MJ (2002) Present and future of QTL analysis in plant breeding. Plant Breed 121:281–291

Asins MJ, Juarez J, Pina JA, Puchades J, Carbonell EA, Navarro L (2002) Nulessín, una Nueva Clementina. Levante Agríc 359:36–40

Asins MJ, Fernández-Ribacoba J, Bernet GP, Gadea J, Cambra M, Gorris MT, Carbonell EA (2012) The position of the major QTL for citrus tristeza virus resistance is conserved among citrus grandis, C. Aurantium and poncirus trifoliata. Mol Breed 29:575–587

Bastianel M, Cristofani-Yaly M, de Oliveira AC, Freitas-Astua J, Garcia AAF, de Resende MDV, Rodrigues V, Machado MA (2009) Quantitative trait loci analysis of citrus leprosis resistance in an interspecific backcross family of (citrus reticulata Blanco x C. Sinensis L. Osbeck) x C. Sinensis L. Osb. Euphytica 169:101–111

Bernet GP, Margaix C, Jacas J, Carbonell EA, Asins MJ (2005) Genetic analysis of citrus leafminer susceptibility. Theor Appl Genet 110:1393–1400

Bernet GP, Fernandez-Ribacoba J, Carbonell EA, Asins MJ (2010) Comparative genome-wide segregation analysis and map construction using a reciprocal cross design to facilitate citrus germplasm utilization. Mol Breed 25:659–673

Cameron JW, Soost RK (1977) Acidity and total soluble solids in citrus hybrids and advanced crosses involving acidless orange and acidless pummelo. J Am Soc Hortic Sci 102:198–201

Canel C, Bailey-Serres JN, Roose ML (1995) In vitro [14C] citrate uptake by tonoplast vesicles of acidless citrus juice cells. J Am Soc Hortic Sci 120:510–514

Chen CX, Cancalon P, Haun C, Gmitter F (2011) Characterization of furanocoumarin profile and inheritance toward selection of low furanocoumarin seedless grapefruit cultivars. J Am Soc Hortic Sci 136:358–363

Cuenca J, Aleza P, Vicent A, Brunel D, Ollitrault P, Navarro L (2013) Genetically based location from triploid populations and gene ontology of a 3.3-Mb genome region linked to Alternaria brown spot resistance in citrus reveal clusters of resistance genes. PLoS ONE 8(10):e767553

Distefano G, Caruso M, La Malfa S, Gentile A, Tribulato E (2009) Histological and molecular analysis of pollen-pistil interaction in Clementine. Plant Cell Rep 28:1439–1451

Fang DQ, Federici CT, Roose ML (1997) Development of molecular markers linked to a gene controlling fruit acidity in citrus. Genome 40:841–849

FAOSTAT (2015) Food and Agriculture Organization of the United Nations, Statistics Division. http://faostat3.fao.org/download/Q/QC/E

Garcia MR, Asins MJ, Carbonell EA (2000) QTL analysis of yield and seed number in citrus. Theor Appl Genet 101:487–493

Goldenberg L, Yaniv Y, Kaplunov T, Doron-Faigenboim A, Porat R, Carmi N (2014) Genetic diversity among mandarins in fruit-quality traits. J Agric Food Chem 62:4938–4946

Grattapaglia D, Sederoff RR (1994) Genetic linkage maps of eucaliptus grandis and E. Urophylla using a pseudo-testcross mapping strategy and RAPD markers. Genetics 137:1121–1137

Gulsen O, Uzun A, Pala H, Canihos E, Kafa G (2007) Development of seedless and Mal secco resistant mutant lemons through budwood irradiation. Sci Hortic 112:184–190

Herrero R, Asins MJ, Carbonell EA, Navarro L (1996) Genetic diversity in the orange subfamily aurantioideae. II. Genetic relationships among genera and species. Theor Appl Genet 93:1327–1334

Hildebrand F (1866) Über den trimorphismus in der gattung Oxalis. Monatsberichte der Könichliche Preussische Akademic der Wissenschaften zu Berlin 1866:352–374

Iwamasa M (1966) Studies on the sterility in genus citrus with special reference to seedlessness. Bul Hort Res Sta Jpn Min Agric For Ser B6:1–77

Mesejo C, Martínez-Fuentes A, Reig C, Rivas F, Agusti M (2005) The inhibitory effect of CuSO4 on pollen germination and pollen tube growth and its application for the production of seedless fruit. Plant Sci 170:37–43

Nicolosi E, Deng ZN, Gentile A, La Malfa S, Continella G, Tribulato E (2000) Citrus phylogeny and genetic origin of important species as investigated by molecular markers. Theor Appl Genet 100:1155–1166

Pons J, Pastor J, Polls M, Reverter AJ (1995) Polinización cruzada en cítricos. II. Efecto del viento. Levante Agríc 333:326–329

Pons J, Pastor J, Polls M, Reverter AJ (1996) Polinización cruzada en cítricos. III. Polinización entomófila. Efecto de repelentes. Levante Agríc 337:291–295

Raga V, Bernet GP, Carbonell EA, Asins MJ (2012) Segregation and linkage analyses in two complex populations derived from the citrus rootstock Cleopatra mandarin. Inheritance of seed reproductive traits. Tree Genetics and Genomes 8:1061–1071

Rambla J, Gonzalez-Mas MC, Pons C, Bernet G, Asins MJ, Granell A (2014) Fruit volatile profiles of two citrus hybrids are dramatically different from their parents. J Agric Food Chem 62:11312–11322

Sahin-Çevik M, Moore GA (2012) Quantitative trait loci analysis of morphological traits in citrus. Plant Biotechnol Rep 6:47–57

Sugiyama A, Omura M, Matsumoto H, Shimada T, Fujii H, Endo T, Shimizu T, Nesumi H, Ikoma Y (2011) Quantitative trait loci (QTL) analysis of carotenoid content in citrus fruit. J Jpn Soc Hortic Sci 80:136–144

Sykes SR (2008) Segregation in an 'Imperial' mandarin X 'Ellendale' tangor family for characteristics that contribute to the seedless phenotype. J Hortic Sci Biotechnol 83:719–724

Van Ooijen JW (2009) MapQTL 6. Software for the mapping of quantitative trait loci in experimental populations of diploid species. Kyazma BV: Wageningen, Netherlands

Vardi A, Neumann H, Frydman-Shani A, Yaniv Y, Spiegel-Roy P (2000) Tentative model on the inheritance of juvenility, self-incompatibility and parthenocarpy. Acta Horticult 535:199–205

Vardi A, Levin I, Carmi N (2008) Induction of seedlessness in citrus: from classical techniques to emerging biotechnological approaches. J Am Soc Hortic Sci 133:117–126

Yamamoto M, Okudai N, Matsumoto R (1992) Segregation for aborted anthers in hybrid seedlings using citrus nobilis x C. Deliciosa cv. "encore" as the seed parent. J Jpn Soc Hortic Sci 60:785–789

Yamamoto M, Kobayashi S, Nakamura Y, Yamada Y (1993) Phylogenic relationships of citrus revealed by RFLP analysis of mitochondrial and chloroplast DNA. Ikushugaku Zasshi 43:355–365

Yamamoto M, Matsumoto R, Okudai N, Yamada Y (1997) Aborted anthers of citrus result from gene-cytoplasmic male sterility. Sci Hortic 70:9–14b

Yoshida T, Kawase K, Nesumi H (1999) Inheritance of thornlessness in trifoliate orange [poncirus trifoliata (L.) Raf.]. J Jpn Soc Hortic Sci 68:1104–1110

Zhang S, Ding F, He X, Luo C, Huang G, Hu Y (2015) Characterization of the "xiangshui" lemon transcriptome by de novo assembly to discover genes associated with self-incompatibility. Mol Genet Genomics 290:365–375

Zheng BB, Wu XM, Ge XX, Deng XX, Grosser JW, Guo WW (2012) Comparative transcript profiling of a male sterile cybrid pummelo and its fertile type revealed altered gene expression related to flower development. PloS ONE 7:e43758

Zheng QM, Tang Z, Xu Q, Deng XX (2014) Isolation, phylogenetic relationship and expression profiling of sugar transporter genes in sweet orange (Citrus sinensis) plant cell tissue and organ. Culture 119:609–624
Acknowledgments
This long-lasting work has been partially supported by grants AGL2002-02395, RTA2006-0009-00-00, AGL2008-00197/AGR, RTA2011-00132-C02 from the Spanish Goverment (Ministerio de Economia y Competitividad), GVPRE/2008/050 from Generalitat Valenciana and Fondo Social Europeo (GPB). Authors thank Mr. J. Puchades, Dr. Alida Ballester and Mrs Débora Millán for the technical assistance.
Additional information
Data archiving statement
The SSR primer sequences are available upon request from http://www.ivia.es/deps/biot/labgen/request.html. The genetic linkage maps have been submitted to the Citrus Genome Database (https://www.citrusgenomedb.org/). The parents of the progeny are kept at the Citrus Germplasm Bank and the accession references are as follows: IVIA-80 (Fortune) and IVIA-207 (Chandler).
This article is part of the Topical Collection on Breeding
Communicated by C. Chen
Electronic supplementary material
Below is the link to the electronic supplementary material.
Trait means used for correlation and QTL analyses: seed number (SN), fruit weight (FW), rind thickness (RT), fruit diameter (FD), fruit color (cF), juice volume (JV), juice color (cJ), juice content (JC), acidity (Ac), soluble solids content (SSC), index of maturation (SSC/A), optimal-maturity harvest date (HM), number of harvests maintaining maturity (NH), leaf area (LA), length of thorns (LT), heterostyly (H), self-compatibility (SC), parthenocarpy (Pa), incidence of non-style flowers (NSF) and mean seed number under open-pollination (SNop) during the evaluation of self-compatibility and parthernocarpy abilities (PDF 44 kb)
Significant (p < 0.025) trait correlations. Between year correlations suggesting trait stability in bold. Consistent trait correlations in yellow (positive) or blue (negative). Trait codes are: seed number (SN), fruit weight (FW), rind thickness (RT), fruit diameter (FD), fruit color (cF), juice volume (JV), juice color (cJ), juice content (JC), acidity (Ac), soluble solids content (SSC), index of maturation (SSC/A), optimal-maturity harvest date (HM), number of harvests maintaining maturity (NH), leaf area (LA) and mean seed number under open-pollination (SNop) during the evaluation of self-compatibility and parthernocarpy abilities (PDF 25 kb)
List of significant trait-locus associations and corresponding genotypic means depending on the genome where they were detected: Fortune (F: nn and np), Chandler (Ch: ll and lm), cytoplasmic organelle (Cyto.: ll, Fortune and lm, Chandler), or both parents (Ch + F: ac, ad, bc, and bd, or ee, ef, eg and fg). Markers in bold correspond to QTLs detected by MQM. K is the Kruskal-Wallis statistic provided by MapQTL 6 software. Trait codes are: seed number (SN), fruit weight (FW), rind thickness (RT), fruit diameter (FD), fruit color (cF), juice volume (JV), juice color (cJ), juice content (JC), acidity (Ac), soluble solids content (SSC), index of maturation (SSC/A), optimal-maturity harvest date (HM), number of harvests maintaining maturity (NH), leaf area (LA), length of thorns (LT), heterostyly (H), self-compatibility (SC), parthenocarpy (Pa), incidence of non-style flowers (NSF) and mean seed number under open-pollination (SNop) during the evaluation of self-compatibility and parthernocarpy abilities (PDF 157 kb)
About this article
Cite this article
Asins, M.J., Raga, V., Bernet, G.P. et al. Genetic analysis of reproductive, vegetative and fruit quality traits to improve Citrus varieties. Tree Genetics & Genomes 11, 117 (2015). https://doi.org/10.1007/s11295-015-0949-8
Received:

Revised:

Accepted:

Published:
Keywords
QTL analysis

Cytoplasmic effect

Reproductive biology

Seedlessness

Parthenocarpy