Abstract
The European chestnut, an important forest species for the economy of Southern Europe, covers an area of 2.53 million hectares, including 75,000 ha devoted to fruit production. Castanea sativa is declining due to ink disease caused by Phytophthora cinnamomi. To elucidate chestnut defense mechanisms to ink disease, we compared the root transcriptome of the susceptible species C. sativa and the resistant species C. crenata after P. cinnamomi inoculation. Four cDNA libraries were constructed, two of them included root samples from C. sativa, inoculated and non-inoculated and the other two libraries comprised samples from C. crenata at identical conditions. Pyrosequencing produced 771,030 reads and assembly set up 15,683 contigs for C. sativa and 16,828 for C. crenata. GO annotation revealed terms related to stress as "response to stimulus", "transcription factor activity" or "signaling" for both transcriptomes. Differential gene expression analysis revealed that C. crenata involved more genes related with biotic stress upon pathogen inoculation than C. sativa. Those genes for both species are involved in regulation of plant immune response and stress adaptation and recovery. Furthermore, it is suggested that both species recognize the pathogen attack; however, the resistant species may involve more genes in the defense response than the susceptible species. RNA-seq enabled the selection of candidate genes for ink disease resistance in Castanea. The present data is a valuable contribution to the available Castanea genomic resources and constitutes the basis for further studies.
Access options
Buy single article
Instant access to the full article PDF.
US$ 39.95
Tax calculation will be finalised during checkout.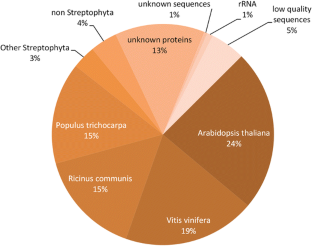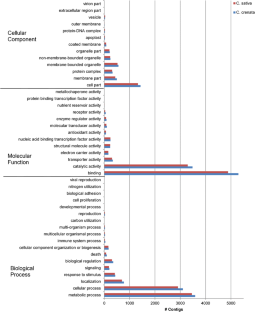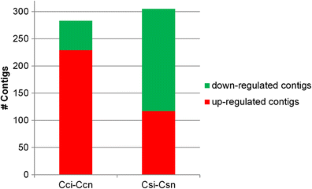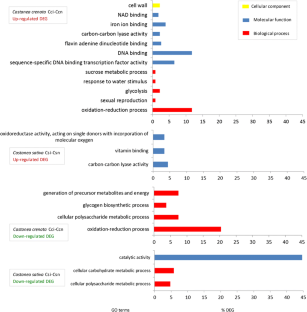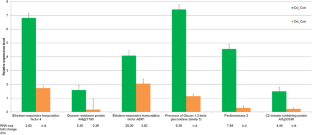 References
Anagnostakis SL (2001) The effect of multiple importations of pests and pathogens on a native tree. Biol Invasions 3:245–254. doi:10.1023/A:1015205005751

Barakat A, DiLoreto DS, Zhang Y et al (2009) Comparison of the transcriptomes of American chestnut (Castanea dentata) and Chinese chestnut (Castanea mollissima) in response to the chestnut blight infection. BMC Plant Biol 9:51. doi:10.1186/1471-2229-9-51

Barakat A, Staton M, Cheng C-H et al (2012) Chestnut resistance to the blight disease: insights from transcriptome analysis. BMC Plant Biol 12:38. doi:10.1186/1471-2229-12-38

Bari R, Jones JDG (2009) Role of plant hormones in plant defence responses. Plant Mol Biol 69:473–488. doi:10.1007/s11103-008-9435-0

Belchí-Navarro S, Almagro L, Sabater-Jara AB et al (2013) Induction of trans-resveratrol and extracellular pathogenesis-related proteins in elicited suspension cultured cells of Vitis vinifera cv Monastrell. J Plant Physiol 170:258–264. doi:10.1016/j.jplph.2012.10.003

Benhamou N, Mazau D, Grenier J, Esquerré-Tugayé M-T (1991) Time-course study of the accumulation of hydroxyproline-rich glycoproteins in root cells of susceptible and resistant tomato plants infected by Fusarium oxysporum f. sp. radicis-lycopersici. Planta 184:196–208. doi:10.1007/BF01102419

Bocca SN, Kissen R, Rojas-Beltrán JA et al (1999) Molecular cloning and characterization of the enzyme UDP-glucose: protein transglucosylase from potato. Plant Physiol Biochem 37:809–819. doi:10.1016/S0981-9428(99)00117-5

Bouché N, Fromm H (2004) GABA in plants: just a metabolite? Trends Plant Sci 9:110–115. doi:10.1016/j.tplants.2004.01.006

Brasier CM, Jung T (2006) Recent developments in Phytophthora diseases of trees and natural ecosystems in Europe. Prog. Res. Phytophthora Dis. For. Trees. Proceedings, 3rd Int. IUFRO Work. Party. pp 5–16

Broeckling CD, Huhman DV, Farag MA et al (2005) Metabolic profiling of Medicago truncatula cell cultures reveals the effects of biotic and abiotic elicitors on metabolism. J Exp Bot 56:323–336. doi:10.1093/jxb/eri058

Cantu D, Vicente AR, Labavitch JM et al (2008) Strangers in the matrix: plant cell walls and pathogen susceptibility. Trends Plant Sci 13:610–617

Chen K, Fan B, Du L, Chen Z (2004) Activation of hypersensitive cell death by pathogen-induced receptor-like protein kinases from Arabidopsis. Plant Mol Biol 56:271–283. doi:10.1007/s11103-004-3381-2

Chung E, Park JM, Oh S-K et al (2004) Molecular and biochemical characterization of the Capsicum annuum calcium-dependent protein kinase 3 (CaCDPK3) gene induced by abiotic and biotic stresses. Planta 220:286–295. doi:10.1007/s00425-004-1372-9

Coelho AC, Horta Jung M, Ebadzad G, Cravador A (2011) Quercus suber–Phytophthora cinnamomi interaction: a hypothetical molecular mechanism model. N Z J For Sci 41S:S143–S157

Conesa A, Götz S (2008) Blast2GO: a comprehensive suite for functional analysis in plant genomics. Int J Plant Genom. doi:10.1155/2008/619832

Costa R, Santos C, Tavares F et al (2011) Mapping and transcriptomic approaches implemented for understanding disease resistance to Phytophthora cinammomi in Castanea sp. BMC Proc 5:O18. doi:10.1186/1753-6561-5-S7-O18

Dhondt S, Geoffroy P, Stelmach BA et al (2000) Soluble phospholipase A2 activity is induced before oxylipin accumulation in tobacco mosaic virus-infected tobacco leaves and is contributed by patatin-like enzymes. Plant J 23:431–440. doi:10.1046/j.1365-313x.2000.00802.x

Diévart A, Clark SE (2003) Using mutant alleles to determine the structure and function of leucine-rich repeat receptor-like kinases. Curr Opin Plant Biol 6:507–516

Dixon RA, Paiva NL (1995) Stress-induced phenylpropanoid metabolism. Plant Cell 7:1085–1097. doi:10.1105/tpc.7.7.1085

Eshraghi L, Anderson JP, Aryamanesh N et al (2013) Defence signalling pathways involved in plant resistance and phosphite-mediated control of Phytophthora cinnamomi. Plant Mol Biol Report 32:342–356. doi:10.1007/s11105-013-0645-5

Feng B, Li P (2012) Genome-wide identification of laccase gene family in three Phytophthora species. Genetica 140:477–484. doi:10.1007/s10709-012-9696-z

Fernandes CT (1955) A luta contra a doença da tinta nos soutos do norte de Portugal e ensaios diversos para a sua maior eficiência e economia., Direcção-G. 61 p

Foster J, Kim HU, Nakata PA, Browse J (2012) A previously unknown oxalyl-CoA synthetase is important for oxalate catabolism in Arabidopsis. Plant Cell 24:1217–1229. doi:10.1105/tpc.112.096032

García-Pineda E, Benezer-Benezer M, Gutiérrez-Segundo A et al (2009) Regulation of defence responses in avocado roots infected with Phytophthora cinnamomi (Rands). Plant Soil 331:45–56. doi:10.1007/s11104-009-0225-5

Giri J, Vij S, Dansana PK, Tyagi AK (2011) Rice A20/AN1 zinc-finger containing stress-associated proteins (SAP1/11) and a receptor-like cytoplasmic kinase (OsRLCK253) interact via A20 zinc-finger and confer abiotic stress tolerance in transgenic Arabidopsis plants. New Phytol 191(3):721–732. doi:10.1111/j.1469-8137.2011.03740.x

Gouzy J, Carrere S, Schiex T (2009) FrameDP: sensitive peptide detection on noisy matured sequences. Bioinformatics 25:670–671. doi:10.1093/bioinformatics/btp024

Hammond-Kosack KE, Jones JD (1996) Resistance gene-dependent plant defense responses. Plant Cell 8:1773–1791

Hammond-Kosack KE, Jones JDG (1997) Plant disease resistance genes. Annu Rev Plant Physiol Plant Mol Biol 48:575–607. doi:10.1146/annurev.arplant.48.1.575

Hartmann U, Sagasser M, Mehrtens F et al (2005) Differential combinatorial interactions of cis-acting elements recognized by R2R3-MYB, BZIP, and BHLH factors control light-responsive and tissue-specific activation of phenylpropanoid biosynthesis genes. Plant Mol Biol 57:155–171. doi:10.1007/s11103-004-6910-0

He X, Miyasaka SC, Fitch MMM et al (2013) Taro (Colocasia esculenta) transformed with a wheat oxalate oxidase gene for improved resistance to taro pathogen Phytophthora colocasiae. HortSci 48:22–27

Henriksson E, Olsson ASB, Johannesson H et al (2005) Homeodomain leucine zipper class I genes in Arabidopsis. Expression patterns and phylogenetic relationships. Plant Physiol 139:509–518. doi:10.1104/pp. 105.063461

Hondo D, Hase S, Kanayama Y et al (2007) The LeATL6-associated ubiquitin/proteasome system may contribute to fungal elicitor-activated defense response via the jasmonic acid-dependent signaling pathway in tomato. Mol Plant Microbe Interact 20:72–81. doi:10.1094/MPMI-20-0072

Hu X, Neill S, Cai W, Tang Z (2003) Hydrogen peroxide and jasmonic acid mediate oligogalacturonic acid-induced saponin accumulation in suspension-cultured cells of Panax ginseng. Physiol Plant 118:414–421. doi:10.1034/j.1399-3054.2003.00124.x

Hunter S, Apweiler R, Attwood TK et al (2009) InterPro: the integrative protein signature database. Nucleic Acids Res 37:D211–D215. doi:10.1093/nar/gkn785

Irshad M, Canut H, Borderies G et al (2008) A new picture of cell wall protein dynamics in elongating cells of Arabidopsis thaliana: confirmed actors and newcomers. BMC Plant Biol 8:94. doi:10.1186/1471-2229-8-94

Jabs T, Dietrich RA, Dangl JL (1996) Initiation of runaway cell death in an Arabidopsis mutant by extracellular superoxide. Science 273:1853–1856. doi:10.1126/science.273.5283.1853, 80-

Jackson D, Culianez-Macia F, Prescott AG et al (1991) Expression patterns of myb genes from Antirrhinum flowers. Plant Cell 3:115–125. doi:10.1105/tpc.3.2.115

Jacobs DF, Dalgleish HJ, Nelson CD (2013) A conceptual framework for restoration of threatened plants: the effective model of American chestnut (Castanea dentata) reintroduction. New Phytol 197:378–393. doi:10.1111/nph.12020

Jiang N, Xiao D, Zhang D et al (2009) Negative roles of a novel nitrogen metabolite repression-related gene, TAR1, in laccase production and nitrate utilization by the basidiomycete Cryptococcus neoformans. Appl Environ Microbiol 75:6777–6782. doi:10.1128/AEM. 00708-09

Kamoun S, Huitema E, Vleeshouwers V (1999) Resistance to oomycetes: a general role for the hypersensitive response? Trends Plant Sci 4:196–200

Keinänen SI, Hassinen VH, Kärenlampi SO, Tervahauta AI (2007) Isolation of genes up-regulated by copper in a copper-tolerant birch (Betula pendula) clone. Tree Physiol 27:1243–1252

Langmead B, Hansen KD, Leek JT (2010) Cloud-scale RNA-sequencing differential expression analysis with Myrna. Genome Biol 11:R83. doi:10.1186/gb-2010-11-8-r83

Latijnhouwers M, de Wit PJGM, Govers F (2003) Oomycetes and fungi: similar weaponry to attack plants. Trends Microbiol 11:462–469. doi:10.1016/j.tim.2003.08.002

Le Provost G, Herrera R, Paiva JA et al (2007) A micromethod for high throughput RNA extraction in forest trees. Biol Res 40:291–297

Leivar P, Antolín-Llovera M, Ferrero S et al (2011) Multilevel control of Arabidopsis 3-hydroxy-3-methylglutaryl coenzyme A reductase by protein phosphatase 2A. Plant Cell 23:1494–1511. doi:10.1105/tpc.110.074278

Li G, Liu K, Baldwin SA, Wang D (2003) Equilibrative nucleoside transporters of Arabidopsis thaliana. cDNA cloning, expression pattern, and analysis of transport activities. J Biol Chem 278:35732–35742. doi:10.1074/jbc.M304768200

Lin R-C, Park H-J, Wang H-Y (2008) Role of Arabidopsis RAP2.4 in regulating light- and ethylene-mediated developmental processes and drought stress tolerance. Mol Plant 1(1):42–57. doi:10.1093/mp/ssm004

Lingard MJ, Bartel B (2009) Arabidopsis LON2 is necessary for peroxisomal function and sustained matrix protein import. Plant Physiol 151:1354–1365. doi:10.1104/pp. 109.142505

Liu X, Bush DR (2006) Expression and transcriptional regulation of amino acid transporters in plants. Amino Acids 30:113–120. doi:10.1007/s00726-005-0248-z

Livak KJ, Schmittgen TD (2001) Analysis of relative gene expression data using real-time quantitative PCR and the 2(−Delta Delta C(T)) Method. Methods 25:402–408. doi:10.1006/meth.2001.1262

López-Marqués RL, Poulsen LR, Palmgren MG (2012) A putative plant aminophospholipid flippase, the Arabidopsis P4 ATPase ALA1, localizes to the plasma membrane following association with a β-subunit. PLoS ONE 7:e33042. doi:10.1371/journal.pone.0033042

Lottaz C, Iseli C, Jongeneel CV, Bucher P (2003) Modeling sequencing errors by combining Hidden Markov models. Bioinformatics 19:ii103–ii112. doi:10.1093/bioinformatics/btg1067

Marshall SDG, Putterill JJ, Plummer KM, Newcomb RD (2003) The carboxylesterase gene family from Arabidopsis thaliana. J Mol Evol 57:487–500. doi:10.1007/s00239-003-2492-8

Marsolais F, Boyd J, Paredes Y et al (2007) Molecular and biochemical characterization of two brassinosteroid sulfotransferases from Arabidopsis, AtST4a (At2g14920) and AtST1 (At2g03760). Planta 225:1233–1244. doi:10.1007/s00425-006-0413-y

Martins L, Anjos R, Costa R, Gomes-Laranjo J (2009) COLUTAD: um clone de castanheiro resistente à doença da tinta. In: Gomes-Laranjo J, Peixoto F, Ferreira-Cardoso J (eds) Castanheiros, Técnicas e Práticas, UTAD - Vil. Vila Real, pp 135–142

Meyer F, Paarmann D, D'Souza M et al (2008) The metagenomics RAST server—a public resource for the automatic phylogenetic and functional analysis of metagenomes. BMC Bioinforma 9:386. doi:10.1186/1471-2105-9-386

Mutuku JM, Nose A (2012) Changes in the contents of metabolites and enzyme activities in rice plants responding to Rhizoctonia solani Kuhn infection: activation of glycolysis and connection to phenylpropanoid pathway. Plant Cell Physiol 53:1017–1032. doi:10.1093/pcp/pcs047

Nakane E, Kawakita K, Doke N, Yoshioka H (2003) Elicitation of primary and secondary metabolism during defense in the potato. J Gen Plant Pathol 69:378–384. doi:10.1007/s10327-003-0075-6

Ndamukong I, Al Abdallat A, Thurow C et al (2007) SA-inducible Arabidopsis glutaredoxin interacts with TGA factors and suppresses JA-responsive PDF1.2 transcription. Plant J 50:128–139. doi:10.1111/j.1365-313X.2007.03039.x

Niu B, Fu L, Sun S, Li W (2010) Artificial and natural duplicates in pyrosequencing reads of metagenomic data. BMC Bioinforma 11:187. doi:10.1186/1471-2105-11-187

Ohta M, Matsui K, Hiratsu K et al (2001) Repression domains of class II ERF transcriptional repressors share an essential motif for active repression. Plant Cell 13:1959–1968

Oßwald W, Fleischmann F, Rigling D, et al. (2014) Strategies of attack and defence in woody plant- Phytophthora interactions. For Pathol 44:n/a–n/a. doi: 10.1111/efp.12096

Porta H, Rocha-Sosa M (2002) Plant lipoxygenases. Physiological and molecular features. Plant Physiol 130:15–21. doi:10.1104/pp. 010787

Reeksting BJ, Coetzer N, Mahomed W et al (2014) De novo sequencing, assembly, and analysis of the root transcriptome of Persea americana (Mill.) in response to Phytophthora cinnamomi and flooding. PLoS ONE 9:e86399. doi:10.1371/journal.pone.0086399

Reimers PJ, Guo A, Leach JE (1992) Increased activity of a cationic peroxidase associated with an incompatible interaction between Xanthomonas oryzae pv oryzae and rice (Oryza sativa). Plant Physiol 99:1044–1050

Rookes JE, Wright ML, Cahill DM (2008) Elucidation of defence responses and signalling pathways induced in Arabidopsis thaliana following challenge with Phytophthora cinnamomi. Physiol Mol Plant Pathol 72:151–161. doi:10.1016/j.pmpp.2008.08.005

Roppolo D, De Rybel B, Tendon VD et al (2011) A novel protein family mediates Casparian strip formation in the endodermis. Nature 473:380–383. doi:10.1038/nature10070

Ryu HY, Kim SY, Park HM et al (2009) Modulations of AtGSTF10 expression induce stress tolerance and BAK1-mediated cell death. Biochem Biophys Res Commun 379:417–422. doi:10.1016/j.bbrc.2008.11.156

Sandorf I, Holländer-Czytko H (2002) Jasmonate is involved in the induction of tyrosine aminotransferase and tocopherol biosynthesis in Arabidopsis thaliana. Planta 216(1):173-179. doi:10.1007/s00425-002-0888-0

Schneider M, Droz E, Malnoë P et al (2002) Transgenic potato plants expressing oxalate oxidase have increased resistance to oomycete and bacterial pathogens. Potato Res 45:177–185. doi:10.1007/BF02736113

Schneider K, Kienow L, Schmelzer E et al (2005) A new type of peroxisomal acyl-coenzyme A synthetase from Arabidopsis thaliana has the catalytic capacity to activate biosynthetic precursors of jasmonic acid. J Biol Chem 280:13962–13972. doi:10.1074/jbc.M413578200

Schopfer CR, Ebel J (1998) Identification of elicitor-induced cytochrome P450s of soybean (Glycine max L.) using differential display of mRNA. Mol Gen Genet 258:315–322

Sharma M, Chai C, Morohashi K et al (2012) Expression of flavonoid 3'-hydroxylase is controlled by P1, the regulator of 3-deoxyflavonoid biosynthesis in maize. BMC Plant Biol 12:196. doi:10.1186/1471-2229-12-196

Shoji T, Hashimoto T (2011) Tobacco MYC2 regulates jasmonate-inducible nicotine biosynthesis genes directly and by way of the NIC2-locus ERF genes. Plant Cell Physiol 52:1117–1130. doi:10.1093/pcp/pcr063

Singh AK, Sharma V, Pal AK et al (2013) Genome-wide organization and expression profiling of the NAC transcription factor family in potato (Solanum tuberosum L.). DNA Res 20:403–423. doi:10.1093/dnares/dst019

Sivasankar S (2000) Expression of allene oxide synthase determines defense gene activation in tomato. Plant Physiol 122:1335–1342. doi:10.1104/pp. 122.4.1335

Storey JD, Tibshirani R (2003) Statistical significance for genomewide studies. Proc Natl Acad Sci U S A 100:9440–9445. doi:10.1073/pnas.1530509100

Subroto T, de Vries H, Schuringa JJ et al (2001) Enzymic and structural studies on processed proteins from the vacuolar (lutoid-body) fraction of latex of Hevea brasiliensis. Plant Physiol Biochem 39:1047–1055. doi:10.1016/S0981-9428(01)01325-0

Sun G, Yang Y, Xie F et al (2013) Deep sequencing reveals transcriptome re-programming of Taxus × media cells to the elicitation with methyl jasmonate. PLoS ONE 8:e62865. doi:10.1371/journal.pone.0062865

Szczesna-Skorupa E, Kemper B (2006) BAP31 is involved in the retention of cytochrome P450 2C2 in the endoplasmic reticulum. J Biol Chem 281(7):4142–4148. doi:10.1074/jbc.M509522200

Taki N, Sasaki-Sekimoto Y, Obayashi T et al (2005) 12-oxo-phytodienoic acid triggers expression of a distinct set of genes and plays a role in wound-induced gene expression in Arabidopsis. Plant Physiol 139:1268–1283. doi:10.1104/pp. 105.067058

Tan S-K, Kamada H (2000) Initial identification of a phosphoprotein that appears to be involved in the induction of somatic embryogenesis in carrot. Plant Cell Rep 19:739–747. doi:10.1007/s002999900186

Thomma BPHJ (1998) Separate jasmonate-dependent and salicylate-dependent defense-response pathways in Arabidopsis are essential for resistance to distinct microbial pathogens. Proc Natl Acad Sci 95:15107–15111. doi:10.1073/pnas.95.25.15107

Torres MA, Dangl JL, Jones JDG (2002) Arabidopsis gp91phox homologues AtrbohD and AtrbohF are required for accumulation of reactive oxygen intermediates in the plant defense response. Proc Natl Acad Sci U S A 99:517–522. doi:10.1073/pnas.012452499

Vannini A, Vettraino AM (2001) Ink disease in chestnuts: impact on the European chestnut. For Snow Landsc Res 76:345–350

Vellosillo T, Martínez M, López MA et al (2007) Oxylipins produced by the 9-lipoxygenase pathway in Arabidopsis regulate lateral root development and defense responses through a specific signaling cascade. Plant Cell 19:831–846. doi:10.1105/tpc.106.046052

Vlad F, Spano T, Vlad D et al (2007) Involvement of Arabidopsis prolyl 4 hydroxylases in hypoxia, anoxia and mechanical wounding. Plant Signal Behav 2:368–369

Vleeshouwers VG, van Dooijeweert W, Govers F et al (2000) The hypersensitive response is associated with host and nonhost resistance to Phytophthora infestans. Planta 210:853–864

Wen B, Ström A, Tasker A et al (2013) Effect of silencing the two major tomato fruit pectin methylesterase isoforms on cell wall pectin metabolism. Plant Biol (Stuttg). doi:10.1111/j.1438-8677.2012.00714.x

Woo H-H, Jeong BR, Hirsch AM, Hawes MC (2007) Characterization of Arabidopsis AtUGT85A and AtGUS gene families and their expression in rapidly dividing tissues. Genomics 90:143–153. doi:10.1016/j.ygeno.2007.03.014

Yang B, Jiang Y, Rahman MH et al (2009) Identification and expression analysis of WRKY transcription factor genes in canola (Brassica napus L.) in response to fungal pathogens and hormone treatments. BMC Plant Biol 9:68. doi:10.1186/1471-2229-9-68

Yang Y, He M, Zhu Z et al (2012) Identification of the dehydrin gene family from grapevine species and analysis of their responsiveness to various forms of abiotic and biotic stress. BMC Plant Biol 12:140. doi:10.1186/1471-2229-12-140

Yazaki K (2006) ABC transporters involved in the transport of plant secondary metabolites. FEBS Lett 580:1183–1191. doi:10.1016/j.febslet.2005.12.009

Yokoyama R, Nishitani K (2001) A comprehensive expression analysis of all members of a gene family encoding cell-wall enzymes allowed us to predict cis-regulatory regions involved in cell-wall construction in specific organs of Arabidopsis. Plant Cell Physiol 42:1025–1033

Zhang B, Singh KB (1994) ocs element promoter sequences are activated by auxin and salicylic acid in Arabidopsis. Proc Natl Acad Sci U S A 91:2507–2511

Zhang J, Addepalli B, Yun K-Y et al (2008a) A polyadenylation factor subunit implicated in regulating oxidative signaling in Arabidopsis thaliana. PLoS ONE 3:e2410. doi:10.1371/journal.pone.0002410

Zhang J, Peng Y, Guo Z (2008b) Constitutive expression of pathogen-inducible OsWRKY31 enhances disease resistance and affects root growth and auxin response in transgenic rice plants. Cell Res 18:508–521. doi:10.1038/cr.2007.104

Zhang B, Oakes AD, Newhouse AE et al (2013) A threshold level of oxalate oxidase transgene expression reduces Cryphonectria parasitica-induced necrosis in a transgenic American chestnut (Castanea dentata) leaf bioassay. Transgenic Res. doi:10.1007/s11248-013-9708-5

Zhu Z, An F, Feng Y et al (2011) Derepression of ethylene-stabilized transcription factors (EIN3/EIL1) mediates jasmonate and ethylene signaling synergy in Arabidopsis. Proc Natl Acad Sci U S A 108:12539–12544. doi:10.1073/pnas.1103959108
Acknowledgments
We acknowledge Dr. Beatriz Cuenca (TRAGSA-SEPI) for providing the plant material used in this study. The authors are also grateful to Dr. Andreia Figueiredo (BioFIG) and Dr. Filipa Monteiro (BioFIG) for help on qRT-PCR, Dr. Conceição Egas (Next Gen Sequencing Unit, Biocant) for submitting raw data to NCBI, Dr. Dana Nelson (USDA Forest Service, MS, Unit of Forest genetics and Ecosystems Biology) for arrangements on submitting data to Fagaceae.org, and Prof. William Powell and Andrew Newhouse (SUNY College of Environmental Science and Forestry, NY, Department of Environmental and Forest Biology) for critical review of the manuscript. This work was funded by the Portuguese Foundation for Science and Technology (www.fct.pt) in the frame of the project Understanding Resistance to Pathogenic Fungi in Castanea sp (PTDC/AGR-CFL/101707/2008). Grant to SS (Investigador Ciência 2008) was also supported by FCT. The funders had no role in study design, data collection and analysis, decision to publish, or preparation of the manuscript.
Data Archiving Statement
Raw data files can be accessed in the Short Read Archive at NCBI (http://www.ncbi.nlm.nih.gov/) with the reference PRJNA215368. Nucleotide and aminoacid sequences are publicly available in the Fagaceae Genomics Web (http://www.fagaceae.org/).
Additional information
Mónica Sebastiana and Rita Costa contributed equally to this work.
Communicated by R. Sederoff.
Electronic supplementary material
Below is the link to the electronic supplementary material.
About this article
Cite this article
Serrazina, S., Santos, C., Machado, H. et al. Castanea root transcriptome in response to Phytophthora cinnamomi challenge. Tree Genetics & Genomes 11, 6 (2015). https://doi.org/10.1007/s11295-014-0829-7
Received:

Revised:

Accepted:

Published:
Keywords
Castanea sativa
Castanea crenata
Phytophthora cinnamomi

RNA-seq

Differentially expressed genes

Biotic stress